10 Best Premade Cookie Doughs to Buy at Grocery Stores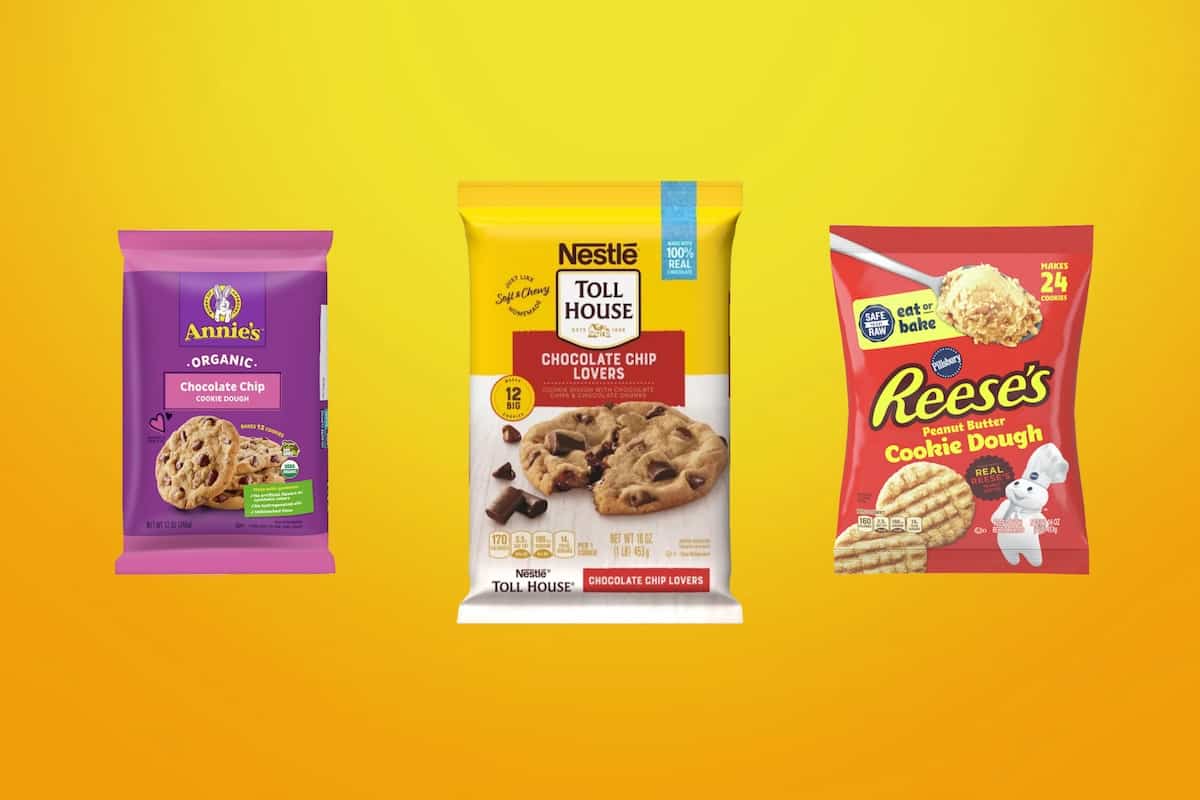 There's nothing like a freshly baked cookie warm from the oven, and sometimes, when your cravings kick in, you just need to have that gooey treat as fast as possible.
Luckily, there are many delicious premade cookie doughs available at grocery stores to satisfy your sweet tooth. These store-bought cookie doughs are perfect if baking is not your forte or if you're in a time crunch.
Below are the 10 premade cookie doughs I buy at the supermarket when I want a quick batch of cookies.
10. Immaculate Baking Co.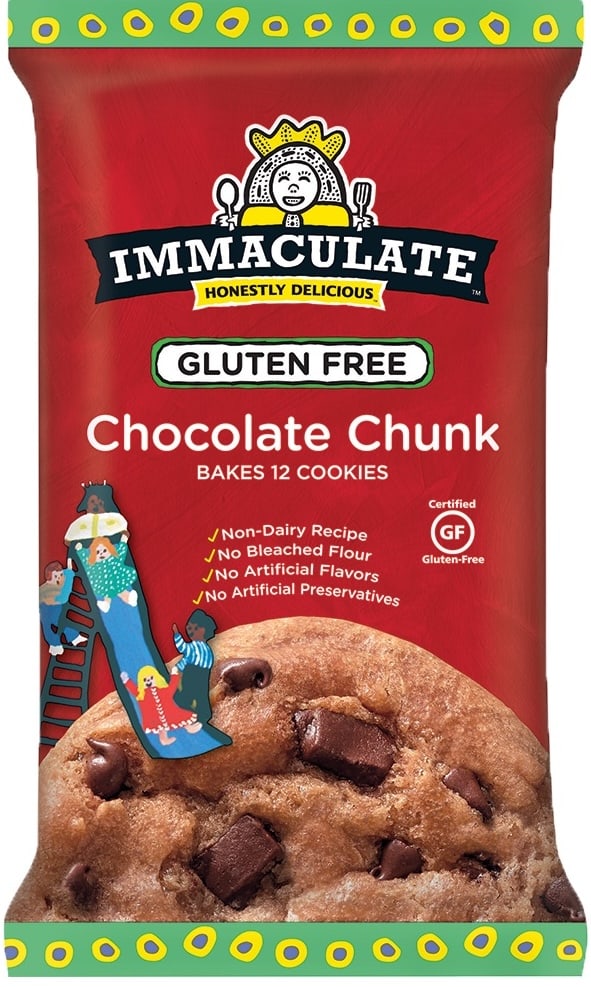 Immaculate Baking Co. offers organic and gluten-free premade cookie doughs.
The Double Chocolate option doesn't contain gluten, dairy, bleached flour, or artificial preservatives, making it enticing to people with dietary restrictions.
These double chocolate cookies bake to be puffier, and I gather it is from the gluten-free ingredients.
I liked this dough when I tried it, but the chocolate flavor did not really shine through in the cookies, even though they looked rich and fudgy.
Immaculate's cookie doughs can be found in organic stores like Sprouts. They are worth looking into if you're on a non-dairy and gluten-free diet.
9. Sweet Loren's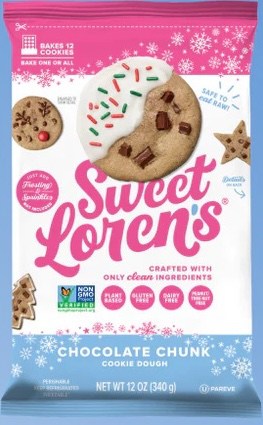 Sweet Loren's offers gluten-free and vegan cookie doughs made from clean ingredients.
They have a wide assortment of flavors like Chocolate Chunk, Fudgy Brownie, Sugar, Oatmeal Cranberry, and Less Sugar (Chocolate Chunk or Sugar).
I noticed many vegan and gluten-free brands struggle to imitate a soft cookie, but Sweet Loren's cookies bake to gooey perfection.
These cookies tend to have more of an oat flavor from the gluten-free oat flour, but not in an overwhelming way.
Sweet Loren's cookie doughs are tastier and easier to find in stores than other gluten-free options.
8. Simple Truth
Simple Truth is an exclusive organic private-label brand found in Kroger stores. They make two types of plant-based cookie dough: chocolate chip and oatmeal raisin and organic oatmeal chocolate chip.
The texture of these plant-based cookies is almost identical to the chewy inside and crisp outside of a regular chocolate chip cookie.
I would love to see some more buttery flavor make an appearance in these vegan cookies, though. This could be done by adding some plant-based butter extract, which helps add that rich buttery flavor without the dairy.
Simple Truth's premade cookie dough is definitely my top pick for vegan cookie dough, but the downside is that it's only available in Kroger.
7. Private Selection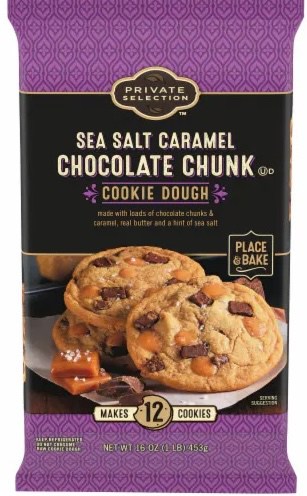 Another Kroger exclusive store brand that offers delicious premade cookie dough is Private Selection.
This private-label brand offers three flavors – Sea Salt Caramel Chocolate Chunk, Peanut Butter Chocolate Chip, and Triple Chocolate.
These large portioned cookie doughs spread while baking for a delectable, thin, and crispy cookie.
I love to indulge in their Sea Salt Caramel Chocolate Chunk cookie, which has the perfect balance of rich, sweet, and salty flavors.
Private Selection's cookie doughs would have made it higher on my list, but they can only be found at Kroger stores.
6. Mrs. Fields
Mrs. Fields is one of the best store-bought cookie brands that started selling delicious cookies in the 1970s and offers its line of premade cookie doughs.
My favorite is their Sugar Cookie dough because it is not overly sugary.
Since the cookie is not too sweet, I can taste notes of vanilla and buttery goodness with each bite of this classic sugar cookie.
The Rainbow Chip cookie is also a fun option with the addition of vibrant milk chocolate M&Ms.
Mrs. Fields' cookie doughs are not as widely available as some other brands, but they are a great option for a quick, yummy cookie.
5. Cinnabon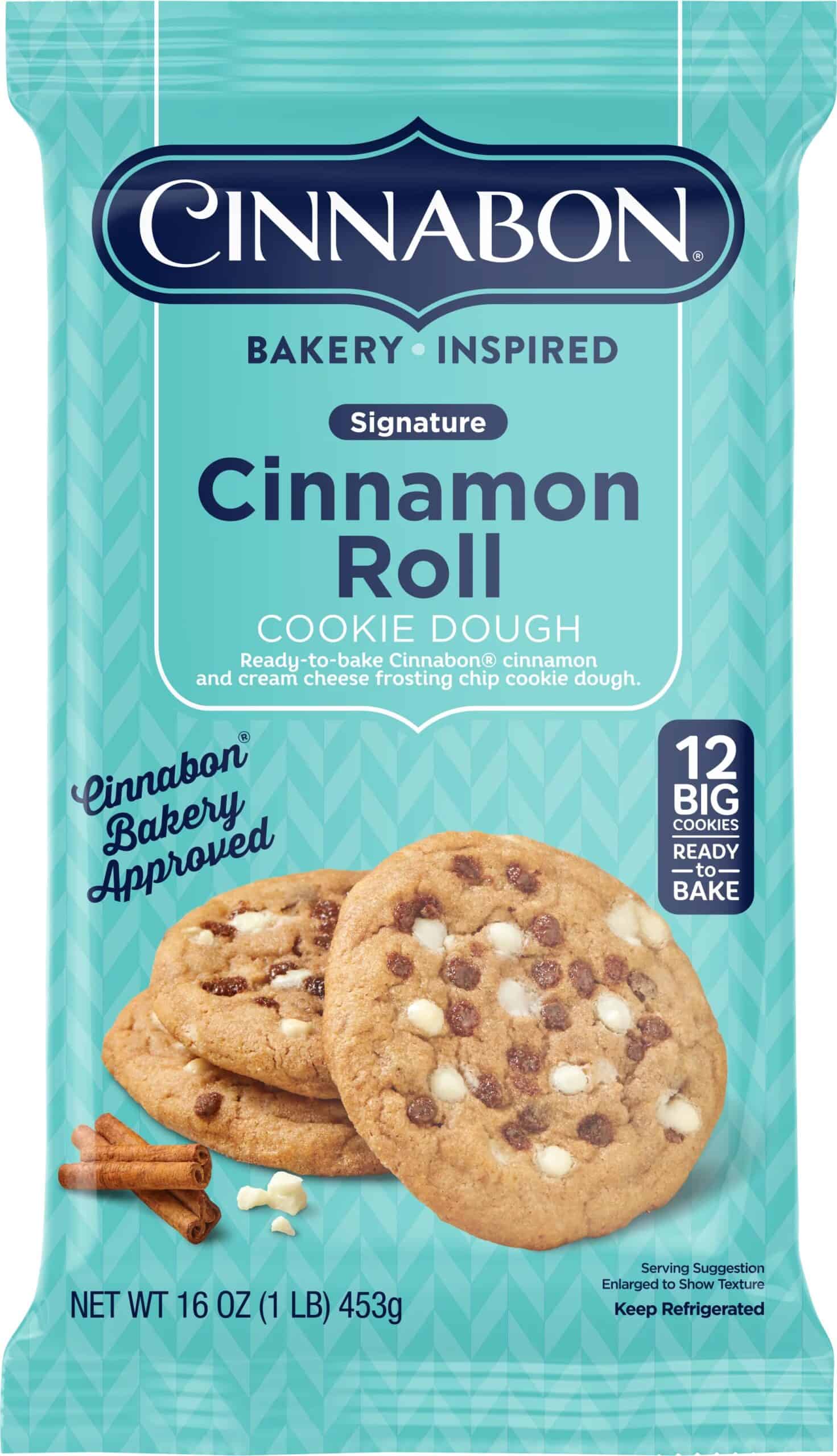 I'm sure you gravitated to the sweet aroma of Cinnabon in your local mall. Did you know the brand also offers a line of premade cookie doughs?
They have an assortment of flavors, including sugar, chocolate chip, caramel chocolate, and cinnamon roll.
I recommend trying the Cinnamon Roll flavor, which is a cookie dough infused with their iconic cinnamon and cream cheese frosting morsels.
These cookies are perfect to bring back the Cinnabon kiosk nostalgia. Currently, Cinnabon offers its cookie doughs in Walmart.
4. Trader Joe's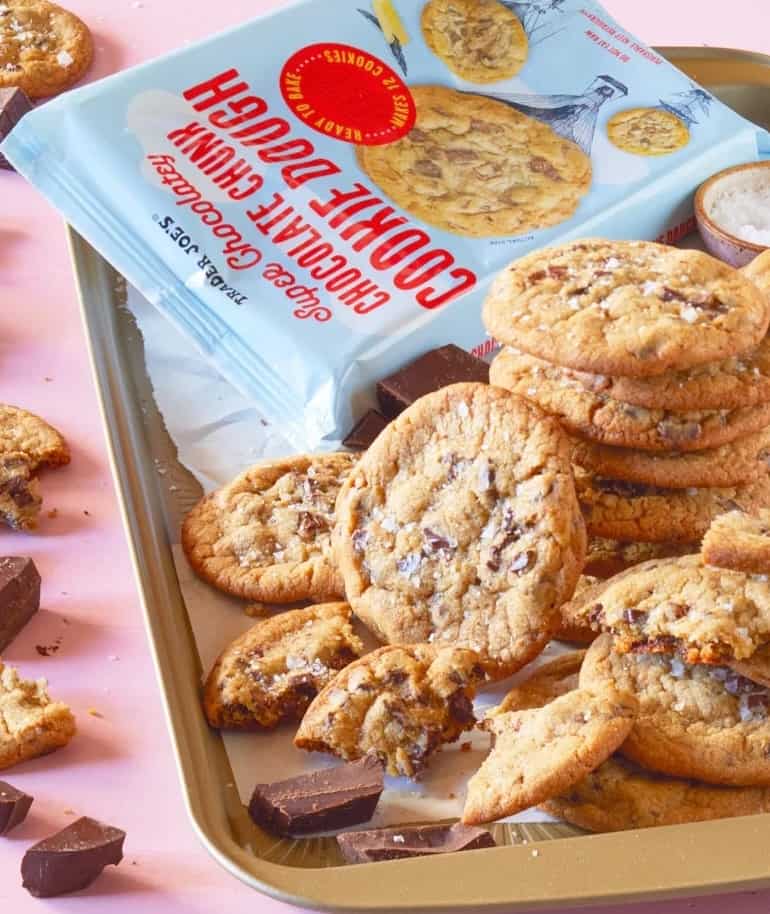 Trader Joe's is known for its exclusive and delicious store-brand products, and they definitely delivered with their Super Chocolatey Chocolate Chunk cookie dough!
This premade cookie dough tastes and feels exactly like homemade because of the real ingredients used in the product.
I love that these cookies come out with a soft, gooey middle and crisp exterior. I noticed these cookies are also loaded to the max with chocolate chunks, which is a huge plus.
Trader Joe's cookie dough would have been higher in my ranking, but the availability can sometimes be an issue.
3. Annie's
Annie's makes a wide assortment of organic products, including premade cookie doughs.
Their Chocolate Chip cookie dough is certified organic and has no preservatives, artificial flavors, or GMO ingredients.
I like Annie's cookie dough because it is full of chocolate chips and chunks for that rich, melty, chocolatey taste in each bite.
I can tell you that these are one of the best organic cookie doughs available at stores that won't disappoint in flavor.
2. Pillsbury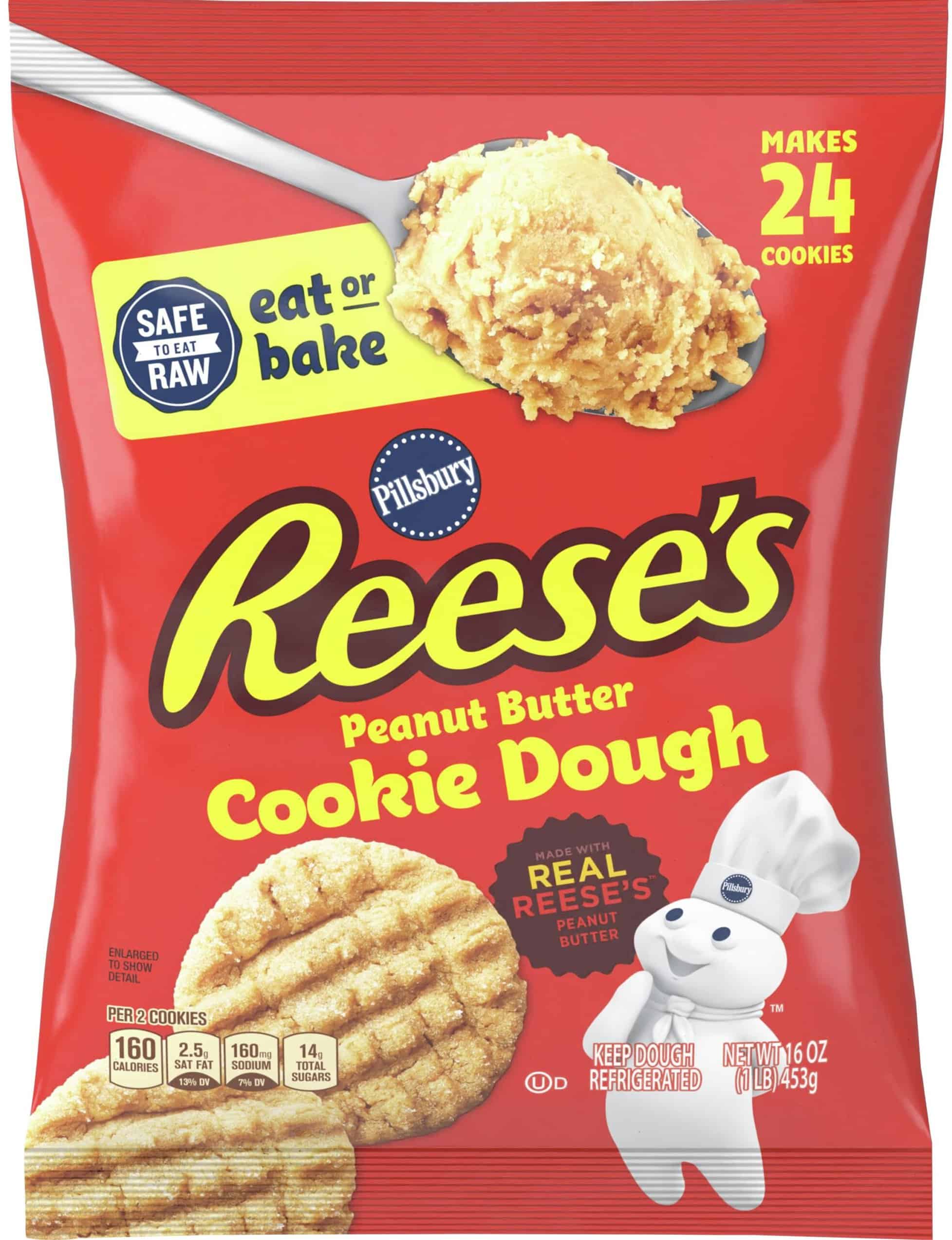 Pillsbury is one of the most prevalent refrigerated cookie dough brands. They have many different flavors, from chocolate chip to sugar cookies.
My favorite is the Reese's Peanut Butter cookie dough. This sweet and rich peanut butter cookie is loaded with a ton of decadent peanut butter flavor.
The most iconic Pillsbury premade dough creation is the seasonal cookies. They are little sugar cookies imprinted with adorable pictures like pumpkins and Santa.
Pillsbury is a tried and true brand that will have your house smelling freshly baked cookies within minutes.
1. Nestle Toll House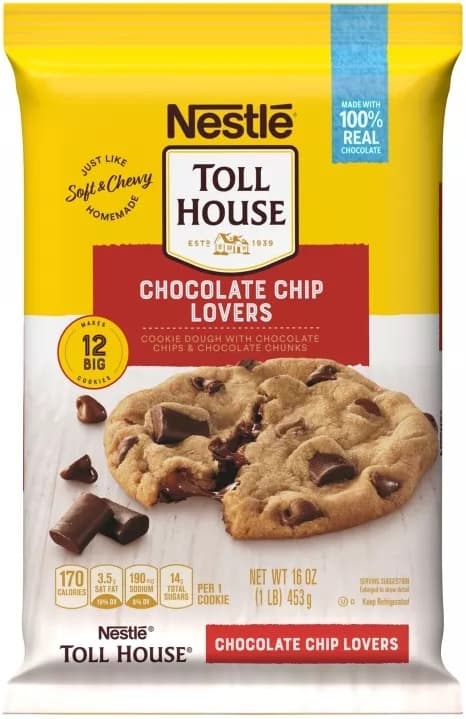 Nestle Toll House is the creator of the chocolate chip cookie, and I think they make the most delicious premade cookie dough of all time – The Chocolate Chip!
As one of the popular chocolate chip cookie brands, their premade dough delivers the taste, texture, and look of what you want in a homemade cookie.
I love the brown sugar and vanilla notes in this dough with the rich, semi-sweet chocolate chips.
The cookies also bake up with a chewy, warm middle with a slightly golden brown exterior.
In case you didn't know, Nestle Toll House also sells edible cookie dough for those who like to eat it before it's baked!
Conclusion
Premade cookie doughs are a great way to get your freshly baked cookie fix. They come in many flavors, including chocolate chip, peanut butter, and sugar cookies. Some brands also offer organic and vegan options.
I love using refrigerated cookie dough when making a fruit pizza or as a cookie crust on cheesecake. They come in handy for a variety of recipes.
If you're looking for a no-fuss baking experience, pick up one of the brands I've included in the list on your next grocery run!