Hannaford Delivery: How It Works and How to Order With Hannaford App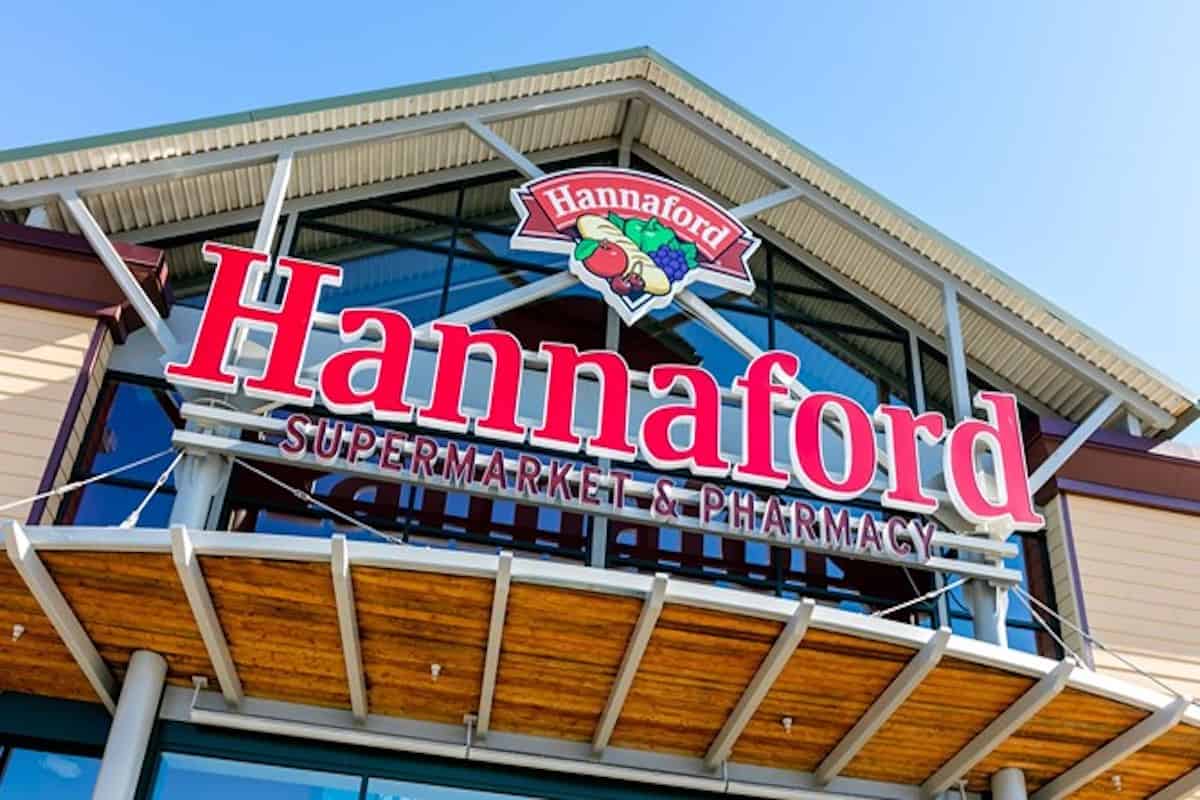 Hannaford has partnered with Shipt to deliver your favorite Hannaford items to your door. Easily shop for your favorite products online, then let trained shoppers and drivers do the rest for you.
Hannaford delivery can be ordered through the Hannaford website or the app and fulfilled by Shipt. There is a $30 minimum order and a $10 delivery fee for all Hannaford deliveries. While Hannaford delivery does not accept EBT, digital coupons are accepted. You can also order Hannaford delivery through Instacart.
In this article, we'll cover everything you need to know about Hannaford delivery, including how it works, how to order using the Hannaford app, whether you can combine grocery and pharmacy orders, tipping etiquette, and more!
How Does Hannaford Delivery Work?
Hannaford delivery can be ordered online through their website or the app, and deliveries fulfilled through Shipt. There is a $30 minimum for Hannaford deliveries and a $10 flat delivery fee. The delivery fee is waived on the first order as a trial offer.
Begin your order by choosing a delivery time that works for you. Hannaford offers same-day and next-day deliveries, though delivery times will vary between stores.
Same-day orders must be placed at least 4 hours before the desired delivery time. Choosing a delivery time before beginning your order is suggested, as available time slots are subject to change.
You can shop online for the same items you'd find in Hannaford stores, and a trained shopper will fulfill your order.
Shopping Hannaford online is a similar experience to shopping through the app, with both offering multiple ways to find items.
You can shop using the Hannaford Weekly Flyer, through current coupons, past orders, by department, or by using the search bar.
You can also filter product listings and search results by recent purchases by clicking on "Refine", then "Filter", and then checking the box next to "Recent Purchases".
Certain items are not available through Hannaford delivery. These include greeting cards, seasonal items, and special occasion items.
In addition, age-restricted items like alcohol are also not available for Hannaford delivery in the state of New York.
Hannaford delivers hot food items after 11 am. If your delivery is scheduled before that time, you will receive a cold version of that item instead when available. The cost of the substituted item will be reflected in the final order total.
Hannaford delivery provides the option to allow substitutions on all items if those requested are unavailable. If you do not wish to receive substitutions, be sure to uncheck the box at checkout.
Substitution preferences can be applied to the entire cart or can be specified per individual item. The final cost of your order will reflect the prices of any item substitutions made.
There is also an option to leave notes for shoppers regarding special requests and comments.
If you are unable to find an item online but believe it is available in-store, you may leave a detailed description of the item, and your shopper will do their best to locate it for you.
Hannaford delivery orders may be modified or canceled after being placed. Same-day delivery orders placed five or more hours before delivery can be edited for one hour after the order is completed. Next-day orders can be modified until 4 am on the day of delivery.
To modify orders, log in online and visit the orders page. If your order is already being processed, call Hannaford To Go Customer Service at (800) 213-9040 to reschedule or add items.
An updated email confirmation will be sent after completing the modifications and online checkout.
All Hannaford delivery sales are final. Delivery drivers cannot accommodate rejected substitutions, and Hannaford is currently unable to refund or replace items.
Contact Hannaford To Go Customer Service with any further questions if you are unsatisfied with any of the items you received or if you were charged for items that were missing from your order.
Digital coupons are accepted for Hannaford delivery orders, but paper coupons are not. You can clip digital coupons online as you shop, and discounts will automatically be applied to your order.
These discounts will be reflected in both the estimated and the final delivery order total. 2% rewards will also be automatically added to your Hannaford rewards account on all store brand products, including seafood, meat, packaged deli, and bakery items
When your grocery order is delivered, it will be left on your doorstep. The delivery driver will notify you when they arrive through text so that you can get your groceries as soon as possible.
Your order will be picked and delivered from the most convenient Hannaford store near you, as it is predetermined by zip code.
How to Order Hannaford Delivery
You can order Hannaford delivery online through their website or the mobile app. Items can be found through the Hannaford Weekly Flyer, by browsing coupons, or by the department. Choose your delivery day and time, and your groceries will be brought straight to your doorstep.
Let's take a look at how to order Hannaford delivery using their mobile app:
1. Begin shopping Hannaford for delivery by choosing the delivery option in the app. Next, enter your zip code to indicate which predetermined location your delivery will come from.
2. Choose a delivery time that works for you. Keep in mind that Weekly Flyer specials run from Sunday to Saturday, and choosing a delivery date in the next cycle may change the prices of certain items.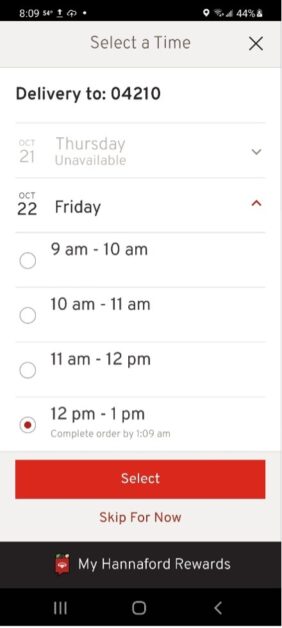 3. Easily shop weekly specials by clicking on "Weekly Flyer," then on the specific items you're interested in. After opening each item to a new page, you have the option to either add it to your digital shopping list or directly to your cart.
4. Return to the homepage to shop by coupons. First, click on "Coupons" to see the current selection of manufacturer coupons. Next, click on "Clip" next to the items you're interested in, then on "See Products" to be directed to those items. Add them to your cart, and the discount will be automatically applied.
5. Click on "Recent Purchases" from the home screen for an easy way to find your favorite items. Products previously purchased through Hannaford To Go will be added automatically, while in-store purchases can be added by typing your phone number in at the register or by scanning your Hannaford Rewards bar code in the app at the time of in-store checkout.
6. Complete your order by browsing items by department. You can also find specific items by using the search bar at the top of the screen.
7. Review your order by clicking on the cart in the top right corner of the screen. Then, click on the arrow next to each item to change the quantity, delete items, or leave a note for the shopper.
8. When your order is complete, scroll down to view the estimated total. This will be determined by the average weight of any weighed items, though the final total may vary based on actual weight and any substitutions made. The delivery fee is also included in the estimated total, though this fee is waived on your first order.
9. Click on "Checkout" to be directed to the payment screen. Confirm your date and time of delivery and enter payment information. Hannaford delivery currently accepts Visa, Mastercard, Discover, and American Express credit cards.
10. Click on "Place Order" to complete your order, and you will receive a confirmation email. Orders can be edited for up to one hour after the initial order is placed for same-day deliveries placed at least five hours ahead of time or until 4 am the day of delivery for next-day deliveries.
Your delivery driver will contact you via text message when they arrive, and your order will be placed at your doorstep or building entrance.
How Much Does Hannaford Delivery Cost?
Hannaford offers a free trial of the delivery service, so delivery fees are waived on your first order. After that, there is a $10 flat-rate fee on all Hannaford delivery orders.
All orders must also meet a minimum of $30, though the delivery fee will not increase with larger orders.
Can You Use Coupons With Hannaford Delivery?
Digital coupons can be used with Hannaford delivery, but paper coupons are not accepted. You can clip digital coupons online during the ordering process, and they will be added to your account.
My Hannaford rewards points can be earned on all Hannaford store brands to earn specialized discounts and coupons.
Discounts will automatically be applied to your cart and will be reflected in the estimated total at checkout.
We're thrilled to share that we have expanded SNAP online purchasing options in Massachusetts. Instacart customers can now use benefits at @StopandShop + @Hannaford, in addition to @PriceChopper + @AldiUSA, for same-day online grocery delivery and pickup.
https://t.co/dpxGwthQco

— Instacart (@Instacart) July 14, 2021
Does Hannaford Use Instacart?
You can order Hannaford delivery through the Instacart website or the app. Instacart delivery fees start at $3.99 for orders over $35. Fees will vary for one-hour rush deliveries and deliveries under $35, and there is a $10 minimum for Hannaford delivery orders placed through Instacart.
All prices found on Instacart are determined by Hannaford, though some in-store sales and promotions may not apply.
Only coupons found on Instacart are accepted, though Instacart occasionally offers discounts and promotions not found in Hannaford stores.
Instacart accepts EBT payments in Maine, New Hampshire, New York, and Vermont. Instacart also offers a paid Express Membership that waives the delivery fee and assistance for senior shoppers.
Instacart delivery drivers do accept tips, and 100% of all tips go to drivers. A minimum tip of $2 is suggested per delivery, though 15-20% of the order total is the standard tipping amount.
Can You Get Hannaford Pharmacy Orders Delivered?
Hannaford pharmacy orders can be delivered. However, Hannaford pharmacy orders cannot be combined with grocery orders and must be placed separately. Hannaford pharmacy orders can be delivered up to 10 miles from the pharmacy and have a flat delivery fee of $10.
To get Hannaford pharmacy orders delivered, order online through the website or download the Hannaford Rx app.
Ordering Hannaford pharmacy items online offers the following benefits:
Locate pharmacies near you
Easily manage prescriptions for family members through family linking
Manage your medications
Refill prescriptions
Run individual medical expense summaries
Transfer prescriptions from one pharmacy to another
View your prescription history
Does Hannaford Delivery Take EBT?
Unfortunately, Hannaford delivery does not take EBT payments. All payments must be made online with a valid credit card during checkout. Hannaford currently accepts Visa, Mastercard, American Express, and Discover credit cards.
Upon completing the online checkout process, a temporary hold of 110% of the estimated order total will be placed on your credit card.
This ensures that enough funds are available to cover any possible substitutions, bottle deposits, the cost of weighed items, and other variables that may affect the final total.
The correct final total will not be charged to your card until the order has been completed.
Hi there- Tips are not accepted for pick up orders. If Hannaford Home Delivery is available in your area, you may tip the driver. Thank you!

— Hannaford (@Hannaford) April 12, 2021
Do You Tip Hannaford Delivery?
Hannaford primarily delivers through Shipt, whose drivers do accept tips. The standard tip amount is 15-20% on Hannaford deliveries, and it can be adjusted based on the size of the order, the delivery distance, and the driver's customer service.
Tipping not only shows appreciation for the service, but Shipt delivery drivers who deliver Hannaford orders make most of their income from tips.
Tips may be given in person upon delivery or during the checkout process when ordering through the Hannaford website or the app.
Alternatively, tips can be left through the order receipt emailed to you upon completion of the order. The credit card used to pay for the order will be charged the tip amount.
Conclusion
Hannaford delivery makes getting your groceries easier than ever. The many ways to shop and the digital coupons save you time finding the best deals on your favorite items. In addition, with options for same-day and next-day delivery, you can get your groceries on a schedule that suits your busy life.
If you're interested in finding out more grocery shopping tips, check out the related articles below.
Related Articles:
Hannaford To Go: How Hannaford Pickup Works Plus Hannaford Rewards
Walmart Grocery Delivery: How to Get Groceries Delivered from Walmart
Stop and Shop Pickup: Here's How It Works and How to Order
Stop and Shop Delivery: Your Guide to Ordering Online at Stop and Shop