Hannaford To Go: How Hannaford Pickup Works Plus Hannaford Rewards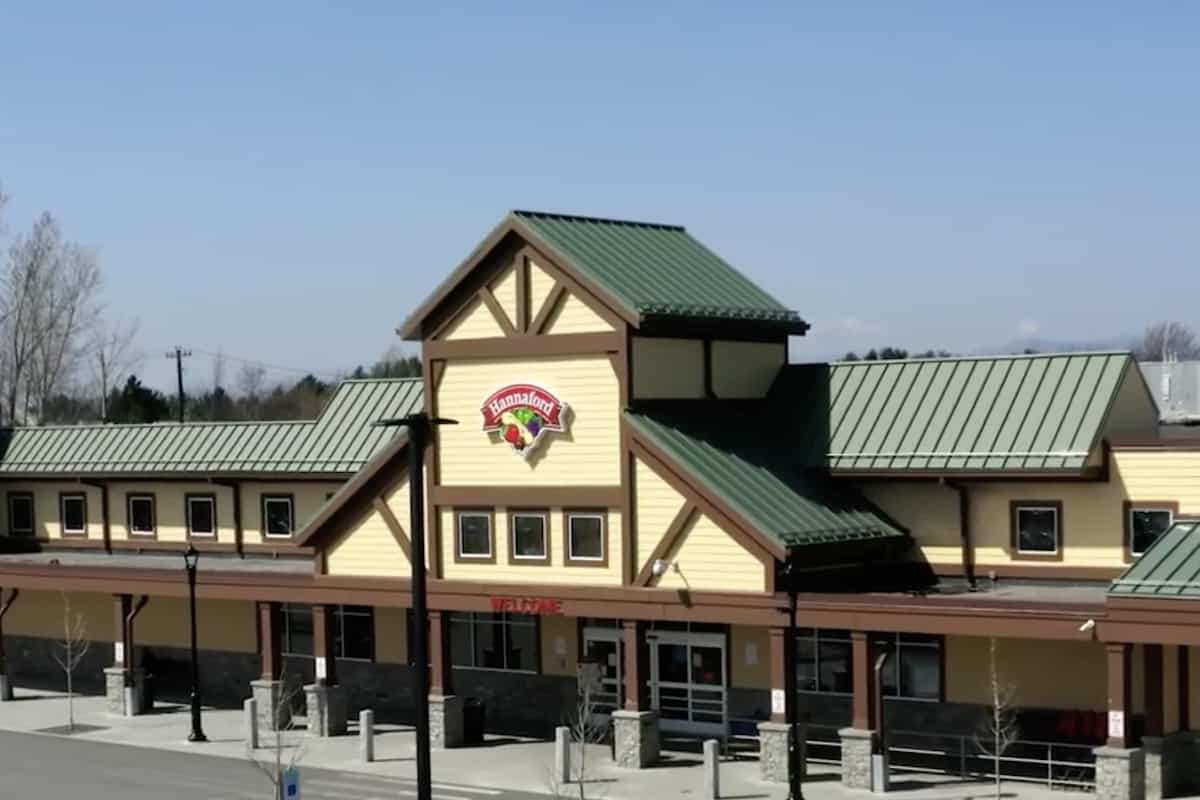 Hannaford To Go makes grocery shopping quick and efficient. Instead of wasting time walking through isles in search of your favorite items, let a trained shopper help you. Place your order online, present your order confirmation in-store, and be on your way within minutes.
You can order Hannaford To Go online through their website or the app. There is no minimum order for Hannaford To Go, and the pickup fee never exceeds $5. You can use digital or paper coupons and earn rewards points. Hannaford accepts credit or debit cards, EBT, and WIC for pickup orders, and tips are discouraged.
Hannaford To Go helps you save time grocery shopping. Read on to discover how it works, the best ways to shop, and how to save money using coupons and My Hannaford Rewards!
How Does Hannaford To Go Work?
Hannaford To Go lets customers shop for groceries online through their website or the app. You can browse the same selection found in stores, and a shopper will prepare your order for pickup at your local store. You can also apply coupons, leave special requests, and earn rewards through the Hannaford Rewards program.
Shopping Hannaford To Go allows you to choose from the same great selection as you'd find in-store, plus all Hannaford Rewards will be automatically added to your account when you scan your code at pickup.
Item prices will always reflect the current deals and promotions on the day you pick up your groceries. Hannaford To Go has a service fee of up to $5 based on the order size and location. There is no minimum order for Hannaford pickup.
Same-day and next-day pickups are available through Hannaford To Go, but pickup times vary by store and location. Check available pickup times before starting your order to reserve a timeslot that works for you.
Shopping online with Hannaford To Go makes it even easier for shoppers to earn points and save through Hannaford Rewards.
You can clip coupons online with the click of a button, and they will automatically be applied when those items are added to your cart.
You will also receive personalized deals to take advantage of the best deals and savings on your favorite items.
Hannaford strives to give shoppers exactly what they would choose themselves. So leave notes and special requests while ordering online to let shoppers know exactly what you're looking for.
You may also choose to allow item substitutions if the specific item you ordered is out of stock.
Substitutions can be approved or rejected before the final in-store payment.
Associates will attempt to reach you by phone or email when substitutions are made, or you may ask to review substitutions when picking up your order.
Although most items found in stores can be ordered with Hannaford To Go, certain restrictions do apply.
For example, someone over 21 must present a valid ID to pick up orders containing alcoholic beverages, or the alcohol will be removed from the order.
With Hannaford To Go, greeting cards and seasonal specialty items are not available to order online, nor are pharmacy orders.
In addition, certain prepared hot food items are also only available for pickup after 11 a.m.
For pickups before 11 a.m., cold alternatives may be substituted for the selected items.
Special occasion items such as personalized cakes can be ordered along with your Hannaford To Go order but require a 24-hour notice before pickup.
These items will require their own pickup time that can be matched with your grocery pickup. Just let a store associate know that you pick up a special occasion item when you get your groceries.
When ordering items in bulk, it is requested that customers call the store from which they plan to order at least 48 hours before pickup to ensure item availability.
Select meat items must also be ordered directly through the deli when ordering in bulk.
An email confirmation will be sent upon checking out online. Hannaford To Go orders can be edited or canceled after completing checkout; however, payment information cannot be changed.
Hannaford To Go orders scheduled a day or more ahead of time may be changed until 4 a.m. the day of pickup.
Same-day pickup orders ordered at least 5 hours before the pickup time may be adjusted for up to an hour after the order is placed.
Orders can be changed online if the order has not yet been processed. If your order is already being processed, you may add items to your order or reschedule the pickup time by phone.
While every location differs, simply have your confirmation receipt ready and follow the Hannaford To Go signs in stores to pick up your order.
You can also request refunds for Hannaford To Go orders if any item is damaged, bad quality, or missing.
In addition, Hannaford holds a double your-money-back guarantee, which refunds twice the amount paid on any Hannaford brand items that do not meet the Hannaford quality standard.
Store managers can assist with any questions about refunds or pickup-related issues.
If you have any questions or concerns about ordering Hannaford To Go, you can call customer service at (800) 213-9040 for assistance.
How to Order Hannaford To Go Online
You can order Hannaford To Go online through their website or the mobile app. You can browse the weekly flyer, clip coupons, and apply them to your Hannaford To Go order. You can also shop by department or from your recent purchases to easily find your favorite items.
Ordering Hannaford To Go through the app is easy, and we'll show you exactly how to do it. You can also navigate to Hannaford To Go from the drop-down menu on their website for the same experience.
1. Begin your shopping experience by signing up for an account. Then click on "Try Hannaford To Go" to shop for grocery pickup.
2. Enter your zip code to find the store nearest you, or choose a location from the map.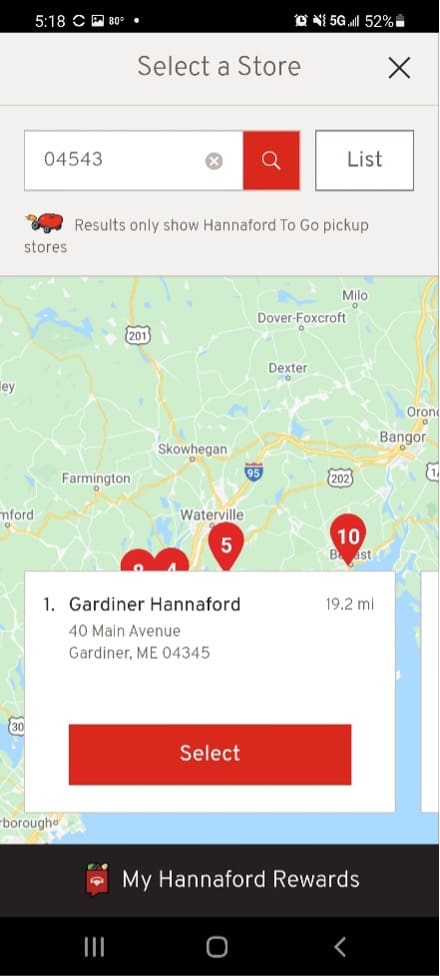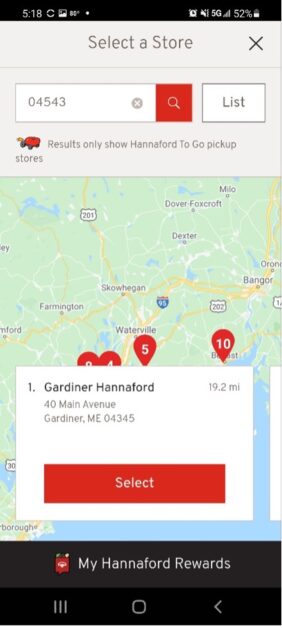 3. Reserve a pickup time slot before shopping to ensure you get the day and time that works best for you. Click on "Time Slot" at the top of the app, or navigate to "Reserve a Pick-up Time" from the drop-down menu.
4. The weekly flyer is available online and highlights the current deals and discounts. Click on items you're interested in to navigate directly to them.
5. Browse the coupons and clip them with the click of a mouse. Click directly on items to navigate, then add them to your cart, and the discount will automatically be applied.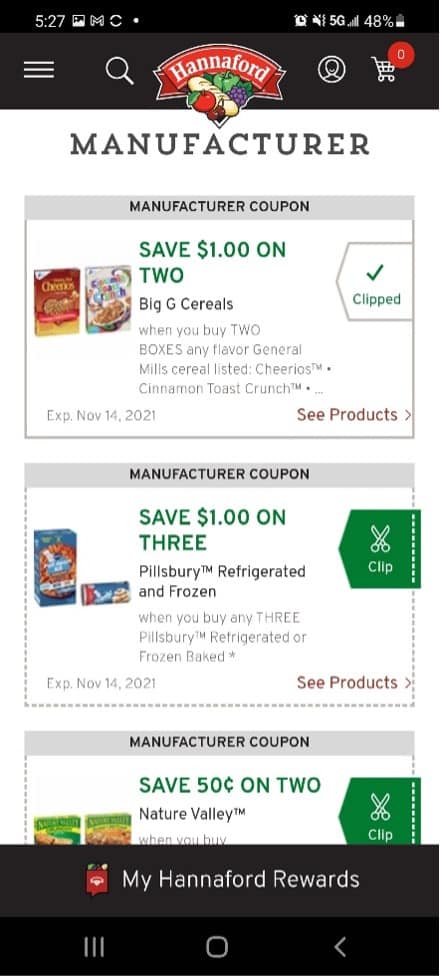 6. Click on "Recent Purchases" to shop directly from past orders to save time finding your favorite items.
7. Shop for the rest of your order by browsing departments as you would shopping in-store.
8. Nutrition facts of items can be found by clicking on individual items. Scroll down to see other suggested items based on your selection.
9. When you're done shopping, click on the cart in the top right corner of the app to review. Adjust the number of items or click on the drop-down menu to leave notes and special requests.
10. Click on "Checkout" when your cart is finalized. Review your pickup time and contact information, then scroll to enter payment information. Here you can choose between paying with a credit or debit card or using EBT/WIC. For EBT and WIC orders, remember to bring your card as well as an additional method of payment when picking up your order.
11. There are two drop-down menus below your payment information. First, choose "Order Instructions" to leave notes and additional requests for your shopper. Below that, you'll find "Substitution Preferences," where you can choose whether to allow substitutions when items are out of stock. Next, select whether to allow substitutions for all items in your cart or scroll down to adjust this by item.
12. If special occasion items are in your cart, you'll find them listed in the second section. Here you can adjust the pickup time and leave any additional notes for your shopper.
13. The bottom of the screen will display the estimated total for the order. You can enter a promo code here if you have one, then click on Place Order at the bottom of the screen to finalize your order.
14. To pick up your order, bring your confirmation email to your local store during your selected time slot and follow the signs for Hannaford To Go. Then, click on "My Hannaford Rewards" in the app to scan your rewards card and earn points for your pickup order.
How Much Does Hannaford To Go Cost?
The first order with Hannaford To Go is free. After that, a fee of up to $5 will be added based on your location and the order total. All item prices, including any discounts and specials, are based on the day of your order pickup.
For items whose price depends on weight, "average weight" will be used to provide an initial cost estimate.
Taxes and bottle fees will also be added, and a hold of 110% of the estimated total will be put on your credit card upon completing the online checkout.
This hold ensures enough money is available to cover your Hannaford To Go order after variable prices have been adjusted.
The final cost of your order will be reflected upon pickup, at which time that amount will be charged to your card.
Prices may also vary based on current flyer deals. Hannaford Flyers run each week from Sunday to Saturday.
When placing Hannaford To Go orders ahead of time, keep in mind that prices may vary for orders whose pickup time crosses into the following week.
Hi there- The coupons clipped to your Hannaford rewards account will deduct at check out when you sign in and place a to go order on https://t.co/veGsioDSUb.

— Hannaford (@Hannaford) January 27, 2021
Can You Use Coupons With Hannaford To Go?
You can use both paper and digital coupons with Hannaford To Go. You can clip coupons online to automatically receive discounts in your cart or bring paper coupons to the store to be applied at the final checkout.
When ordering Hannaford To Go online, you can clip all applicable coupons before checkout, and the discounts will be added to your cart.
If you choose to use paper coupons, be sure to let a store associate know upon pickup so they can help you apply them to your order before payment is processed.
Hannaford To Go also accepts promo codes. Enter the promo code online at the time of checkout to apply it to your order, and a store associate will confirm the details for you.
Discounts from applicable promo codes will be applied to your order total.
What Is My Hannaford Rewards?
My Hannaford Rewards is the store loyalty program that allows you to earn points when shopping at Hannaford and get personalized coupons and deals. You can earn 2% reward points on all store brand items and redeem points at checkout to get additional discounts.
With Hannaford Rewards, you'll earn 2% rewards points on all store brands, including:
Always My Baby
CareOne
Companion
Etos
Hannaford
Home360
Limited Time Originals
Nature's Promise
Smart Living
Taste of Inspirations
You will also receive 2% reward points on select items with the Hannaford brand on its packaging. These items may include:
Bakery items
Deli items
Fresh meat
Packaged produce
Seafood
The more you shop at Hannaford, the more Hannaford Rewards will help you save by sending personalized deals and coupons for your favorite items.
You can clip coupons online by adding them to your Hannaford Rewards account with the click of a button. Then, simply scan your rewards barcode or enter your phone number at checkout to instantly apply discounts.
My Hannaford Reward points are given quarterly and must be activated to be used. If you choose to be contacted by email or text, a reminder to activate points will be sent at the beginning of each cycle.
If you don't have a My Hannaford Rewards account, you can sign up for a free account on their website. 
Hi, we apologize for the inconvenience. We've since changed our policy on this and will accept EBT cards. Unfortunately this still requires a trip in the store for the customer to process your payment since we cannot take pin numbers from customers to process ourselves.

— Hannaford (@Hannaford) April 20, 2020
Can You Use EBT for Hannaford To Go?
Hannaford To Go accepts both EBT and WIC payments. However, EBT or WIC cards must be brought to the store for pickup along with another form of payment.
Select your preferred method of payment online. Then, when it's time to pick up your groceries, you may use EBT or WIC in-store for all applicable items and another form of payment to cover the remaining amount.
Do You Tip Hannaford To Go?
Hannaford employees do not accept tips. Hannaford To Go is a service provided to all Hannaford customers without the expectation of a tip.
However, Hannaford gladly accepts appreciation for their employees through continued store loyalty, spoken thanks, and recommendations to others.
Conclusion
With Hannaford To Go, you can do your grocery shopping at home and let a shopper navigate the store aisles for you. You can earn discounts and rewards with the click of a mouse, schedule a pickup time, and your order will be ready when you arrive!
If you're interested in finding out more grocery shopping tips, check out the related articles below.
Related Articles:
Hannaford Delivery: How It Works and How to Order With Hannaford App
Stop and Shop Delivery: Your Guide to Ordering Online at Stop and Shop
ShopRite From Home: Here's How It Works and How to Order
Walmart Grocery Delivery: How to Get Groceries Delivered from Walmart