How to Contact Walmart Customer Service (By Phone, Chat, and More)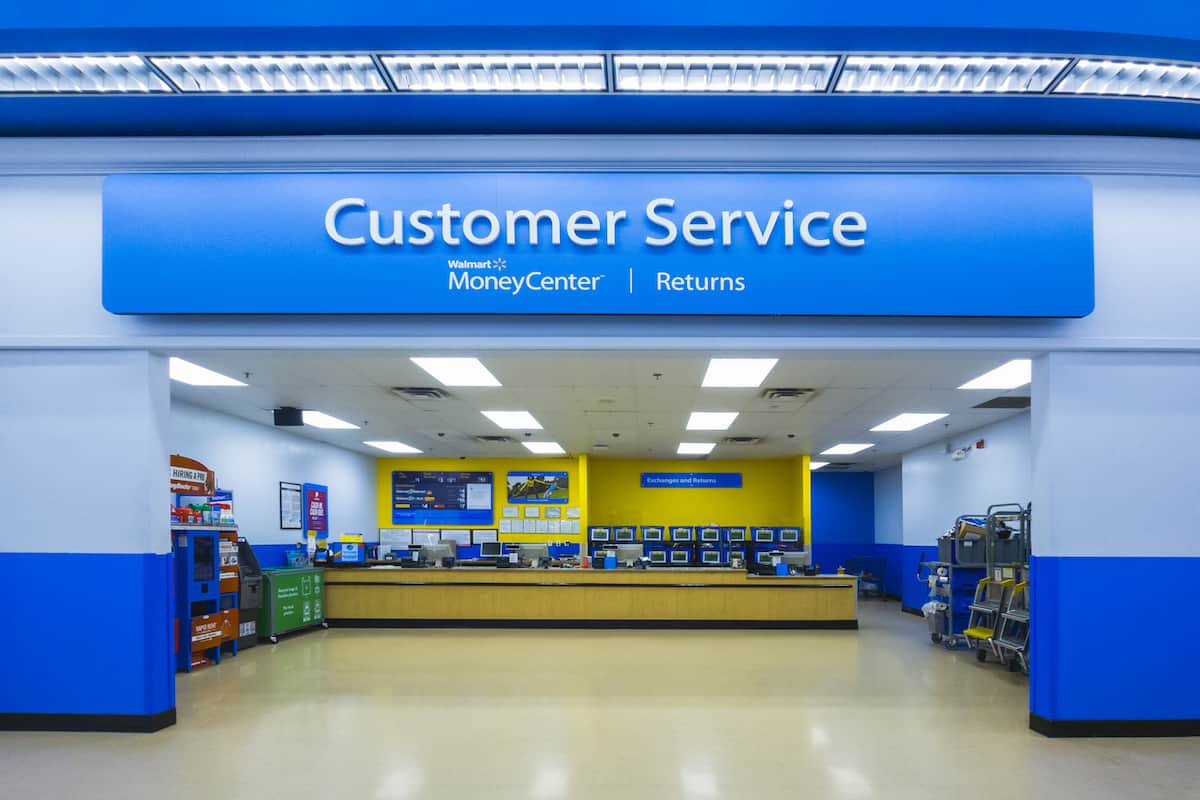 Walmart is known for its everyday low prices, and it's the go-to store for many consumers. And when issues or questions arise, there are many ways to reach Walmart Customer Service to get the help you need.
You can call Walmart's Customer Service at 1-800-925-6278 from 8 am to 11 pm CST every day. Walmart Customer Service Desk in stores is usually open from 8 am to 10 pm. You can also use Live Chat to contact Walmart Customer Service or send an email. In addition, Walmart's Customer Service uses Twitter and Facebook.
In this article, we'll cover multiple ways of reaching Walmart's Customer Service so you can get assistance quickly and efficiently!
@ekoyt1 The telephone number phone for our customer service 1-800-WALMART (925-6278). If we can help with anything else let us know. -Kinga

— Walmart (@Walmart) January 10, 2014
What Is Walmart's Customer Service Number?
Walmart's Customer Service Number is 1-800-WALMART (1-800-925-6278). Walmart Customer Service hours are from 8 am to 11 pm CST every day, but the corporate offices are only open from 8 am to 5 pm on weekdays. You can call Walmart's Customer Service to ask about pricing, share your store experience, or contact headquarters.
You can call the Walmart Customer Service number at any time between 8 am and 11 pm CST, seven days a week.
If you want to get in touch with the corporate offices, make sure to call between 8 am and 5 pm on weekdays.
The best time to call Walmart's Customer Service number is between 8 am and 9 am CST, right after Customer Service opens. You can also call later in the evening, around 9 or 10 pm CST.
When you call around the opening or closing of Customer Service, there are usually a few other customers in line to speak with an agent.
Walmart Customer Service can help with a wide variety of questions and concerns. The representatives can assist you with any questions about products and their pricing.
They can also help you get in touch with the Walmart corporate headquarters or other departments.
You can also call Walmart Customer Service to share a store experience, as they appreciate any feedback, good or bad.
The Walmart website also has a Help Section with answers to many Frequently Asked Questions.
You may want to search here first before calling Customer Service since it may be faster. For more complex questions or concerns, Walmart Customer Service is ready to help.
The customer service desk is open between 8am-10pm. -Ati

— Walmart (@Walmart) January 16, 2017
What Are Walmart's Customer Service Desk Hours?
At most locations, Walmart Customer Service Desk is open from 8 am to 10 pm. The Customer Service Desk is open any day that the store is open. Some Walmart locations may open or close at a different time, and the Service Desk hours align with regular store hours.
You can visit the Customer Service Desk at your local Walmart store to get help with returns, exchanges, and finding items.
Most items can be easily returned or exchanged at the desk as long as you have the receipt from your original purchase.
If you have a specific item you need, the Customer Service Desk can reach an employee to help you find the item.
In some cases, you may also have to go to the Customer Service Desk to pick up an order. Most Walmart Pickup orders can be brought out to your car in the designated parking lot area.
However, some customers may be instructed to go to the Pickup area inside the store. This Pickup area is usually next to or part of the Customer Service Desk area.
To find the hours of your local store, check the Walmart Store Directory. Use this resource to identify your closest Walmart by selecting your state and then your town or city.
The store directory tells you the main store hours, and it also includes hours of specific departments in each store.
How Do I Contact Walmart Customer Service for Online Orders?
You can contact Walmart Customer Service via their website or phone number (1-800-WALMART) for online orders. The website is the easiest method if you need to make simple changes like editing your online order. However, if you have more complex questions, call the Customer Service phone number to speak with a live agent.
Help is available throughout the entire process of placing an online order at Walmart.
You can contact Walmart Customer Service if you need assistance with tracking, editing, or canceling an online order.
If the order is still in the "Processing" status, you can make any necessary changes, and Customer Service can help with that.
Occasionally, employees make mistakes when putting together or delivering an online order.
If you receive all the packages for your order and realize an item is missing, contact Customer Service. The representative may reimburse you for the missing item or send a replacement.
Similarly, you may encounter an error where the order status says it was delivered, even though you never received any packages.
In this situation, Walmart recommends that you wait two days before contacting Customer Service.
Returning a large, bulky item from an online order will also require a call to Customer Service.
Typically, you can ship any returns back to Walmart or bring them to a local store.
However, it gets tricky when the item is large and difficult to ship or carry. A Customer Service representative can help you figure out the best way to make the return.
We'd be happy to help you with that. If you visit the link below, you can enter a live chat with an online associate who can help you with your order. Just choose Orders, Chipping, & Tracking in the first box, and Assistance Placing an Order in the second.https://t.co/peQCi8rUDv

— Walmart Help (@walmarthelp) September 11, 2018
Does Walmart Customer Service Have Live Chat?
Walmart Customer Service has a live chat function on its website, which is available 24/7. You can answer many questions with the chatbot; however, if the chatbot cannot help, describe the issue in detail, and the bot will connect you with a live agent that you can message.
To access the Customer Service live chat, start on the main Help page of the Walmart website.
Scroll down until you see the blue button that says "Contact us." When you click this button, a chat box will appear in the lower right-hand corner.
The chat always starts with a brief introduction and some suggested topics to select from.
If you see an option that describes your issue, click on that button, and the chatbot will initiate a series of questions and instructions to help you solve your problem.
If you continue to browse the topics and don't see what you are looking for, the chatbot can help you connect with a real person.
After indicating your topic of interest is "something else," the chatbot will ask you to describe your problem in your own words.
Type this into the chat box, and you will soon be connected with a live agent who can help you.
You will also be connected with a live agent if you have chosen one of the suggested topics, but the chatbot's answers are insufficient.
There is a wide variety of topics that Walmart Live Chat can help with. For example, it can assist with online orders, returns and refunds, and your online account.
The chatbot can also answer your questions about Walmart+ and items that are out of stock. It can even provide information about the COVID-19 vaccine.
You can also provide feedback using Walmart's Live Chat.
Specifically, you can use the chatbot to share an experience you had in-store, or you can provide feedback for a driver who dropped off your Walmart Delivery order.
Can I Contact Walmart Customer Service via Email?
You can contact Walmart Customer Service via email. The main contact page on the corporate website has a link you can use to initiate an email. To send Walmart Customer Service an email, you will need to choose a topic, add comments or explain your question, provide contact information, and select your closest store.
Walmart welcomes feedback from its customers. If you want to send an email with feedback or a question, start on the "Contact Us" page of the corporate Walmart website.
There is a link to "Email Customer Service," and it will take you to another page to start the process.
You must provide some basic information before sending an email. First, you will need to choose a topic that pertains to your comment or question.
This helps direct the email to the right person or department who can help you.
There are six main categories to choose from:
Store Experience
Discontinued Item/Brand
Company Feedback and Questions
Product Question/Product Feedback
Investor Information
Community & Giving
Next, you can type your comments or questions in the text box provided. There is a 3000-character limit, so you should have plenty of room to explain your thoughts fully.
You will also enter your contact information so a Walmart Customer Service agent can respond to you.
Finally, you will choose the store that your email pertains to. You can search for the store using a zip code or address.
Make sure to have the right store selected, especially if you had a bad experience, so your feedback is sent to the right people.
Hi, there. We are happy to assist you with your question.

— Walmart Help (@walmarthelp) November 22, 2021
Does Walmart Customer Service Use Social Media?
Walmart Customer Service primarily uses Twitter and Facebook to offer support to customers via social media. You can ask a question on Twitter by tagging @walmarthelp in your Tweet. On the Walmart Facebook page, starting a conversation with Messenger will initiate a chatbot that can answer many of your questions.
The Walmart Help account on Twitter is very active. Customer Service agents are often available to provide quick replies to your Tweets.
You are also sure to get your answer in a few short sentences because Twitter has a 280-character limit!
Another benefit of Walmart's Twitter accounts is that you can send them a question at any time. Though you may not get an immediate response in the middle of the night, you can Tweet @walmarthelp at any time.
Walmart also has a very active Facebook page. To reach Walmart Customer Service through Facebook, you can start a chat on their page using Messenger.
At first, a chatbot will explain how to get assistance and offer some options for help topics.
Eventually, you may be connected with a live agent if your question cannot be answered with the chatbot.
Walmart is on Instagram as well, but you cannot reach Customer Service through their page.
Like the regular Walmart Twitter page (@walmart), the Instagram account is used primarily for advertisements and important communications.
Using Twitter and Facebook are the best methods to get in touch with Walmart Customer Service on social media.
What Is the Best Way to Contact Walmart?
The best way to contact Walmart is by using the Live Chat feature on the Help Page. The Live Chat can quickly answer most simple questions, and all you have to do is to type and click. If you can't get your question answered with automated responses, you can still connect to a live agent in the same chat window.
When you use Walmart Live Chat, you get almost immediate responses.
It is easy to select topics from the options that pop up, and the chatbot can provide direct links to pages on the website.
Generally, it's much faster to click through the options online than waiting to hear your options read out over the phone.
And if you end up needing to talk to a live person, it's much easier to get some work done on your computer while waiting rather than being on hold for someone to answer your phone call.
You can also navigate the rest of the Walmart website while keeping the chat open.
Conclusion
Walmart Customer Service assists customers at more than 4,700 stores across the US. There are plenty of ways to contact an agent, and there are even more resources online to help you answer questions on your own.
If you're interested in finding out more Walmart shopping tips, check out the related articles below.
Related Articles:
Everything You Need to Know About Walmart's Hours
What Is Walmart Plus and Is It Worth Signing up for Groceries?
Walmart Grocery Pickup: How to Order Walmart Groceries for Pickup
Walmart Grocery Delivery: How to Get Groceries Delivered from Walmart