15 Most Popular Cookie Chains In America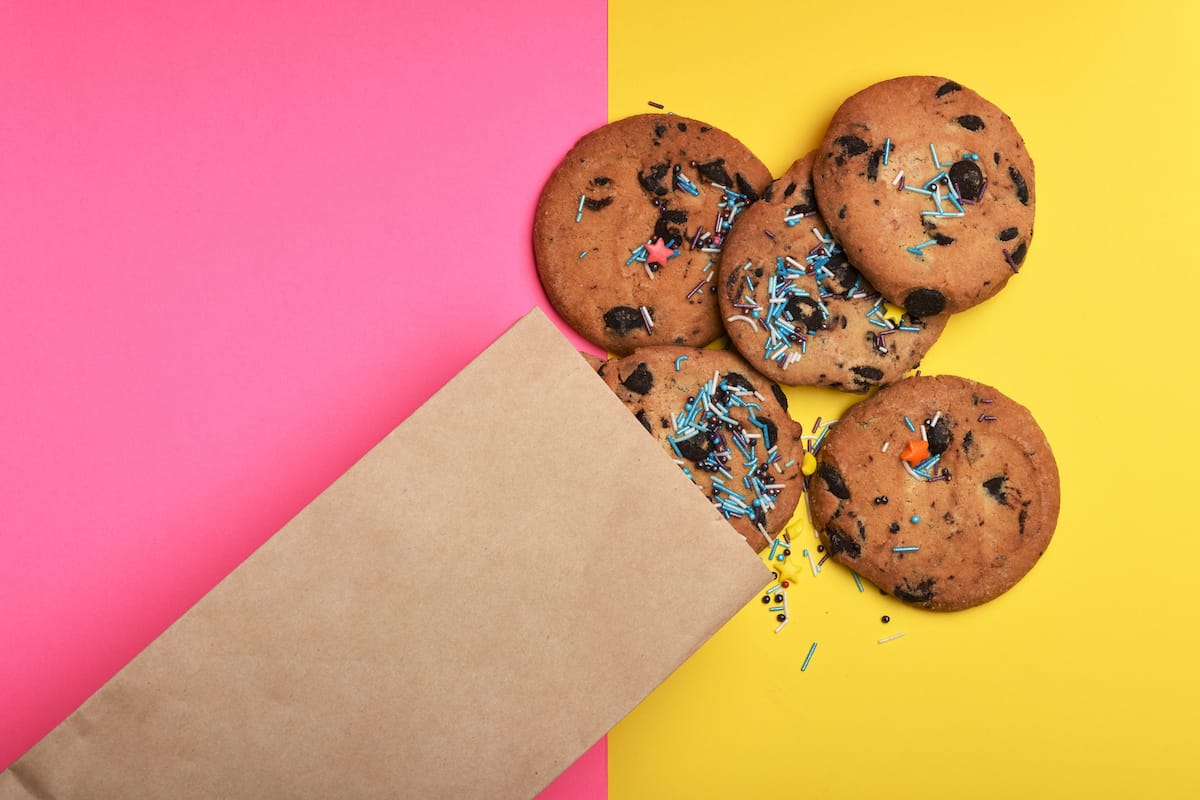 Cookies are America's sweetheart that can be enjoyed with a cold glass of milk, on holidays, or whenever your cravings hit. Luckily, there are many cookie chains in the US serving up some delicious cookies.
These chains offer a variety of different types of cookies, from the classics to unique rotating menus.
Whether you're looking for a sweet and frosted cookie or stuffed with chocolate chips, these cookie shops have got you covered.
Below is my ranked list of the 15 popular cookie chains to provide you with the utmost cookie enjoyment.
15. Cookies by Design
Cookies by Design is known for its colorful frosted sugar cookie bouquets. They have many different themed cookie baskets, bouquets, and cookie cakes.
In addition to sugar cookies, they also serve a variety of gourmet cookie flavors like white chocolate macadamia nut, and red velvet.
These detail-oriented sugar cookies are popular for baby showers, wedding events, and birthdays.
They are shaped and flat with a detailed picture of royal icing.
Royal icing is a sweet, decorating icing that is applied in liquid form and then hardens from using egg whites in the ingredients.
It takes on food dye beautifully and is perfect for detailed cookie decorating.
Although Cookies by Design delivers in their aesthetically pleasing cookie bouquets, they lack a bit in quality.
The sugar cookies seem dry to prevent the moisture from interfering with their design, and many are not a fan of the sweetness of the royal icing.
If you want exquisitely decorated cookies, Cookies by Design is great, but keep in mind that the beauty comes at a price for the taste.
14. Great American Cookies
Great American Cookie stores are often found in malls or pop-up stands at concerts and sporting events.
A childhood memory for many Americans would be begging your mom to let you have a soft rainbow sprinkle Double Doozie sandwich cookie!
Great American Cookies started in Perimeter Mall, a strip mall in Atlanta, GA, in 1977.
They were originally called the Original Great American Chocolate Chip Cookie Company, but that name was not catchy enough for national recognition.
They offer many flavors from M&M, sugar, and chocolate chip.
The Double Doozie, a sandwich cookie with frosting in the middle, is a popular option. They also offer cute custom cookie cakes.
In my opinion, these soft cookies are good but not great.
The cookies are made to be shelf-stable, so they retain a slight preservative taste.
However, their nostalgic temptation is hard to resist when browsing through a mall food court!
13. Nestle Toll House Cafe
What comes to mind first when you think of chocolate chip cookies? I bet most would answer Nestle Toll House!
The brand's recipe started in 1939 when Ruth Wakefield created these confections for the Toll House Inn, the restaurant she ran with her husband.
The Toll House Cafe serves chocolate chip cookies (of course), specialty coffee, ice cream sandwiches, brownies, and more!
Despite its success in the early 2000s, the chain went through some tough times. Nestle Toll House Cafes were acquired and converted to Great American Cookies in 2022.
I think their cookie cups that conveniently hold milk were simply adorable.
12. Eileen's Colossal Cookies
Eileen's Colossal Cookies is a chain of retail cookie shops offering fresh homemade cookies, frostings, and cookie dough.
Eileen's Colossal Cookies started in her home in Hastings, Nebraska, after taking a cake decorating class and decided that she wanted to apply it to cookies!
They have many franchise locations all across the Midwest.
A variety of cookie flavors are offered, like snickerdoodle and M&M, as well as custom frosted cookie designs. You can even get a cookie from 3 to 16 inches that can be custom-designed.
Personally, I would go for Eileen's Colossal Cookies for a better-tasting decorated cookie rather than Cookies By Design.
11. Whimsy Cookie Company
Whimsy Cookie Company is best known for its delectable sugar cookies that are "whimsically" decorated. Their adorable pink parlor sells many different treats across the South.
Whimsy Cookie Company began in 2007 by founder and co-owner Laurie Suriff.
It started out of her kitchen when her sugar cookies were in high demand in the Memphis area.
In 2012, Collins Tuohy (a loyal Whimsy customer) joined forces with Laurie to become equal partners and open a storefront in Memphis.
The company's success skyrocketed from there! The hundred-year-old house on a main street that runs through Memphis was the perfect retail experience for Whimsy consumers.
Whimsy has only a handful of locations and offers online ordering. I wish there were more locations!
Their secret sugar cookie recipe is ultra soft with beautiful designs.
They also offer nine different flavors of gooey butter cookies. I would recommend trying the cinnamon roll or birthday cake!
Many celebrities love Whimsy Cookie Company, like Reese Witherspoon, Miranda Lambert, and Tim McGraw!
10. Tiff's Treats
Tiff's Treats is well known for its cookie delivery services. They bake warm cookies fresh when you order and deliver them right to your door, even late at night!
Tiff's Treats operates around 70 stores across five southern states. You can get these warm goodies delivered if you live around a location.
They offer essential cookies like peanut butter, snickerdoodle, oatmeal raisin, chocolate chip, and sugar. When the cookies are made fresh to order, the classic will do!
They also serve brownies, chocolate chip cookie truffles, and ice cream sandwiches. Tubs of frosting are also included on the menu as a great way to elevate your cookies.
Tiff's Treats is a good option for its quality and classic flavors.
Their competitors with rotating and unique flavors may outshine them. However, I think Tiff's Treats does traditional well, so they do not need all the fluff of crazy flavors.
9. Chip Cookies Company
Chip Cookies was born out of pregnancy cravings. Founders Sean and Sarah were battling with her cravings for a warm, gooey chocolate chip cookie late at night.
Instead of baking cookies, Sean worked on a business plan for a delicious cookie delivery service.
They have many locations in Utah, so you cannot enjoy that warm cookie delivered unless you live by a location. However, they do ship their yummy cookies nationwide.
They have a weekly rotating menu that is very popular these days. They also have the OG chocolate chip, of course.
A fan favorite is the Biscoff Chip, which is a white chocolate chip cookie with biscoff cookies and stuffed with biscoff cookie butter.
They serve other fun flavors like churro toffee chip and a brownie sundae chip. They all look so yummy!
8. Cookie Plug
Cookie Plug is known for its hip-hop aesthetic and thick cookies called "fat stacks." This southern California-based cookie chain has many locations nationwide and more to come.
Their cookies are more cake-like. Imagine the grocery store Lofthouse cookies with their soft texture.
Cookie Plug has 16 vibrant and unique flavors. The purple haze is a purple velvet cookie, which is a red velvet cookie dyed purple instead.
The bam bam is a sugar cookie that is full of fruity pebbles cereal.
The Plug Popper is what I would get. It's a bite-sized cookie box of all twelve flavors.
I would also love to try the Pink Elephant, which is a strawberry cheesecake cookie.
The brand does capitalize on dispensary slang, but there is no cannabis, THC, or CBD in their products.
7. Chip City
Chip City is a cookie chain located in New York and New Jersey. They currently have 18 stores, but Danny Meyer of Shake Shack invested $10 million in 2022 to accelerate their national expansion.
They have 18 classic flavors that rotate every week. These range from blueberry cheesecake to chocolate with peanut butter chips. Their cookies are a classic style, thick and gooey.
The oatmeal apple pie looks so yummy. It's a spiced honey oatmeal cookie filled with cooked apples.
They also offer a dairy-free chocolate chip that looks like a rival to the classic.
They prepare their dough off-site in Queens, New York, and ship it to their locations to have freshly baked.
With their company expanding, they are looking to build more dough production sites.
Chip City is a great choice if you want the fun of a rotating menu but with grandma-style cookies.
6. Dirty Dough
Dirty Dough is known for its super-stuffed cookies. The "dirty" refers to all the fillings, mix-ins, and layers.
They currently have over 30 locations across the US and are in the works to open more. I have heard they rival Crumbl Cookies, so I am excited to compare!
Their classic cookies include stuffed chocolate chip, brookie, raspberry toaster tart, reverse with Reese's, and cookies & cream.
They also have a rotating weekly menu with fun flavors like candy bar and carmedoodle, a cinnamon snickerdoodle filled with caramel.
I am a peanut butter fan, and the reverse with Reese's looks like it will satisfy that craving.
It's a fudge filled with a chocolate cookie, then triple wrapped with a peanut butter cookie and topped with chocolate drizzle and crushed Reese's.
Dirty Dough is known and loved for thick, soft, and gooey cookies.
Their "dirty" dough cookies are made to be imperfect and delicious. It's on the inside that counts – and if it's caramel, I'm in!
5. Mrs. Fields
Mrs. Fields is one of the largest and most recognizable cookie chains in the US. Their cookies are a classic that is beloved nationally.
There are over 250 stores around the world. Many of them are found in shopping malls.
Mrs. Fields serves classic and high-quality cookies. Classic chocolate chip is, of course, offered along with cinnamon sugar. They also offer brownies, frosted cookies, and cookie cakes.
This cookie chain is sure to deliver classic cookie flavors right to your taste buds.
Don't worry if you don't have a Mrs. Fields location near you, though – they ship their treats nationwide!
4. Crumbl Cookies
Crumbl is known for its elaborate, huge cookies with a rotating menu.
I think their social media is the most responsible for their success. The visually appealing videos of the weekly menu on TikTok and Instagram are insane!
Crumbl has over 200 stores in 32 states. They keep everyone on their toes, waiting for the weekly menu to drop the next six flavors.
They offer chilled, warm, and cake-like cookies. Their monster cookies are loaded with frostings, glazes, toppings, and more.
For example, the salted caramel cheesecake is a chilled graham cracker cookie with cream cheese frosting and topped with salted caramel.
Crumbl truly set the cookie game up with the weekly menu. However, I do not rank them number one.
I believe the concept and business model are great, but the cookies don't deliver that high quality.
They are definitely tasty, yet they hit the mediocre scale taste-wise.
3. Insomnia Cookies
Insomnia Cookies are best known to curb late-night college student cookie cravings.
These melt-in-your-mouth cookies may taste better after you've been studying for an exam all night, but they are delicious either way!
Insomnia Cookies now has over 200 locations nationally. They are typically found in college towns, though. They also deliver cookies as late as 3:00 a.m.!
Insomnia has a wide range of classic, deluxe, brownies, and blondies. The salted caramel is the perfect combo of sweet and salty from the deluxe menu.
If you have an Insomnia Cookies store near you, they will deliver, but if not, they also offer national shipping
2. Milk Bar
Milk Bar has only a handful of locations around the country, but they remain iconic. They offer pies, cakes, truffles, and, most importantly, cookies.
This New York Company ships its goodies nationwide and can be found in grocery stores. I found their Compost Cookie at Target the other day and had to grab it!
The Compost Cookie is their most popular. It features pretzels, potato chips, graham crackers, coffee, oats, and butterscotch. Talk about the perfect sweet and salty combination!
Milk Bar is great if you want a delicious cookie with a little bit of spice.
The cornflake chocolate chip marshmallow is a great example of that. The unique "everything but the kitchen sink" cookies are a great way to branch out.
If you're looking for chewy, fun, and creative cookies, dip your Milk Bar cookies in a glass of milk!
1. Levain Bakery
Levain Bakery bakes thick 6-ounce cookies with a crispy outside and gooey inside. This New York bakery truly knows how to make an iconic cookie!
They have only 13 locations in the East and Midwest but ship same-day nationwide.
These cookies are so popular that there are many recipes online for "Levain style" cookies.
Their thick drop-style cookies provide the ultimate cookie experience by being crispy and soft at the same time.
The chocolate chip walnut is the original of Levain cookies. It's loaded with chocolate chips, and the walnuts pair awesome with the hints of chocolate and brown sugar.
They also have seven other classic chocolate chip-loaded flavors.
Levain Bakery is one of the first stops for many in New York (at least mine) because there is no way to imitate the freshly baked, warm chocolate on your fingers and the gooey experience you get from having one of their cookies.
Conclusion
The cookie chains on our list span numerous locations around the US, so you can always find a yummy cookie when the cravings hit.
Whether you want a classic chocolate chip cookie or an extravagant one, stop by one of these popular cookie chains or have them delivered to your door since many of them offer nationwide shipping.