20 Popular Grocery Store Cookie Brands, Ranked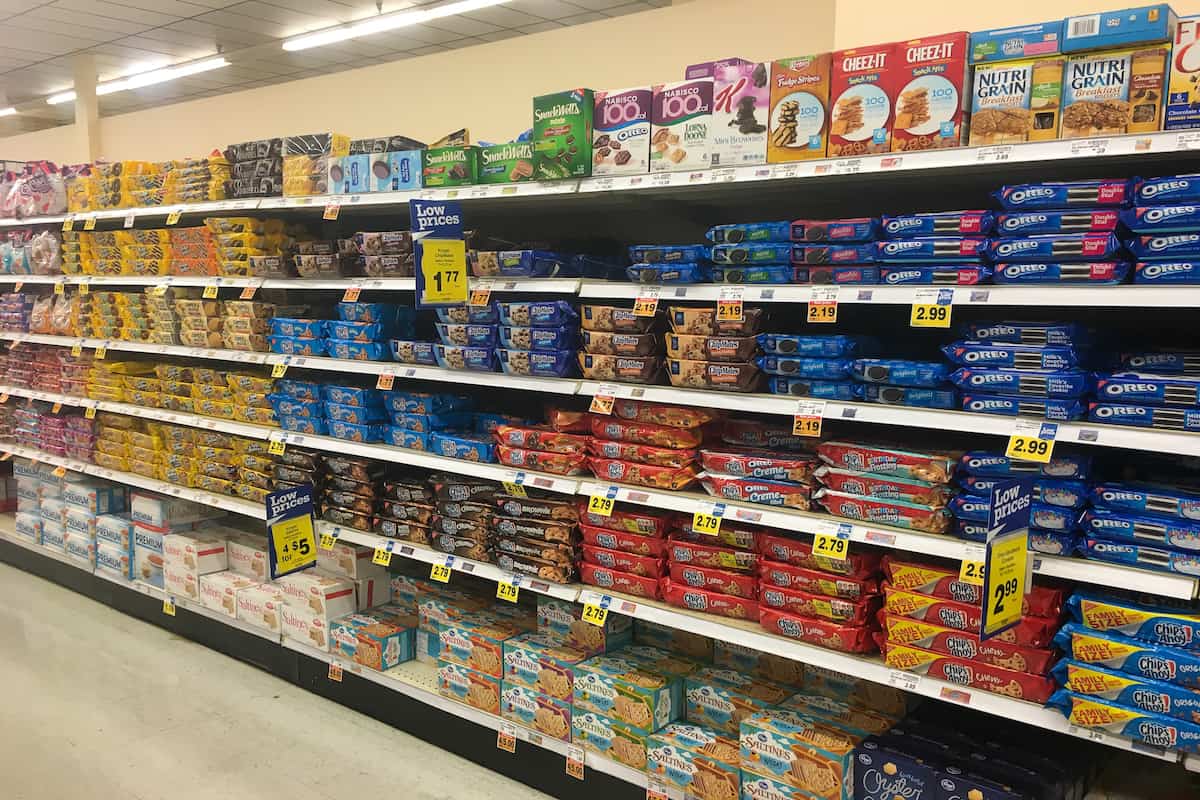 Cookies are a sure way to a dessert lover's heart. Whether you like them loaded with chocolate chips or swirled with frosting, there are many cookie brands you can buy at grocery stores when the cravings hit.
When it comes to grocery store cookies, not all brands are created equal. Some have a long history and following, while others offer unique, fun flavors.
With so many options on the shelves, walking into the cookie aisle can be daunting at first, but don't worry, I've got you covered!
We'll go over 20 of the popular cookie brands at grocery stores, and I'll rank them from my least favorite to all-time favorite.
From Nutter Butter's peanut butter sandwich cookies to Keebler's fudge stripes, there's an option on this list for every appetite!
20. Mother's Circus Animal Cookies
Mother's Cookies was born in Oakland, California in 1914. They are renowned for their pink and white frosted circus animal cookies.
These little animal-shaped sugar cookies are crunchy with a thin layer of melt-in-your-mouth frosting and rainbow sprinkles.
These nostalgic cookies are the perfect snack you can enjoy from childhood to adulthood.
Their small shape, crunchy mouthfeel, and not-too-sweet flavor make them the perfect afternoon snack.
Pick up these vibrant, fun cookies in your next grocery store run and pack them in your lunchbox!
19. Newtons
Newtons are soft-baked cookies filled with fig jam. They must be delicious and healthy since there are figs in them, right?
That sentiment must've been what you thought as a kid. However, these chewy cookies are a treat that develops with your tastebuds.
Fig Newtons were invented back in 1891 with their gooey original filling.
In the 1980s, other flavors were introduced, like strawberry and apple cinnamon.
In 2012, the "fig" was dropped from the brand name to accommodate a variety of flavors.
These little baked squares have a hint of cinnamon in the sticky, sweet fruit filling that is unique to Newtons.
If you don't like figs, which many associate with the brand, Newtons also offers many other flavors, from blueberry to strawberry.
18. Famous Amos
Famous Amos is known for its cute bite-sized chocolate chip cookies.
These crunchy cookies are served in small packages and are widely available at grocery stores.
They tend to be a bit dry and crumbly, though, which is not ideal for a good chocolate chip cookie.
I would really love it if these cookies were soft-baked!
I have seen many copycat recipes that incorporate a softer bake to them to improve the original.
However, these cookies are a good option if you want a quick sweet fix.
17. Walkers
Walkers is not as widely available as other cookies on our list, but it's definitely a tasty option to look out for.
The brand has been around since 1898. The founder, Joseph Walker, opened his bakery at age 21 with the ambition to make "The World's Finest Shortbread".
Shortbread is a very delicious traditional Scottish treat.
The simple shortbread recipe combines butter, sugar, flour, and a little salt for a melt-in-your-mouth cookie.
Walkers distinguishably puts 13 holes in each of their shortbread fingers to represent a baker's dozen.
These buttery cookies are a classic treat wrapped in a red plaid box in your grocery aisle.
16. Annie's
Annie's is a popular organic brand that uses wholesome ingredients in its products.
This bunny mascot brand sells organic chocolate chip cookie bites that are delicious.
These are similar to the Famous Amos mini cookies but have an overall better quality, in my opinion.
These small cookies are slightly crunchy and filled with organic semi-sweet chocolate chips.
I love the use of molasses and a hint of sea salt to elevate these cookies to a housemade level!
Annie's cookie bites are a great option if you eat organic or want a grocery store cookie with good ingredients.
15. Nilla Wafers
Nilla Wafers have been around for over a century. It was invented by Gustav A. Mayer in 1898, and then he sold the recipe to Nabisco.
The brand was originally called "Vanilla Wafers" but was shortened to "Nilla Wafers" in 1967.
Nilla Wafers are commonly used in banana pudding recipes.
However, before the 1920s, the classic banana pudding recipe used sponge cake before switching to the little circle cookies.
These small vanilla cookies make a great base for a crust on cheesecakes or pies as well!
Vanilla wafers are comparable to graham crackers. They are a good companion to desserts but can be a little boring by themselves.
14. Grandma's
Grandma's cookies can be found easily in vending machines or at your local grocery store.
The brand first started in Portland, Oregon, in 1914. Frito-Lay acquired the fast-growing company in the 1980s, and its success skyrocketed.
These giant cookies come in a two-pack individual wrapping.
The cookies are soft, thick, and decadent. They come in a variety of flavors like peanut butter, chocolate chip, oatmeal raisin, and more!
My favorite Grandma's cookie flavor is peanut butter. It's the perfect balance of sweet and salty with a bold peanut butter taste.
13. Entenmann's
Entenmann's is another brand that has been serving delicious sweet treats for over a century.
The founder, William Entenmann, was from Germany and opened the first Entenmann's bakery in Brooklyn, New York, in 1898.
Back then, he delivered freshly baked goods door-to-door in a horse-drawn wagon (I wish they still did that today!)
Entenmann's cookies can be easily found in your local grocery store aisle.
They have chocolate chip, black & white, rainbow cookies, madeleines, and holiday cookies.
Their chocolate chip cookies are chewy with a perfect golden brown exterior. I also love their buttery holiday cookies!
12. Lorna Doone
Lorna Doone makes a rich shortbread cookie with a deliciously crumbly texture.
This is one of the top-selling shortbread cookies on the market. Although Walkers is more traditional, Lorna Doone is more widely available in grocery stores.
Each shortbread square is stamped with the iconic Lorna Doone logo.
These shortbread cookies are sweeter compared to European shortbreads. I find them closer to Pepperidge Farm's Chessmen Butter cookies.
I highly recommend using Lorna Doone cookies in a banana pudding or as a pie crust!
11. Pillsbury
In 1869, Charles A. Pillsbury bought a share in a Minneapolis flour mill, and the rest was history.
Pillsbury is most known for selling premade cookie doughs, cinnamon rolls, and other pastries, but they also offer some ready-to-eat cookies.
This brand knows the love shared for a soft baked cookie! The soft and supple cookies are hard to find in store-bought varieties.
Pillsbury has a line of soft baked cookies that includes chocolate chip, confetti, peanut butter chocolate chip, and chocolate drizzled.
I recommend indulging in these cookies warm by placing them in the microwave for a few seconds!
10. Mrs. Fields
Mrs. Fields was founded by Debbie Fields in the late 1970s. The soft chocolate chip cookies remain infamous on the market.
These delicious cookies are sold individually wrapped at your local grocery store.
They have a variety of flavors, from classic chocolate chip, white fudge brownie, oatmeal raisin, and more!
I also love their white fudge brownie flavor, which is a rich chocolate cookie loaded with white and milk chocolate chunks.
Mrs. Fields cookies are a great choice for a homemade feel without all the work.
9. Milk Bar
Milk Bar is an NYC-based cookie chain that has won national attention.
James Beard's award-winning pastry chef, Christina Tosi, is the founder of Milk Bar. She has built an empire with her scrumptious cookie flavors.
Milk Bar has started selling bite-sized cookies called "crunchies" at grocery stores like Whole Foods, Stop & Shop, and Sprouts.
These are crunchy cookies packed with crispy rice cereal for that satisfying bite.
You can also order their iconic Compost cookie and Confetti cookie on their website for delivery.
The Compost cookie should be on your bucket list. It is the ultimate sweet and salty kitchen sink-level cookie!
8. Lofthouse Cookies
Lofthouse cookies are certainly what you consumed at your classmates' birthday party growing up!
These cookies are soft and cake-like with a vibrant swirl of frosting and topped with rainbow sprinkles.
There is a hefty debate about whether these cookies are delicious, but many people love these nostalgic cookies.
They are made with baking soda and powder to achieve their fluffy texture, rather than the typical chewy cookie.
Lofthouse cookies can usually be found in the bakery section of the grocery store.
7. Nutter Butter
Nutter Butter cookies are for all of the peanut butter lovers!
They are crunchy peanut butter sandwich cookies with a creamy layer of peanut butter in the center. They are also peanut-shaped!
Nabisco introduced these cookies in 1969, and they have been adored since.
For a fun Halloween dessert, dip them in white chocolate and put two mini chocolate chips at the top for the eyes. The shape of the Nutter Butter cookies will look like a delicious little ghost!
These crunchy cookies are the perfect sweet and salty snack.
6. Lotus Biscoff
Lotus Biscoff cookies are one of the most popular airplane snacks but are also widely available in grocery stores.
These little Belgian cookies are spiced with cinnamon, nutmeg, and ginger. They have a definitive crunch factor to them as well.
The original recipe was developed in 1932, and they are still baked in Belgium to this day.
In addition to cookies, many people also love the Lotus Biscoff cookie butter.
This is a cookie spread similar to the consistency of peanut butter. They even make a crunchy version with pieces of cookies in it!
I love to use Biscoff cookies as a crust on my key lime pie or vanilla bean cheesecake.
Whether you use them in baking or consume them by themselves, these cookies are delicious.
5. Keebler
The cute little Elves must be responsible for how yummy Keebler cookies are!
Keebler cookies are a kitchen pantry staple that has been around since 1853.
Keebler's most popular cookie flavor is the Fudge Stripes.
These cookies have a sugar cookie base with the bottom dipped in rich fudge, which is also drizzled on top.
Try making s'mores with a fudge stripe cookie next time!
You can skip the square of chocolate and just place a roasted marshmallow between the two cookies fudge side in.
Keebler offers a variety of other scrumptious cookies as well, from coconut dreams to Vienna fingers.
4. Chips Ahoy
Chips Ahoy was invented in 1963 by Nabisco. These cookies were originally marketed as tasting just as good as homemade.
Chips Ahoy offers a variety of cookies, from the original chocolate chip cookies to chewy and mini, and even incorporates popular brands like Hershey's and Reese's.
I love the chewy version. Store-bought cookies tend to be on the crunchier side, but Chips Ahoy's chewy cookies are delectably soft.
My favorite is their chewy chocolate chip cookie with Reese's.
The chunks of Reese's peanut butter cups give the cookie a pop of salty, earthy flavor.
Chips Ahoy is a good classic chocolate chip cookie brand to look out for.
3. Tate's Bake Shop
Tate's Bake Shop is known for its thin, crispy, buttery cookies.
The founder, Kathleen King, began baking at a young age and opened her first bakery at 21. She named the bake shop "Tate's" after her father.
The bakery storefront in Southampton, NY, has been voted the best bakery in the Hamptons year after year.
Tate's delicious cookies can be found on many grocery store shelves.
These cookies are crispy, but not in a crumbly way. They still retain a buttery mouthfeel that melts as you take a bite.
Tate's offers an assortment of cookie flavors like lemon, oatmeal raisin, chocolate chip, and more.
They also have many yummy gluten-free and vegan options.
2. Pepperidge Farm Milano Cookies
Pepperidge Farm has a plethora of delicious and high-quality cookies.
Margaret Rudkin is the founder of the company that makes the delicious Milano cookies and Pirouettes.
Rudkin embarked on a "tasting trip" to Europe in search of distinctive cookies that were "delicate in flavor and texture." Thus, the Milano and Geneva cookies were born.
My favorite, like many, is the Milano cookie. It is two oval-shaped biscuit cookies with a thin layer of rich chocolate sandwiched between.
Pepperidge Farm also has the Chessmen Butter Cookies, Brussels, and Farmhouse chocolate chip cookies that I love.
1. Oreo
Oreos are one of the most iconic store-bought cookies. They were first produced in 1912, making them one of the oldest grocery store cookies.
The brand's success has flourished with copious amounts of flavors and varieties over time.
Oreo's original chocolate sandwich cookie is delectable. You can choose between double stuffed, thins, minis, and more varieties.
The peanut butter cream Oreo is my favorite.
This combination seems to have taken inspiration from the Parent Trap TV series, and I love it.
The contrasting sweet and salty with the crunchy cookie and smooth peanut butter is amazing.
You can enjoy Oreos straight out of the package or use them as a crust or mix-in for your favorite desserts!
Conclusion
Most cookie brands at supermarkets offer a variety of flavors and textures.
Whether you prefer crunchy, soft, chocolatey, or vanilla flavor, there is a product waiting for you on the shelves.
Sure, the cookie aisle can be overwhelming at first, but this list will provide you with the knowledge to pick the best.
Enjoy your favorite cookie, and don't forget to dunk it in a glass of milk!