20 Best Online Cookie Delivery Services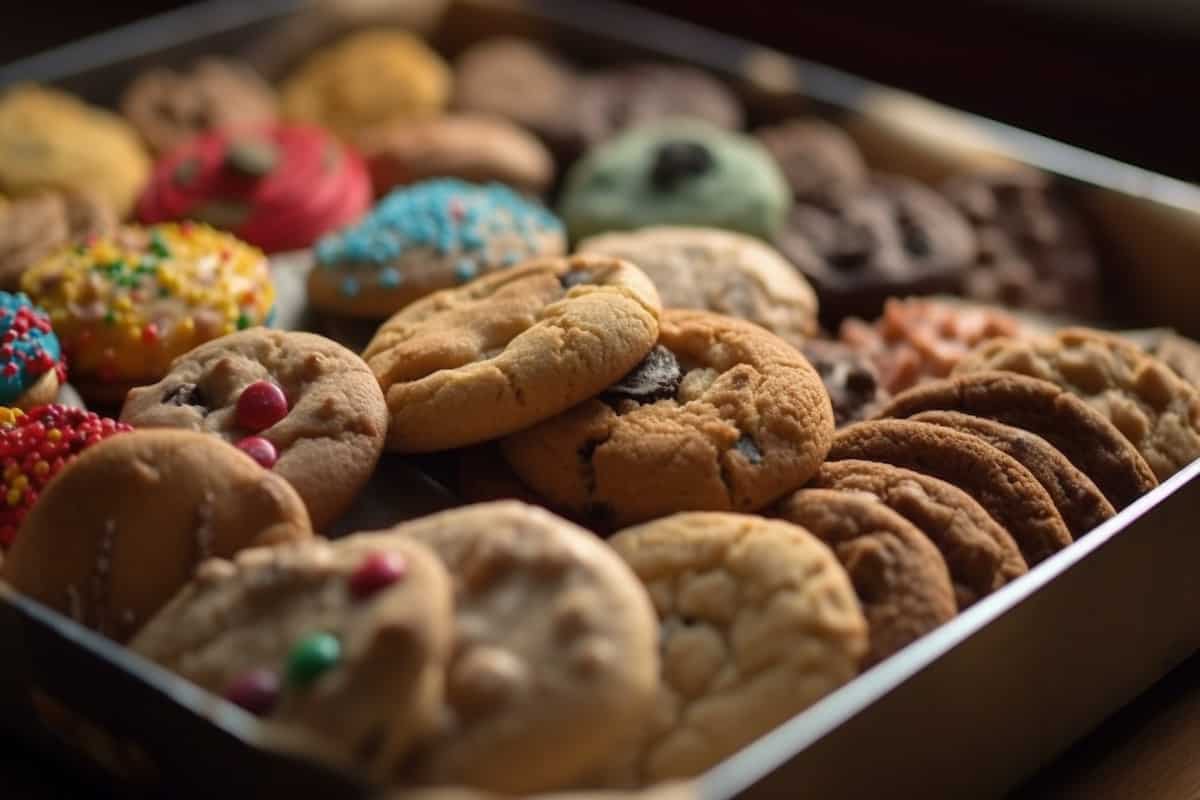 Cookies are a sure way to anyone's heart. Whether you like them thick and chewy or thin and crispy, there are many different types of cookies for every palate.
Luckily, there are a variety of cookie delivery services that will bring these delectable treats right to your doorstep.
These mail-order cookies are perfect when you're craving some in the comfort of your home or looking for a tasty gift to be mailed to your loved ones.
Many iconic companies like Levain Bakery, Insomnia Cookies, Milk Bar, and Crumbl Cookies ship nationwide to have anyone around the country enjoy their unique cookie flavors.
If your mouth is already watering, do not worry! We are about to dive into 20 of the best cookie delivery services that are just a click away.
1. Levain Bakery
Levain Bakery in NYC is known for its 6-ounce chunky cookies. Their huge iconic cookies are loved for their crispy exterior and gooey center.
Levain Bakery bakes small batches of cookies to be shipped the same day nationwide. This ensures optimal freshness.
They offer a plethora of chocolate chip packed cookies to choose from.
The chocolate chip walnut cookie is the original. However, there are nine different assortments to choose from to suit your cookie cravings.
Prices start at $29 for a 4-pack cookie assortment.
They also offer a monthly Levain Cookie Club subscription starting at $49, where you receive an 8-pack of freshly baked cookies each month.
Order from Levain Bakery
2. Milk Bar
Another NYC-based favorite is Milk Bar. These cookies are well known for their crazy flavors, like the Compost Cookie, which features the perfect sweet and salty combination.
Milk Bar ships nationwide, so they bake their cookies and freeze them for peak quality.
They then wrap the orders in insulated packing to ensure freshness for up to 48 hours in all conditions.
Milk Bar offers a 6-count assorted cookie tin for $27, featuring each of their cookies.
If one of each is not enough, a dozen tin includes two of each cookie for $46.
Whether you choose from individual flavors like cornflake chocolate chip marshmallow or a variety tin, the Milk Bar cookies make scrumptious gifts.
Order from Milk Bar
3. Insomnia Cookies
Insomnia cookies are beloved by college kids craving a late-night cookie. This cookie shop is the ultimate late-night brain food.
You don't only have to enjoy these cookies cramming before a final. Insomnia ships to any location in the United States!
Mix and match a 12-count cookie box for $30 or two dozen for $50. There are many options, from classic snickerdoodle to vegan chocolate chunk cookies.
Order from Insomnia Cookies
4. Last Crumb
Last Crumb is a luxury cookie business based out of LA. Their cookies are high-quality and delicious and come with complex flavors.
Last Crumb originally started when the head baker wanted to create cookies that were worthy of a Michelin star.
Since 2021, he has created 84 unique flavors within different collections.
The quirky cookie names with beautiful packaging are sure to entice cookie lovers.
"The Floor is Lava" is a molten chocolate lava cake cookie stuffed with irresistible chocolate ganache.
The "James Dean" is also a very popular one. It's an Oreo milkshake cookie full of big chunks of Oreos, malted milk, malt balls, Dutch cocoa, and semi-sweet and white chocolate.
It is $140 for the Core Collection and $160 for premium/limited collections, and they ship anywhere in the US.
These cookies are definitely an amazing gift to send to your dessert connoisseur loved ones.
Order from Last Crumb
5. Mrs. Fields
Mrs. Fields was founded by Debbie Fields in the late 1970s. Her soft chocolate chip cookies reign supreme as one of the most iconic on the market.
Their facility is based out of Salt Lake City, Utah, and they ship nationwide.
You can order a variety of specialty cookie tins and baskets for graduations and birthdays.
My choice would be the Two Dozen Cookie Basket, which features their most popular flavors and costs $64.99.
This basket includes flavors like the original semi-sweet chocolate chunk, oatmeal raisin with walnut, and white chocolate macadamia nut.
Order from Mrs. Fields
6. Goldbelly
Goldbelly is a great website to find an abundance of cookies.
They feature many different bakeries ready to deliver, like Big Fat Cookies, Monica's Gourmet Bakery, Chip City Cookies, and more!
All these cookies ship nationwide and are located on one convenient site.
I was excited to spot Carlo's Bakery, located in Hoboken, New Jersey. The iconic Cake Boss has many desserts ready to order, like their 2-pound Italian Butter Cookie Tray for $44.95.
Goldbelly's cookie delivery will definitely satisfy your sweet tooth, whether you want black and white cookies from New York or whoopie pies from Pennsylvania.
Order from Goldbelly
7. Sugarwish
Sugarwish is the place to order some amazingly soft cookies.
You can choose the size of your cookie gift box, and the site virtually sends an invite for the recipient to select what flavors they want from over 30 options.
Each cookie is individually wrapped to ensure freshness, and they are sent with beautiful packaging and a custom-printed card with your personalized message.
My favorite choices include stuffed chocolate caramel pretzel, cookies and cream, banana walnut, stuffed caramel apple pie, chocolate mint chip, and iced limoncello!
A medium (6-count) costs $46, and an X-large (12-count) is $79. Shipping is free in the US.
Order from Sugarwish
8. Harry & David
Harry & David is perfect for many edible gifts, including cookies. They offer a wide array of classic and unique cookie flavors.
They ship anywhere in the US, along with select countries internationally.
Shipping can be expensive, so purchasing their "passport" program might be a better option. It's only $19.99 annually and includes free standard shipping and reward points.
My favorite is their Signature Cookie Gift Basket for $44.99. This basket includes a wide assortment of cookies, from classic peanut butter to white chocolate raspberry.
Order from Harry & David
9. Cheryl's Cookies
Cheryl's Cookies are a calling to all frosting lovers. Their iconic buttercream frosted cookies are a sweet change to the classic chocolate chip.
Each cookie comes individually wrapped to ensure freshness and discourage the flavors from melding. This makes it great for sharing at birthday parties or corporate events.
These cookies can ship to over 195 countries around the world!
However, international shipping can be costly. Cheryl's Cookies also offers the "passport" subscription, which would be the best investment if you intend to order from them again.
I would suggest ordering the Buttercream Frosted Favorites to get the ultimate buttercream experience.
This box includes 4 of each 12 cookie assortment (48 total) and costs $49.99.
The flavors range from rich peanut butter buckeye to classic wedding cake cookies.
Order from Cheryl's Cookies
10. Mouth
Mouth is a website that offers gifts from specialty cheeses to cookie boxes. It prides itself on all products made in the USA and small batches.
You can even shop by state to view your local brands. Mouth ships anywhere in the US and free shipping is offered on orders over $100.
There is a plethora of unique cookie options like olive oil sea salt shortbread for a refined pallet or s'mores to bring you back to camping.
All these small businesses have the utmost quality and attention to detail.
I think the Smart Cookies gift box is perfect to send to loved ones.
These cookies have won two Sofi awards! The Orange Pistachio Shortbread won the gold medal, and the Triple Ginger won Best New Cookie.
Don't forget about the Chocolate Sables, which are delectable as well.
The Smart Cookies gift box includes three packages of the cookies above and costs $44.
I definitely love the orange pistachio cookies. The zestiness from the orange pairs perfectly with the nutty pistachio.
Order from Mouth
11. Crumbl Cookies
Crumbl is infamous for its huge cookies that rotate unique flavors every week.
Crumbl cookie stores have been popping up everywhere around the US nowadays, and people flee to them to get a taste of their newly released flavors.
Not many know that Crumbl will also deliver locally and ship anywhere in the US.
A 6-pack starts at $29.99, and a 12-pack at $49.44. Shipping costs around $12.99 and typically ships same day with individually wrapped cookies.
Crumbl has a rotating menu that gives six gourmet cookies to try each week.
One of my favorites is the churro, which is a warm cinnamon-sugar cookie topped with cinnamon buttercream and more cinnamon-sugar sprinkles!
Another delicious option is the Mint Chocolate Chip. This flavor features a chilled mini chocolate chip sugar cookie with a mint chip mousse.
If you're looking for a diverse set of fun cookies, Crumbl is the place to order from.
Order from Crumbl
12. Mr. Chocolate
Mr. Chocolate, Jacques Torres, is a master pastry chef known for his chocolatier work.
He has won numerous awards, written cookbooks, owned chocolatier shops, and featured on TV shows. Most importantly, his chocolate chip cookies are to die for!
Jacques' Famous Chocolate Chip Cookies is the star of the show.
These cookies pack in 60% Belgian dark chocolate, and Torres says, "It's a lot of chocolate with a little cookie dough around it."
These cookies come in a 6-pack for $24. They are recommended to be consumed immediately because no preservatives are used, so the cookies have a short shelf life.
Mr. Chocolate offers nationwide shipping. Overnight and 2nd air shipments are offered on weekdays only.
Shipping rates are determined by FedEx or UPS based on the weight of the order and distance.
Order from Mr. Chocolate
13. Tiff's Treats
Tiff's Treats is a dessert delivery service that has a wide assortment of baked goods. Their warm cookies are what take the cake.
If you are in the delivery zone for Tiff's Treats, delivery fees range from $5.99-$6.99.
If you would like to ship out of the zone of the nearest Tiff's Treats, it costs $16.50.
They have many flavors, like sugar cookies with M&M's and white chocolate chip almond.
I'm most excited to try their chocolate chip pecan, which reminds me of a Kentucky Derby Pie!
I suggest the Mini Box, which comes with 2,3, or 4 cookies. The 4-cookie box costs only $8, and you get to select your flavors from a variety of delicious options.
Order from Tiff's Treats
14. Ali's Cookies
Ali's Cookies is a bakeshop based in Atlanta, GA that offers high-quality cookies. They have gluten- and dairy-free cookie options, and every cookie is kosher-certified.
They have plenty of yummy options like turtle chocolate chip which is their chocolate chip cookie with pecans and caramel.
They also have some unique options, like George Washington's revenge.
This cookie contains dried cherries, toffee, chocolate chunks, and oatmeal for the perfect sweet, tart, and crunchy cookie.
The Delicious Dozen is priced at $44.99 and gives options to either Ali's choice, Chocolate Lovers, Not So Nuts About Nuts(nut-free), or your choice.
Each cookie is individually wrapped in a cello bag to preserve freshness.
Ali's cookies ship nationwide and take 2-3 days to ship after processing.
Order from Ali's Cookies
15. Zabar's
Zabar's has a great variety of New York baked goods. Their Black and White cookies are the most iconic.
All orders are shipped nationwide via UPS, and perishable items like cookies arrive the next day in insulated packaging. For orders of $49.99, shipping rates start at $22.
A classic Black and White cookie is a New York City staple. I would go with their Black & White Duo Cookie Box for $29.98.
This 24 oz box features half the cookies being a buttery vanilla cake and the other half chocolate devil's food cake.
You get the best of both worlds with the duo flavor box while keeping it classic.
Order from Zabar's
16. Bake My Day
Bake My Day is a cookie bakery located in Mobile, Alabama. They are renowned as some of the best mail-order cookies.
They have many great flavors like sweet-n-salty chocolate chip and toffee pecan.
They bake all of their cookies from scratch daily with good-quality ingredients.
Their cookies are a bit crispy on the edge and soft in the middle – exactly how a cookie should be!
The good news is that Bake My Day offers free shipping on their orders.
They ship between Monday-Wednesday to ensure the order does not linger in transit on the weekends. They ship 2-day or 3-day priority through UPS or USPS.
The Assorted Cookie Flavors box is a great choice. It includes one dozen cookies and is priced at $39.
You can choose from their assortment of flavors, including Oatmeal Raisin, White Chocolate Macadamia Nut, Sugar Sprinkles, and more.
In the special instructions, you can specify how many of each cookie you would like.
Order from Bake My Day
17. Seven Sisters Scones
Seven Sisters Scones cafe is in Johns Creek, GA, where seven sisters created these crazy yummy scones. They offer a modern take on scones like jumbo-sized cookies.
If you're looking for a unique take on "cookies," this is it!
You can welcome fall with a caramel apple or butterbeer scone or keep it classic with the vanilla bean scone.
They ship nationwide and ship everything for 2-day arrival. All the scones are individually packaged and baked 24 hours prior to shipping.
I would suggest getting the 6-scone sampler. It's priced at $33 and includes the chef's choice of 5 oz scones. This way, you can sample a variety of delicious treats.
They also offer a subscription, which costs $31 a month for the 6-scone sampler.
If you love receiving their scones each month, this could be a good deal for you.
Order from Seven Sister Scones
18. Sweet Mae's Cookies
Sweet Mae's has some of the best stuffed cookies. Their premium stuffed cookies "with a thick southern accent" come in many flavors.
They were featured in Drew Barrymore's 2021 Holiday magazine and various others.
Sweet Mae's strawberry shortcake is a vanilla brown butter dough with white chocolate chips and fresh strawberries, then stuffed with cream cheese frosting.
The cookie is then topped with strawberry buttercream and shortcake crumble. Now that's a loaded cookie!
They ship their cookies nationwide on Mondays only.
They sell the cookies in 4-packs for $26 plus shipping. The cookies stay fresh for 7-10 days after arrival.
I would go for a 4-pack with the strawberry shortcake, spiked white chip custard snickerdoodle, peach cobbler, and peanut butter marshmallow.
These cookie descriptions are enough to make your mouth water!
Order from Sweet Mae's Cookies
19. Milk Jar Cookies
Milk Jar Cookies is based out of LA and makes delicious photogenic cookies. These fresh, big, super thick cookies are definitely worth a try.
Milk Jar ships nationwide on Mondays and Tuesdays via UPS. The cookies will last 4-5 days after arrival.
The custom one-dozen box is a great pick. It is $44 for your selection of their yummy cookies. The white chocolate raspberry and rocky road really look amazing.
They also offer gluten-free and vegan options. The gluten-free salted butterscotch and vegan chocolate chip let everyone enjoy a cookie!
They even offer a whole vegan or gluten-free gift box for $24.
Order from Milk Jar Cookies
20. Night Owl Cookies
Insomnia cookies have a new rival in the late-night cookie game!
Night Owl Cookies is based in Miami, Florida, and offers local late-night delivery and provides nationwide shipping throughout the US.
They offer many unique Instagram-able cookie options.
The Ave Maria pays ode to Florida with a loaded guava cookie and white chocolate chunks.
The Rainbow Over Bedrock features white chocolate and is rolled in fruity pebbles.
A box of 12 costs $59.99 and is customizable. Free shipping is typically offered on orders over $50.
These cookies are a sure way to spice up your Instagram feed and tastebuds!
Order from Night Owl Cookies
Conclusion
Cookie delivery services provide a convenient way to share the love of cookies anywhere across the country.
Mail-order cookies are also a great gift to show loved ones you're thinking about them, whether they live down the street or far away.
If you're ready to bite into a fresh cookie, let's get to ordering!