What Is the Best Levain Bakery Cookie?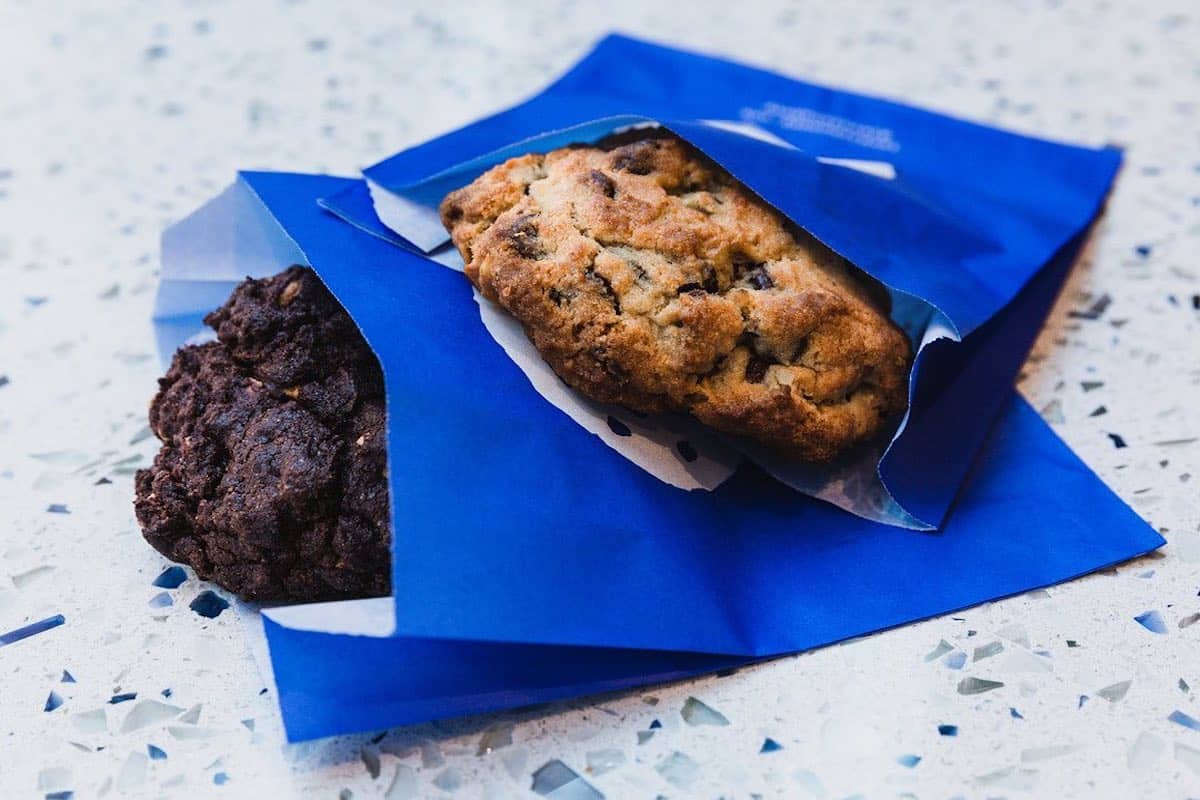 Levain Bakery is an NYC-based cookie chain best known for its thick 6-ounce cookies and delicious flavors.
They took their name from the French word for the natural leavening agent made in flour, water, and yeast: Levain.
While operating mainly in the Northeast United States, the bakery still attracts national attention.
Levain cookies have a slightly crispy exterior with a gooey inside. Their drop-style cookies are so popular that there are many recipes online for "Levain" style cookies.
It's a beloved stop for many epicurious travelers to get their hands on a huge chocolate chip filled cookie. But the good news is, they also ship nationwide!
If you love freshly baked cookies, read on because I'll take you through the eight best Levain Bakery cookie flavors.
8. Vegan & Gluten-Free Chocolate Chip Walnut
Levain Bakery did not let dietary restrictions stop them from creating a delicious cookie.
This cookie is the vegan and gluten-free version of Levain's original chocolate chip walnut cookie.
It includes chunks of walnuts and semi-sweet vegan chocolate chips.
The base of the cookie is made of cashew butter, so it's plant-based for our vegan or dairy-free friends.
It's still a thick cookie, weighs 6 ounces, and is loaded with mix-ins like the original.
These cookies are perfect to enjoy with a glass of plant-based milk!
7. Oatmeal Raisin
Levain's Oatmeal Raisin cookies have a golden-brown exterior, are moist inside, and full of hearty oats and plump raisins.
A good oatmeal cookie should never be dry, and these are delectably moist with extra pockets of moisture from the raisins.
Since Levain makes thick cookies that are almost mound-shaped, their oatmeal raisin cookie resembles a scone.
The oats and raisins definitely give it that breakfast-y scone vibes as well.
This Levain Bakery cookie would be great to have for breakfast with your morning coffee.
6. Rocky Road
Rocky Road ice cream is a yummy concoction of chocolate ice cream, gooey marshmallows, and crunchy nuts.
Levain Bakery honors this beloved ice cream flavor with their Rocky Road-inspired cookie.
It has a dark chocolate base full of rich, semi-sweet chocolate chips, almonds, and pillowy marshmallows.
I would have ranked this cookie higher, but it's a seasonal flavor, so you cannot enjoy it year-round.
However, it's a nostalgic hit that reminds me of hot summer days and eating Rocky Road ice cream to cool them off.
5. Dark Chocolate Chocolate Chip
If the limit of chocolate does not exist for you, Levain's Dark Chocolate Chocolate Chip cookie will surely satisfy your cravings.
This cookie features extra dark French cocoa and semi-sweet chocolate chips, which makes it intensely rich.
The inside of the cookie is fudgy and loaded with warm pools of chocolate chips. Imagine if you transformed a brownie into a decadent cookie.
I love that it has different chocolate components, from dark cocoa to semi-sweet chips.
It could be further elevated, though, with the addition of a different flavoring, like fruit or mint.
This is definitely a chocolate lover's dream cookie and the perfect companion to your cold glass of milk.
4. Dark Chocolate Peanut Butter Chip
Peanut butter and chocolate have always been a beloved combination, from Reese's peanut butter cups to chocolate peanut butter buckeyes.
Levain's Dark Chocolate Peanut Butter Chip cookie combines the perfect balance of sweet, rich, and savory.
It's full of smooth, creamy peanut butter chips. The sweet and salty peanut butter chips add a great contrast to the rich chocolate cookie.
I ranked it higher than the Dark Chocolate Chocolate Chip because the peanut butter chips definitely elevate the flavor profile of this cookie.
3. Caramel Coconut Chocolate Chip
Levain Bakery introduced the Caramel Coconut Chocolate Chip as a limited-edition cookie, but it was added to the permanent menu after gaining so much popularity.
I'm happy you can enjoy this chewy, gooey caramel delight year-round now.
This buttery cookie packs shredded coconut, gooey caramel morsels, and rich dark chocolate chips.
It perfectly combines bright coconut flavor with melty chocolate and sticky caramel that melds it all together.
2. Two Chip Chocolate Chip
America loves a good, classic chocolate chip cookie, and Levain Bakery delivers a giant one packed with chocolate chips.
The Two Chip Chocolate Chip is a thick and gooey cookie featuring semi-sweet and dark chocolate to create the ultimate flavor depth.
The crispy outside with the soft center is a cookie lover's dream.
Using dark and semi-sweet chocolate instead of milk chocolate creates a rich combination here.
It's aesthetically pleasing when split in half to reveal the melty chocolate chips and doughy interior.
Just the Instagram photos of this cookie make you want to take a bite!
Levain's Two Chip Chocolate Chip cookie is a great option for someone who wants a nut-free cookie or is just a chocolate chip cookie enthusiast!
1. Chocolate Chip Walnut
This is the original Levain cookie that started it all!
The signature Chocolate Chip Walnut cookie is crispy on the outside with a delectable thick and gooey center.
Levain's OG cookie is packed with crunchy walnuts and semi-sweet chocolate chips in each bite.
Walnuts are a nutty addition that really takes this chocolate chip cookie to the next level.
The large chunks of walnuts give a burst of nuttiness that pairs wonderfully with the luscious chocolate.
It has a perfect balance of textures from the crunchy nuts and melty freckles of chocolate.
Levain's Chocolate Chip Walnut cookie is iconic for a reason. It's utterly delicious!
Conclusion
Levain Bakery has certainly swept the nation with its 6-ounce soft and melty cookies.
These cookies have been baked the same way since 1995 – fresh and with high-quality ingredients.
My favorite is their original Chocolate Chip Walnut cookie, but the Two Chip Chocolate Chip cookie is a close second.
If you can't make it to one of their locations, don't fret because they have nationwide shipping.
Levain also offers a cookie club subscription. This includes an 8-pack box of their delicious cookies delivered to your door.
Once you try one of their freshly baked, warm chocolate chip cookies, I can guarantee your cookie standards will change for life!