20 Most Popular Insomnia Cookie Flavors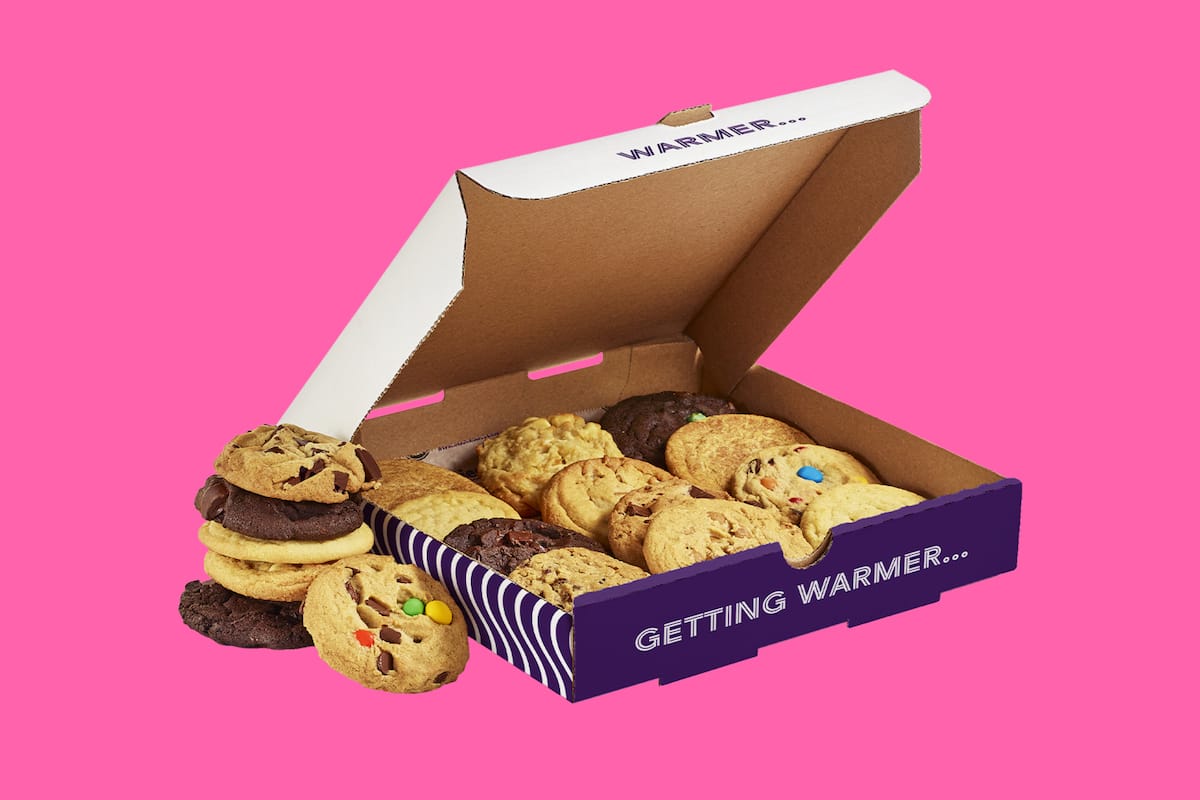 Insomnia Cookies is the perfect spot to satiate your late-night cookie cravings with a variety of delicious flavors on the menu.
The founder, Seth Berkowitz, attended the University of Pennsylvania when he started the company out of his dorm room to deliver midnight treats to his classmates.
The late-night cookie delivery service has since expanded outside the tiny dorm room to over 200 locations across the US and has become one of the best cookie chains.
Insomnia offers many cookie flavors along with vegan and gluten-free options. They also have brownies and ice cream if you like it al a mode.
Most stores are found around college campuses, and their warm cookies can be delivered or picked up until 3 AM.
If you can't decide between their yummy options, I've got you covered. I'll rank 20 of the top Insomnia cookie flavors to curb your late-night sweet tooth!
20. Sugar
One of the cookies on this list had to be last, and sadly, it's their sugar cookie.
A good sugar cookie should have buttery notes with vanilla, but Insomnia's version lacks that.
The dough is sweet and bland, and since there are no other inclusions, there is nothing to distract from that.
Their sugar cookie has a crunchy outside with a soft inside, so the texture hits the mark.
This cookie is a great base for other mix-ins. However, the cookie by itself needs a component to elevate it.
The sugar cookie might be better with a scoop of ice cream added, and I would suggest their Peanut Butter Insomniac Tracks.
The peanut butter chocolate ice cream would give this cookie a new wave of flavor.
19. Snickerdoodle
Snickerdoodles are beloved for their soft, chewy base rolled in crunchy cinnamon sugar.
The slight tang from the cream of tartar helps them achieve their pillowy texture.
Insomnia's snickerdoodle cookie, however, is not reminiscent of that. It's a flat and thin cookie with not a lot of cinnamon.
This cookie also retains a prominent tangy aftertaste. This overpowers the cinnamon-sugar coating, which is the best part of a snickerdoodle.
I wanted to love this cookie, but it doesn't check any of the boxes for a classic snickerdoodle.
It would probably still taste okay to people who don't compare it to the delicacy of a true snickerdoodle.
I retain the knowledge of how tasty a chewy, cinnamon-coated snickerdoodle can be, and this cookie falls a little short for me.
18. Classic With M&M's
Insomnia's M&M's cookie is a sugar cookie base filled with the iconic candy-coated chocolate morsels and chocolate chips!
The inclusion of M&M's and chocolate chips is exactly what the classic sugar cookie needed to elevate its flavor profile.
The colorful candy coating of M&M's gives off a particular flavor in the cookie. Although it's not untasty, it still overshadows the chocolate.
This cookie is fun with the colorful M&M's, but it's farther down my list because of the candy-coating flavor.
I think this is a great cookie for kids or people who just love M&M's.
17. Vegan Birthday Cake
Insomnia has four regularly appearing vegan cookie flavors. This is the lowest ranking of the vegan options, but it's still tasty.
This cookie is a vegan cake batter cookie with rainbow sprinkles.
It's a little dry but still yummy for a vegan option.
This cookie tastes like the vegan counterpart of the confetti cookie. Although, the confetti cookie includes white chocolate chunks as well.
Insomnia even offers vegan ice cream flavors, so no one has to miss out on a cookie'wich!
16. Oatmeal Raisin
Oatmeal raisin cookies receive a lot of mixed feelings. Some are disappointed to find raisins instead of chocolate chips.
But if you are an oatmeal raisin fan, these cookies are sure to hit your sweet spot.
The base is a chewy cinnamon oatmeal cookie with a hint of molasses and full of raisins.
I think the perfect oatmeal cookie should be hearty from the oats while being moist and chewy, and Insomnia's oatmeal cookie completely delivers on that.
15. Deluxe Salted Caramel
Salted caramel is great on apples, popcorn, chocolate, and more. This salted caramel cookie embodies that gooey goodness.
Insomnia's salted caramel cookie starts with a sugar cookie base with caramel bits and Heath toffee pieces.
This cookie is very sweet, so the hint of salt helps reduce the sweetness factor. I do, however, wish it had a bit more salt.
The stick-to-your-teeth caramel bits take some enjoyment away from the cookie because you are reaching for a toothpick with each bite!
14. Deluxe Triple Chocolate
Insomnia's triple chocolate cookie is a butter base loaded with semi-sweet chocolate chunks, Hershey's milk chocolate, and milk chocolate chunks.
The deluxe cookies from Insomnia are bigger, have more inclusions, and are more expensive than the classic cookies.
This cookie includes two types of milk chocolate, which tends to be sweeter and not hold as much flavor depth.
I think it would taste better with some dark chocolate or white chocolate added.
While it's definitely tasty, I don't think it differs that much from their classic chocolate chunk cookie.
13. Vegan Chocolate Chunk
Vegans are not left out of the iconic chocolate chips cookie. This Insomnia cookie has a vegan butter base as well as vegan chocolate chunks.
The cookie spread is a little thinner since vegan baking is very tricky.
Dairy and eggs have to be eliminated or substituted, so the baking science produces a different outcome.
This vegan cookie is still very tasty. The vegan chocolate chunks don't quite have the same depth of chocolate flavor as regular chocolate, but they are still a good vegan counterpart.
I liked the molasses flavor that is found in the vegan butter base. It helps pay tribute to the traditional chocolate chip cookie flavor.
This is definitely a decent vegan cookie, but I would love it if it was a bit thicker.
As a pastry chef, I would recommend adding a flax "egg" to bind the dough together better!
12. Gluten-Free Chocolate Chunk
This Insomnia cookie is vegan as well as gluten-free! It's crunchier with dairy-free chocolate chips that deliver a rich chocolate flavor.
The gluten-free flour used in this cookie seems to fix the spreading issue in the vegan chocolate chunk cookie. These are thick and don't skimp on flavor.
Gluten-free flour tends to produce a crunchier baked good. This crunch didn't take away from the flavor of this cookie, which is a big bonus.
This cookie checks all the boxes for allergies and dietary restrictions, so it's the perfect guilt-free indulgence.
11. Chocolate Chunk
Insomnia's chocolate chunk cookie features a butter cookie base filled with milk chocolate chunks. It's crispy on the outside while remaining chewy on the inside.
This cookie is a people pleaser. It's not the best chocolate chunk cookie, but it's still tasty.
The milk chocolate chunks provide a sweet and mild taste.
If you're looking for a warm, classic chocolate chunk cookie delivered to your door at 3 AM, this one is for you.
The warm, gooey pockets of milk chocolate chunks pair perfectly with the buttery dough.
10. French Toast
Insomnia rotates some limited-time cookie flavors on their menu. Their French toast cookie is the champion of breakfast cookies.
It has a French toast dough with cinnamon chips, brown sugar, and nutmeg. The dough is cinnamon-forward with a hint of syrup.
The cinnamon chips are a fun addition to this cookie.
They look like chocolate chips but are cinnamon morsels! I use cinnamon chips when making scones to serve with apple butter.
Insomnia's limited-time flavors help them keep up with the rivaling Crumbl cookie flavors. They offer a few unique flavors like peach cobbler, rocky road, and PB&J stuffed.
I would definitely love to eat this cookie at 2 in the morning!
9. Deluxe Confetti
Insomnia's confetti deluxe cookie sprinkles in the fun! It's a sugar cookie base with rainbow sprinkles and white chocolate chunks.
The confetti cookie elevates the bland sugar cookie to a whole new level.
The white chocolate helps add a mellow hint of vanilla, and the sprinkles bring this cookie visually up to par.
Initially, it debuted as a limited-time flavor, but many loved this cookie too much for it to depart the menu. Insomnia then added this cookie to its deluxe flavor menu.
The sugar cookie base is sufficient for this cookie. Although, I would love it if a cake batter flavor was incorporated.
This would bring more buttery, vanilla flavor to the cookie that would match the sprinkles.
The confetti deluxe cookie is sure to make a party in your tummy!
8. Peanut Butter Chip
Peanut butter lovers unite! This cookie is peanut butter-based and full of many peanut butter chips.
Insomnia makes sure peanut butter is the star of the show here.
The first ingredient of these cookies is peanut butter, and you will get a bite of gooey peanut butter chips in each bite.
Insomnia's peanut butter cookie is rich on the inside with a slightly crispy exterior.
The peanut butter chips provide little pools of peanut butter that add a great mouthfeel to the cookie.
I think Insomnia really nails a great peanut butter cookie. I love having this thick cookie with a glass of milk.
7. Vegan Double Chocolate
The vegan double chocolate cookie is a thick brownie-like cookie with rich chocolate chunks.
This vegan cookie from Insomnia rivals their regular double chocolate chunk cookie.
The vegan double chocolate is a bit thicker, so it has that decadent brownie texture to sink your teeth into.
I love the dairy-free chocolate chunks in this cookie. It allows for pools of deep chocolate to envelop your mouth.
I think a good vegan treat should not taste like it's vegan, and this cookie definitely nails it.
6. White Chocolate Macadamia Nut
Insomnia makes the classic white chocolate macadamia nut cookie beautifully.
The coconut cookie base has loads of white chocolate chunks and plenty of macadamia nuts.
Macadamia nuts are most associated with Hawaii, so this cookie draws on island vibes.
The hint of coconut adds a unique flavor that compliments the nuttiness of the macadamia nuts and the sweetness of the white chocolate chunks.
I love that Insomnia didn't just go for a sugar cookie base. The hint of coconut really plays on the island flavors nicely.
This coconut, however, doesn't overpower the crunch of the macadamia nuts that are met with creamy white chocolate.
This cookie is a perfect summer treat!
5. Deluxe Oatmeal Chocolate Walnut
This oatmeal cookie is chock full of walnuts and milk chocolate chunks. You are sure to get a taste of both with each bite.
The oatmeal base includes a hint of cinnamon, which complements the nuttiness of the walnuts, the richness of the chocolate, and the heartiness of the oats.
I love that the cinnamon is noticeable but not overpowering. It lets the other flavors in the cookie stand out.
I think the walnuts really took this cookie to the deluxe level.
A thick oatmeal cookie with gooey milk chocolate chunks is elevated with the crunchy earthiness of the walnuts.
This hearty cookie from Insomnia needs to be washed down with a glass of milk!
4. Double Chocolate Chunk
Life is always better with a bit of chocolate, and this cookie brings double the amount.
It's a rich chocolate cookie base with melty milk chocolate chunks. It gives off brownie vibes with a chewy outside and fudgy inside.
The richness of the chocolate I was looking for in other Insomnia cookies really comes forward in this one.
The deeper chocolate flavor is present in the dough, while the milk chocolate chunks bring a more mellow aspect.
This cookie would be great as an ice cream sandwich to cut the richness. I think their "Minterstellar" would brighten up the cookie beautifully.
Chocolate lovers should definitely get their hands on this indulgent cookie!
3. Chocolate Peanut Butter Cup
Peanut butter and chocolate is a tried and true combination. This peanut butter cookie is filled with Reese's peanut butter cups.
It's a rich cookie that includes pieces of the beloved chocolate peanut butter candy. It's also a decent size, making it worth the deluxe title.
This cookie reminds me of peanut butter blossoms – the peanut butter thumbprint cookie with a cute Hershey kiss in the center.
The combination of the decadent peanut butter cookie with milk chocolate candy is what makes this Insomnia cookie delightful.
I think this cookie would be even better with some pretzels and caramel included, like Reese's Take 5!
2. Double Chocolate Mint
Imagine the double chocolate chunk cookie with mint morsels added in. This is what you get with Insomnia's double chocolate mint cookie.
It helps brighten this chocolatey cookie with a pop of mint.
If you are a fan of the Girl Scouts Thin Mint cookies, then this is your jam.
The chewy, fudge chocolate cookie has pockets of gooey milk chocolate and lively mint chips throughout.
I love the mint and chocolate combination because it adds a new flavor profile to the rich chocolate.
Top it with a scoop of ice cream if you want to keep the cool mint chocolate chip ice cream vibes going.
1. Deluxe S'mores
If you love to eat a delectable cookie around bonfires, then Insomnia has your cookie flavor.
The deluxe s'mores cookie is a chocolate cookie base with chocolate chunks, marshmallow bits, and graham cracker pieces.
The different textures apparent in this cookie are amazing.
You have the fudgy chocolate cookie, chewy marshmallows, melty milk chocolate, and crunchy graham crackers.
Although this cookie is delicious as is, they could use a graham cracker cookie base with milk chocolate chunks and gooey marshmallow bits.
This would help the graham cracker not to be outshined by the chocolate.
Nevertheless, this is my favorite Insomnia cookie flavor, and I highly recommend eating it warm for the full s'mores effect!
Conclusion
Insomnia focuses more on classic cookie flavors, unlike some of its competitors' rotating menu of innovative flavors.
Their menu includes classic, deluxe, and a few rotating cookies that keep customers coming back to what they know and love while still trying a new, exciting flavor every now and then.
Whether you like your cookies during the day or in the middle of the night, Insomnia will make sure their warm cookies are there for you.
Their stores are usually located around college campuses, so delivery and pickup are only available in their radius, but they do ship nationwide.
Now that you are equipped with the best Insomnia cookie flavors, get to ordering and try some of their delicious cookies!