20 Popular Chocolate Chip Cookie Brands, Ranked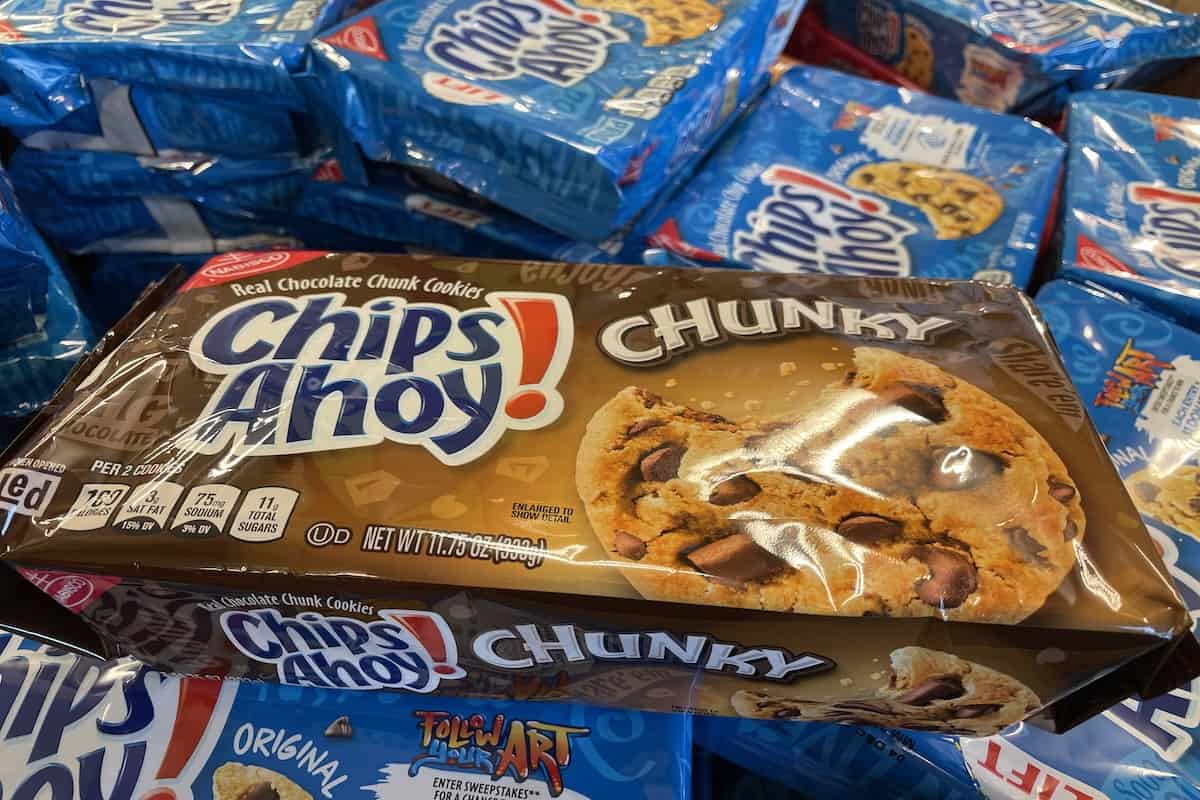 If you're a cookie enthusiast, you probably know that chocolate chip cookies reign supreme, and there are many brands you can buy at the supermarket.
These beloved treats were invented by Ruth Wakefield in the late 1930s at the Toll House restaurant she ran with her husband in Whitman, Massachusetts.
The legend goes that Wakefield chopped up a Nestle chocolate bar to make a chocolate cookie, but the chocolate remained scattered throughout the brown sugar cookie dough.
Whether it was a happy accident or not, chocolate chip cookies are universally loved, and you can find a variety of them in your grocery store's cookie aisle.
I'll go over 20 of those popular chocolate chip cookie brands and rank them from least favorite to all-time favorite.
If you're ready, let's indulge in!
20. Lenny & Larry's
If you are looking for a protein kick, Lenny & Larry's Complete Cookie has you covered.
These plant-based chocolate chip cookies are loaded with fiber and protein. There's a whopping 16 grams of protein and 10 grams of fiber per cookie.
Lenny & Larry's chocolate chip cookies are free of soy, high fructose corn syrup, and artificial sweeteners. They are also vegan, non-GMO Project Verified, and kosher-friendly.
Although the Complete Cookie has a good protein kick, it does not quite deliver in the taste department. It's a bit dry and bland, so it should not be considered a treat.
I should also mention that one cookie is actually two servings, not one!
19. Emmy's Organics
Emmy's Organics produces delicious organic cookies made from simple ingredients. Their coconut chocolate chip cookie is free of gluten, dairy, soy, and eggs.
Made with just 7-10 ingredients, these soft and chewy cookies are a delicious treat.
The texture is similar to cookie dough or no-bake energy bites, but many go for the dough more than the baked cookie anyway.
Try these unique chocolate chip cookies for an allergen-friendly or vegan option.
18. Partake
Partake's goal is to offer delicious, allergy-friendly products that people with or without food restrictions can enjoy.
The Partake chocolate chip cookies are gluten-free, vegan, non-GMO, and kosher.
The brand offers crunchy and soft-baked chocolate chip cookies.
The crunchy option is crispy, but not to a fault like some products that lack butter and eggs. It could use some more chocolate chunks, though.
The soft-baked cookies are great for a more chewy option.
Partake's chocolate chip cookies are a great all-inclusive and allergy-friendly choice.
17. Lucy's Cookies
Lucy's Cookies is another vegan and gluten-free cookie brand.
Their cookies are non-GMO verified, kosher, and vegan.
These crunchy cookies are filled with yummy vegan chocolate chips and plenty of that classic chocolate cookie flavor with vanilla extract and molasses.
Their "Lucy's Blend" is patented for a unique combination of gluten-free oats, garbanzo/chickpea, potato starch, tapioca, sorghum, and fava flours.
In my experience of gluten-free baking, a blend of flours achieves the closest outcome to all-purpose flour.
While these are tasty gluten-free cookies, they still don't have that traditional chocolate chip cookie taste.
16. Simple Mills
Simple Mills uses simple vegan ingredients like almond flour, organic coconut, and flaxseeds.
Their chocolate chip cookies come in both crunchy and soft-baked and are free of gluten, grain, soy, corn, dairy, gums, and emulsifiers.
These cookies are a "healthier" option compared to the brands that use artificial flavors and additives.
However, they still don't quite live up to the taste of a classic chocolate chip cookie, lacking the buttery flavor and rich chocolate component.
15. HighKey
HighKey produces low-sugar, low-carb, gluten-free, and grain-free mini cookies.
Their bite-sized chocolate chip cookies come in a small bag of two servings.
These are some of the best keto-friendly cookies on the market, containing only 1 gram of net carbs and 0 grams of sugar per bag.
Since these cookies use erythritol, which is a low-calorie natural sweetener, they are a bit more artificially sweet than natural cookies.
They also leave a slightly weird aftertaste from the erythritol.
HighKey's chocolate chip cookies are a good option if you are on a keto diet but still need a sweet treat.
14. Back To Nature
Back To Nature makes soft-baked chocolate chunk cookies that are plant-based.
These are some of the best vegan cookies you can find in grocery stores.
These plant-based chocolate chunk cookies do not sacrifice flavor.
They have more of an avid buttery flavor than many other vegan options and are loaded with rich chocolate chunks.
The texture of the cookies is delightfully crunchy, even though they advertise them as soft-baked (I don't mind this at all).
If you are vegan, Back To Nature's chocolate chunk cookies are definitely worth trying!
13. Maxine's Heavenly
Maxine's Heavenly cookies are soft-baked, tasty, and made from wholesome ingredients.
Their gluten-free chocolate chip cookies are full of rich cocoa, all-natural chocolate extract, and semi-sweet chocolate chunks.
These cookies have a gooey, brownie-like consistency with rich and decadent chocolate flavor.
They are soft and chewy, which is hard to find in a gluten-free dessert.
These chocolate chunk cookies truly are heavenly for people who are gluten-free or not!
12. Milk Bar
Milk Bar was founded by James Beard award-winning pastry chef Christina Tosi, who opened the first location in NYC's East Village.
The brand has swept the nation and now has cookies available in grocery stores.
I have only seen their cookies in Target, but they are also available to order online on their website.
They stray from the traditional chocolate chip cookie but in the best way possible.
The Cornflake Chocolate Chip Marshmallow cookies are a sweet and crunchy spin on a classic chocolate chip cookie.
These are chewy cookies with rich chocolate chips, gooey marshmallows, and a pop of cornflakes.
11. Annie's
Annie's is a popular organic brand that uses quality ingredients in their mini cookies.
They sell bite-sized chocolate chip cookies in little snack pouches.
These small cookies are slightly crunchy and filled with organic semi-sweet chocolate chips.
The brand uses ingredients found in homemade cookies, like real vanilla and a hint of salt. This really brings these store-bought cookies to the next level.
Annie's chocolate chip cookie bites are a great option if you eat organic or want a grocery store cookie with good-quality ingredients.
10. Trader Joe's
Trader Joe's offers Crispy Crunchy Chocolate Chip cookies that rotate with their other products.
These small cookies are delicately crispy with a rich buttery flavor and plenty of rich chocolate chips.
They conveniently come in a tub, which you'll definitely need since they are addictive!
I highly recommend making these little cookies into a yummy sandwich with frosting in the middle!
Trader Joe's chocolate chip cookies would be number one on my list, but I ranked them lower for their limited availability.
9. Keebler
Keebler is a major brand in the grocery store cookie world. They are best known for their fudge stripe cookies but also offer a wide range of chocolate chips.
Keebler has many chocolate chip cookie options like Chips Deluxe Original, Chips Deluxe with M&Ms, Chips Deluxe Chocolate Chunk, Soft-Batch Chocolate Chip Cookies, and Chips Deluxe Coconut Cookies.
Keebler Original Chips Deluxe is a bit dry and crunchy compared to other store-bought cookies.
They are sweet, chocolatey, and the epitome of your basic grocery store cookie.
I recommend trying their soft batch for a more supple treat.
8. Grandma's Cookies
Grandma's cookies are mostly found in vending machines or convenience stores.
These large, soft cookies are sold in individual packs of two. This is great because you know you will want seconds!
Grandma's chocolate chip cookies are soft and chewy and have a decent amount of chocolate chips in them.
These are a solid choice for a tender chocolate chip cookie but have a slightly artificial taste due to the high fructose corn syrup.
These cookies make an awesome ice cream sandwich because there are two in a pack!
7. Famous Amos
Famous Amos is known for their little crunchy cookies sold in snackable pouches.
Their chocolate chip cookies are classic but fall a little flat in taste and texture.
They are "very" crunchy and don't have that decadent warm flavor that a chocolate chip cookie should embody.
However, Famous Amos has introduced Wonders From the World, which are made with high-quality ingredients internationally.
The Belgian chocolate cookies from this line are immaculate. They embody a richer chocolate flavor not found in their regular chocolate chip cookies.
Although these cookies are a little crumbly, they are still a solid grocery-store pick.
6. Entenmann's
Entenmann's has graced the world with its yummy treats for over a century.
Their soft-baked chocolate chip cookies are chewy and golden brown to perfection. They are also full of a generous amount of chocolate chips.
These cookies are close to a homemade version, so that's a win in the grocery store cookie aisle.
They are more on the mini side, so beware if you need to grab seconds or thirds!
5. Mrs. Fields
Mrs. Fields is an iconic cookie brand that delivers on quality and taste.
Their chewy cookies are sold individually wrapped at grocery stores or available online.
Mrs. Fields' chocolate chip cookies are gooey on the inside with a crispy outside.
Rich, semi-sweet chocolate chips are scattered throughout the sweet cookies for a classic flavor combination.
These cookies are a great choice for an almost homemade cookie without you having to pull out your whisk.
4. Chips Ahoy
Chips Ahoy is sure to catch your attention in the grocery aisle with its bright blue and red packaging. This brand specializes in chocolate chip cookies.
You can choose from original, chewy, mini, chunky, or candy-loaded like the Reese's featured one.
The original cookies are slightly crispy, chocolatey, and full of flavor. Their chewy cookies, however, deliver fresh-out-the-oven consistency.
I suggest trying their Reese's chocolate chip cookie. It gives all the classic elements of a chocolate chip cookie with delicious, salty Reese's peanut butter cups.
The brand claims they are the "#1 Chocolate Chip Cookie Brand in America", and I would say they are pretty close!
3. Pillsbury
You may associate Pillsbury with biscuits, pie crust, toaster strudels, and refrigerated cookie dough, but they have also branched off to the pre-packaged cookie aisle.
Their soft-baked cookie line includes two types of chocolate chip cookies: chocolate chip and butterscotch and chocolate chip.
These pillowy cookies are everything you want in a ready-to-eat cookie. They are soft with a buttery vanilla flavor and gooey chocolate chips.
If you want to skip the step of baking refrigerated Pillsbury dough, don't hesitate to purchase these yummy cookies.
Try warming these in the microwave for a few seconds to give them that freshly baked feeling!
2. Pepperidge Farms
Pepperidge Farms is known for its European-style cookies with a homemade taste.
They offer the Farmhouse thin and crispy cookies and the Montauk thick, soft-baked chocolate chip cookies.
The Farmhouse cookies come in milk and dark chocolate chips and are chocolatey and buttery like a good cookie should be. However, they do tend to be a little too crumbly.
The Montauk cookies are soft-baked cookies that are moist and chewy with loads of milk chocolate chunks.
Whether you prefer thin and crispy or thick and chewy, Pepperidge Farms can give you a delicious chocolate chip cookie experience.
1. Tate's Bake Shop
Tate's Bake Shop is a popular bakery located in Southampton, NY. Their delicious chocolate chip cookies have graced the grocery stores nationwide.
The brand is best known for its thin and crispy chocolate chip cookies.
These are crispy without being too crumbly and have a full buttery flavor. The chocolate chips are rich and are the perfect ratio throughout.
They also offer vegan and gluten-free cookies that mimic the taste of their original recipe, which I love.
Tate's chocolate chip cookies make you feel like you just left their bakery with a bag of fresh, tasty cookies!
Conclusion
Chocolate chip cookies rank as America's number one cookie for good reason. The buttery brown sugar dough is the perfect pair with rich chocolate chips!
If you can't bake your own, you can find a wide assortment of chocolate chip cookies in your grocery store. I recommend starting with Tate's Bake Shop or Pepperidge Farms brands.
Whether you like them thin, crispy, chewy, or soft, there's a chocolate chip cookie on our list with your name on it!