I Tried Every Chips Ahoy Flavor and Ranked Them From Worst to Best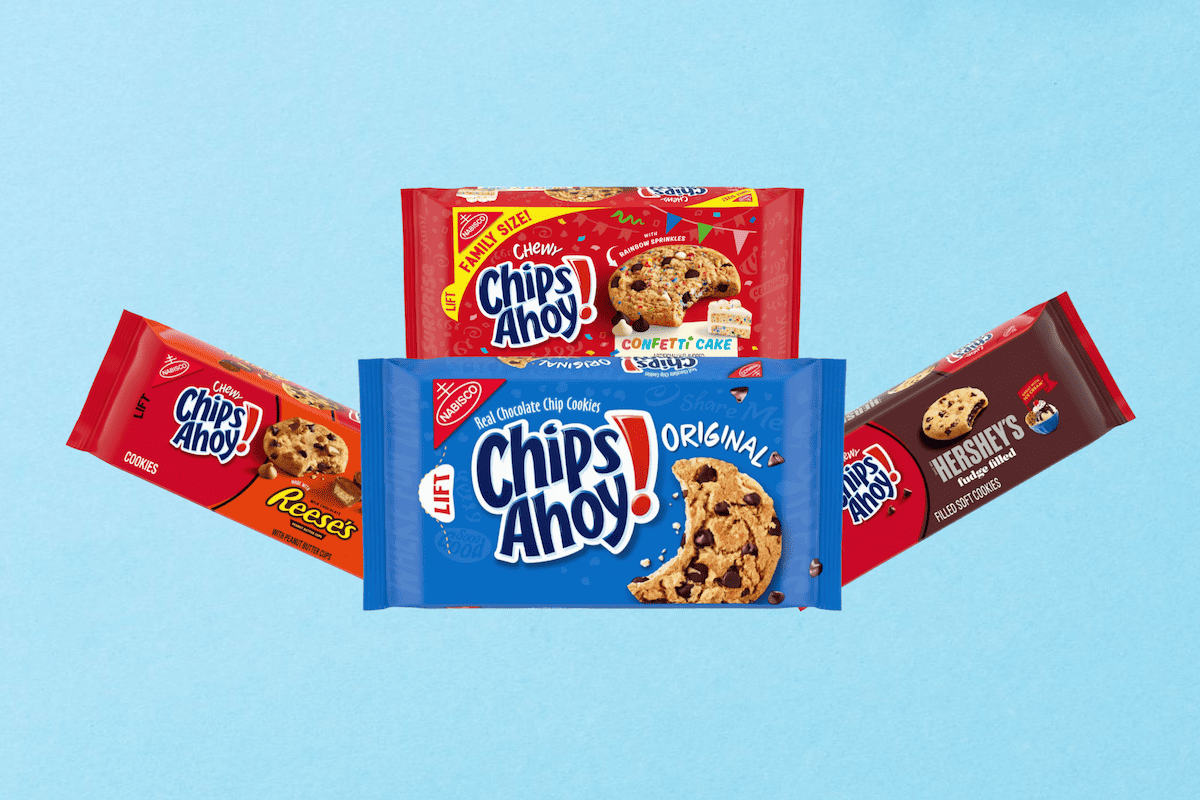 Chips Ahoy cookies are a yummy snack many of us ate growing up. Whether you like them chewy or crunchy, Chips Ahoy has a variety of flavors featuring both.
I tasted-tested all Chips Ahoy flavors and ranked them from worst to best. Whether you're a peanut butter fan or a chocolate lover, there's a cookie for everyone on this list!
12. Thins Original Chocolate Chip
A thin version of a cookie is not usually sought after, but it can be good if it retains the buttery and decadent elements of a traditional cookie. I think the Chips Ahoy Thins fall short of its thicker counterpart, though.
These cookies have a toasty flavor, and the chocolate chips taste a little overdone. They have an overall milder flavor than the original cookies.
These are a good option if you're looking for a crispy texture, but go for the real thing for the flavor!
11. Original Chocolate Chip
The Original Chocolate Chip Cookies are what come to mind first when you think of the Chips Ahoy brand.
They are crisp without tasting overdone and loaded with plenty of melt-in-your-mouth chocolate chips.
Many believe this is one of the best store-bought chocolate chip cookies on the market, but I am on team "Chewy" (more on that later!)
These cookies are so crunchy that they leave a crumbly mess when eating them, so I prefer the softer option personally.
If you're looking for a good-tasting option for a store-bought cookie, these will get the job done.
10. Candy Blasts
Chips Ahoy's Candy Blasts flavor implements colorful, candy-coated fudge pieces to the original chocolate chip cookies.
The candy pieces remind me of the morsels on Little Debbie's Cosmic Brownies, which are different from M&M's. They add extra sweetness to the cookie and a new texture to set it apart from the original.
Although the candy blasts do not add much additional flavor, they are a vibrant option that will spruce up your snack time.
9. Reese's Mini Pieces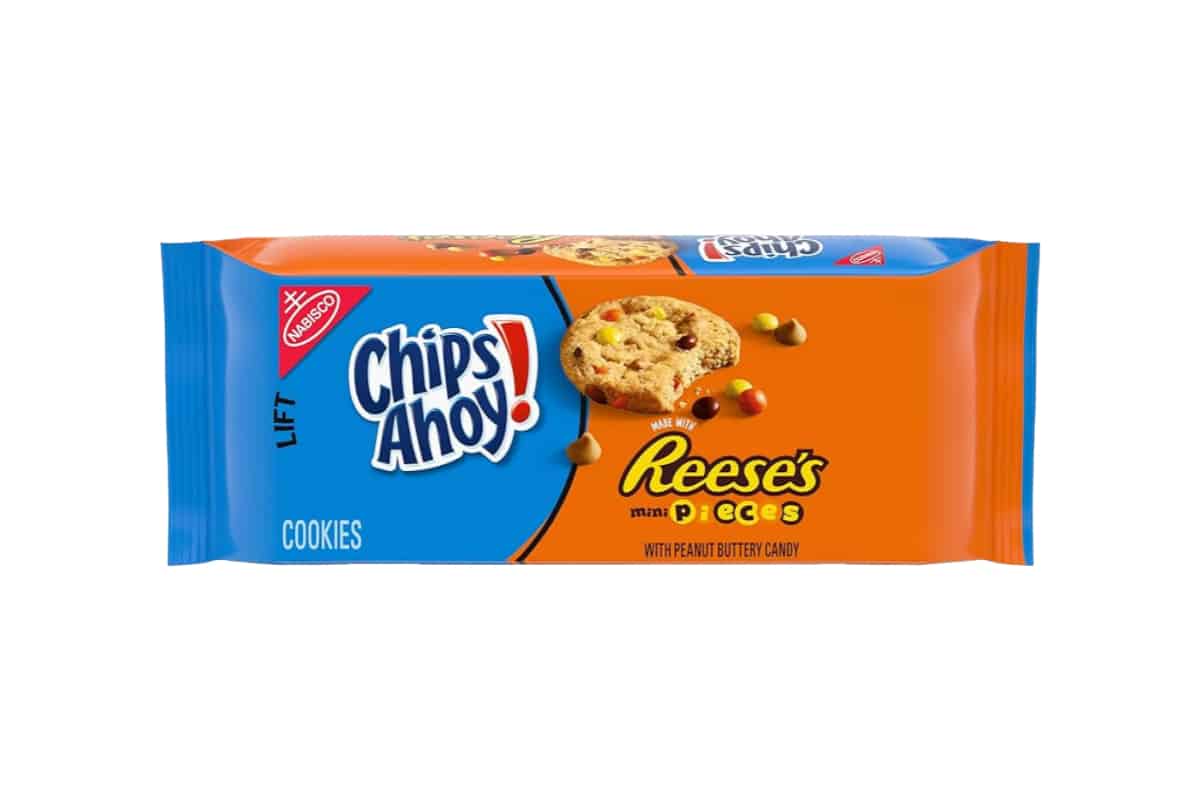 Reese's is my favorite movie theater candy and a great inclusion to bake with. Chips Ahoy tries their hand with a crunchy cookie that includes Reese's pieces and peanut butter chips.
In my opinion, the thick candy coating is too much with the crunchy cookie. I would have loved it if this was made as a chewy version. I also think a chocolate cookie would complement Reese's pieces immensely rather than the original base.
These cookies are still tasty, but they are not my favorite peanut butter flavor from Chips Ahoy.
8. Chunky Chocolate Chip
If you are looking for a little more chocolate flavor than the original, the Chunky Chocolate Chip Cookies may be right up your alley.
The chunks are not much bigger than the original morsels, but they provide more of a decadent chocolate flavor.
These are still victims of the crumbly mess of the original cookie but earn brownie points for the rich chocolate chunks. They offer chocolate in every bite, which I love in a chocolate chip cookie.
Although they don't dazzle me, I still ranked them higher for extra chocolatey goodness.
7. Hershey's Milk Chocolate Chip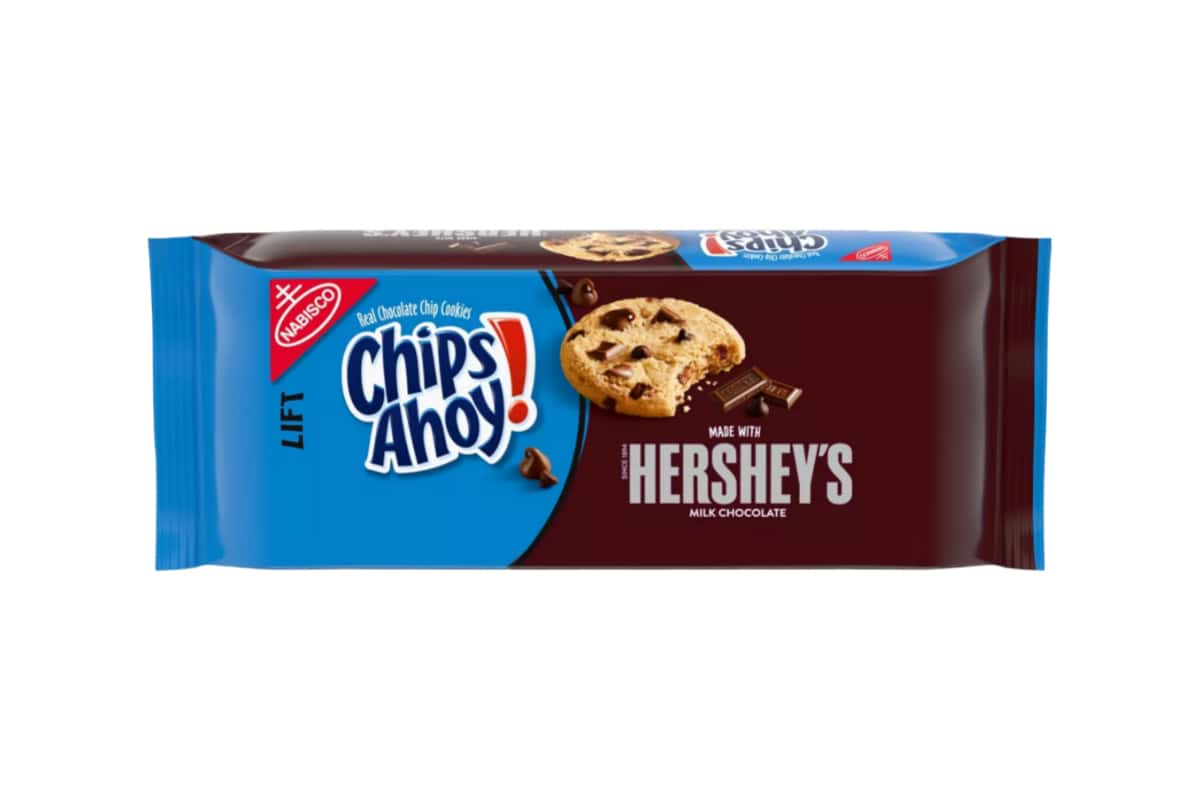 Chips Ahoy knows how to entice customers by including well-known brands in their cookies, and this flavor features Hershey's milk chocolate chips for the ultimate indulgence.
Hershey's chocolate chips are creamier than Chips Ahoy's usual chocolate chips, and this luscious chocolate element gives the cookie a new and exciting flavor.
I would love it if they used Hershey's Special Dark chocolate in this cookie for an extra rich experience, though!
6. Chewy Confetti Cake Chocolate Chip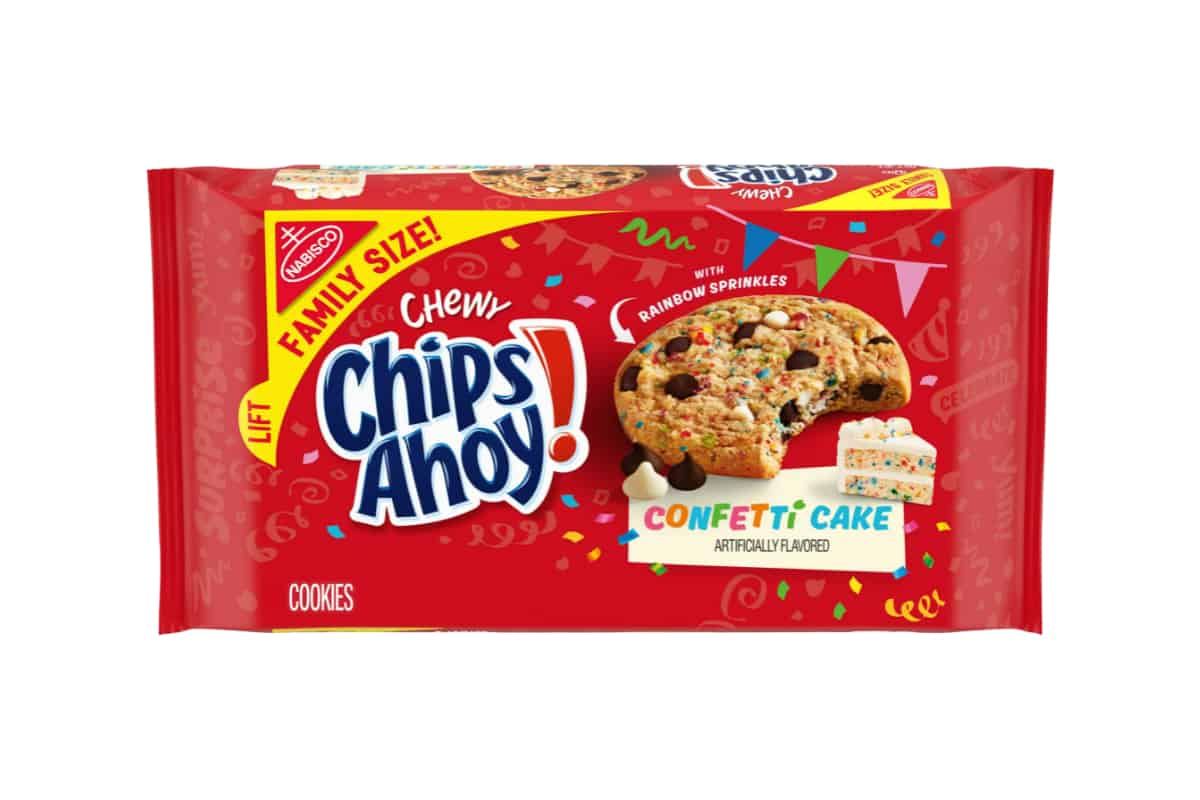 The Confetti Cake Chocolate Chip Cookies come with rainbow sprinkles and let you enjoy confetti cake in a chewy, soft-baked cookie.
I love that the actual cookie is confetti cake flavored with notes of vanilla, butter, and sweetness. The chewy texture of the cookies also contributes to the cake-like aspect perfectly.
Try these fun Confetti cookies for your next birthday party, celebration, or just for fun!
5. Chewy Chocolate Chip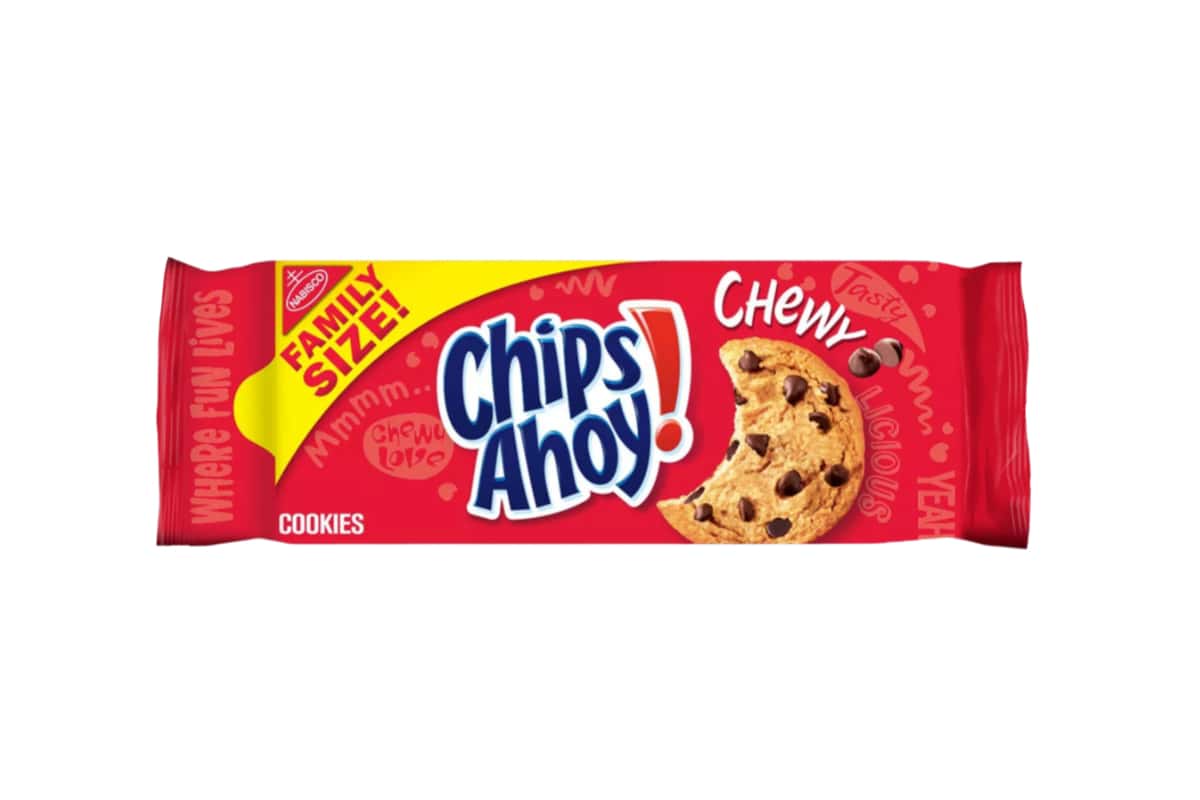 The Chewy Chocolate Chip flavor is everything you want in a Chips Ahoy cookie. It's soft, sweet, and full of creamy chocolate chips.
The softness of the cookie lets the brown sugar and buttery notes shine through rather than get lost. It also fixes the problem of the crumbly mess the crunchy version makes.
They make mini chewy cookies as well, which are adorable snacks. I am definitely on team "Chewy Chips Ahoy," and I advise you to be too!
4. Chocolate Chip With Reese's Peanut Butter Cups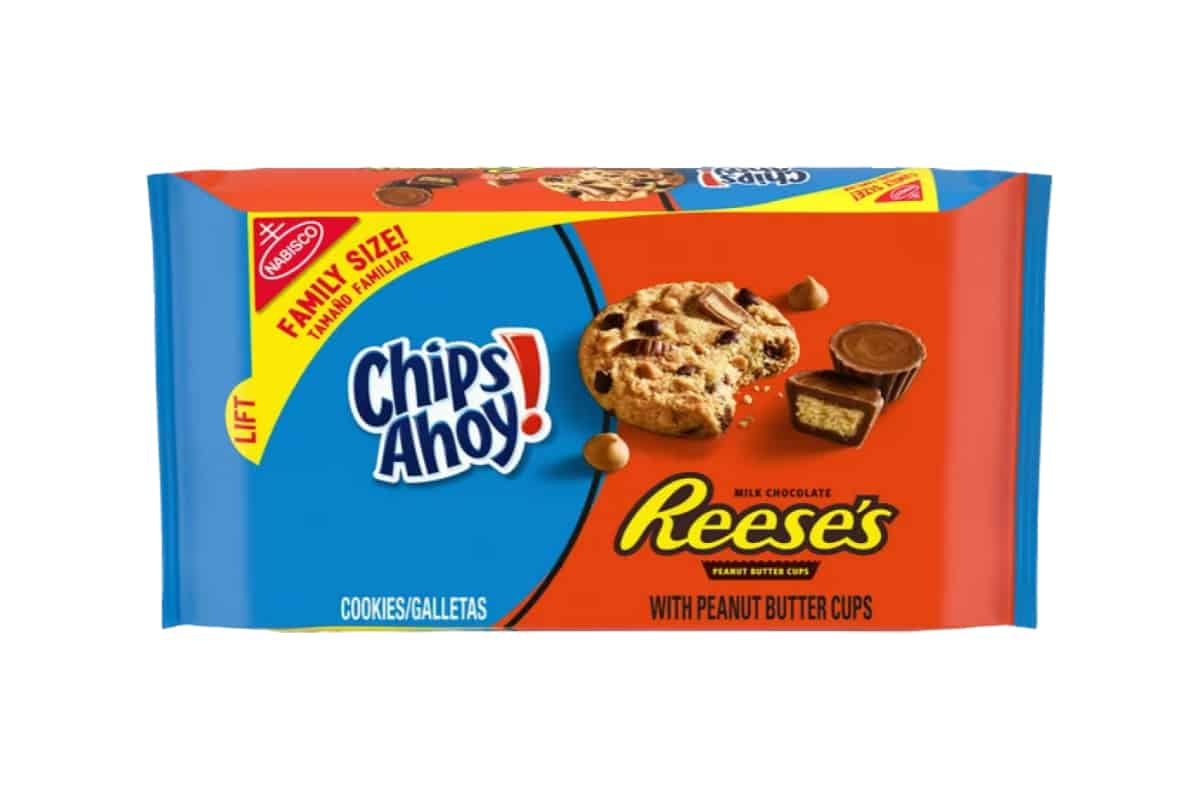 Although I just talked about my love for the chewy cookies, these crunchy cookies are an exception. The Reese's Peanut Butter Cups Cookies are loaded with delicious peanut butter and chocolate flavor.
The creaminess from the peanut butter cups helps combat the crunchiness of the cookie wonderfully. The chocolate and peanut butter flavors are very pronounced and pair well with the crunchy base.
If you're an avid peanut butter fan who likes a bit of crunch, this Chips Ahoy flavor checks all the boxes.
3. Chewy Hershey's Fudge Filled
We're in the era of stuffed cookies, and the Chips Ahoy Hershey's Fudge Filled Cookies are in the game for sure.
These soft, chewy cookies are full of chocolate chips and stuffed with a gooey, rich Hershey's fudge center.
They are not for the faint-hearted when it comes to chocolate. You'll definitely need a glass of milk to wash down all the decadent flavors.
Chips Ahoy recommends pairing them with ice cream, and I wholeheartedly agree. A vanilla ice cream would cut through the richness. I would also recommend heating them up a little for a hot fudge vibe!
2. Chewy Red Velvet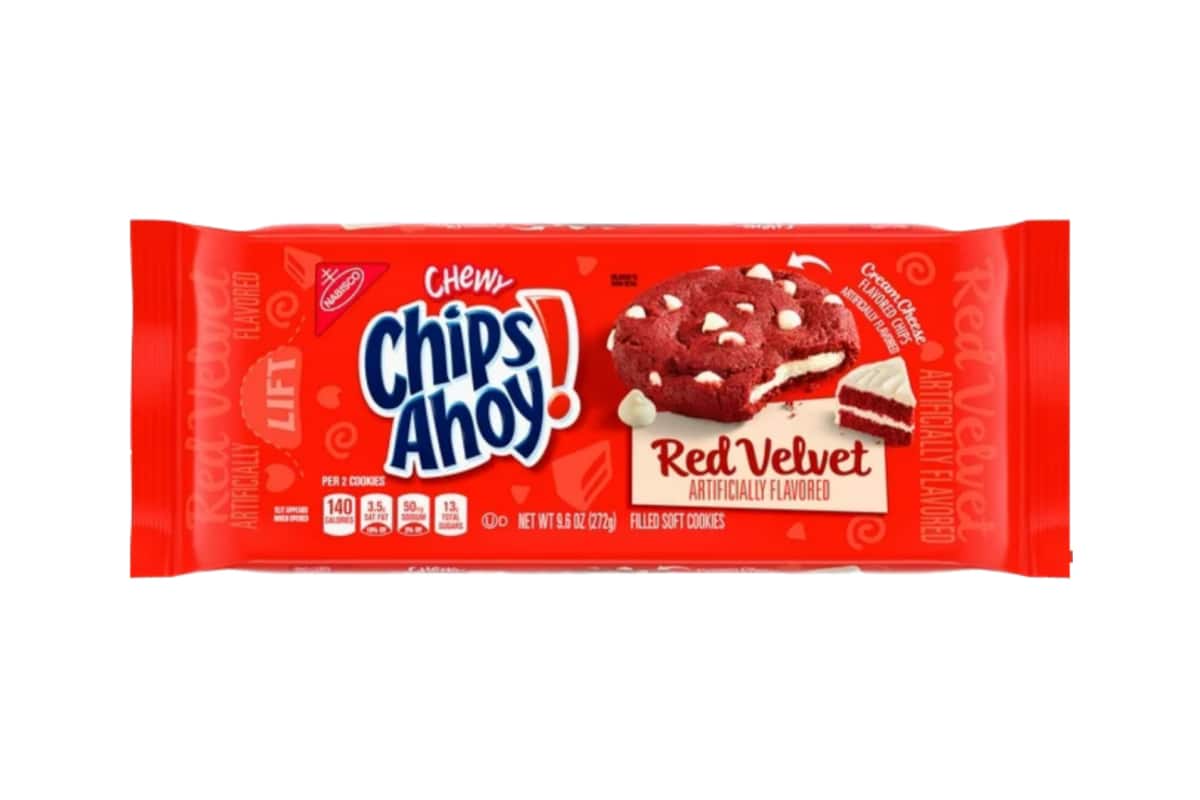 Chips Ahoy's Red Velvet flavor embodies everything you love in red velvet cake into a cookie.
The cocoa notes are present here, along with tangy notes of cream cheese in the morsels and icing center. I love that you get a nice bitter cocoa flavor from the cookie, which is often overlooked when making a red velvet dessert.
The softness of the cookie really transports you to eating a slice of red velvet cake in cookie form. If you're a red velvet fan, these cookies will hit the bullseye.
1. Chewy Chocolate Chip With Reese's Peanut Butter Cups
These cookies are a peanut butter lover's dream! They're full of rich chocolate chips, creamy peanut butter morsels, and chunks of Reese's peanut butter cups.
The sweetness of the cookie is perfectly balanced with the salty peanut butter cups. I love to put a scoop of chocolate ice cream between these cookies for a salty-sweet ice cream sandwich.
Texture and flavor-wise, this Chips Ahoy flavor is the ultimate winner in my book!