The 20 Best Oreo Flavors, Ranked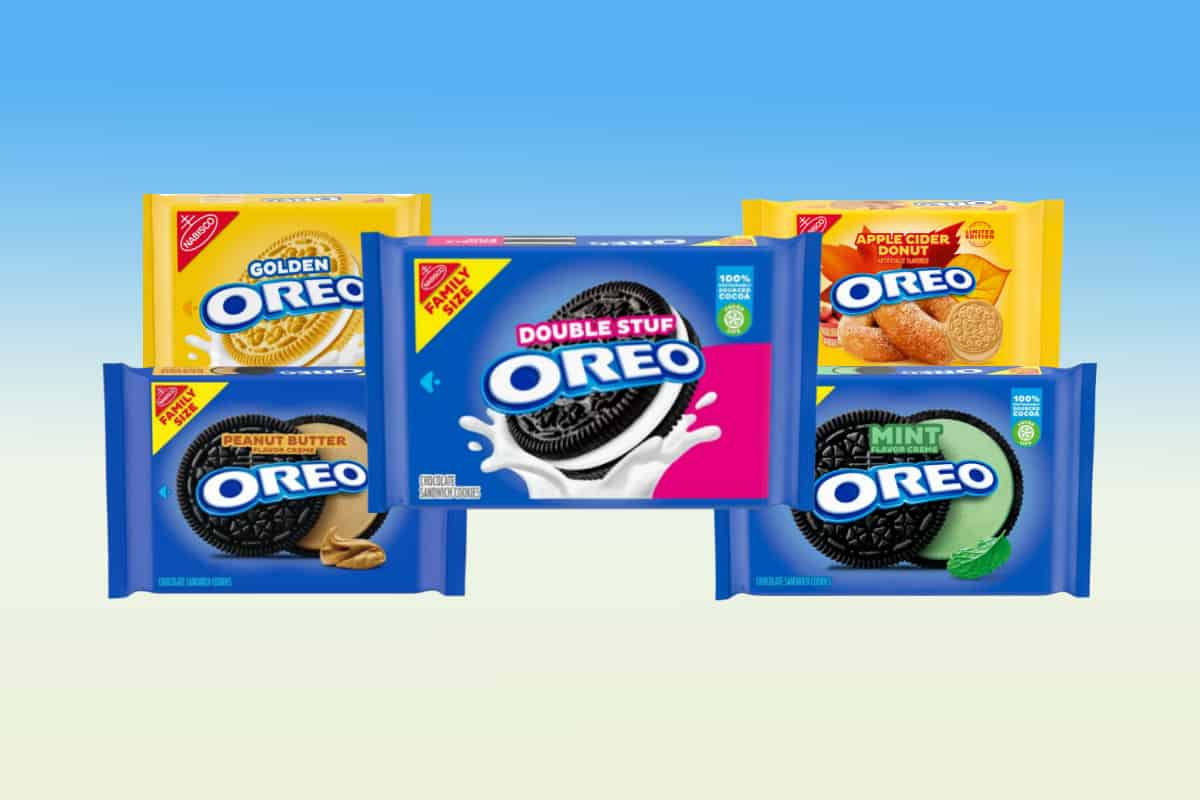 I think we can all agree that Oreo is one of the most popular cookie brands you can buy in grocery stores that offers dozens of flavors.
Some Oreo flavors are definitely better than others, and if you're wondering which are the best, I've got you covered.
Here are my top 20 picks for the best Oreo flavors. I included some flavors from their permanent lineup and some that are my seasonal favorites.
Whether you like the fresh mint creme or the decadent peanut butter filled Oreo cookies, there is a yummy, fun flavor for everyone on this list.
20. Cotton Candy
These sweet cookies made their debut as a summer edition flavor. They feature a golden Oreo filled with side-by-side pink and blue cotton candy flavored filling.
The sweet candy-like filling captures the essence of the carnival treat, but it's debatable whether it tastes good in cookie form.
I love the aesthetically pleasing dual creme filling of the Cotton Candy Oreos, but I think the basis of the flavor profile is just sugar. After all, spun sugar is the only ingredient in cotton candy.
I would recommend this flavor to kids who will love the pink and blue filling as well as the extra sugar kick.
19. Birthday Cake
Who says it has to be someone's birthday to enjoy this Oreo flavor? These chocolate sandwich cookies are full of birthday cake flavored creme and rainbow sprinkles.
I noticed that the creme is sweeter than the typical Oreo filling and has more of a rich, buttery taste. The thick butter flavor is actually a flavor note that I tasted in a few other Oreo cookies.
I am not a fan of the butter-forward flavor. I understand it is to capture the cake aspect, but it tends to be overpowering.
I would love it if the Birthday Cake Oreos had more of a vanilla frosting flavor.
18. Dark Chocolate
The Dark Chocolate Oreo cookies are rich, intense, and subtly sweet. The creme inside uses real dark cocoa to give it a deep chocolate flavor to accompany the chocolate cookies.
This flavor is for dessert lovers who don't want something too sweet. The dark cocoa creme is lightly sweet and relies more on the luscious chocolate flavor.
The dark chocolate on chocolate is a bit too intense for me, though, so I love putting them in some vanilla ice cream to cut through the richness.
17. Chocolate Creme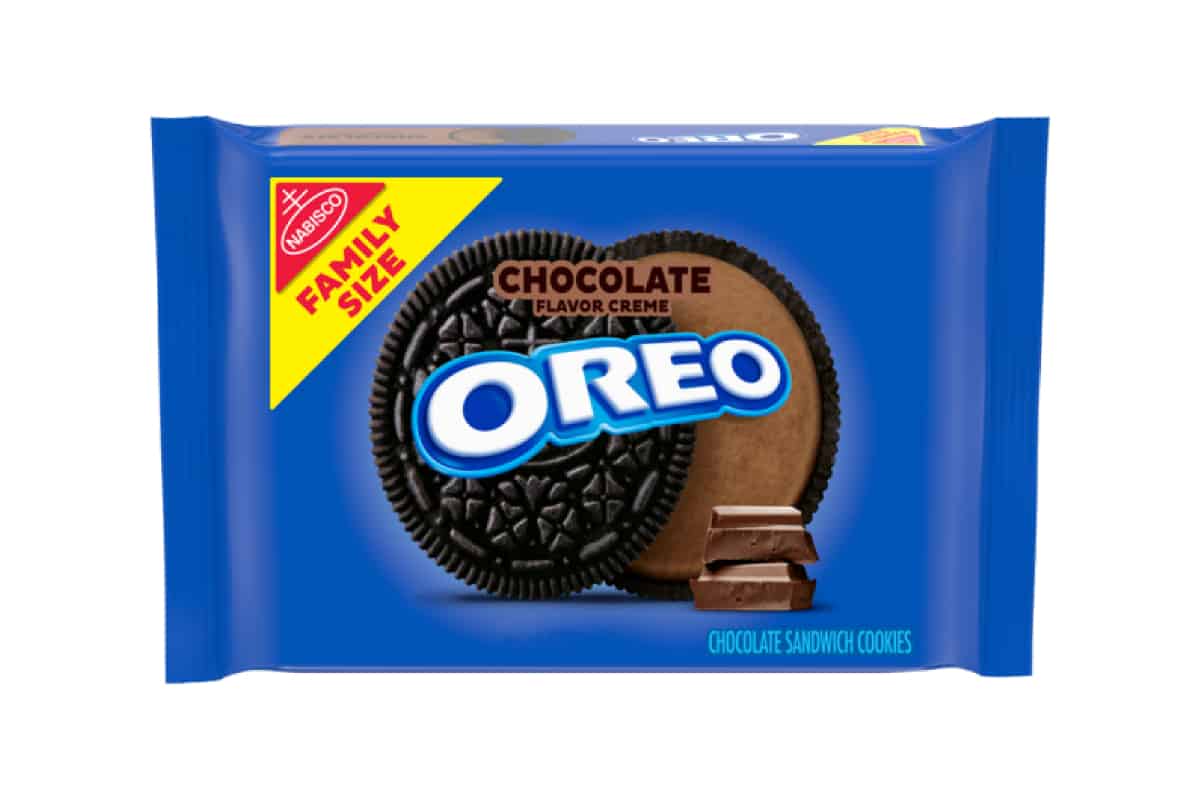 Chocolate lovers unit yet again with this Oreo flavor! The Chocolate Creme cookies have a fudgy milk chocolate middle that is sure to delight your taste buds.
The chocolate creme in this cookie tastes reminiscent of a Fudgsicle or Nesquik chocolate milk. It has a classic chocolate flavor that is easily recognizable.
I love using these cookies to make Oreo truffles. I mix the cookie crumbs with cream cheese, form the dough into balls, dunk them in melted chocolate, then pop them in the fridge to enjoy!
16. Carrot Cake
Next up is one of the more interesting flavors in Oreo's lineup – the Carrot Cake. It starts with a golden Oreo that is carrot cake flavored and has a cream cheese frosting flavored creme.
The carrot cake cookie has warm notes of cinnamon, and the cream cheese frosting creme is the perfect tangy twist to the cookie.
I get more cinnamon roll vibes from this cookie with the cinnamon and cream cheese filling. In my opinion, carrot cake should have cinnamon, nutmeg, and a little ginger.
Carrot cake haters – don't be scared to try this Oreo flavor. Overall, it is scrumptious!
15. Red Velvet
Red Velvet is one of those iconic flavors that everyone is delighted to see, and Oreo's version of this flavor features a red velvet cookie with cream cheese frosting flavored creme.
These beautiful, vibrant red cookies have notes of cocoa with a creamy cream cheese filling.
This Oreo flavor pays homage to red velvet cake perfectly. You get a very mild cocoa taste with a tangy edge from the cream cheese.
I love making red velvet cheesecakes with an Oreo crust bottom for a treat that pairs perfectly together.
14. Pumpkin Spice
Nothing says fall like a pumpkin spice flavored Oreo! This limited-edition flavor has two golden Oreo cookies with pumpkin spice flavored creme sandwiched between them.
I was pleased to taste the warm notes of cinnamon and nutmeg in the pumpkin spice cream. It was pleasantly spiced and not overwhelming.
I love that the golden Oreos provide a sweet, vanilla crunch, almost like biting into a pumpkin pie. This fall favorite Oreo cookies will go great with your pumpkin spice latte!
13. Toffee Crunch
The Toffee Crunch Oreo cookies feature two chocolate wafers filled with a toffee flavored cream with crunchy sugar crystals.
The toffee creme here tastes more like maple flavor to me than toffee. I was looking for more of a Heath bar flavor, but I didn't get that taste.
I would also prefer if these were made with golden Oreos rather than chocolate to let some of that toffee creme shine through.
12. Java Chip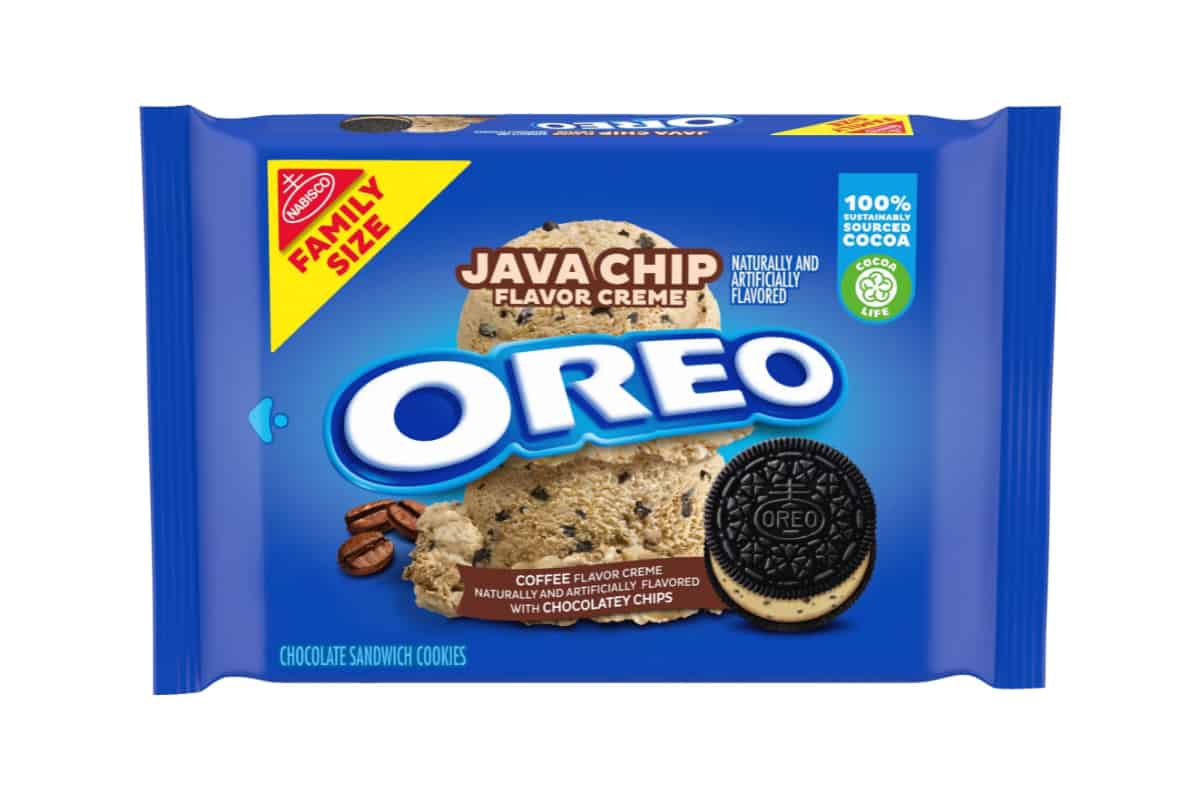 Coffee and Oreo fans will rejoice over this flavor pairing. The Java Chip Oreo features chocolate cookies filled with coffee flavored creme and mini chocolate chips.
This Oreo flavor reminds me of Starbucks' java chip frappuccino in the best way possible. The creamy coffee filling has a robust coffee flavor paired with pops of semi-sweet chocolate chips.
Pro tip: I love breaking these cookies up and putting them in a brown butter chocolate chip cookie dough.
11. Chocolate Hazelnut
These Oreo cookies use a chocolate hazelnut flavored creme reminiscent of the Nutella brand. The rich chocolate filling has a slight nuttiness that helps elevate the cookie tremendously.
If you want a chocolate creme Oreo with a little more oomph, the chocolate hazelnut flavor will be right up your alley.
10. Apple Cider Donut
Apple cider donuts are a fall staple after a hard day of apple picking, and this Oreo flavor transforms into that delicious dessert.
It features golden Oreo cookies with lightly apple cinnamon flavored cream. The cookies kind of imitate the crunchy bites of cinnamon sugar that coat the donuts.
This is a great fall treat for someone who doesn't want something as intense as pumpkin spice. The creme here is very subtly apple and spiced.
9. Pistachio Thins
Pistachio is a sophisticated ingredient that gives any dessert an elevated flavor profile. The Pistachio Oreos are part of the brand's thins collection, and I think it's the perfect fit for these cookies.
The chocolate thins have a nutty layer of vibrant pistachio filling, which is to die for. These remind me of a dessert that is almost too fancy to be on grocery store shelves.
I love adding them to my pistachio ice cream to make the ultimate cookies and cream combo. (Bonus points if you pour espresso over, too!)
8. Caramel Coconut
The Caramel Coconut is a delicious flavor combination that many Oreo fans love. Two chocolate wafers envelop a sweet caramel filled scattered with crunchy coconut flakes.
The texture of this cookie really invites you in for an optimal tasting experience. The smooth caramel filling, the flakey coconut, and the crunchy Oreo cookies all work together very well.
If you love Samoas girl scout cookies, you will definitely enjoy this Oreo flavor.
7. Chocolate Peanut Butter Pie
Oreo's Chocolate Peanut Butter Pie features graham flavored cookies and a dual chocolate peanut butter filling.
I love that the filling is a dual chocolate peanut butter filling, which is a tried and true combo. I appreciate the good balance of peanut butter and chocolate here without being too rich.
6. S'moreo
S'mores are the perfect campfire treat that combines the delicious flavors of graham crackers, chocolate, and marshmallows.
Oreo's S'moreo flavor embodies this bonfire dessert with graham cookies sandwiching the chocolate and marshmallow creme.
The marshmallow creme adds a touch of sweetness that's balanced out by the rich chocolate layer, followed by the earthy maltiness of the graham cookies.
I love making a batch of gooey brownies with a layer of S'moreos in them.
5. Lemon
The Lemon Oreo flavor is a fan favorite and one of the best fruity options they offer. It starts with golden Oreo cookies layered with tangy lemon creme filling.
The vanilla cookie paired with the creamy zest of lemon filling is a yummy, refreshing treat. The lemon creme has a Country Time lemonade flavor to it, which is very classic to me.
These cookies bring the nostalgia back while being refreshing.
4. Peanut Butter
If you've ever watched The Parent Trap, you'll know that peanut butter and Oreos pair well together. These cookies feature two chocolate wafers with a layer of peanut butter creme.
As an avid spreader of peanut butter on my Oreos, I stand by this flavor wholeheartedly!
The rich cookies are the perfect companion to the salty peanut butter creme filling. The combination may sound simple, but it definitely packs in a lot of flavor.
3. Mint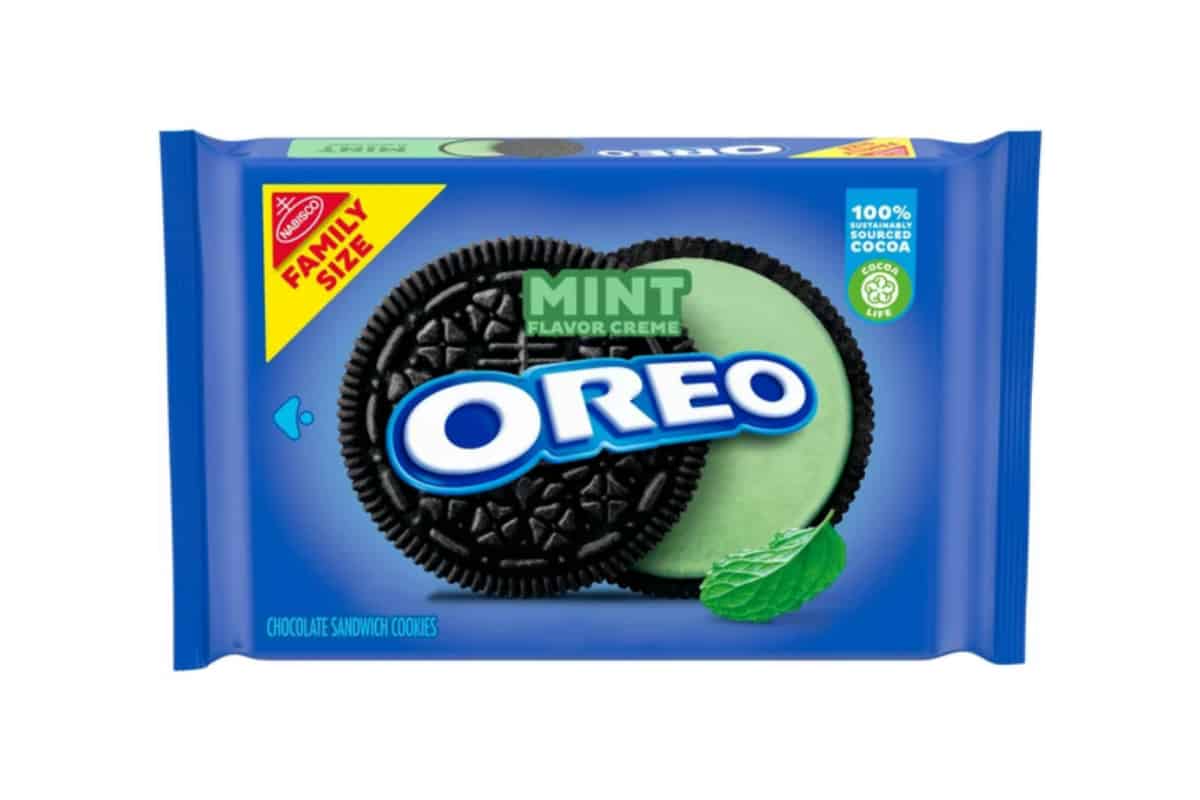 Mint and chocolate is a fun flavor pairing that can be seen in many desserts. Oreo's version of this flavor includes two chocolate wafers with a sweet mint creme in between. The coolness of the mint adds brightness to the dark chocolate cookies.
One of my favorite ice cream flavors is the Mint Oreo, so these cookies really embody that delicious dessert pairing.
2. Golden
The Golden Oreo cookies debuted in the early 2000s as a counterpart to the brand's chocolate wafers. It features vanilla cookies filled with the original Oreo creme for a lighter and more mellow treat.
Oreo also uses vanilla cookies in other flavors to match various combinations, and I just love them. If you want to try the vanilla version of an Oreo cookie, I recommend picking up this flavor.
1. Double Stuf
I love the original Oreo for its crunchy chocolate cookies and the vanilla creme layer. But don't you sometimes want to excavate that cream from your cookie to get the whole Oreo experience?
Well, folks, Oreo also taught about it and came up with the Double Stuf flavor. It includes twice the amount of creme than the original.
If you think the creme is the best part of Oreo cookies, this is definitely the flavor for you. Whether you just eat the creme or the whole cookie, the Double Stuf will surely satisfy your cravings!
Conclusion
Dubbed "milk's favorite cookie," Oreo is known for its chocolate sandwich cookies layered with a delicious creamy filling that comes in many flavors.
I have an Oreo flavor for almost any mood, but my top picks are the Double Stuf, Mint, and Golden.
Whether you like to dip yours in milk, add them to your favorite dessert, or eat them straight from the package, there's an Oreo flavor for you on this list. Enjoy!