The Most Popular Menu Items at Tim Hortons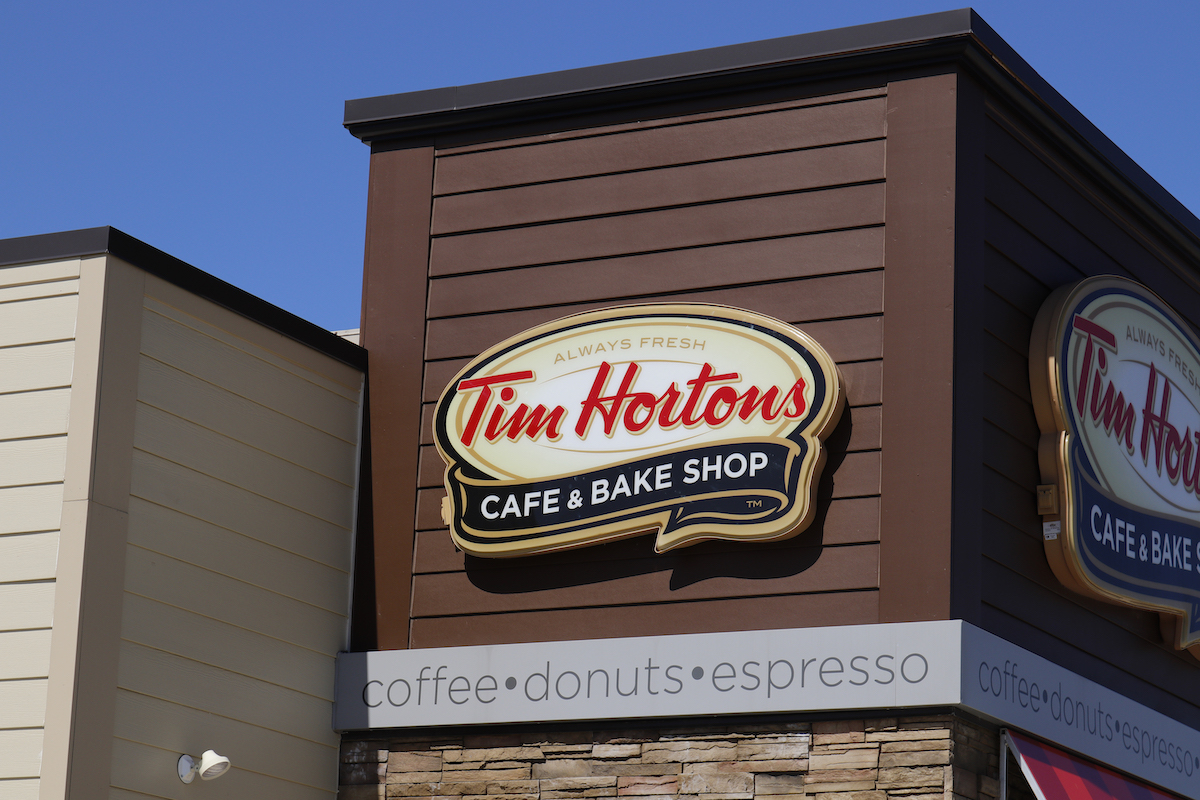 Tim Hortons is an international restaurant chain founded in Canada and has developed a massive following of loyal fans.
Although the chain is best known for its coffee and donuts, Tim Hortons has an extensive menu that caters to hungry customers all day.
In addition to coffee and donuts, Tim Hortons' menu includes breakfast and lunch items, hot and cold beverages, baked goods, and snacks.
In this article, we've rounded up the best Tim Hortons menu items and ranked them based on their flavor, popularity, and availability.
Read on to find your next favorite at Timmies!
20. Smile Cookie
I know Smile Cookies aren't always available, but I had to include them on the list anyway.
Plus, if we're going strictly on flavor, there is still the chocolate chunk cookie to fall back on (that still counts – I promise they're pretty much the same thing!)
The reason why the Smile Cookie is the best cookie has nothing to do with its cheerful grin.
It's because proceeds from sales of the emotive baked goods are donated to local charities, which means it's a win-win.
Delicious, chocolate-laced cookie for you, money for a good cause – What more could you ask for?
19. Croissant
Tim Hortons' Croissants are soft, buttery, and flaky. They're a rich, decadent breakfast pastry but not as sugary and sweet as a donut.
They're perfect on their own but are also excellent with a side of jam or as the vehicle for a breakfast sandwich.
If you get to your local store early enough, you may even be lucky to snag a coveted cheese croissant with cheddar cheese melted on top.
It might not be the most filling breakfast, but it's the perfect accompaniment to a hot cup of Tim Hortons coffee, tea, or hot chocolate.
The plain Croissant contains 263 calories, 14g of fat, 4g of sugar, and 5g of protein.
18. Chipotle Steak Wrap
The Chipotle Steak Wrap is one of the most flavorful items on the Tim Hortons menu.
It's made from thinly sliced smoky steak, lettuce, red onion, tomato, and cheddar cheese on a grilled flour tortilla with chipotle sauce.
It's a filling and savory option on the Tim Hortons lunch menu.
It can be a little messy since the sauce tends to leak out of the tortilla, but it's conveniently packaged, so it's still a good option for an on-the-go meal.
The Chipotle Steak Wrap contains 490 calories, 22g of fat, 7g of sugar, and 28g of protein.
17. Everything Bagel
Everything bagels are one of the best bagels at Tim Hortons (and pretty much anywhere, for that matter.)
The ultimate way to improve upon a chewy, crisp bagel is to top it with sesame seeds, poppy seeds, onion, and garlic.
The next best way is to either toast it and add cream cheese or pile it high with bacon, egg, and melty cheese.
Like all Tim Hortons bagels, the Everything Bagel can be customized with any available toppings or spreads or used for a breakfast sandwich.
It contains 300 calories, 4g of fat, 4g of sugar, and 10g of protein.
16. Maple Waffle Breakfast Sandwich
The Maple Waffle Breakfast Sandwich is an excellent choice on mornings when you need that extra boost at breakfast time – it's a perfect way to recover after a night out.
It hits all the right marks of salty, sweet, savory, cheesy, crunchy, and fatty. Honestly, the only drawback is that it's a little messy.
It's made from your choice of bacon or pork sausage, egg, and melted cheese sandwiched between maple-flavored waffles.
The waffles are soft and plush inside but have a sugary, crunchy crust that's ultra-satisfying to bite into.
The Maple Waffle Breakfast Sandwich contains 599 calories, 41g of fat, 17g of sugar, and 18g of protein.
15. Chocolate Glazed Timbit
The Chocolate Glazed Timbit is one of the best Timbits on the Tim Hortons menu.
It has a rich, chocolatey flavor that's dense but not too sweet.
It tastes like glazed devil's food cake, making it the perfect bite-sized treat for any chocolate fan.
You can order them individually or in boxes of 10, 20, or 40.
One Chocolate Glazed Timbit contains 87 calories, 9g of sugar, and 3g of fat.
14. Frozen Hot Chocolate
Frozen Hot Chocolate is one of my favorite afternoon pick-me-ups, especially on a hot day.
It's a frozen, blended, chocolatey drink lighter than a chocolate milkshake and super refreshing.
They're a great choice when you want something super chocolatey or are in the mood for an Iced Capp but don't want the coffee.
It's made from milk, hot chocolate powder, and sweetener and is frozen and dispensed from a slush machine, just like an Iced Capp.
A medium Frozen Hot Chocolate contains 473 calories, 199g of sugar, and 23g of fat.
13. Strawberry Creamy Chill
Strawberry Creamy Chills aren't available at every Tim Hortons location – it largely depends on whether they have the space for the machine and the demand for the product.
If you can find one, it is one of the best drinks at Tim Hortons, with its creamy, fruity, and refreshing taste.
Strawberry Creamy Chills have a similar consistency to Iced Capps, but they're strawberries and cream flavored rather than coffee flavored.
They're made by blending a frozen creamy chill base with cream and strawberry syrup and topped with whipped cream and more strawberry syrup.
12. French Vanilla
The French Vanilla is a creamy, warming drink exclusive to Tim Hortons, at least in this form.
Sure, other popular coffee chains also offer French vanilla drinks, but they aren't quite the same.
The Tim Hortons French Vanilla isn't even really a coffee drink at all.
It's got a tiny bit of instant coffee in it, but that's more for flavor than anything else.
The drink is made from a French vanilla-flavored powder similar to hot chocolate powder.
It's then mixed with hot water and dispensed through a machine.
The drink is velvety and delicious, but be aware that it contains a lot of sugar.
A medium French Vanilla contains 310 calories, 10g of fat, and 263g of sugar.
11. Iced Capp
The Iced Capp is right up on stage with the French Vanilla and Original Blend Double Double in the Tim Hortons supergroup lineup.
The frosty blended coffee drink is a Timmies classic. It's sweet, refreshing, and completely addictive.
It's made from a base of coffee extract, sugar, water, and flavorings and frozen in a slush machine.
When the Iced Capp is dispensed, it's mixed with a splash of cream, though you can request a different type of milk if you'd prefer it that way.
In addition to the classic Iced Capp, Tim Hortons offers several flavors, such as caramel, mocha, and Oreo.
Each of them is made by mixing flavored syrups and other mix-ins into the classic Iced Capp, and they all contain caffeine.
10. Steeped Tea
The name "steeped tea" might be a little confusing to non-Timmies customers since their "bagged tea" is also steeped, but if you know, you know.
Steeped Tea is made by brewing loose-leaf tea in a machine with a filter, similar to how coffee is brewed.
It means there's usually a pot of hot tea ready to be customized with your favorite milk or sweetener.
The Steeped Tea is made from ethically sourced whole-leaf orange pekoe tea.
It's bold and flavorful but doesn't have any bitterness that sometimes comes from leaving a tea bag steeping for too long.
9. Apple Fritter
The Apple Fritter from Tim Hortons looks more like an apple-filled donut than what I picture of a traditional apple fritter, but that doesn't make it any less delicious.
It's a yeast donut brimming with cinnamon and apple chunks and covered in a sweet sugar glaze.
It's one of the most popular donuts at Tim Hortons and tastes so good. Tim Hortons even made it into an ice cream flavor!
One Apple Fritter contains 330 calories, 11g of fat, and 23g of sugar.
8. Bagel B.E.L.T.
The Bagel B.E.L.T. is one of my favorite sandwiches on the Tim Hortons breakfast menu.
It's essentially the BLT of my dreams, made breakfast-y by adding two fresh eggs and some cheese.
It's super filling, but for a filling breakfast sandwich, this one doesn't weigh you down.
It isn't as greasy as other typical fast food breakfast sandwiches. The lettuce and tomato help to keep it feeling light.
The Bagel B.E.L.T. contains 624 calories, 24g of fat, 11g of sugar, and 34g of protein.
7. Fruit Explosion Muffin
The aptly named Fruit Explosion Muffin really is bursting with fruit.
It's a soft, sweet muffin studded with berries and filled with a jam-like raspberry filling.
More muffins should come filled like this – it's such a convenient and delicious treat, provided you're careful when you bite into it lest you get fruity filling all over your shirt.
It's such a popular baked good that it was one of only five Tim Hortons menu items made into their line of exclusive ice cream flavors!
One Fruit Explosion Muffin contains 353 calories, 11g of fat, 27g of sugar, and 4g of protein.
6. Chili
I know Chili might seem like the odd man out on this list.
It's the least likely contender for the best menu items at a chain primarily known for its coffee and donuts, but trust me when I say that the Chili at Tim Hortons is SO GOOD.
It's a hearty beef and kidney bean-based chili made with onions, tomato, mushrooms, green pepper, celery, and spices.
You can (and should) add shredded cheddar cheese on top, and the whole thing is served with a roll and butter on the side.
It's available in two different sizes: small and regular.
A small Chili contains 325 calories, 16g of fat, 7g of sugar, and 20g of protein, while the regular size has 436 calories, 21g of fat, 9g of sugar, and 26g of protein.
5. Honey Cruller
Tim Hortons' Honey Cruller is all about texture. It's a light, sweet donut made from a slightly stretchy and eggy dough full of large air pockets.
The texture of the twisted pastry contrasts perfectly with the crackly donut glaze it's dipped in.
The Honey Cruller isn't honey flavored – in fact, there's no honey listed in its ingredients at all.
Instead, it has an almost creamy vanilla pudding flavor that's at least partially due to the number of eggs used in the dough.
4. Tim Hortons Original Blend
Tim Hortons Original Blend might be the chain's most classic menu item (sorry, Timbits).
It's got a cult-like following and for good reason. The coffee is brewed fresh from 100% Arabica beans and is a smooth and bold medium roast.
It's delicious and drinkable even when served black, but it can also be customized with dairy or nondairy milk, flavored syrups, flavor shots, and sweeteners.
One of the most popular ways to order it is with double cream and double sugar – those in the know will ask for a "double double."
3. Farmers Breakfast Wrap
The Farmers Breakfast Wrap is everything good about breakfast in one convenient, hand-held package.
It contains your choice of sausage or bacon, egg, melted American cheese, a hashbrown, and chipotle sauce, all wrapped together in a soft flour tortilla and grilled.
It's savory, crispy, meaty, and cheesy – everything you look for in a warming, filling breakfast.
Pro tip: If you're feeling extra hungry, opt for a "loaded farmers' breakfast wrap." It contains a double portion of meat, and you can even get it with bacon and sausage.
The Farmers Breakfast Wrap contains 778 calories, 49g of fat, 1278 mg of sodium, 3g of sugar, and 28g of protein.
2. White Hot Chocolate
Not every Tim Hortons location carries White Hot Chocolate year-round, so if your local store does, you should consider yourself lucky!
This creamy drink is a little sweeter and lighter than a classic hot chocolate and has a rich, almost caramelized flavor.
It's especially good if you steep a bag of chai in it!
It's made by combining a white hot chocolate powder mix and hot water in a machine that dispenses the drink – just like their regular hot chocolate or French vanilla.
1. Sour Cream Glazed Timbit
Tim Hortons could probably sell nothing but Sour Cream Glazed Timbits, and customers would still flock there every day. (Ok, maybe these and the Original Blend.)
They're crispy, tender little morsels of sweet glaze and rich donuts, making them the best Tim Hortons menu item.
If you're worried about the idea of sour cream in a donut, don't be.
These Timbits don't taste like sour cream, but the sour cream incorporated into the batter makes them unbelievably rich, moist, and luscious.
They really melt in your mouth and are excellent alongside a cup of coffee.
Tim Hortons also makes a sour cream glazed donut that's fantastic and more conducive to bigger bites.
One Sour Cream Glazed Timbit contains 82 calories, 9g of sugar, and 3g of fat.
Conclusion
There are plenty of delicious items to choose from on the Tim Hortons menu, regardless of the time of day you order and whether you're looking for something sweet, savory, or thirst-quenching.
They offer an extensive menu of hot and cold drinks, coffee, snacks, pastries, breakfast items, and sandwiches.
That means you can make Tim Hortons a regular part of your weekly routine and not get sick of the menu.
For more information about Tim Hortons, check out the articles below.