The Best Breakfast Sandwiches at Tim Hortons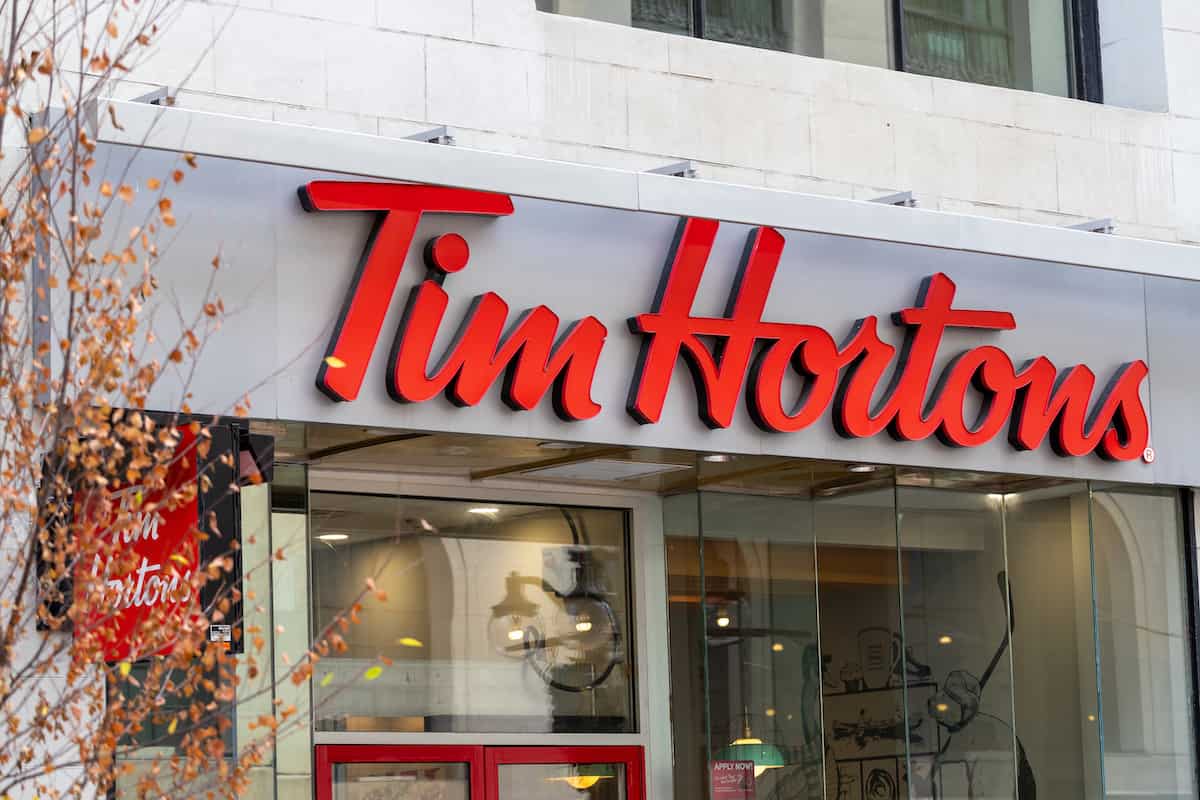 A "double-double" from Tim Hortons may be a delicious way to start your day, but it doesn't quite count as breakfast. Luckily, it can be paired with one of the many Tim Hortons breakfast menu items for an excellent morning boost.
Tim Hortons' breakfast menu may change based on location, but you'll most likely find a wide variety of breakfast sandwiches and snacks at your local store.
Tim Hortons breakfast hours will vary by store, but many stores serve breakfast between 6:00 am – 12:00 pm on weekdays and weekends.
Some 24-hour locations may serve breakfast all day, and certain items, like the Avocado Toast, are typically available for breakfast and lunch.
In this article, we've rounded up the best Tim Hortons breakfast menu items you'll most likely find at your local store.
So read on to discover your next favorite breakfast at Tim Hortons!
15. Simply Sausage/Simply Bacon
The Simply Sausage and Simply Bacon are breakfast sandwiches from Tim Hortons that do not contain eggs.
They're made with a buttermilk biscuit topped with a pork sausage patty or a few strips of bacon.
They're tasty but a little dry and don't have as much protein as a sandwich with eggs.
A Simply Sausage sandwich contains 472 calories, 31g of fat, 2g of sugar, and 10g of protein.
You can customize it by substituting a different type of bread or adding a slice of American cheese.
14. Avocado Toast
I really wanted to like the new Avocado Toast from Tim Hortons.
It's a toasted piece of sourdough bread topped with avocado spread and everything bagel seasoning – what's not to like, right?
Unfortunately, the Avocado Toast misses the mark nine times out of ten.
More often than not, it's served with just a thin smear of avocado spread scraped across the (also thin) piece of toast.
Not even everything bagel seasoning can save me from that sort of disappointment.
It also costs the same as an (objectively more filling) breakfast sandwich and only contains 4g of protein – a good five times less than the amount of a Sausage, Egg, and Cheese.
13. Omelette Bites
Variations of these keto-friendly bite-sized omelets have been popping up on café menus for years.
While they're a good source of quick, low-carb protein, they often leave a lot to be desired in terms of flavor and texture.
Tim Hortons' Omelette Bites are an okay choice if you're looking for something low-carb, but there are many better options for the rest of us.
They contain just 63 calories, 3g of fat, 0.6g of sugar, and 6g of protein per serving, but they're not really filling enough to be a meal on their own.
There are two different flavors of Omelette Bites available at Tim Hortons: Spinach and Egg White and Bacon and Cheese.
I really like that, unlike other popular bakery cafe chains, Tim Hortons gives you the option to order one of each flavor.
12. Breakfast Wrap Snacker
The Breakfast Wrap Snacker is a smaller portion-sized version of the Grilled Breakfast Wrap (below). It's not too filling, but that's the point.
It's a good option if you're not too hungry in the morning or want some protein to eat alongside your Timbits.
Breakfast Wrap Snackers are made with egg, cheese, and your choice of bacon or pork sausage rolled in a flour tortilla. They can also be made without meat.
A Breakfast Wrap Snacker made with bacon contains 224 calories, 12g of fat, 0.6g of sugar, and 12g of protein.
That's 176 fewer calories than a standard Grilled Breakfast Wrap made with bacon.
11. Biscuit Breakfast Sandwich
The Biscuit Breakfast Sandwich is made from a fresh, seasoned egg, melted cheese, and your choice of bacon, pork sausage, or no meat on a soft buttermilk biscuit.
This breakfast sandwich from Tim Hortons is reminiscent of a southern country breakfast.
The only problem with the Biscuit Breakfast Sandwich is that the biscuit tends to be a little bit crumbly, making it messy to eat on the go.
It has a nice, buttery flavor but might fall apart in your hand (and onto your lap) while you try to eat it.
10. Homestyle Oatmeal
Oatmeal is a delicious, filling, and healthy way to start your day, but it's not very high on this list simply because it's easy and inexpensive to make at home.
Tim Hortons' Oatmeal is convenient and only costs a few dollars, but it's still cheaper and almost as quick to make at home.
That said, if you're looking for a healthy breakfast on the go, the Homestyle Oatmeal is an excellent choice.
It comes in various flavors depending on the location, including original, mixed berry, and maple.
One bowl of Homestyle Oatmeal contains 205 calories, 2g of fat, 223g of sugar, and 5g of protein.
9. Grilled Breakfast Wrap
The Grilled Breakfast Wrap is a convenient grab-and-go breakfast item at Tim Hortons that contains fewer calories than a breakfast sandwich.
It's made from your choice of bacon or sausage (ask for a "Loaded Breakfast Wrap" to get both), melted American cheese, and a fresh egg on a grilled flour tortilla with chipotle or spicy maple sauce.
One Grilled Breakfast Wrap with bacon and egg contains 400 calories, 20g of fat, 2g of sugar, and 20g of protein.
It might not be as healthy as the Homestyle Oatmeal, but it's savory, satisfying, and a great source of protein.
8. Hashbrowns
Hot, crispy, and salty – hashbrowns are a simple and universal pleasure.
They're delicious alongside a breakfast sandwich and even better when layered within the sandwich (check out the Farmers Breakfast Wrap below!)
Tim Hortons' Hashbrowns are made from seasoned diced potatoes formed into a patty and frozen. They're reheated in ovens once they reach the store.
They're not the most nutritious item on the menu, with 143 calories, 6g of fat, 1g of sugar, and 1g of protein per patty, but they are delicious, as long as they're hot and fresh.
The one problem with Hashbrowns at Tim Hortons is that they can be inconsistent.
Some locations might not sell them as quickly as others, meaning you might be served a hard piece from sitting in a warming tray for a bit too long.
7. Double Stacked Breakfast Sandwich
The Double Stacked Breakfast Sandwich is essentially the "loaded" version of Tim Hortons' regular breakfast sandwich.
It's made with all the same ingredients as a regular breakfast sandwich but with double the meat.
In addition to the bread of your choice, egg, and melted cheese, you'll have the option to order it with bacon and sausage, double bacon, or double sausage.
A Double Stacked Breakfast Sandwich made with bacon and sausage contains 632 calories, 47g of fat, 1g of sugar, and 24g of protein.
It's one of the most calorie-dense breakfast sandwiches on the Tim Hortons menu.
6. English Muffin Breakfast Sandwich
The English Muffin Breakfast Sandwich is simple, classic, and portable.
At around 349 calories, including 17g of fat, 3g of sugar, and 19g of protein (when made with bacon and egg), it's one of the healthier breakfast sandwiches at Tim Hortons.
This sandwich is made with a freshly cracked egg and American cheese with optional bacon or sausage on a lightly toasted English muffin.
Pro tip: if you want your English muffin crispier, ask to have it double-toasted!
5. Maple Waffle Breakfast Sandwich
Some mornings are all about chasing that "bliss point" between sweet and salty, and that's where the Maple Waffle Breakfast Sandwich comes into play.
It's one of the newest Tim Hortons breakfast sandwiches and is made with savory pork sausage or bacon, melty cheese, and egg sandwiched between sweet and crunchy maple-flavored waffles.
I have to say this one hits all the right flavor and texture marks!
It probably comes as no surprise that it isn't the healthiest breakfast, but it's a little too sweet for most people to eat every day anyway.
One Maple Waffle Breakfast Sandwich contains 599 calories, 41g of fat, 17g of sugar, and 18g of protein.
4. Croissant Breakfast Sandwich
Tim Hortons' Croissant Breakfast Sandwich is made with fresh eggs, melted American cheese, and bacon or pork sausage on a buttery, flaky croissant.
The combination of buttery pastry and salty, savory breakfast meat is exceptional and makes this one of the best Tim Hortons breakfast sandwiches.
You can customize your sandwich by adding extra meat, cheese, egg, or sauce. Of course, it can also be made without meat if preferred.
3. Bagel Breakfast Sandwich
The Bagel Breakfast Sandwiches are among the most filling Tim Hortons breakfast items.
They're made with two freshly cracked eggs, melty cheese, and either bacon or sausage (or neither) on the bagel of your choice.
I really like that you can choose what type of bagel your sandwich is served on, even when ordering online or on the Tim Hortons app.
It's not something that all fast food chains and cafés offer, making it a much more enjoyable sandwich.
The Bagel Breakfast sandwich is very hearty. When made with bacon on a plain bagel, it contains around 586 calories, 24g of fat, 5g of sugar, and 32g of protein.
You certainly won't feel hungry after enjoying one of these!
2. Bagel B.E.L.T.
The Bagel B.E.L.T. is one of my favorite Tim Hortons breakfast items because it's very filling but still feels light and fresh.
It's made with two freshly cracked eggs, three strips of bacon, sliced cheese, fresh lettuce, and tomato on a bagel.
It has all the protein of a typical meat, egg, and cheese breakfast sandwich, but the fresh tomato and crisp lettuce lend a refreshing lightness to the sandwich.
It's perfect for days when you want something hearty and filling that doesn't feel too greasy.
Don't be fooled by the fresh lettuce, however. This is not a low-calorie sandwich.
One Bagel B.E.L.T. on a plain bagel contains 624 calories, 24g of fat, and 11g of sugar.
Luckily, at 34g, it has enough protein to keep you full and satisfied.
1. Farmers Breakfast Wrap
The Farmers Breakfast Wrap is the most satisfying Tim Hortons breakfast item. It's cheesy, crispy, savory, and surprisingly filling!
This one gets bonus points for being easy to eat on the go since you can eat it with one hand with very little mess.
It is made with your choice of bacon or sausage, a seasoned egg omelet, American cheese, and a hashbrown patty wrapped in a grilled flour tortilla with spicy maple or chipotle sauce.
If you're really hungry, ask for a "Loaded Farmers Breakfast Wrap," which is made with both bacon and sausage (or a double portion of each.)
The Loaded Farmers Breakfast Wrap is a filling breakfast, but it's not the most nutritious.
One serving contains 778 calories, 49g of fat, 1278 mg of sodium, 3g of sugar, and 28g of protein.
Conclusion
Although Tim Hortons donuts can be tempting in the morning, sometimes, it may make sense to start your day with some protein. And if that protein comes from crisp bacon and melty cheese, so be it!
The Tim Hortons breakfast menu has plenty of protein-packed options for vegetarians and omnivores alike, all of which pair perfectly with Tim Hortons coffee.
For more information about Tim Hortons, check out the articles below.