14 Best Tim Hortons Donut Flavors to Try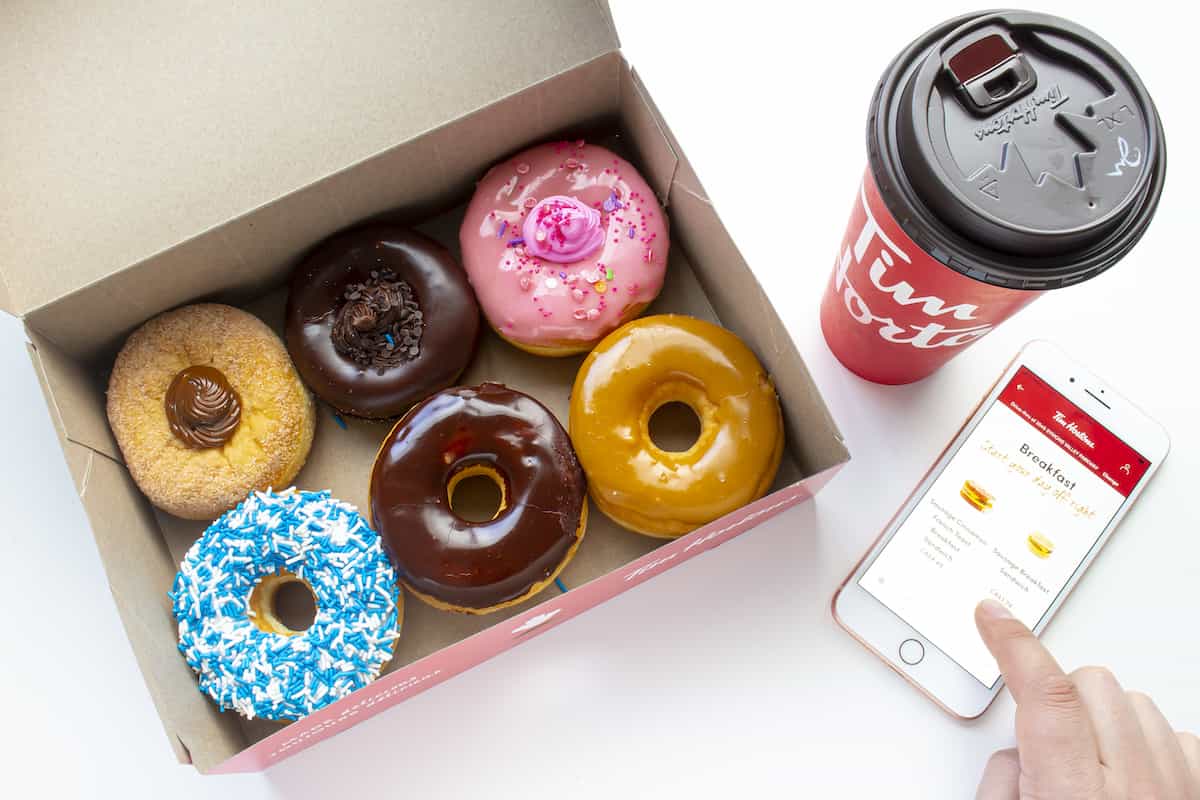 Donuts are a time-honored treat, and Tim Hortons' donuts are the stuff of legend.
Not only are they the Canadian-born chain's most popular menu items, but they're also perpetual crowd-pleasers and an excellent excuse to eat cake for breakfast.
As one of the best donut chains, Tim Hortons offers a variety of donut flavors.
The Tim Hortons donut menu changes slightly by location. Some flavors are standard everywhere, while others are carried at the discretion of individual stores.
You can expect to find flavors like Boston Cream, Honey Cruller, Old Fashioned, and Chocolate Glazed at most locations, but depending on your favorite flavor, you may have to hunt to track it down.
Below is our ranking of the 14 best Tim Hortons donuts based on their taste and overall experience.
Read on to see which ones made the list!
14. Vanilla Dip
With its cascade of cheerful rainbow sprinkles, the Vanilla Dip donut is one of the most joyful Tim Hortons donuts.
However, once you get past its vibrant facade, it's actually one of the least interesting.
The Vanilla Dip is a simple yeast donut dipped in vanilla-flavored fondant and coated in rainbow sprinkles.
At 250 calories, 19g of sugar, and 7g of fat, it contains fewer calories than many Tim Hortons donuts but more than some of the ones that made it higher on this list, such as the Chocolate Dip or Old Fashioned Plain.
13. Honey Dip
It may be a classic, but the Tim Hortons Honey Dip donut is honestly a bit of a letdown.
It's just a plain yeast donut ring covered in a sugary glaze. There's no actual honey, or even honey flavor, in it at all.
The donut is soft and light, but the airy, bready texture and sweet glaze leave a lot to be desired.
If you're looking for a simple glazed donut, you're better off ordering the Old Fashioned Glazed.
The one redeeming quality of the Honey Dip donut is that it's lower in calories than many other Tim Hortons donut flavors.
It contains 224 calories, including 21g of sugar and 6g of fat.
However, it doesn't make sense to choose a donut just to save yourself a few calories, so order what you really want and enjoy every bite!
12. Vanilla Cream
The Vanilla Cream from Tim Hortons is a sweet fluffy donut that tastes good but a bit too sugary.
It's great for those with a serious sweet tooth, but there's a reason why the Boston Cream is a much more popular donut (hint: it's all about the filling.)
The Vanilla Cream is a pillowy yeast donut filled with sweet vanilla buttercream filling.
It's topped with rich chocolate and a zigzag of white frosting.
While it's not a bad donut, it's a lot of sweet-on-sweet, containing 298 calories and 24g of sugar.
If you're the type of person who prefers a little cake with their frosting, this is the donut for you.
11. Old Fashioned Plain
Most people are fairly divided when it comes to the Old Fashioned Plain donut.
Loyalists will say it's the best donut to dip in a cup of coffee (true), whereas Old Fashioned haters will argue that there are far more exciting choices on the Tim Hortons donut menu (also true).
I think the Old Fashioned Plain is a solid choice, though you're more likely to find me reaching for an Old Fashioned Glazed or Sour Cream Glazed.
The Old Fashioned Plain is a soft, white cake donut. It's not as light and fluffy as a yeast donut and has a denser, cakier texture.
It's one of the lowest-calorie donuts on the Tim Hortons menu, with only 209 calories, 10g of fat, and 9g of sugar.
10. Holiday Tree (Seasonal)
The Holiday Tree donut is the seasonal donut offered at Tim Hortons US stores.
It's a cute, festive tree-shaped donut that's photogenic and fun to eat.
The shape is very satisfying to bite into, and it's a great holiday treat for both adults and children – particularly when it's accompanied by a hot chocolate!
This donut is essentially a Christmas tree-shaped Boston Cream donut, but with green-tinted vanilla frosting instead of the Boston Cream's chocolate.
It's decorated with a zigzag of white frosting and rainbow sprinkle "ornaments."
9. Chocolate Glazed
The Chocolate Glazed donut seems like it should be further up on the list, but unfortunately, it's plagued by some unforgivable shortcomings.
The biggest problem with this donut is that it's inconsistent.
When it's good, it's really good, but often the donut is dry and lacks flavor, and the glaze is either barely existent or piled on so thickly that you'll have to excavate your donut.
However, when you get a good chocolate glazed, it's rich chocolaty heaven.
It's made from a dense chocolate cake ring covered in a crackly sweet glaze, and while it contains 20g of sugar, 21g of fat, and 330 calories, it's worth every bite.
8. Maple Dip
Maple Dip donuts can be hard to come by, especially in Tim Hortons locations within the US, but they're delightful and quintessentially Canadian, just like Tim Hortons.
They're made from a soft, yeast donut ring dipped in a maple fondant, which dries to the perfect crackly but still soft texture.
Maple isn't everyone's favorite flavor, which is probably why many stores have stopped selling Maple Dip donuts.
Still, these donuts are always a hit for those who like the caramelized sugar taste.
7. Chocolate Dip
Tim Hortons' Chocolate Dip donut almost seems like it shouldn't be as satisfying as it is.
It's a brioche-esque yeast ring topped with a blanket of rich chocolate fondant coating. It's simple and delicious.
The fact that it's not too sweet is one of the donut's strongest attributes – you can eat the whole thing without feeling sick.
The Chocolate Dip donut isn't the lowest calorie donut on the Tim Hortons menu, but it's far from the highest.
It contains 220 calories, 12g of sugar, and 8g of fat.
6. Old Fashioned Glazed
The Old Fashioned Glazed from Tim Hortons is the perfect breakfast treat.
It combines the cakey, barely sweet Old Fashioned donut with a crackly sugar glaze that flakes off (and helps sweeten your coffee when you dip it!)
This donut is rich and dense, and at only 258 calories, 22g of sugar, and 10g of fat, it's not a bad option for an indulgent (but not too indulgent) way to start your day.
5. Double Chocolate
The Double Chocolate donut doesn't suffer from the same shortcomings as the Chocolate Glazed.
The inconsistent sugar glaze is replaced with a rich, fudgy layer of chocolate fondant that simultaneously ups the chocolatey flavor and counteracts any dryness of the donut.
This chocolate bomb of a donut is so tasty that Tim Hortons made it into one of their signature ice cream flavors!
The Double Chocolate donut contains 310 calories, 14g of sugar, and 21g of fat.
It's delicious for either breakfast or dessert, especially when paired with a hot coffee drink.
4. Apple Fritter
Tim Hortons makes a better Apple Fritter than most of its competitors.
Does it matter that it's more of an apple-filled donut than a traditional apple fritter?
I don't think so, as long as it's stuffed with cinnamon-laced apples and covered in a sweet glaze.
It's so good, in fact, that it's one of only two donut flavors that made it to the Tim Hortons line of ice cream!
The Apple Fritter is made from apple chunks and cinnamon enrobed in a crispy, yeast donut dough that can be pulled apart in satisfyingly poppable chunks.
The whole thing is dripping with a sweet glaze.
It has 23g of sugar, 11g of fat, and 330 calories, and while it's not the healthiest donut on the menu, it will keep you full and, more importantly – make you smile!
3. Boston Cream
The Boston Cream is a perennial favorite on any donut menu, and the one at Tim Hortons is particularly popular.
Sure, the chocolate topping could be a little less sweet and a little more chocolatey, but that doesn't keep this from being one of Tim Hortons' best donut flavors.
The Boston Cream is a yeast donut filled with Venetian cream filling, a sort of vanilla-flavored pudding-like custard.
It's then topped with rich chocolate fondant.
The Boston Cream contains 240 calories, 16g of sugar, and 8g of fat.
2. Sour Cream Glazed
Although it's in the runner-up position, the Sour Cream Glazed was a strong contender for the number one spot on our list.
The donut melts in your mouth and pairs well with most Tim Hortons coffee drinks.
It's tender, a little crispy, and just the right amount of sweet.
Sour cream is incorporated into the donut batter to create a dense, tender crumb and crispy crust.
It doesn't taste like sour cream but is moist and slightly sweet with a hint of nutmeg.
The Sour Cream Glazed is higher in calories than a yeast donut, with 330 calories, 22g of sugar, and 18g of fat.
1. Honey Cruller
Timmie's Honey Cruller is soft, sweet, and light as air. It's their most ethereal donut and makes a delicious breakfast, midday snack, or dessert.
This donut is made from an eggy dough twisted into a swirled ring full of airy pockets. It's then coated in donut glaze.
Just like the Honey Dip donut, there's no actual honey in Tim Hortons' Honey Cruller.
It's got a delicate vanilla, almost custard-like flavor, but its real appeal lies in its texture.
The glaze on the outside is slightly crackly, and the inside is both chewy and airy.
If that isn't reason enough for you to try one, it also happens to be one of the cheapest donuts on the Tim Hortons menu!
Conclusion
Most Tim Hortons donut flavors are classic, simple, and sweet. They make an excellent snack no matter the time of day, and they're inexpensive and quick to order.
Keep in mind that Tim Hortons' donut menu may vary slightly by location. While some popular flavors are offered everywhere, others may not be available at each location.
The next time you're craving a Tim Hortons donut, use our list to discover your new favorite or try one of each flavor!
For more information about Tim Hortons, check out the articles below.