12 Best Fast Food Catering Menus for Your Next Event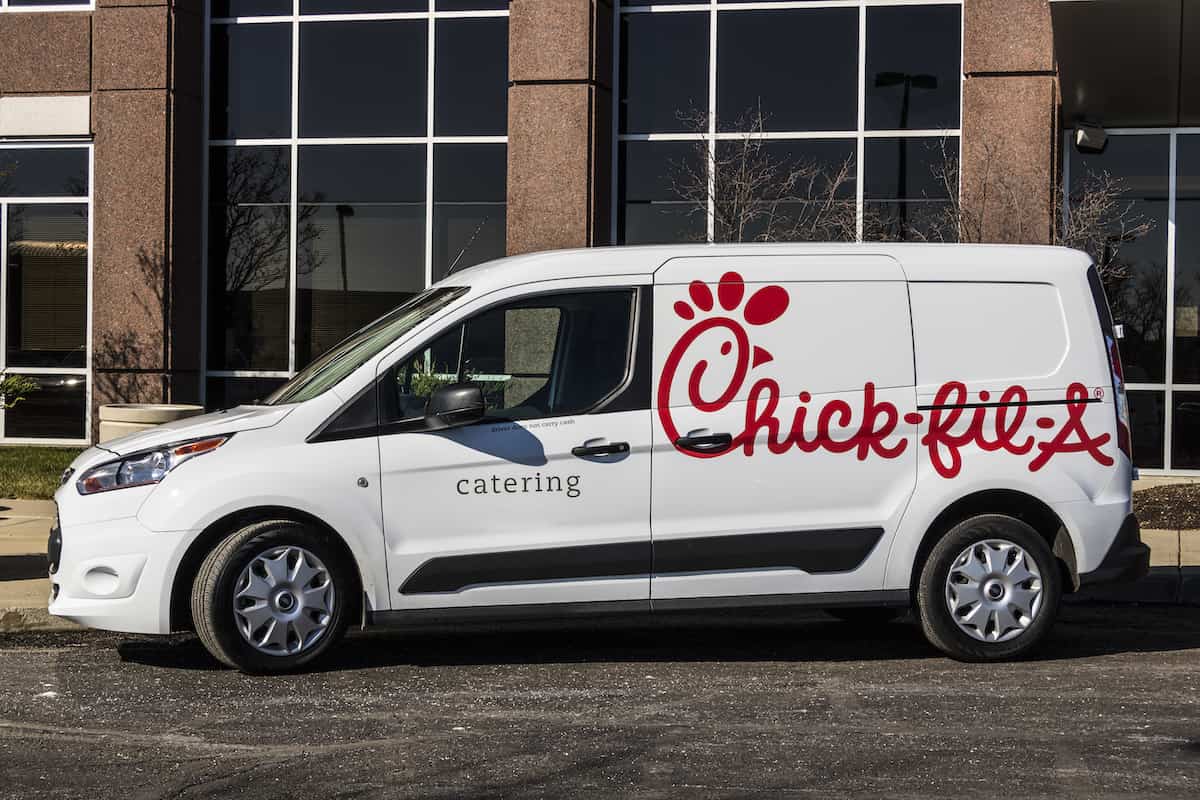 If you have a big event coming up, fast food chains with catering options can save the day.
Many fast food chains offer catering menus with a variety of items and sizes that can be customized to satisfy your guests.
Whether you're hosting a birthday party, a work function, or a game party, here are the 12 best fast food chains that offer catering.
Each of these catering menus allows you to feed the masses while considering dietary restrictions and preferences.
12. Subway
Subway is one of the most popular sandwich chains, famous for its namesake submarine sandwiches.
They operate nearly 21,000 restaurants in the United States.
Subway's catering menu is extensive, with options adaptable to different events.
The Easy Order Sandwich Platter is one of Subway's most-ordered catering options.
It serves 7 people and contains 5 footlong sandwiches: 1 Italian BMT, 1 Cold Cut Combo, 1 Turkey Breast, 1 Black Forest Ham, and 1 Tuna.
They also offer individually wrapped box meals containing 6-inch or footlong sandwiches, chips, and a cookie.
Lastly, you can order a Customize Your Own Sub Platter, which allows you to customize 5 sandwiches, choosing your bread, flavor, cheese, toppings, and sauce.
11. Quiznos
Quiznos is another popular sandwich chain with over 175 locations in the United States.
Quiznos' catering menu is large and adaptable, with many options to suit different events.
One of their most popular catering options is the Classic Quiznos Tray, made with a mix of Classic Italian, Turkey Ranch & Swiss, Honey Mustard Chicken, and Mesquite Chicken subs or sammies.
The sub version of the Classic Quiznos Tray serves 8 to 12 people, and the sammie version serves 7 to 10 people.
Another great catering option is the Regular Sub Box Lunch, which is individually packaged and comes with your choice of an 8-inch sub, plus a side of chips and a cookie or donut hole.
Quiznos also offers a Custom Sub Tray, allowing you to build five 12-inch subs to your preferences.
10. Boston Market
Boston Market is a fast casual restaurant chain famous for its classic American comfort food, like rotisserie chicken and macaroni and cheese.
They operate over 300 locations in 25 states.
Boston Market's catering menu features some of their most popular comfort food classics in individually plated and buffet-style sizes.
If you have a big event coming up, Boston Market's individually plated meals are a great option – you can order up to 250 plates!
Each plate comes with an entree, like rotisserie chicken, meatloaf, or macaroni and cheese, plus a side, like steamed broccoli, mashed potatoes, vegetable stuffing, and cornbread.
Another great catering option is their Boston Basic Package, which serves 10 people.
It comes with your choice of rotisserie chicken or meatloaf and sides of mashed potatoes and gravy, sweet corn, Caesar salad, cornbread, and soft drinks.
Finally, you can create your own buffet, selecting your choice of a hot entree, two homestyle sides, and cornbread, all served buffet-style.
9. Panera Bread
Panera Bread is one of the most popular bakery cafe chains, with over 2,000 locations throughout the United States.
Panera's catering menu features breakfast items, sandwiches, salads, soups, and vegetarian options.
If you're catering a morning event, you can't go wrong with one of Panera's pastry trays.
One of their most popular breakfast options is the Morning Continental Tray, which serves 8 to 10 people.
It comes with 4 bagels, 6 pastries, and individual servings of cream cheese and butter, as well as orange juice and coffee.
If you're catering a lunch event, Panera offers a wide variety of boxed lunches, including sandwiches, salad, and You Pick Two options.
Panera's most popular sandwiches are available as Sandwich Boxed Lunches, including the Toasted Frontega Chicken, Deli Turkey, Mediterranean Veggie, and Roasted Turkey & Avocado BLT.
Each Sandwich Boxed Lunch comes with chips, a cookie, and a pickle.
8. Cafe Zupas
Cafe Zupas is another popular fast casual cafe and bakery chain.
They have over 50 locations in Arizona, Idaho, Illinois, Ohio, Minnesota, Nevada, Utah, and Wisconsin.
Cafe Zupas' catering menu features a variety of options, including party-sized soups, salads, and bowls, as well as sandwich trays and personalized boxed lunches.
Their most popular salads are available in two party sizes: small, which serves 10 to 12 people, and large, which serves 20 to 25 people.
They also offer quart (3 to 4 servings), half-gallon (6 to 8 servings), and gallon (12 to 16) sized soups in popular flavors like tomato basil, lobster bisque, New England clam chowder, and chicken noodle.
If you're a fan of their bowls, Cafe Zupas offers party-sized versions of popular bowl flavors like Southwest, Mediterranean, Steak Cobb, and Asian Steak & Quinoa.
Finally, Cafe Zupas offers many personalized boxed lunch options, each offering a different combination of your favorite salads, sandwiches, bowls, and soups.
7. Panda Express
Panda Express is one of the largest and most popular Chinese chain restaurants, with nearly 2,200 locations in 45 states.
Panda Express' catering menu offers many popular dishes as a la carte trays and in larger bundles.
Their Party Size Entrees serve 12 to 14 people per tray.
They come in varieties like orange chicken, honey walnut shrimp, broccoli beef, and kung pao chicken.
Their Party Size Sides serve 10 to 12 people per tray and include sides like white rice, fried rice, chow mein, and super greens.
Panda Express also offers three sizes of Party Bundle: 12 to 16 person, 18 to 22 person, and 26 to 30 person.
Each bundle comes with a combination of entrees, sides, and fortune cookies.
6. Olive Garden
Olive Garden is one of the most beloved Italian chain restaurants, with nearly 900 locations in the US.
Olive Garden's catering menu is huge, offering party-size entrees, sides, appetizers, and even desserts.
If you need to feed 4 to 6 people, you'll love their catering pans, which feature entrees like chicken alfredo, shrimp scampi, lasagna classico, and cheese ravioli.
If you need to feed a bigger group, you might want to try the Create Your Own Pasta Station.
It comes with spaghetti, fettuccine, alfredo sauce, meat sauce, marinara sauce, grilled chicken, meatballs, Italian sausage, and sides of salad and breadsticks.
Another great option for a large group is the Chicken Parmigiana Combination, which serves 8 to 14 people.
It comes with 1 pan of chicken parmigiana, 1 pan of spaghetti with marinara, and your choice of 1 pan of five cheese ziti al forno or 1 pan of fettuccine alfredo.
For sides, you'll get 2 salads, 24 breadsticks, a gallon of iced tea, and your choice of cake.
Finally, if you're a fan of Olive Garden's iconic salad and breadsticks, you can order a catering-sized serving with 6 servings of house salad and 12 breadsticks.
5. Jimmy John's
Jimmy John's is another popular sandwich chain, operating over 2,700 locations throughout the United States.
Jimmy John's catering menu features four options: Party Boxes, Box Lunches, Mini Jimmys, and Lil' Lunches.
The Party Boxes come in two sizes: 18 third sandwiches and 30 third sandwiches, which can be filled with their Original or Favorite sandwiches.
Original sandwiches include the Pepe, the Turkey Tom, the Vito, and the Veggie.
Jimmy John's popular sandwiches include the Spicy East Coast Italian, the Club Tuna, the Jimmy Cubano, and the Ultimate Porker.
The Box Lunches are individually packaged meals with your choice of a sandwich, a bag of chips, a cookie, and a pickle spear.
The Mini Jimmys option is a durable box with 12 individually wrapped half sandwiches.
Finally, their Lil' Lunches are individually packaged Little John sandwiches plus a side of chips.
4. Jollibee
Jollibee is a Filipino fast food chain famous for its signature fried chicken and sides.
They operate over 60 locations in Arizona, California, Florida, Hawaii, Illinois, Maryland, Nevada, New Jersey, New York, Pennsylvania, Texas, Virginia, and Washington.
Jollibee's catering menu is limited but includes two of their most popular and unique sides.
The Palabok Fiesta Party Pack feeds 8 to 10 people and is a traditional Filipino dish made with noodles, garlic sauce, sauteed pork and shrimp, and egg.
The Jolly Spaghetti Party Pack also feeds 8 to 10 people and is a beloved dish made with spaghetti noodles, sweet sauce, ham, ground meat, and hot dog topped with cheese.
3. Chipotle
Chipotle is one of the most popular Mexican chain restaurants in the US, with almost 3,000 locations in 48 states.
One of Chipotle's popular catering options is the Burrito Box, which feeds at least 6 people.
The Burrito Box is customizable, allowing you to choose your favorite rice, protein, fillings, and side for each burrito.
They also offer a variety of Builds, like the Plant Powered, Work Anywhere, and Small Get-Together Builds.
Each build comes with catering-size containers of rice, protein, fillings, and sides, allowing the people at your event to make their own burrito, taco, or bowl.
For example, the Work Anywhere Build serves a minimum of 10 people.
It comes with chicken, steak, cilantro lime rice, guacamole, lettuce, fajita veggies, cheese, roasted chili-corn salsa, fresh tomato salsa, and flour tortillas.
Chipotle also offers a catering size Chips & Dip, serving 10 to 15 people.
It comes with house-made tortilla chips, Chipotle's signature fresh salsas, and your choice of guacamole or queso blanco.
2. Potbelly
Potbelly is a beloved Midwestern restaurant chain famous for its sandwiches, salads, and soups.
They operate over 400 locations in 31 states, plus Washington DC.
Potbelly's catering menu offers some popular sandwiches and entrees in various sizes.
One of their catering options is the Box O' Sandwiches, which comes with up to 5 different sandwiches and serves 10 people.
Potbelly's most popular sandwiches include the Turkey Breast & Swiss, Smoked Ham & Swiss, Mediterranean, A Wreck, and Italian.
If you are feeding a larger group, try the Potbelly Bundle, which comes with 10 sandwiches, 10 bags of chips, a group-size salad, 10 cookies, and your choice of tea or lemonade.
For smaller groups, the Small Bundle is a great choice.
It feeds 6 people and comes with 6 sandwiches, 6 bags of chips, and 6 cookies.
1. Chick-fil-A
Chick-fil-A is one of the most popular fried chicken chains, operating in nearly 3,000 locations in 47 states, Washington DC, and Puerto Rico.
Chick-fil-A's catering menu features everything from party trays to individually packaged meals to breakfast items.
If you're hosting a morning event, try the Chick-n-Minis Tray, which comes in two sizes: small (feeds 5) and large (feeds 10).
If your event is during lunchtime, you can order the Nuggets Tray, which serves anywhere between 8 and 25 people.
You can also order individually packaged meals with an entree, a side of chips, and a cookie for dessert.
The entrees available as individually packaged meals include Chick-fil-A Sandwiches, Nuggets, and Cool Wraps.
Conclusion
If you're planning an event and stressed out about feeding a large group of people, you can relax!
The fast food chains on this list offer catering menus full of crowd-pleasing items to satisfy your guests.
From sandwiches to soups to desserts, these fast food catering options are great for feeding the masses with diverse preferences.