Chili's Delivery: How It Works and How to Order Online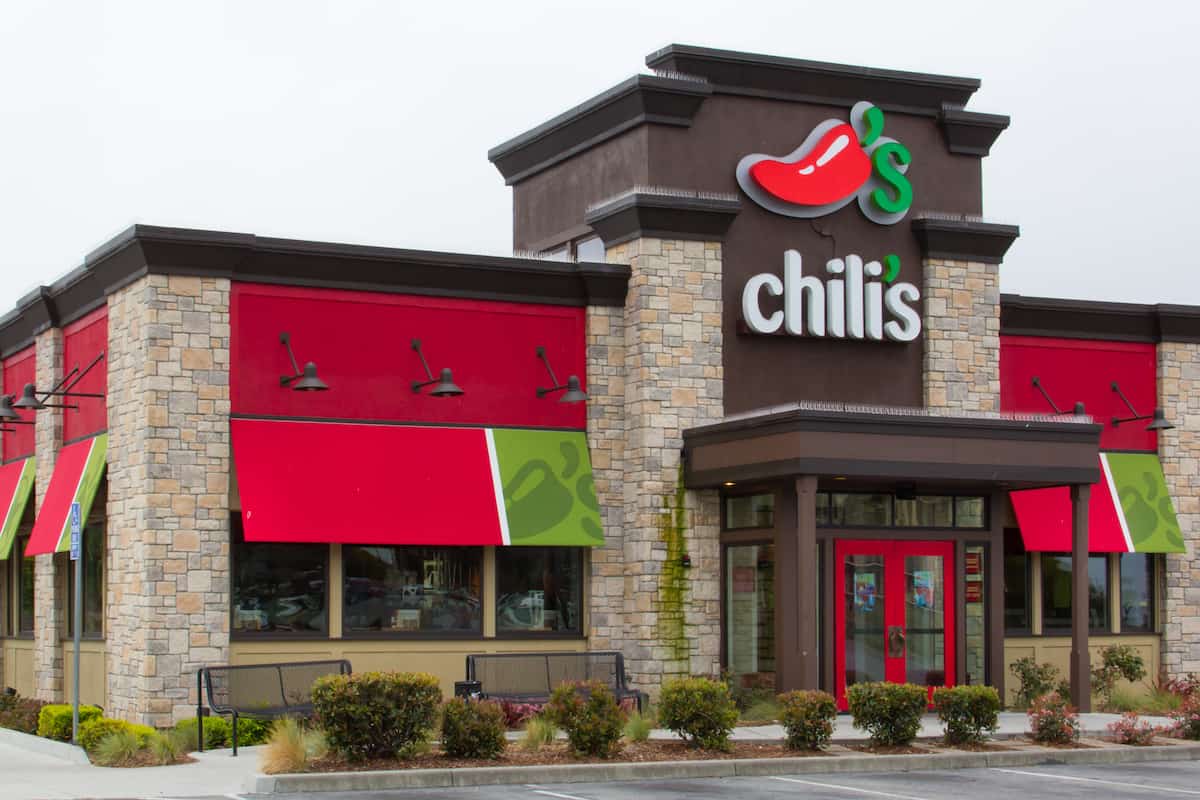 If you are craving your favorite Chili's meal but do not feel like getting into your car and driving, you can order online and have it delivered to your door.
Key Takeaways
Chili's delivery can be ordered directly on the Chili's app or website, and it is fulfilled by DoorDash.
You can also order delivery from Chili's on DoorDash, Uber Eats, or Postmates.
When ordering delivery on the Chili's app or website, there is a $3.99 delivery fee and a service fee ranging between $3- $4.
In this article, we'll delve into how Chili's delivery works, how much it costs and how to order it online.
How to Order Chili's Online
You can order Chili's online for delivery through the Chili's app or website. In addition, you can order delivery from Chili's using third-party services, such as DoorDash, Uber Eats, and Postmates.
To place an online order at Chili's, you'll need to download the Chili's app or simply visit their website.
Chili's app and website do not make it mandatory to create an account to order online.
However, third-party delivery services such as DoorDash, Uber Eats, and Postmates do.
To start placing a Chili's online delivery order through their app, complete the following steps:
Step 1. Download the Chili's app.
Step 2. Respond to the prompt asking you to allow location identification to find the closest restaurant near you.
Step 3. Either select 'start order' or 'login' (if you select to log in, you can opt to 'Join Now' if you do not have an account).
Step 4. View the menu and select the items you want to order.
Step 5. Customize your selection the way you want to.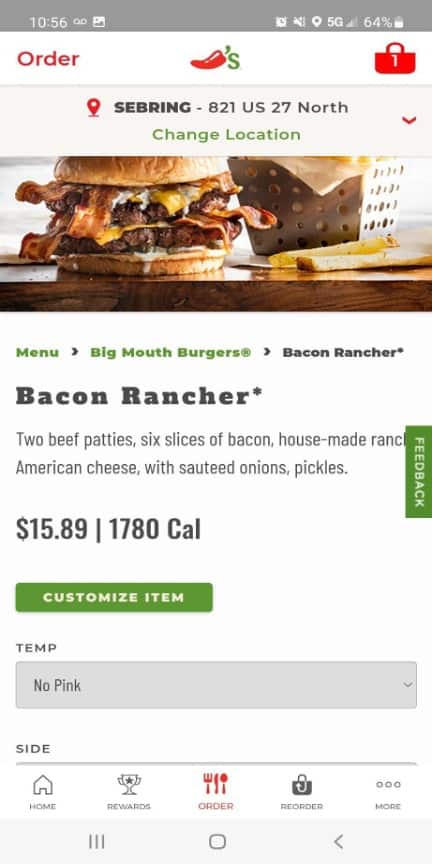 Step 6. Add any items you want, then select 'Add to Order.'
Step 7. Tap the bag in the upper far right corner, which will lead you to your order review.
Step 8. Scroll all the way down. Here, you'll be given another opportunity to log in or join Chili's rewards member program. Then, tap checkout.
Step 9. Select 'Delivery' as your order type and fill out the required information, including address, phone number, and email.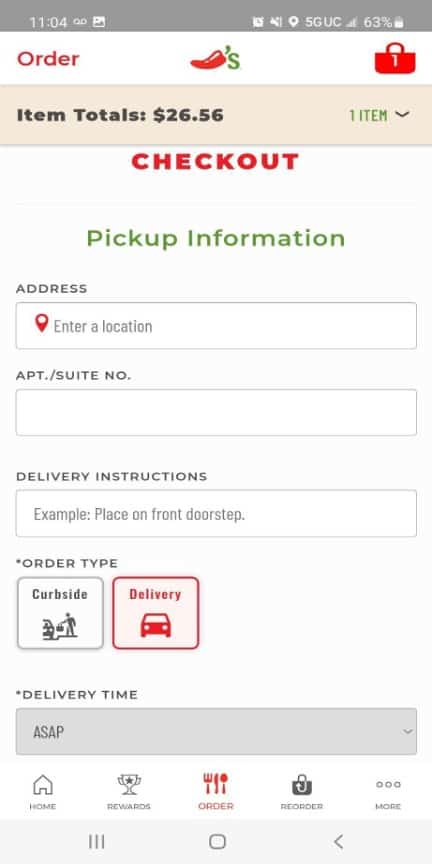 Step 10. Scroll to the bottom and select 'Continue to Payment.'
Step 11. Paying online is the only option for delivery. Enter the tip amount.
Step 12. Scroll down to view your order total and select the form of payment you will use (credit card, google pay, etc.).
Upon successfully making your payment, the order process will be completed, and you will just wait for your food to arrive.
Placing a Chili's online order through their website mirrors the same process as ordering on the app.
What Is Chili's Delivery Menu?
Chili's online delivery menu has all the in-restaurant food, dessert, and beverage menu options; however, some items may not be available based on local laws and regulations (such as to-go alcohol) or simply inventory.
Keep in mind the prices may have slight variations depending on your location.
The following items can typically be found on Chili's delivery menu:
To-go alcohol
Beverages (soda, juice, tea, etc.)
Appetizers (nachos, wings, eggrolls, etc.)
Burgers
Ribs & steaks
Fajitas
Salad, soups, and chili
Chicken and seafood
Sandwiches
Chicken crispers
Guiltless grill (items containing 650 or fewer calories)
Tacos & quesadillas
Desserts (brownie, cookie, cheesecake, etc.)
Aside from the traditional items, there are also a Kids menu, party platter choices for entrees and desserts, and smokehouse combination plates.
Furthermore, there are specials offered on Chili's menu, including:
3 for $10.99: beverage, appetizer, and entree
Meal for 2: $25 for an appetizer, two full entrees, and a dessert
Chili's specials offer a great opportunity to get a bargain for your money.
With new Chili's delivery, you can have your favorites delivered almost anywhere…even beyond the wall. pic.twitter.com/fgL3RsV1EW

— Chili's Grill & Bar (@Chilis) November 26, 2019
How Does Chili's Delivery Work?
Chili's delivery is fulfilled through DoorDash because the restaurant found them to be the quickest and the most available delivery service.
When you order on Chili's website or app, your order will be delivered by DoorDash.
In addition, you can also order delivery from Chili's using Uber Eats and Postmates. However, ordering on GrubHub is not an option.
If you try to order on GrubHub, you will see a message that says, "This restaurant is not accepting orders on GrubHub."
Ordering delivery directly from Chili's is the best way to go because of prices.
In general, when ordering through third-party delivery services, you pay higher prices than ordering directly from the restaurant.
What Are Chili's Delivery Fees?
When ordering from Chili's online, a $3.99 delivery fee is added to your total. Additionally, a service charge typically ranging between $3- $4 is added to cover the cost of service provided by DoorDash.
A major plus side of ordering delivery directly through Chili's is that their fees are generally lower than the third-party services charge.
DoorDash's fees for delivery commonly range between $1.99-$5.99 and are increased further by the added service fee of about 10% of the order total.
Uber Eats includes a delivery fee that fluctuates based on the distance of the delivery address in proximity to the restaurant and could range between $1.99-$7.99.
They also have a service fee of 10-15%, depending on the size of your order, along with other relevant factors.
How to Get Free Delivery From Chili's
To get free delivery from Chili's, you can join their rewards program as they offer free delivery to members at certain times. In addition, you can sign up for DashPass or Uber Eats Pass memberships and get free delivery on eligible orders from Chili's over $12.
There are times when Chili's will offer free delivery to their rewards members for a limited time, so signing up for the program could be beneficial and is completely free.
However, a more consistent way to get free delivery from Chili's is by joining DoorDash's DashPass membership.
There is a monthly fee of $9.99, but if you order delivery on DoorDash frequently, DashPass can save you money.
DoorDash usually offers a free trial for DashPass, so you can test the membership before committing to it.
In addition, Uber Eats also offers Uber One membership for a monthly fee of $9.99.
This membership will earn you free deliveries for eligible orders over $15 and other special promotions and offers.
Do You Tip Chili's Delivery?
While tipping is optional, it is highly recommended to tip Chili's delivery drivers, and the suggested tip amount is 15-20% of your order total.
When you order through Chili's website or app, your order will be delivered by DoorDash.
DoorDash drivers, also known as Dashers, are independent contractors, and the majority of their income comes from tips.
The 100% of the tip you leave will go directly to your delivery driver.
We recommend tipping 15-20% of your order total for Chili's delivery, especially if you received good service.
When placing a delivery order directly through Chili's, you are not permitted to tip more than $50 or 50% of your order amount.
There are several other tip amounts and percentages to choose from, though.
Chili's app or website allows you to tip one of the following options:
15%
18%
20%
A custom amount no greater than 50% of your order total or $50
Here is an example of what Chili's tip selection looks like:
Also, note that delivery drivers can see order totals when choosing what to pick up and drop off, and a higher tip amount may speed up the delivery time.
How to Cancel a Chili's Delivery Order
To cancel a delivery order placed through Chili's website or app, you will need to contact the restaurant, as there's no option to cancel online.
Canceling a Chili's delivery order is feasible, but you need to call the restaurant and speak to a manager.
Unfortunately, there's no way to cancel online after the order has been placed.
The manager will issue a refund, which may take several days to reflect in your bank account.
This may vary depending on the restaurant and management at the particular location.
If you need to cancel your Chili's delivery order, you should do it as quickly as possible before the restaurant starts preparing your order; otherwise, you may not get a refund.
If you've placed your order through DoorDash or Uber Eats, you can cancel it on their app or website.
To cancel your order using the DoorDash app:
First, view your orders and select the one that needs to be canceled.
Next, click the help button in the right corner.
Finally, select 'cancel order.'
Prompts will tell you how to finalize the cancellation.
To cancel your order using the Uber Eats app:
First, locate your order and select it.
Next, select 'help' in the upper right corner.
Then, choose 'cancel order.'
Confirm that you would like to cancel the order by selecting 'cancel order' again.
If all else fails, you can contact customer service and discuss your issue with them directly to see how they may help.
Conclusion
Although it may cost more than picking up your order from a restaurant, Chili's delivery service is a great way to get your favorite meals delivered to your door.
You can order Chipotle delivery directly through their app or website. In addition, third-party delivery apps like DoorDash, Uber Eats, and Postmates also offer delivery from Chili's.
If you're looking for more tips about Chili's, check out the articles below.
Related Articles:
Chili's To Go: How It Works and How to Order
What to Know About Chili's Happy Hour (Time, Menu, and Other Specials)