Chili's To Go: How It Works and How to Order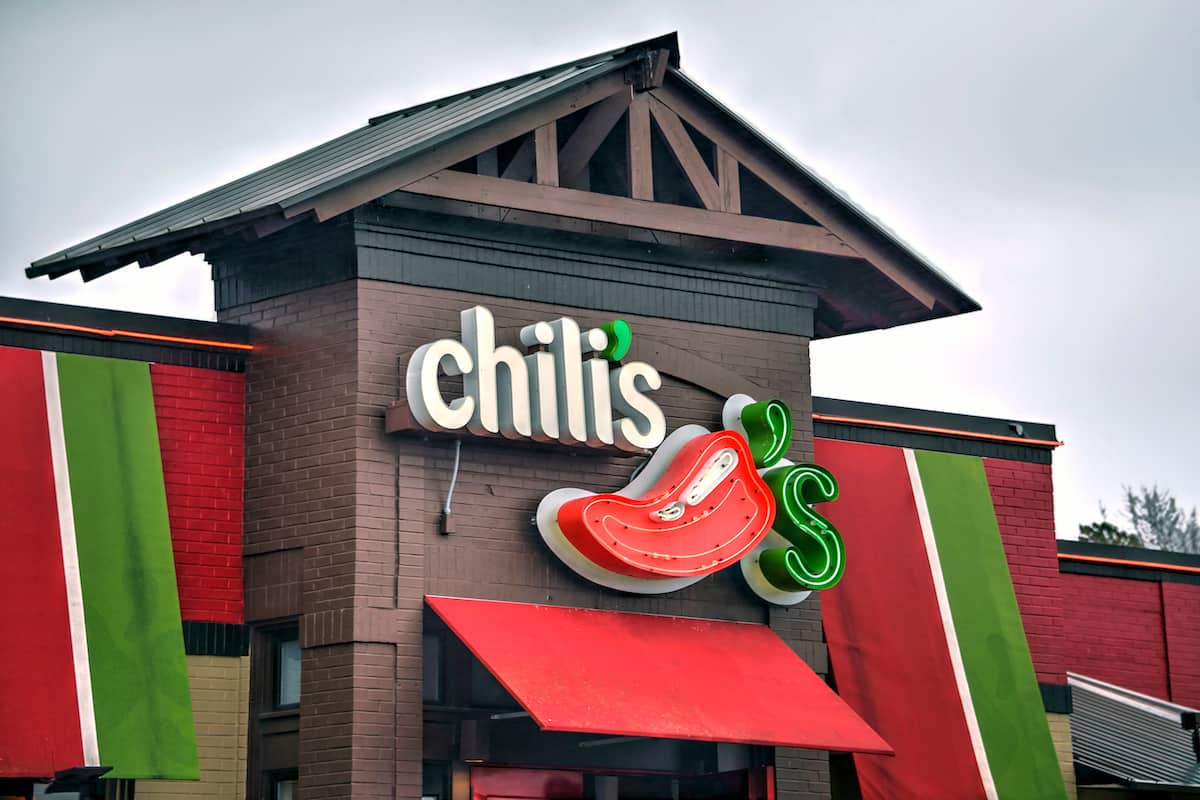 Chili's To Go is the answer when you crave baby back ribs, sizzling fajitas, or southwest eggrolls and don't want to get out of your home. Chili's offers curbside pickup at many locations to get your favorite meals.
Key Takeaways
Chili's To Go is Chili's free curbside pickup service with no minimum order.
You can place curbside pickup orders using Chili's app or website.
Most Chili's locations are open from 11 am to 10 pm, and Chili's To Go orders are available for pickup starting 15 minutes after opening until 15 minutes before closing.
In this article, we'll cover all the details about Chili's To Go service, including how it works and how to order.
How Does Chili's To Go Work?
You can place a Chili's To Go order on the Chili's website or the app. Choose curbside pickup when placing your order and park in a designated curbside pickup spot when you arrive at the restaurant.
Once you alert the staff that you have arrived by text or the app, a team member will bring your food to your car.
Most Chili's locations have the option to order online and pick up at the restaurant in the designated To Go parking areas.
You can check the restaurant locator online to confirm if your local Chili's offers curbside pickup.
Menu items and prices vary by location. Typically, the entire menu is available to order online, although some items may not have the same experience as in the restaurant.
Those fajitas won't be on a sizzling skillet, nor will the skillet queso.
However, it is a trade-off for the convenience and the perks of dining to go.
You may add customizations and special requests while ordering Chili's online.
Once you have completed your order selections, you can choose to pick up ASAP or schedule it for a later date or time.
A Chili's online order can be placed up to two weeks in advance.
There are no fees or order minimums for curbside pickup orders at Chili's. 
If you are a My Chili's Rewards member and have the "Chili's Regular" status, pickup orders are eligible for a free side of chips and salsa and a non-alcoholic beverage with a minimum of $5 spend.
Unfortunately, unlimited refills won't apply.
If you're wondering how to get Chili's Regular status, you must be a rewards member and visit Chili's at least once every 60 days.
LIFEHACK: You can use your My Chili's Rewards on ALL orders – Dine-in, To-Go AND Delivery! What are you waiting for? https://t.co/1GhTWyCn8I

— Chili's Grill & Bar (@Chilis) October 14, 2020
What Are Chili's To Go Hours?
Chili's To Go is available during normal restaurant hours. Pickup orders can usually be scheduled starting 15 minutes after opening until 15 minutes before closing. Most Chili's locations are typically open from 11 am to 10 pm.
You can use Chili's app or website to find locations and specific hours at your local restaurant.
At the top of the home screen in the app, choose the location finder and type in your zip code.
The closest locations will be displayed in your search.
Alternatively, turn on location services for the app, and the closest Chili's restaurant to your current location will be displayed.
You can hit "view details" for the location to view the restaurant's hours.
A curbside pickup icon will also be displayed in the search, indicating that curbside pickup is available at that location.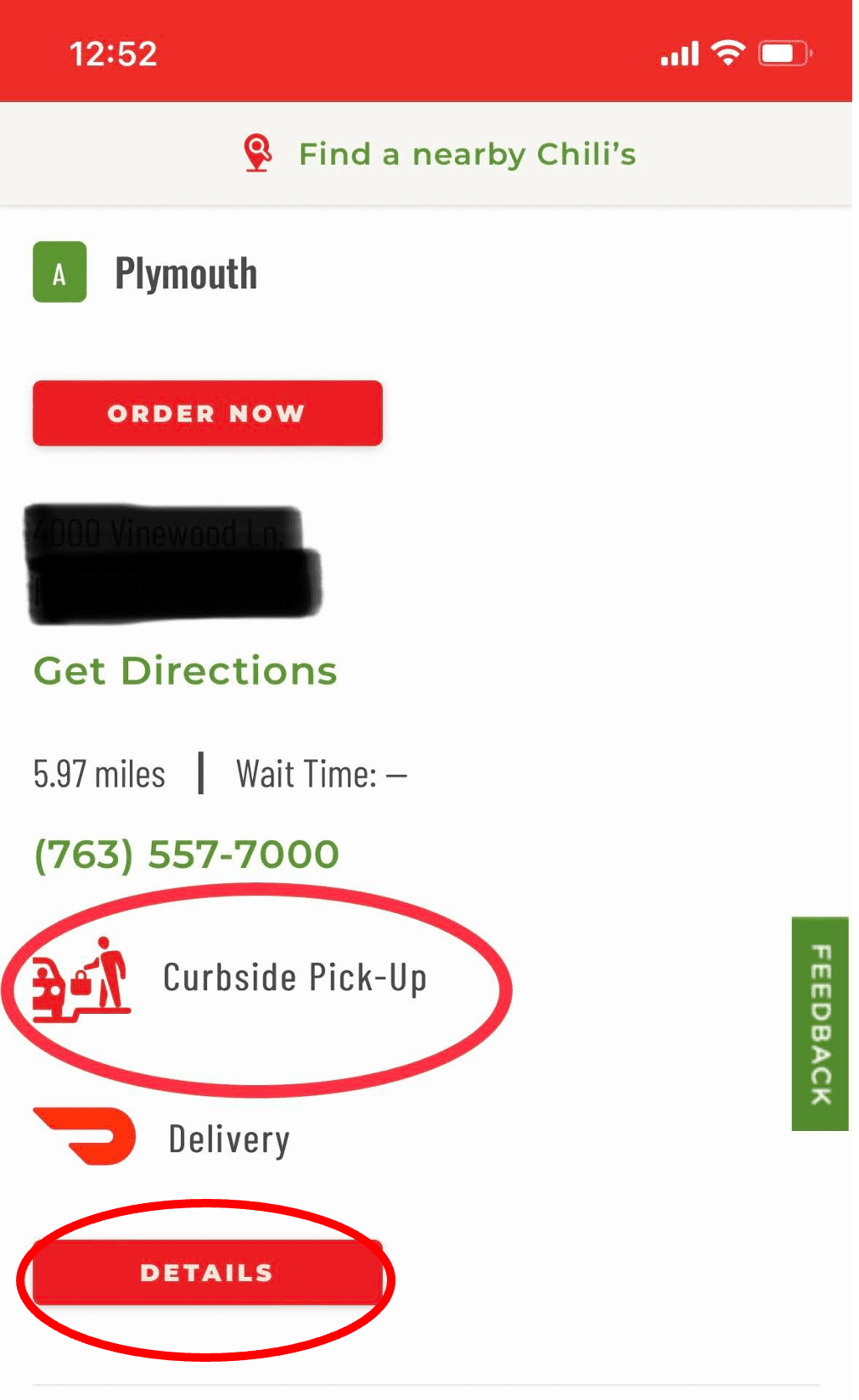 When placing an order, you can choose to pick it up ASAP (estimated time will be displayed) or schedule a future time.
Chili's pickup times are usually available in 15-minute increments unless the restaurant is already booked with other online orders at a certain time.
Chili's To Go Alcohol
At some Chili's locations, you can also order alcoholic beverages to go, where allowed by state laws. Alcohol orders must also include food, and you must be at least 21 years old to order.
To determine if your local restaurant offers alcohol to go, use the same location search feature on the app or website.
A martini icon will be displayed if "To Go Alcohol" is available at that location.
Chili's To Go Alcohol menu must be available at your location to view the options, and the menu includes:
Chili's many popular margarita flavors (even a gallon-size margarita to share with friends!)
Cocktails such as Long Island Iced Tea or Bloody Mary
6-pack of beer or seltzers
Wine by the bottle.
When you arrive for your curbside pickup order, be prepared to show your proof of ID if alcohol is included in your order.
To-go cocktails are a recent trend. Many states passed temporary or permanent measures to allow the sales of alcohol to go as a relief for restaurants during COVID-19 closures.
Currently, many states have passed permanent laws to allow alcohol sales for pickup orders or have extended temporary approvals.
Now you can get beer and wine with your To-Go and Curbside orders. What you can't get? Assorted big cats. Because regular people shouldn't have them in the first place, Carol. Joe. Doc. pic.twitter.com/WL4ZMpea5u

— Chili's Grill & Bar (@Chilis) April 2, 2020
How to Order Chili's To Go
You can order Chili's To Go through Chili's app or the website. Select your desired menu items, choose any customizations, and select a pickup time in the checkout process.
Paying in advance when placing the order is most convenient but paying when you arrive at the restaurant is also available.
To get started ordering on the app, follow these steps:
Step 1. First, download the Chili's App via the App Store or Google Play.
Step 2. Then, click "Start Order" on the home screen.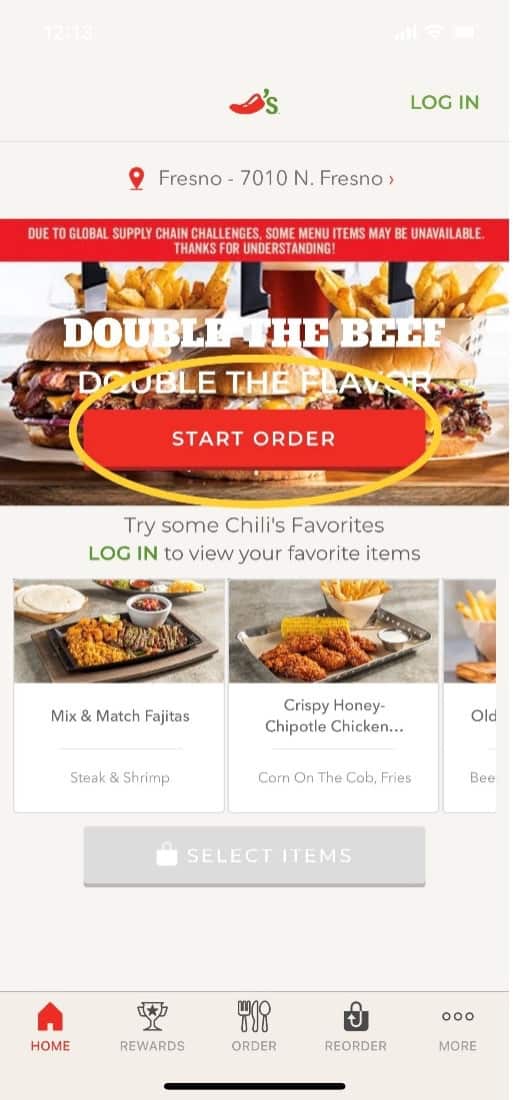 Step 3. Enter your location or use location services to find the nearest Chili's.
Step 4. Menu categories will be available to view menu items.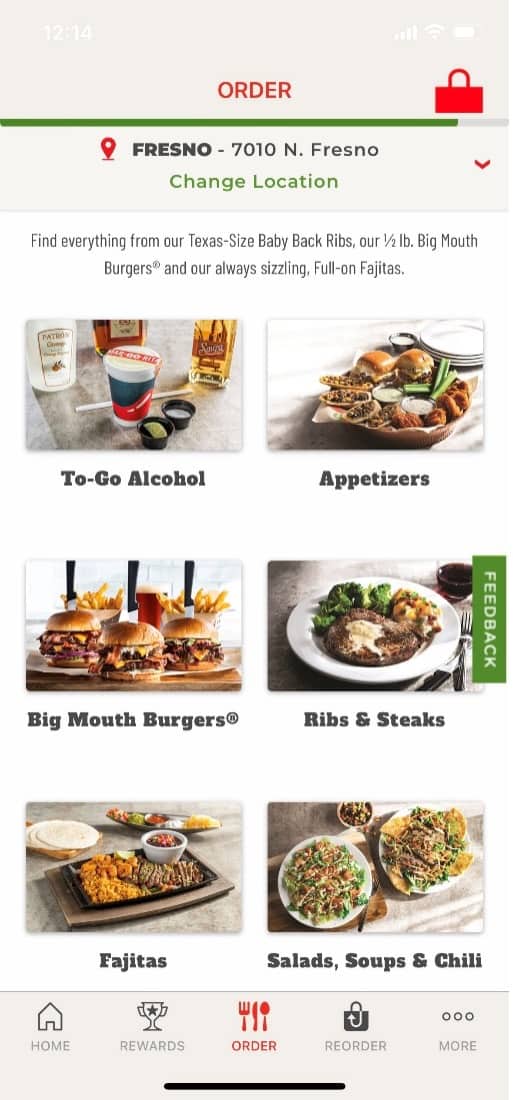 Step 5. In a menu category, tap "Order" for your desired menu choice.
Step 6. You will be prompted to choose customizations or select add-ons for that menu item.
Step 7. Tap "Add to Order."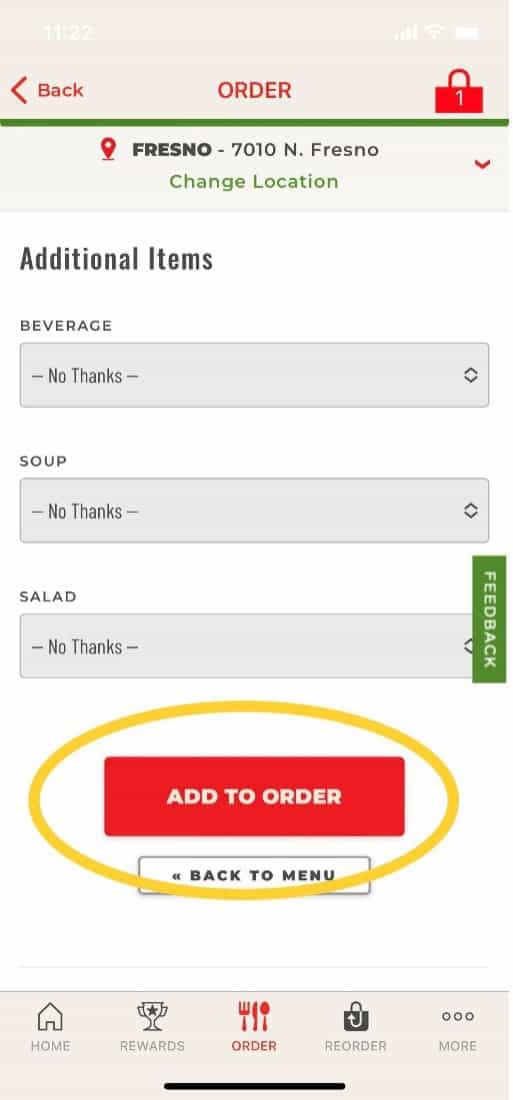 Step 8. You will be automatically navigated to your cart to review your selections. Tap "Back to Menu" to add more items or "Checkout" if you have completed your selections.
Step 9. On the checkout page, you can choose curbside pickup or delivery, schedule the time for pickup, and add contact information. For curbside orders, you will need to add your vehicle's make, model, and color for when you arrive. Choose "Continue to Payment" when done.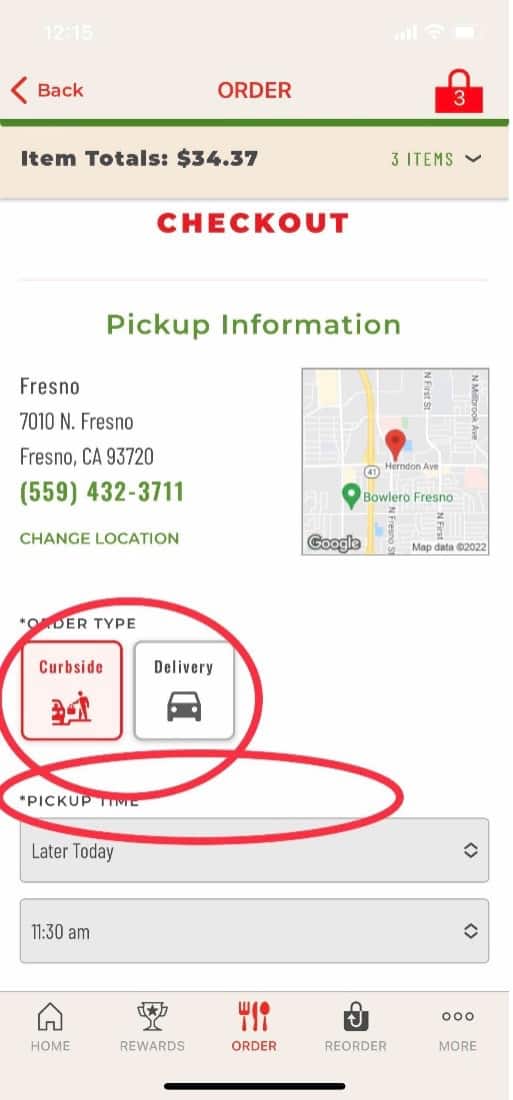 Step 10. Next, you will need to add payment details. You can choose to pay online with your order or pay at the restaurant. Choose "Pay at restaurant" if you will be using a gift card. This is also the opportunity to add a tip.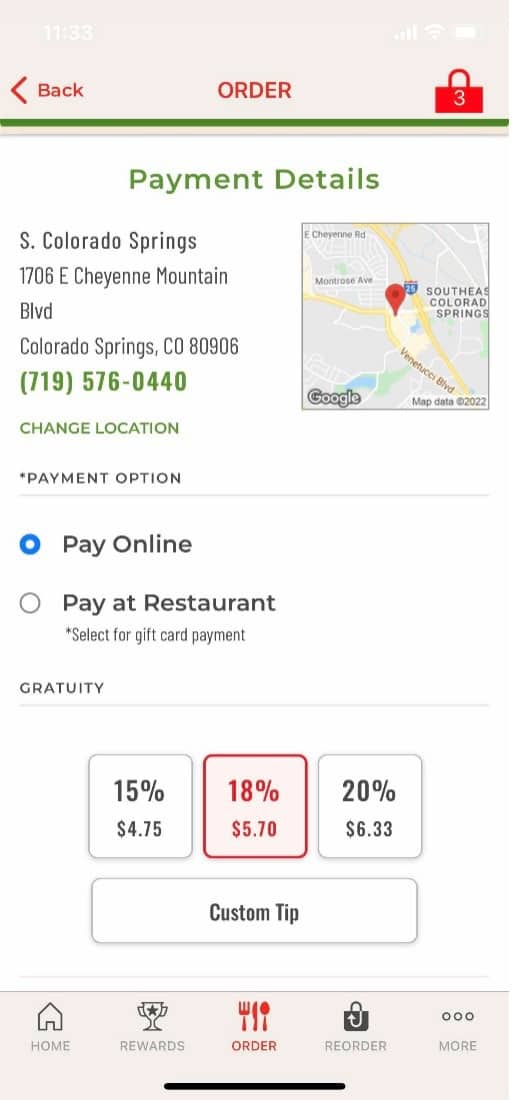 Step 11. Scroll further on the payment page to add your payment method. Enter your credit card details and tap "Place order" when you are done. Now your order will be sent to the restaurant to prepare!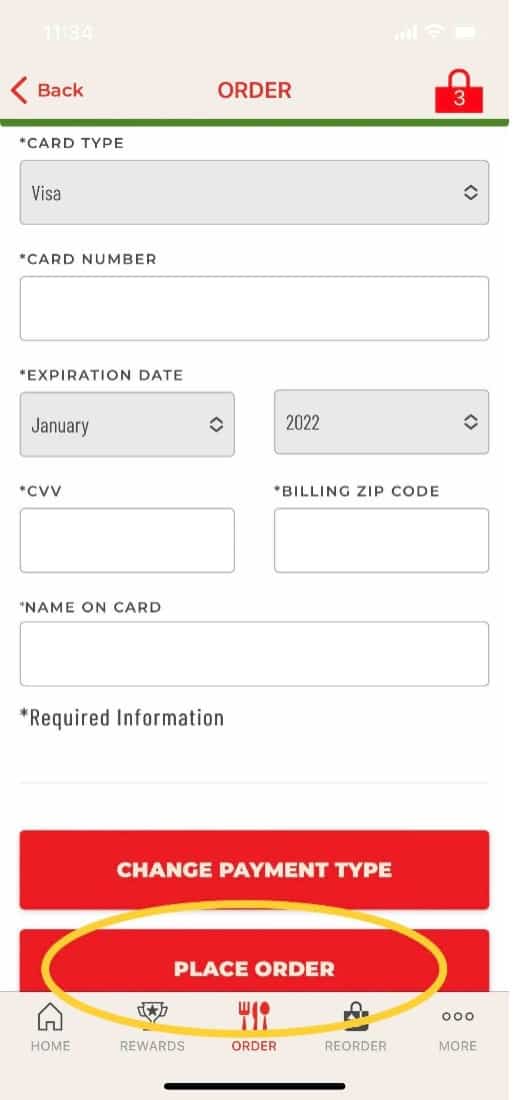 Ordering Chili's To Go on the website is nearly identical if you do not want to download the app.
Simply click "Start order" on Chili's homepage or click "Order Now" on the top navigation bar.
Choosing delivery instead of pickup is also an option for online orders.
Chili's partnered with DoorDash to deliver orders placed through their app.
Read our article for more information about how Chili's delivery works.
Do You Tip for Chili's To Go?
Adding a tip for your Chili's To Go curbside pickup order is always appreciated, and we recommend tipping at least 10% of your order total.
Chili's To Go team members provide service in packaging your order, ensuring your items are correct and bringing them to your car.
Therefore, 10% is a reasonable starting point to tip curbside pickup orders.
When placing your order, the payment step (see step 10 above) is the opportunity to add a tip.
The Chili's app automatically calculates a tip for your order based on 15%, 18%, or 20% for you to choose.
Simply click the tip percentage you would like to add to your order.
In addition, you can enter a custom amount by clicking the "Custom Tip" option.
Can You Order Chili's Pickup on DoorDash, GrubHub, or Uber Eats?
Chili's pickup is available on DoorDash and Uber Eats but not on GrubHub. Chili's also has a partnership with DoorDash to fulfill delivery orders placed through the Chili's app or website.
As with most restaurants on third-party apps, not all menu items may be available.
In addition, menu prices may also be higher when ordering through third-party apps.
To go alcohol, where allowed, may not be available on DoorDash or Uber Eats either.
It is best to use the Chili's app or website directly if your pickup order includes alcohol.
DoorDash and Uber Eats do not charge fees for pickup orders.
Unless you have a subscription or other benefits on a third-party service, ordering on Chili's app will likely offer the best menu prices.
The process of ordering DoorDash pickup and Uber Eats pickup is very similar.
Keep in mind that restaurants can come and go on third-party apps, so check their app for the most current restaurants available.
Conclusion
If you are a Chili's fan, ordering To Go is an excellent option when you don't want to dine in. No matter the occasion, you can always bring the party home!
If you're looking for more tips about Chili's, check out the articles below.
Related Articles:
Chili's Delivery: How It Works and How to Order Online
What to Know About Chili's Happy Hour (Time, Menu, and Other Specials)