DoorDash Gift Cards: Where to Buy and How to Use Them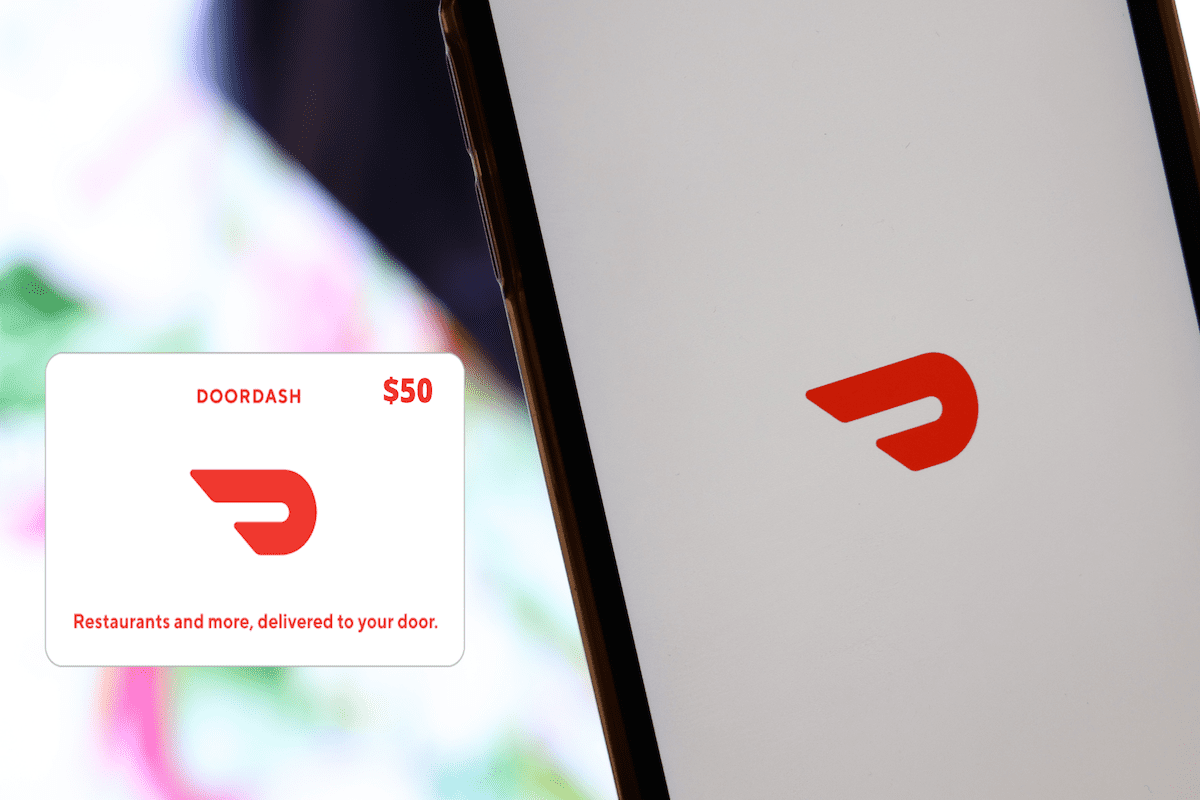 Gift cards always make a great present, and DoorDash offers gift cards for their service, allowing you to pay for your orders with them. You may be wondering where you can buy DoorDash gift cards and how to use them on the platform.
Key Takeaways
You can buy DoorDash gift cards online through DoorDash or other retailers like Amazon, Walmart, PayPal, or Best Buy.
You can also buy physical DoorDash gift cards in stores like Walmart, Target, Kroger, Safeway, Albertsons, Giant Eagle, and BJ's.
DoorDash gift cards never expire and cannot be replaced if damaged, lost, or stolen.
In this article, we'll take a closer look into buying and using DoorDash gift cards, so you can give someone the perfect gift or use a card someone may have given you.
Where to Buy DoorDash Gift Cards
You can purchase DoorDash gift cards online directly through DoorDash, Amazon.com, Walmart.com, PayPal.com, or Bestbuy.com. You can also buy physical DoorDash gift cards in select stores.
The stores where you can buy physical DoorDash gift cards include:
Walmart
Target
Best Buy
Albertsons
Safeway
Giant Eagle
Kroger
BJ's Wholesale Club
You can buy DoorDash gift cards in amounts of $25, $50, $100, and $200.
On the DoorDash website, you can select any amount between $25 to $500.
Other websites may have more options or a customizable amount.
How to Send a DoorDash Gift Card
On the DoorDash website, you can send the gift cards physically or digitally as an e-gift card.
Below are the steps to place an order and send your DoorDash gift card through the website.
Step 1. Navigate to the DoorDash gift cards website.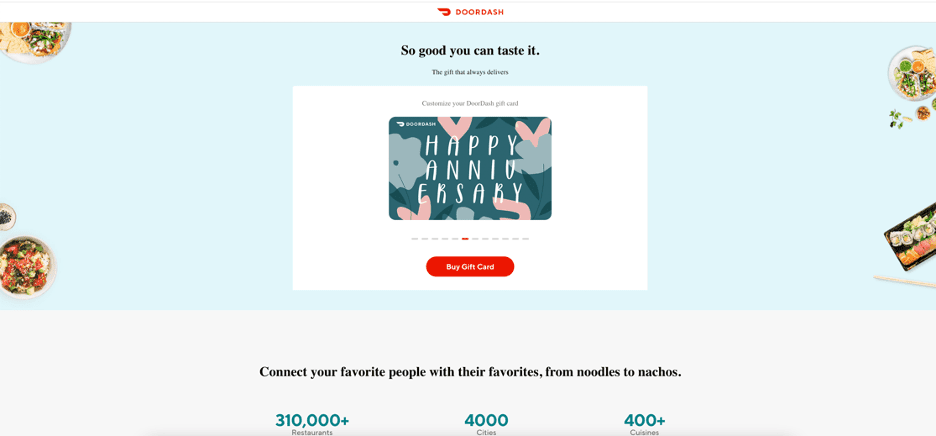 Step 2. Click on "Buy Gift Card."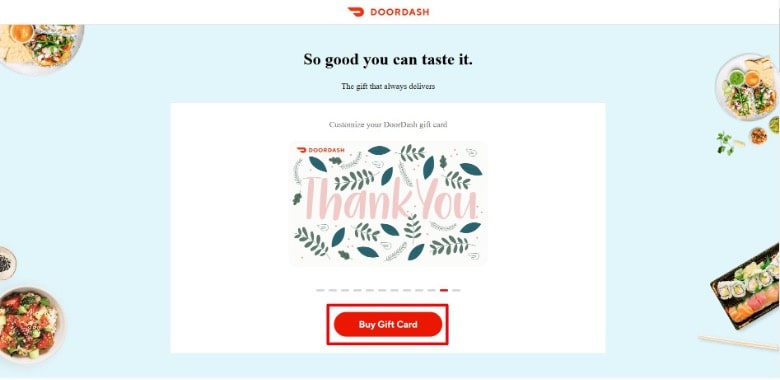 Step 3. Select the monetary amount you want on the gift card. You can also add a customized amount, but it must be anywhere from $25 to $500.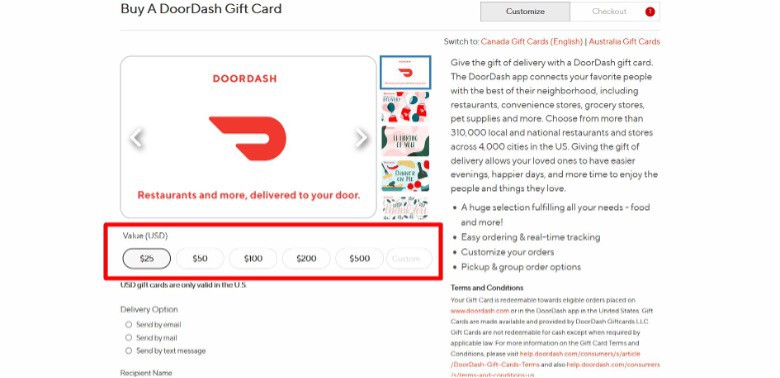 Step 4. Select your delivery option. You have the choice of sending through email, physical mail, or text message. If sending through mail, you'll need to provide your recipient's address. You can also add a personalized message and a date to send the gift card.
Step 5. Click on the "Add to Cart" button when you've entered all the necessary information. You'll be brought to the checkout page.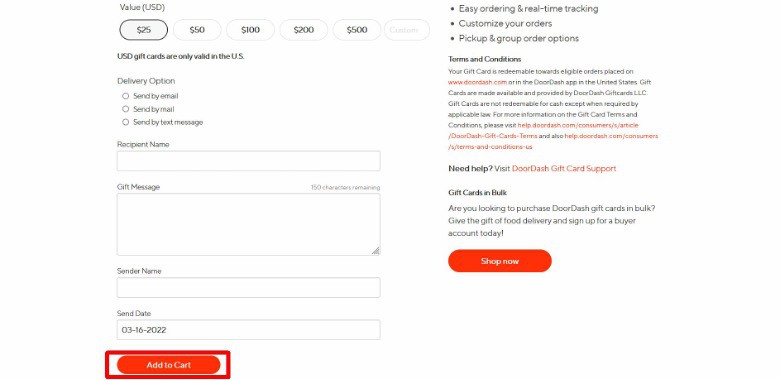 Step 6. You can choose to add another gift card if you wish, up to 10 at once. Then, you can enter your payment details in the text fields.
Step 7. When you're done, select "Place Order $ (a dollar amount)." Your gift card will then be sent by your chosen method on your desired date.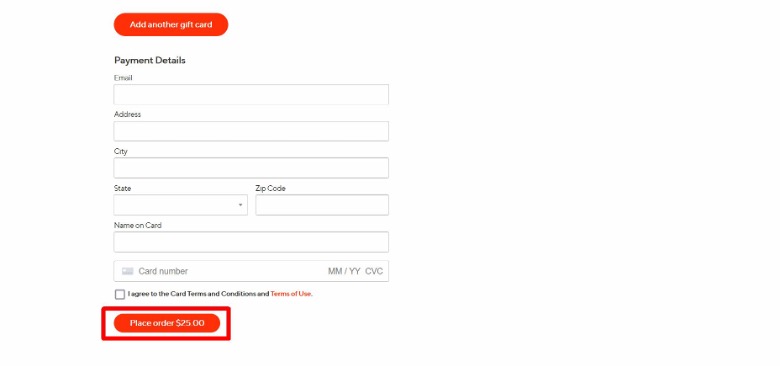 If you don't choose a date to send your gift card on, it will, by default, be set to the day of purchase.
After it's sent, your recipient will receive a message through your chosen method with a link to the gift card's page.
They can see the personalized message, gift card amount, and the card's PIN.
They'll also see instructions on how to redeem the card.
You also have the option to buy DoorDash bulk gift cards. To do this, you'll need to sign up for a buyer account.
You can go to the web page mentioned in Step 1 above, scroll down to the "Buy Gift Cards in Bulk" section, and click the link to set up an account.
To use this feature, you'll need to buy over 25 DoorDash gift cards at once and have your account reviewed by DoorDash.
Can I Buy DoorDash Gift Cards on Amazon?
You can buy both physical DoorDash gift cards and e-gift cards on Amazon.
You'll need to select the monetary amount you want on the card, between $25 to $150, or a customized amount.
For e-gift cards, you'll need to enter the recipient's email address and your name, a message, and the delivery date. This e-gift card will be sent to the recipient's email upon purchase.
For physical gift cards, you can select an amount from $25-$100, and it will be sent to the address you have on file with Amazon, or you can enter a different address at checkout.
Can I Buy DoorDash Gift Cards on PayPal?
You can buy DoorDash e-gift cards on PayPal's gift card shop. You can select a monetary amount of $25-$100 or a custom amount of anywhere from $15-$100.
Then, you can choose whether this card is for you or someone else.
After that, you'll need to add their email address, your name, a personal message, and send date.
If you're buying the gift card for yourself, PayPal will send it to the email they have on file for you.
When you're ready to buy it, select Add to Cart, and then you can proceed to purchase it through PayPal.
How to Use DoorDash Gift Cards
To use a DoorDash gift card, you will need a DoorDash account and the PIN of your gift card, found either on your e-gift card page or on the back of your physical gift card.
You can then redeem the card using this PIN, and the funds will show up in your account and apply to your next order.
You can also redeem your gift card at the checkout stage when placing an order through DoorDash.
Here's how to redeem a gift card step-by-step on the DoorDash mobile app:
Step 1. Open DoorDash and click on Account in the bottom right corner.
Step 2. Go to "Gift Card" and enter your gift card PIN into the text field.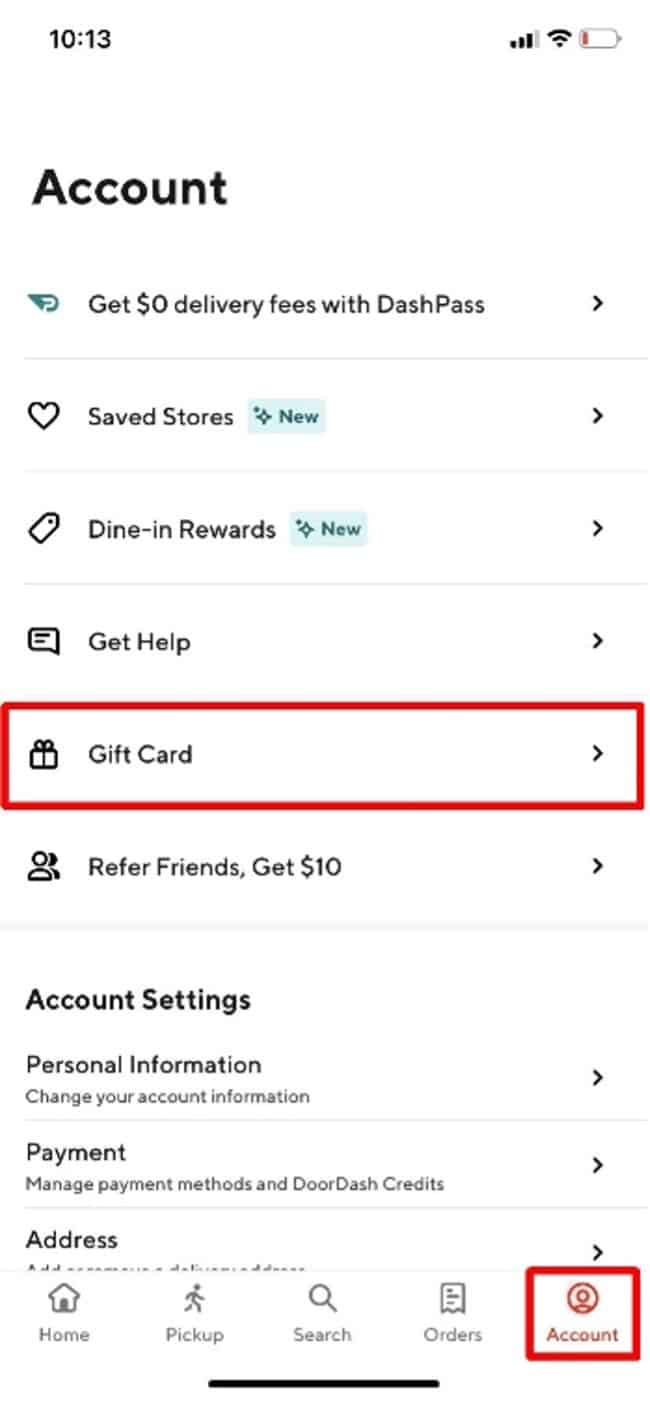 Step 3. Tap "Redeem Gift Card."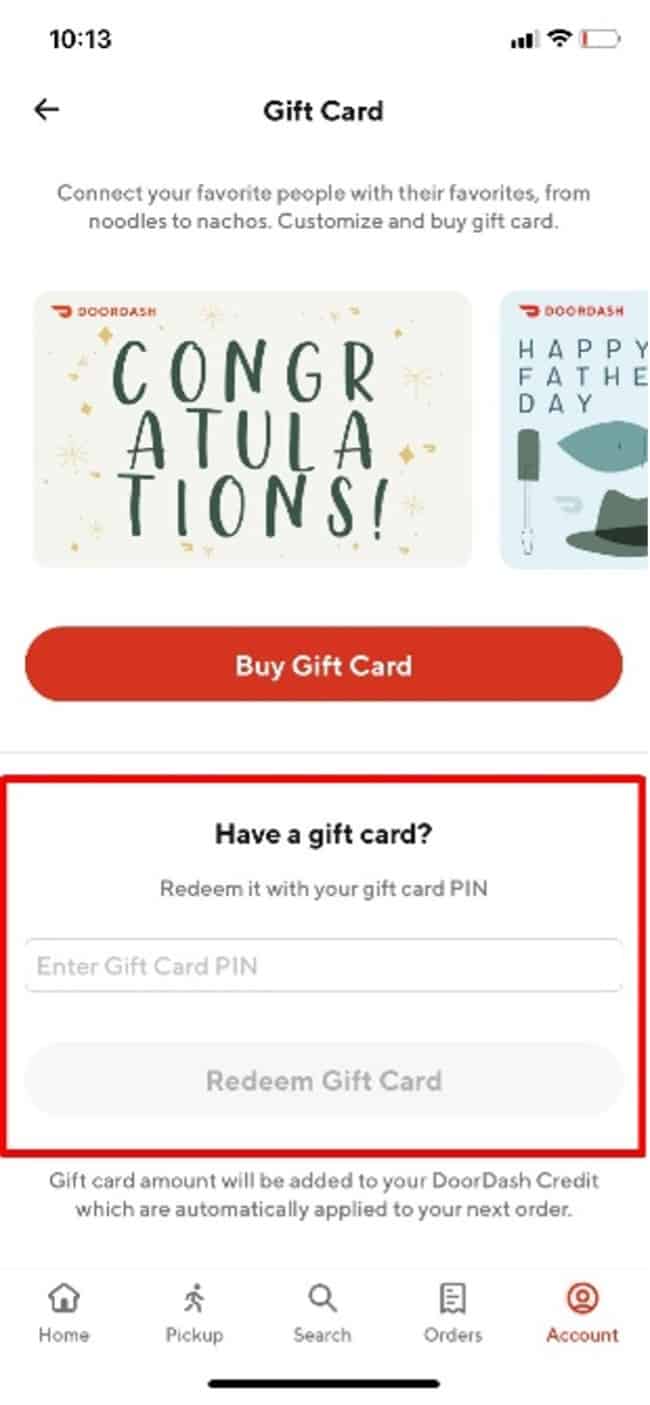 Step 4. The amount on the gift card will appear to be used.
Here's how to add a DoorDash gift card to use as payment during checkout:
Step 1. Tap on "View Cart."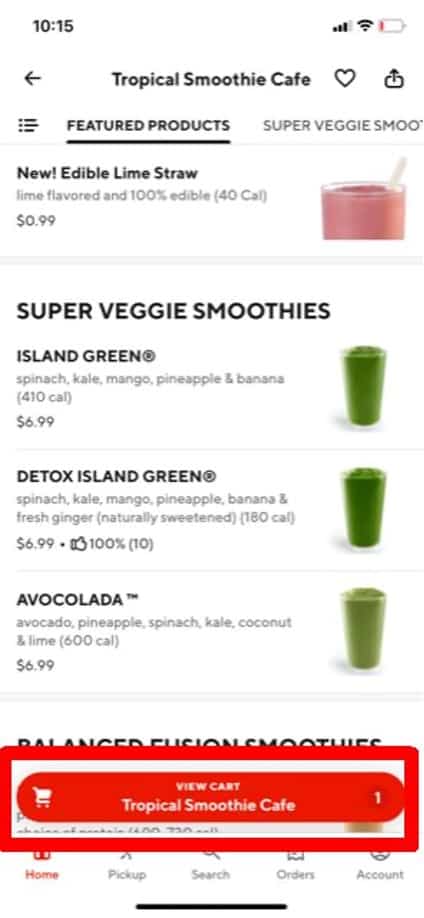 Step 2. Scroll down to "Total" and tap on "Promo."
Step 3. Next to "Have a gift card?" Tap on "Redeem Now."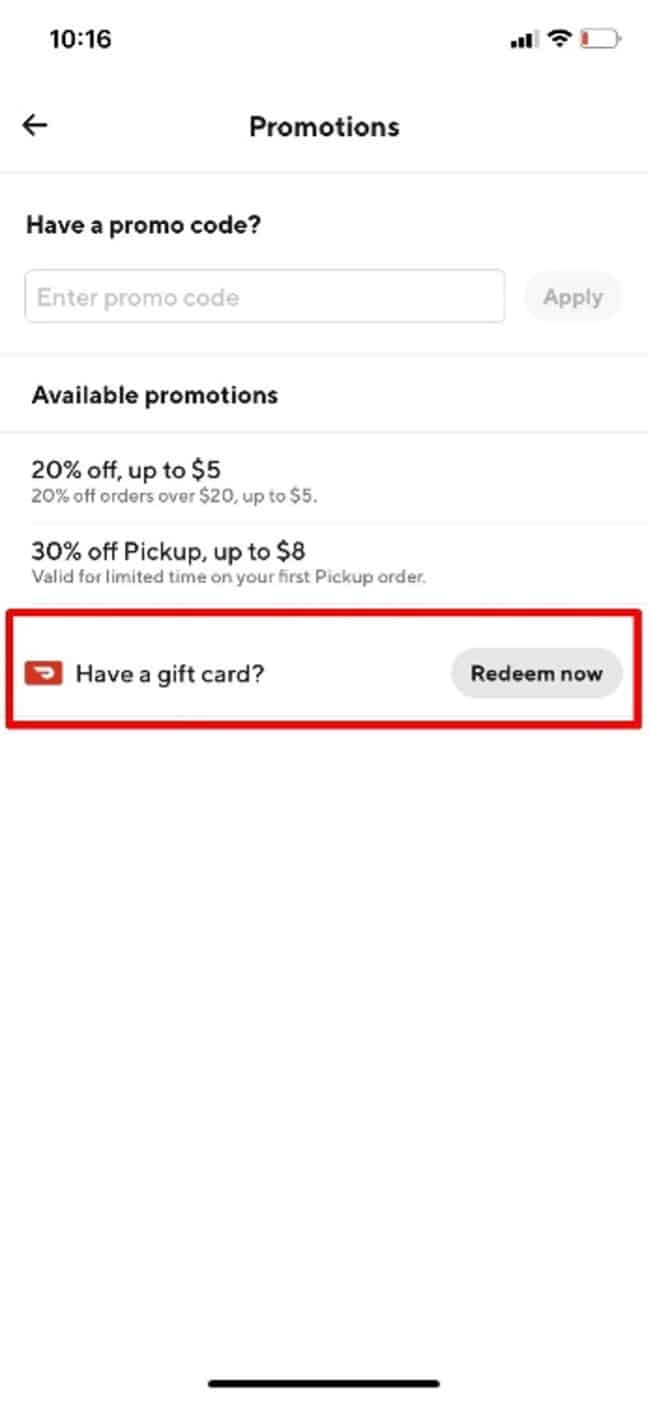 Step 4. Enter the gift card's PIN and then tap on "Redeem Gift Card."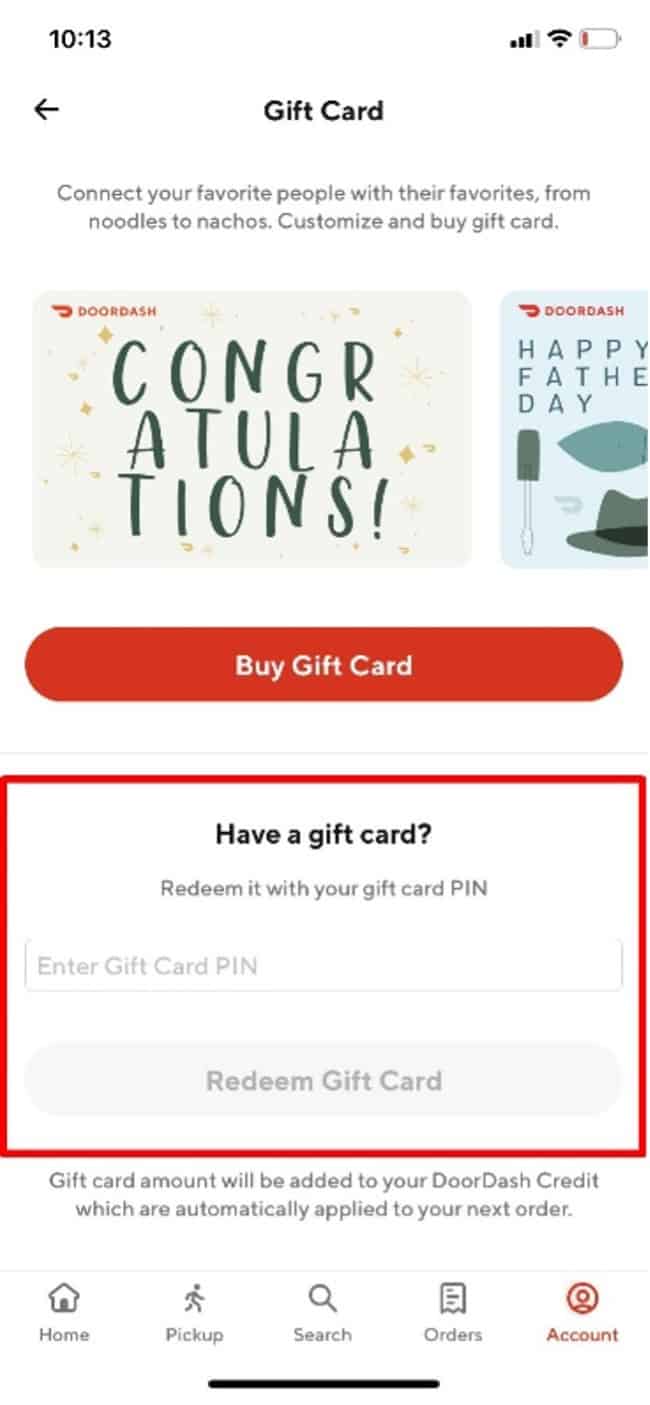 Once you redeem your DoorDash gift card at checkout, the funds can be applied to your current order.
The process of redeeming DoorDash gift cards is also the same on the DoorDash website.
Keep in mind that besides the gift card, you will also need a primary form of payment added to DoorDash.
This is to ensure that the entirety of your order can be paid for if the gift card doesn't cover it all.
How to Check a DoorDash Gift Card Balance
You can check your DoorDash gift card/credit balance by going to the menu icon in the top left corner of the DoorDash app or website.
Here, you will need to click Payment (for iOS and website) or Payment Methods (for Android).
Then, you can see your total DoorDash credit balance, including any past gift card credits you have added.
How to Get a Free DoorDash Gift Card
There are a few ways you could receive free DoorDash gift cards. One of these ways is by completing surveys online through sites like Swagbucks.
These sites give you points for every survey or activity you complete, which can be redeemed for gift cards after a certain amount has been reached.
You could also use apps that give you rewards for doing things like shopping, such as ShopKick.
Another option would be to look for giveaways companies are running.
A good place to look for giveaways is on Instagram or Twitter.
Typically, you'll just need to follow an account, comment, or post something to be entered into giveaways.
Do DoorDash Gift Cards Expire?
Luckily, DoorDash gift cards do not expire.
You can redeem DoorDash gift cards at any point after they've been purchased, and the funds will never expire from your account until they are applied to an order placed through DoorDash.
What if Your DoorDash Gift Card Is Lost or Stolen?
As stated on DoorDash's Terms and Conditions page: "Lost, damaged or stolen Gift Cards will not be replaced or replenished."
Therefore, DoorDash does not have any responsibility to replace your gift card if something has happened to it.
Once your gift card has been purchased and delivered, you'll need to treat it as cash.
Make sure to redeem it into your account as soon as possible to mitigate the possibility of losing or damaging your gift card.
Conclusion
DoorDash gift cards are a great way to give your friends, coworkers, or loved ones free food. You can easily buy them through the DoorDash website or other third-party sources such as Amazon or Target.
Redeeming the gift cards is just as easy, right in your DoorDash account through the app or website. In no time, you or your recipient will be able to enjoy food from all the restaurants DoorDash has to offer.
If you're looking for more tips about DoorDash, check out the articles below.
Related Articles:
How Does DoorDash Work and How to Order?
Does DoorDash Take Cash? (Yes, but Not Always)
DoorDash Pickup: Here's How It Works and How to Order
6 Ways to Contact DoorDash Customer Service
DoorDash vs. GrubHub: Which Food Delivery Service Is Better?