15 Fresh Prepared Foods to Buy at Trader Joe's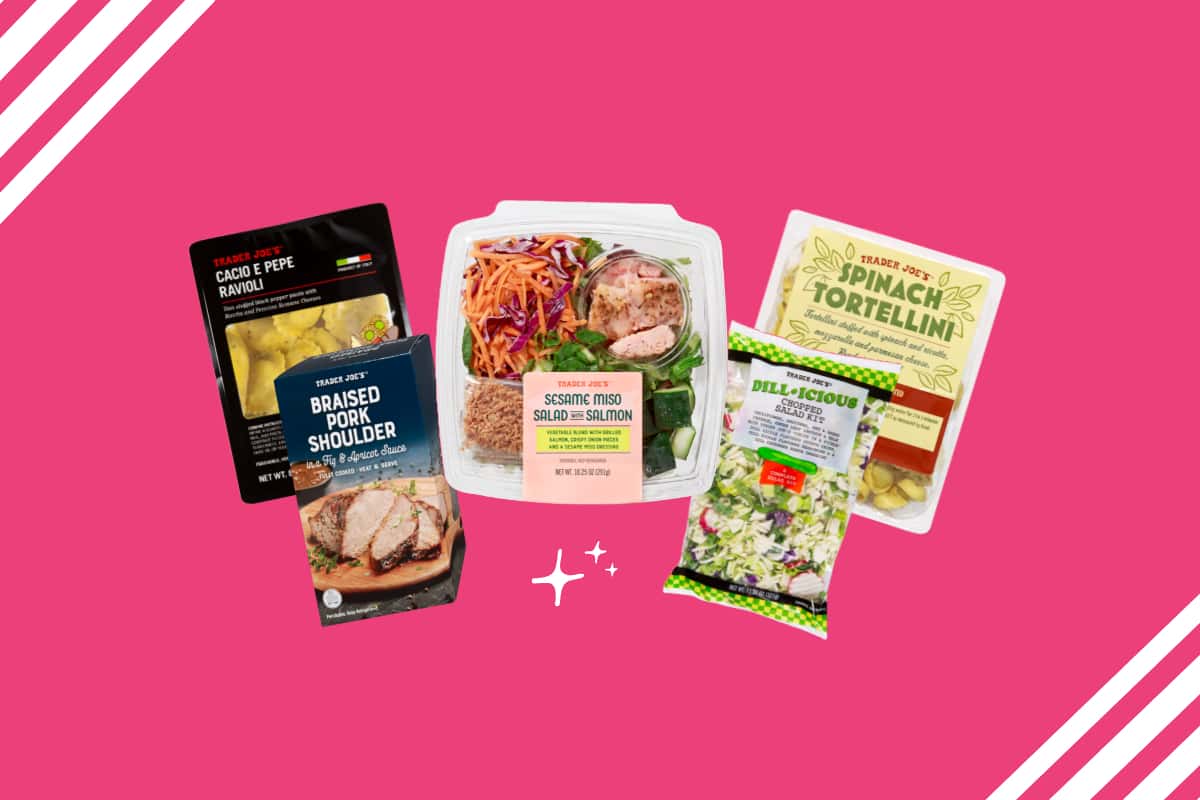 Trader Joe's premade meals are perfect on days when you don't have time for any prep whatsoever. Their prepared foods section is usually found toward the front of the store and includes premade salads, soups, sandwiches, and pastas.
These fresh, ready-to-eat meals are ideal for bringing to work for lunch or warming up last-minute for dinner. Here are fifteen of my favorite Trader Joe's premade meals that are as convenient as they are delicious.
1. Braised Pork Shoulder
Let's kick off our list with a premade entree that could easily be the star of any holiday meal. Trader Joe's Braised Pork Shoulder is tender, mouthwatering, and moist as it can be. The meat is pre-cooked, so all you have to do is place it in the oven for a few minutes, and it's ready to go.
The pork is cooked sous vide style, meaning it was cooked while vacuum-sealed in a water bath, making for an exceedingly moist cut of meat. The pork shoulder is braised in a fig apricot sauce, which features bold flavors like balsamic vinegar, mint, garlic, and, of course, figs and apricots.
It's a great entree to heat up and enjoy with a couple of sides. The sauce is fruity and sweet, which pairs perfectly with the rich, savory pork shoulder. If you love a turkey-cranberry flavor combination, this is another meat-fruit combo you'll likely enjoy.
This Trader Joe's premade meal is only available during the holiday season, but there's usually some form of pork in the prepared food section at all times of the year.
2. Cacio e Pepe Ravioli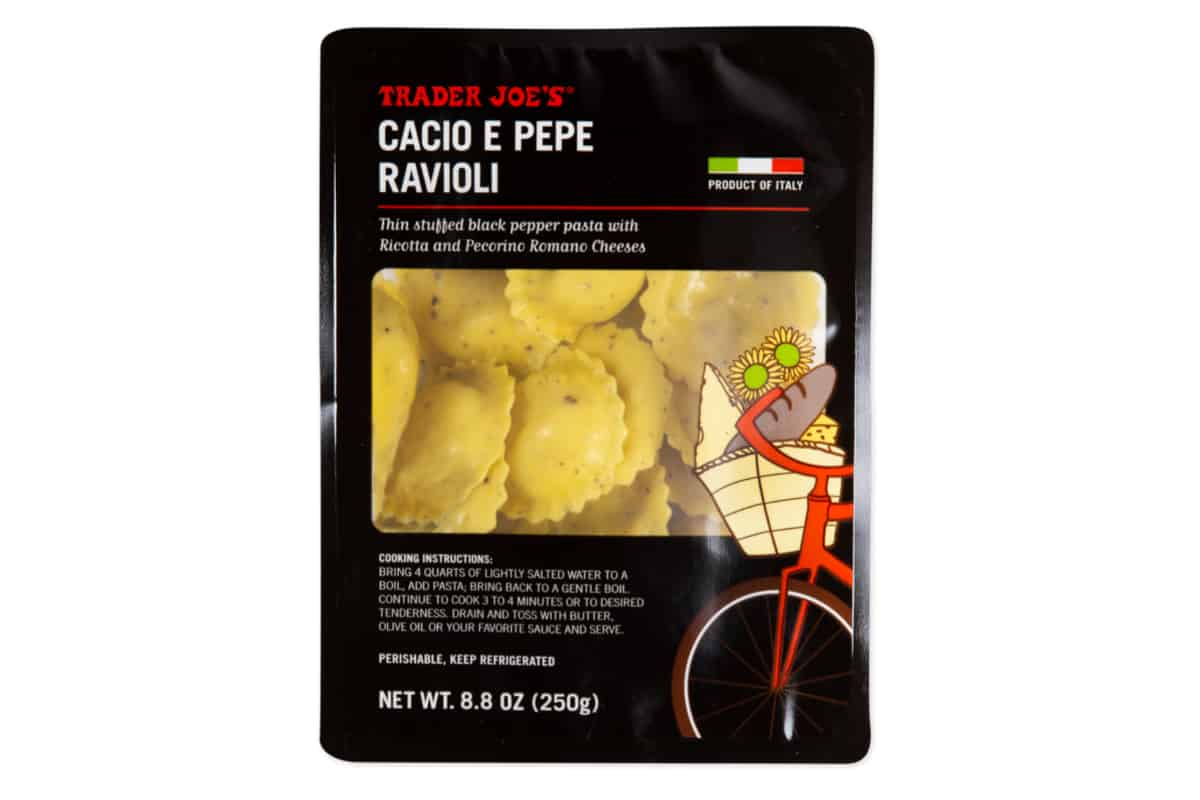 Cacio e Pepe is a famous Italian dish that translates to "cheese and pepper." It's a sauce usually served on spaghetti, but in this Trader Joe's premade meal, it's served inside pieces of ravioli!
The "cacio e pepe" theme is incorporated into the pasta dough itself, which contains pieces of ground black pepper. Inside each pocket of dough is a mixture of ricotta cheese, cream, and Pecorino Romano. This filing is smooth, soft, and velvety. Each bite has an equal amount of spicy black pepper and creamy cheese.
This Trader Joe's meal can be cooked in less than five minutes, so there's barely any prep work here, making it ideal for a quick weeknight dinner. I like serving these with a bright tomato sauce to compliment the creamy cheese mixture and spicy pepper.
3. Cheeseburger Burrito
If Trader Joe's knows how to do anything really well, it's food fusions. From Cheeseburger Pizza to Cheesesteak Bao Buns, they're always cooking up new, unexpected food combinations.
Debuting in early 2022, Trader Joe's Cheeseburger Burrito features juicy, well-seasoned beef, sharp cheddar cheese, chopped onions, tomato, pickle relish, ketchup, and mustard, all wrapped inside a flour tortilla.
The onions, tomatoes, and pickle relish bring a fresh, tangy touch to the burrito, while the beef and cheese anchor it with a hearty substance. The beef is perfectly salty and has that flame-grilled burger taste to it. Even though it sounds like a zany combination, this is essentially a regular beef burrito that's been doctored up with some ketchup, mustard, and relish.
This meal can be quickly heated in the oven or a skillet for a crispy tortilla on the outside, but I usually just pop mine in the microwave for a softer bite.
4. Dill-icious Chopped Salad Kit
There's one other thing that Trader Joe's knows how to do really well: it's dill pickle-fied versions of any food. Believe it or not, that includes salad.
Trader Joe's has a solid salad lineup (more on that later), but their Dill-icious Chopped Salad is easily my favorite of all time. This salad kit comes with a bed of green leaf lettuce, kale, and green and red cabbage. Bits of chopped cauliflower and radishes are tossed in there for some crunch, along with pieces of dill pickle-flavored potato chips.
Of course, no salad is complete without a dressing. Here, there's a creamy, tangy dill cucumber ranch to compliment all the mix-ins. This is one of the crispiest, crunchiest, most refreshing salads I've ever had. It takes less than a minute to throw together and is perfect as a side dish or, if you're in the mood, eat the whole bag as a veggie-packed entree.
5. Four Cheese Scalloped Potatoes
Many people grow up eating scalloped potatoes, but I didn't discover them until a bit later in life. In fact, Trader Joe's is where I was first introduced to them, and I now look forward to their seasonal return every year.
This item can be found in Trader Joe's prepared food section. Each package contains about a pound of potatoes, which have been sliced impressively thin and then covered in a rich, cheesy sauce.
The sauce is made with leeks, garlic, parmesan, asiago, fontina, and provolone cheeses. Once you pop this in the oven, the cheese becomes melty and creamy on the inside and just a bit crispy on the top, where it bubbles.
With their creamy, luscious texture, Trader Joe's Four Cheese Scalloped Potatoes are ideal for serving as a side dish with a holiday meal like turkey, steak, or ham. If you eat meat and potatoes, this is the way to do it.
6. Kettle Cooked Chicken Soup
There is nothing like a cup of warm, comforting chicken soup. I'm perfectly happy with the kind that comes in a can, but if you're looking for something extra special and high quality, look no further than this Trader Joe's premade soup.
Despite containing zero dairy, the Kettle Cooked Chicken Soup is incredibly creamy and comforting. The base is a chicken stock made with antibiotic-free chicken and fresh herbs and spices like garlic, thyme, bay leaves, and black pepper.
Veggie-wise, there are chunks of chopped celery, onions, and carrots. Of course, there's also a generous helping of chicken meat here. The herbs and spices are what really make this soup stand out from the canned variety.
My only complaint is that there are no noodles in this soup, but they can be easily added before you pop it on the stove or in the microwave.
7. Lemony Arugula Basil Salad Kit
Trader Joe's makes their fair share of premade salads, and most are pretty darn good. One of their most popular is the Lemony Arugula Basil Salad Kit, which makes a perfectly balanced, fresh meal.
This salad has an arugula base and features a mix of shaved rainbow carrots, parmesan cheese, and roasted almonds. The dressing provided is a basil lemon vinaigrette.
There are so many flavors going on in this salad, from the peppery arugula to the nutty almonds and tart vinaigrette. Everything is pulled together by the salty, umami parmesan flakes – because, let's be honest, cheese is the best part of any salad.
This is the perfect side salad to accompany a main course like steak or pasta, but just like the Dill Pickle Salad Kit, you can eat it as an entree or top it with a protein to round out the meal.
If you love the herby, bright flavor of pesto, this Trader Joe's premade salad will be a smash hit.
8. Lemon Chicken & Arugula Salad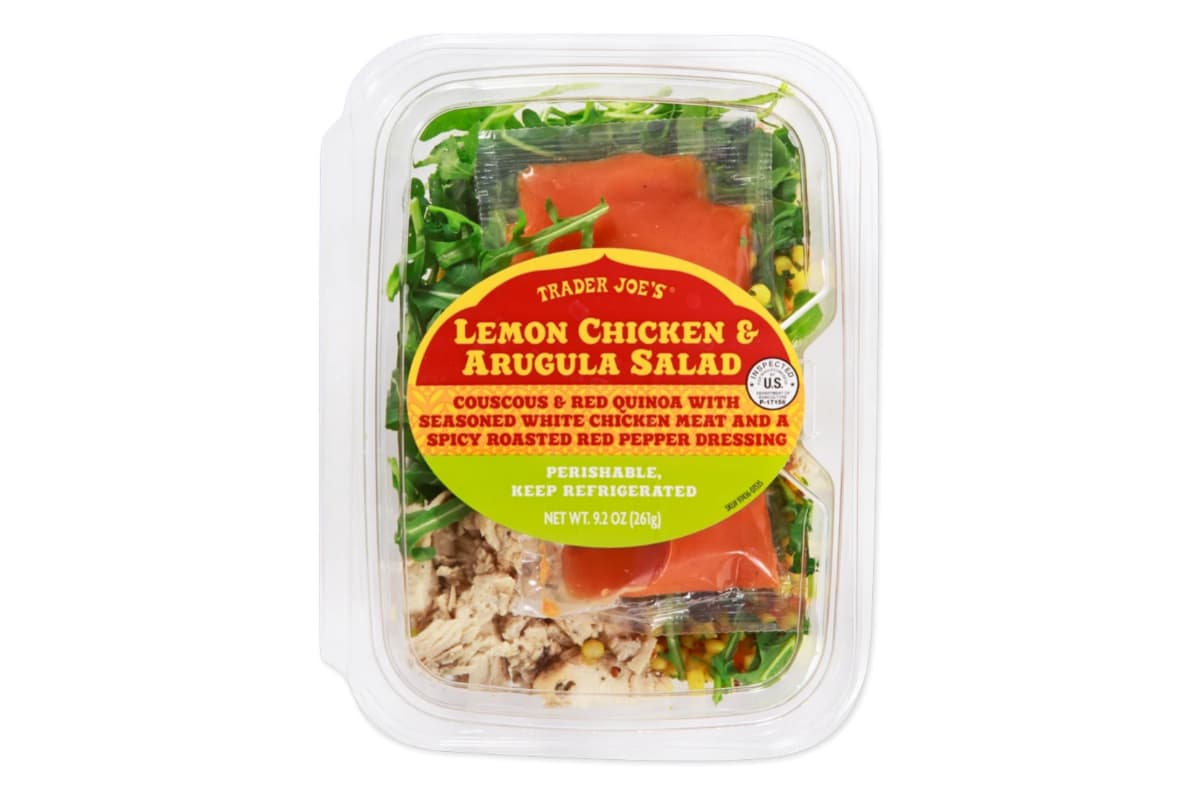 This Trader Joe's premade salad is inspired by Moroccan flavors like lemon, red pepper, and mint. Its base is a mixture of couscous and red quinoa, which is seasoned with parsley, mint, and sweet currants. There are bits of white meat lemon chicken spread throughout, along with a handful of fresh arugula.
To top things off, the salad is served with a spicy roasted red pepper dressing. This Trader Joe's salad shatters the "salads are boring" stereotype. There are so many textures and flavors going on that each bite will be a slightly different experience.
Arugula is my favorite salad base, and it's super fresh in this version. The couscous and quinoa are fluffy and are nice companions to the juicy chicken and flavor-packed spicy red pepper dressing.
9. Mediterranean Style Orzo Pasta Salad
Everyone loves a good pasta salad, and Trader Joe's makes some of the best. Their Mediterranean Style Orzo Pasta Salad contains everything a pasta salad should have, plus a few Mediterranean-inspired extras.
The base of this premade salad is, of course, orzo pasta. There's also crumbled feta, Kalamata olives, sun-dried tomatoes, shredded spinach, and diced red onion. It's finished off with a golden balsamic dressing and basil pesto.
This is one of the first premade meals I ever picked up from Trader Joe's, and it's been a steadfast favorite throughout the years. The olives and spinach bring just the right amount of freshness to the salad, and the tomato, onion, and spinach make this feel like an actual salad rather than just a cold pasta dish.
The golden balsamic vinegar and basil pesto mixture is particularly delicious, with the vinegar adding a crispness to the salad and the pesto bringing some herby sweetness.
10. Peanut Udon Noodle Salad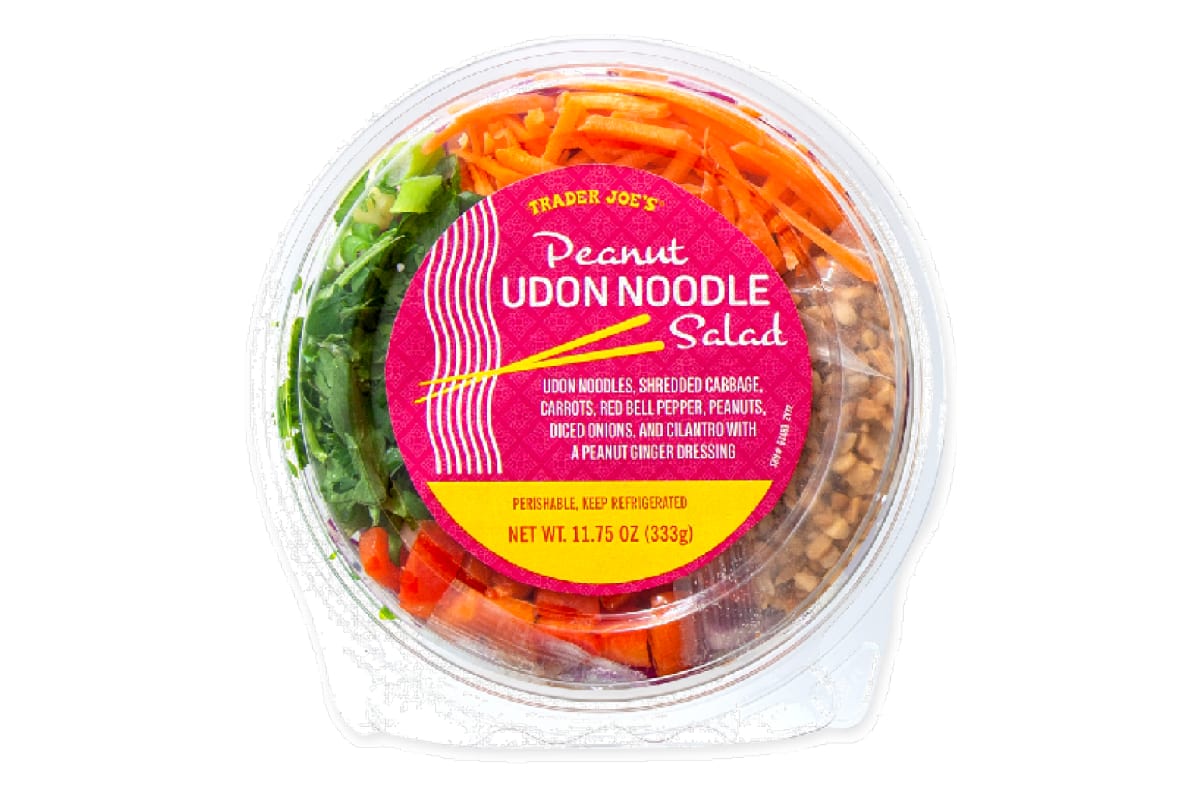 This meal is also a pasta salad but with an Asian twist. Udon noodles are usually found in hot soup, but in this case, Trader Joe's chills them and mixes them with veggies to make their sweet and savory Peanut Udon Noodle Salad.
The salad is made with udon noodles, matchstick carrots, red and green cabbage, bell peppers, green onion, cilantro, and roasted peanuts. The star of this dish, though, is the dressing that comes with it. Made with peanut butter, soy sauce, rice vinegar, lime juice, and ginger puree (just to name a few of the ingredients), this dressing is an absolute flavor bomb.
Thanks to the dried red chili and cayenne pepper, it's got a little kick to it, but nothing too crazy in the spice department. The main flavor here is peanut, which is found in the sauce and the chunks of roasted peanuts.
I love the contrast between the chewy, soft noodles and the super crunchy carrot and cabbage pieces. This refreshing, light meal packs a ton of zesty Asian flavors into a fairly small salad.
11. Roasted Turkey & Sweet Potato Burrito
Trader Joe's premade meal section has offered plenty of burrito options in the past, but none has made an impression on me quite like their Roasted Turkey & Sweet Potato Burrito.
I adore Thanksgiving and Christmas food, and this burrito is one of the greatest hits of holiday food, all wrapped into one jam-packed flour tortilla.
There's seasoned white meat turkey, sweet potato chunks, and cranberry salsa. Then, in terms of typical burrito additions, there are beans and rice to round everything out. It has the tiniest kick of spice to it thanks to the ancho and guajillo chile powder inside, but the flavor profile leans sweeter overall.
My favorite part of this burrito is the cranberry salsa, which has some orange juice and pieces of jalapeno in it. The salsa has a bright, festive taste that pairs beautifully with the roasted turkey, sweet potato, and rice.
12. Sesame Miso Salad With Salmon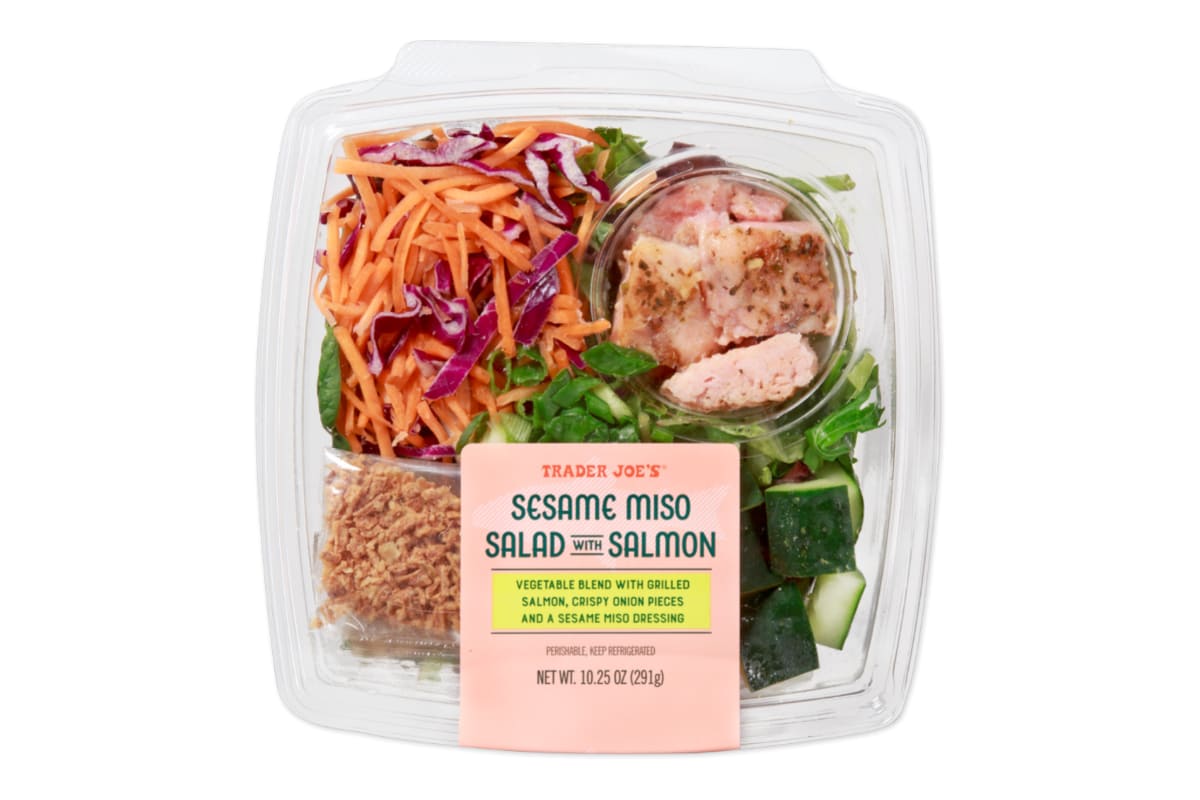 The Sesame Miso Salad With Salmon is another non-boring salad from Trader Joe's premade meal section.
I hate when salmon has a super fishy taste (yes, I know it's a fish, but you know what I mean), so I avoided this premade salad for a while, assuming it would be too fishy for me. When I finally gave it a chance at the recommendation of a friend, I was so glad I did.
The salmon on this salad is fresh and well-seasoned, with no fishy aftertaste. The base is made with a mix of greens- romaine, frisée, and baby spinach, to be exact. Veggie-wise, there are pieces of shredded carrot, red cabbage, and green onion.
Thanks to the ginger puree and brown sugar inside, the dressing is a sesame miso packed with umami flavor and a little sweetness.
To finish everything off, there are little bits of crispy onion pieces on top of the salad for a satisfying crunch. The quality and freshness of this salad are impressive, especially for being premade at the grocery store.
13. Spinach Tortellini
Trader Joe's Spinach Tortellini is as close as it gets to homemade pasta. Let me explain – these tortellini and their filling are uber-fresh. Even after they're cooked and covered in sauce, the freshness of this pasta shines through.
Each tortellini is tufted with a mix of spinach, ricotta, mozzarella, and parmesan. This filling is incredibly flavorful, creamy, and comforting. These only need to be cooked in boiling water for about four minutes, so this is a premade meal from Trader Joe's that's ready in a jiffy.
The pasta dough is chewy and has a neutral taste, so it'll soak up whatever sauce you pair it with or whichever soup you throw it in. While the mix inside is flavorful, the cheesy flavor will complement any sauce you choose rather than compete with it.
14. Tomato Feta Soup
Tomato soup is perfectly fine as is, but Trader Joe's decided it needed something extra to take things to the next level. Thus, their Tomato Feta Soup was born.
Made with a base of tomato paste, onion, cream, and spices, it seems like your classic tomato soup at first. But as you sip, you'll get crumbles of tangy, salty feta.
Besides the feta, this soup is also unique in that it's incredibly well-seasoned. You can taste the garlic, parsley, basil, and oregano in every spoonful.
The texture is something to behold, with most of it being creamy and smooth, as you'd expect a soup to be. But, thanks to the feta, there's also a crumbly, rich element that's wholly unique.
This is easily my favorite Trader Joe's soup of all time, including their canned and frozen varieties.
15. Unexpected Cheddar Broccoli Soup
Trader Joe's Unexpected Cheddar Cheese has been a cult favorite for about a decade, so of course, they added this cheese into tons of their premade dishes and meals. It's essentially a mixture of the best parts of cheddar and parmesan, all combined into one delicious chunk of cheese.
Now that you know the cheese we're working with, you can start picturing the flavor of Trader Joe's Unexpected Broccoli Cheddar Soup.
The base of this soup is a rich veggie broth, which is filled with chunks of tender broccoli and a generous helping of Unexpected Cheddar and traditional yellow cheddar cheese. If you've ever had Panera's Broccoli Cheddar Soup, this is like that soup but a thousand times better in every way.
It's insanely creamy and cheesy, and the broccoli is tender without getting mushy. I reach for this soup on rainy, cold days when the last thing I want to do is get out of my blanket cocoon and cook.