I Tried Every Trader Joe's Olive Oil, and This Is the Best One to Buy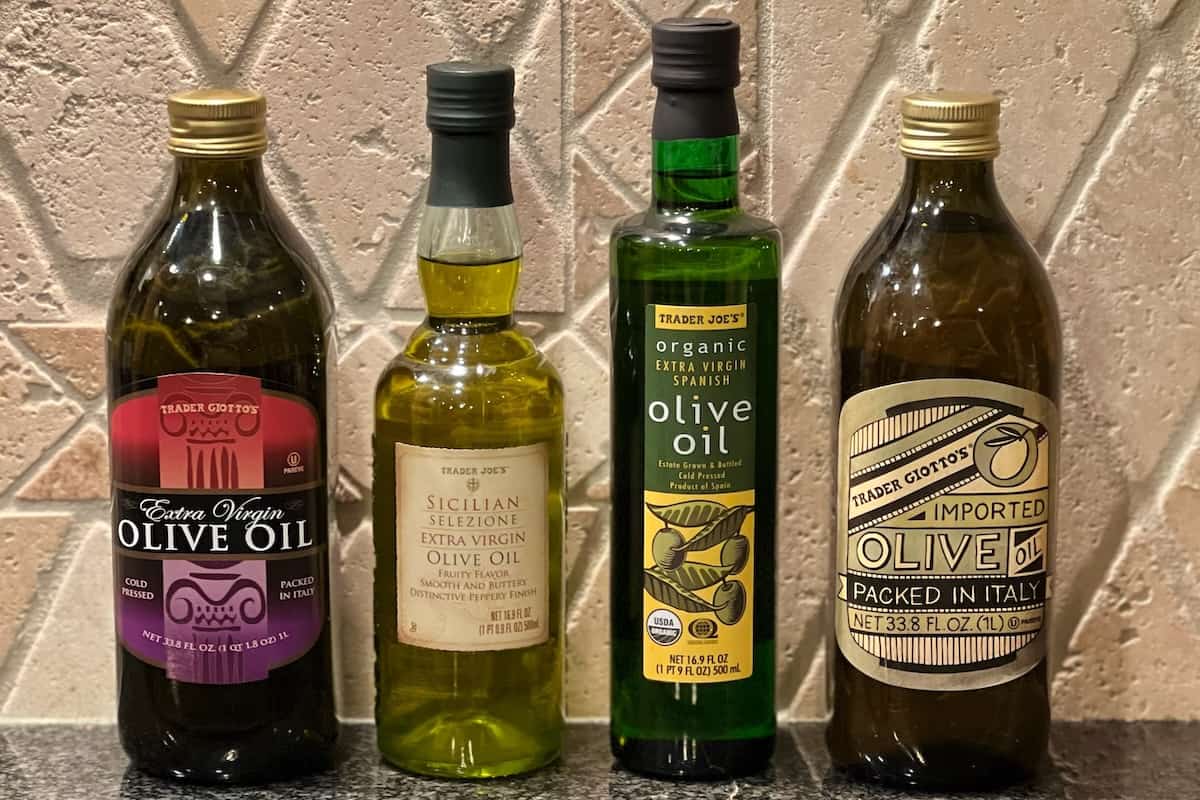 Recently, I ventured into Trader Joe's and picked up four of their most consistently offered olive oils. They make it easy by offering only a handful of options in the olive oil aisle rather than dozens.
I tasted each of them and will tell you which is the best olive oil from Trader Joe's based on your cooking purposes.
Imported Olive Oil Packed in Italy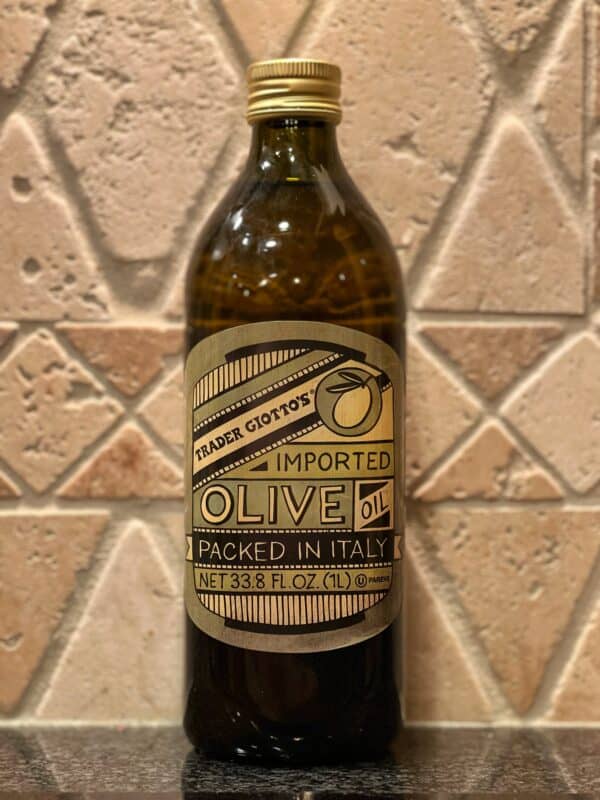 Let's start with the lightest of the bunch. Not only is this the lightest in color (as you can see in the photo below, it's almost completely clear), but it's also the lightest in terms of flavor.
This is the only olive oil from Trader Joe's that doesn't have the "extra virgin" label in its title. When making extra virgin olive oil, the oil is cold-pressed and left unrefined, whereas regular olive oil is heated and then refined. That means extra virgin olive oil packs more punch in the flavor department than regular olive oil. This one is a mix of extra virgin and refined olive oil.
With all those logistics out of the way, you won't be surprised to hear that this non-virgin olive oil didn't have a lot of flavor to it. It has a neutral, mild flavor, which makes it ideal to use when you're cooking something and want the flavor of the food to shine through rather than the oil.
Regular olive oil also has a higher smoke point than extra virgin olive oil, so Trader Joe's recommends using this bottle when cooking at a higher heat. It could even be used as a substitute for butter when baking.
Some people assume extra virgin olive oil is better than regular olive oil, but it all comes down to what you are cooking. If you need a neutral-tasting oil with a high smoke point, this is the Trader Joe's olive oil to reach for.
Extra Virgin Olive Oil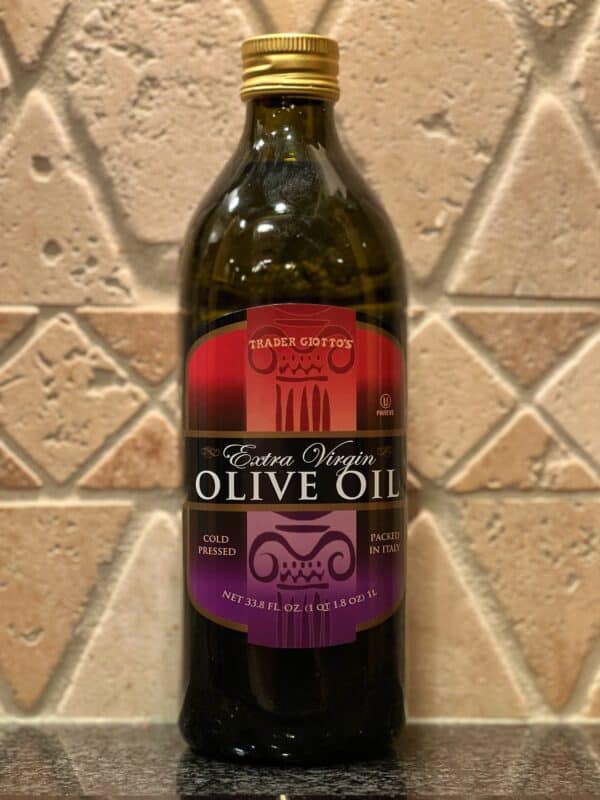 This is the Trader Joe's olive oil that many people, including myself, are most familiar with. It's their no-nonsense Extra Virgin Olive Oil. When I stopped by the store, I could tell this was one of their most popular olive oils. As I walked over, an associate was restocking a huge portion of the aisle with these bottles.
I can see why this is such a popular pick. You can taste the olives in this oil above all else. There's that slightly spicy peppery finish and herbaceous quality that good olive oils tend to have, but it's still fairly delicate in flavor.
In fact, it's pretty similar to the Sicilian Selezione Extra Virgin Olive Oil in flavor, texture, and color. The biggest difference, in my opinion, is that this oil has a less complex flavor than its Sicilian counterpart. I didn't get the same sweet, fruity notes here.
Nevertheless, it's a great olive oil to use when you want to showcase the flavor of the oil itself. Use it when you're grilling veggies or sauteing fish. Both of these bases will be complemented by the peppery notes in this olive oil.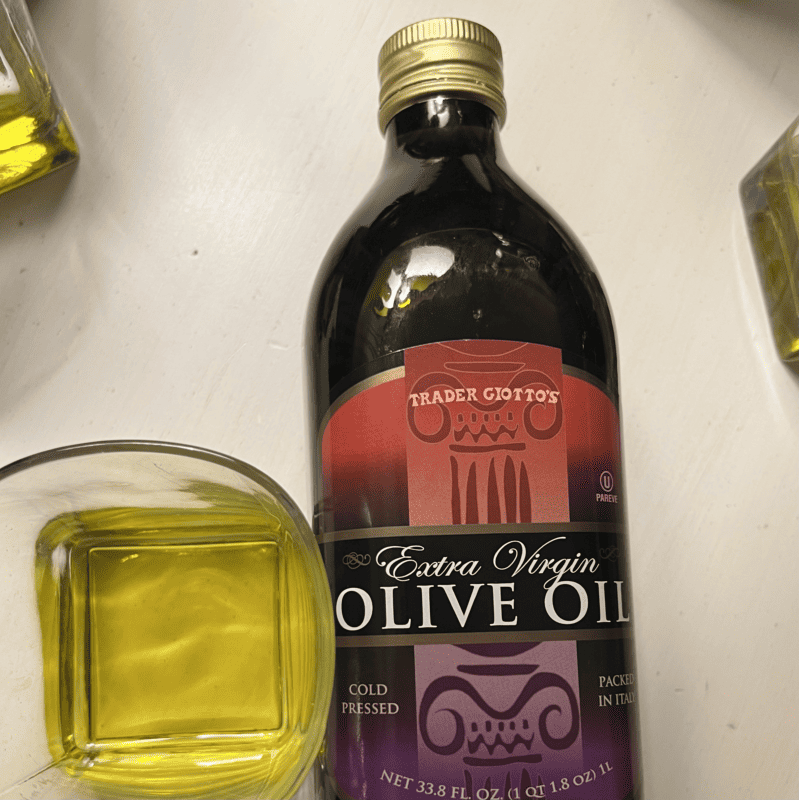 Extra Virgin Spanish Olive Oil
For better or for worse, this is certainly the most flavorful, pungent Trader Joe's olive oil I tried. It had a bitter flavor that I could taste immediately, and that bitterness lingered until I had a couple of sips of water.
It also has a distinct pepperiness, even more than the two olive oils we discussed. As it's typical for Spanish olive oils, this bottle has nutty notes that I didn't taste in any of the Italian varieties.
The bitterness from this olive oil was a bit too strong for me. Even when I whipped up a quick salad dressing, I could still taste that bitter flavor despite using other flavorful ingredients with it, like minced garlic, red wine vinegar, and Dijon mustard.
That being said, bitter olive oil doesn't equal bad olive oil. Quite the opposite, in fact. Bitterness is a natural characteristic of fresh olive oil, according to Olive Tomato, so the bitter factor is positive in this case.
I'll stick to the slightly sweeter olive oils Trader Joe's offers, but I can see where this bottle would be a favorite for someone who prefers a more pungent, olive-forward oil.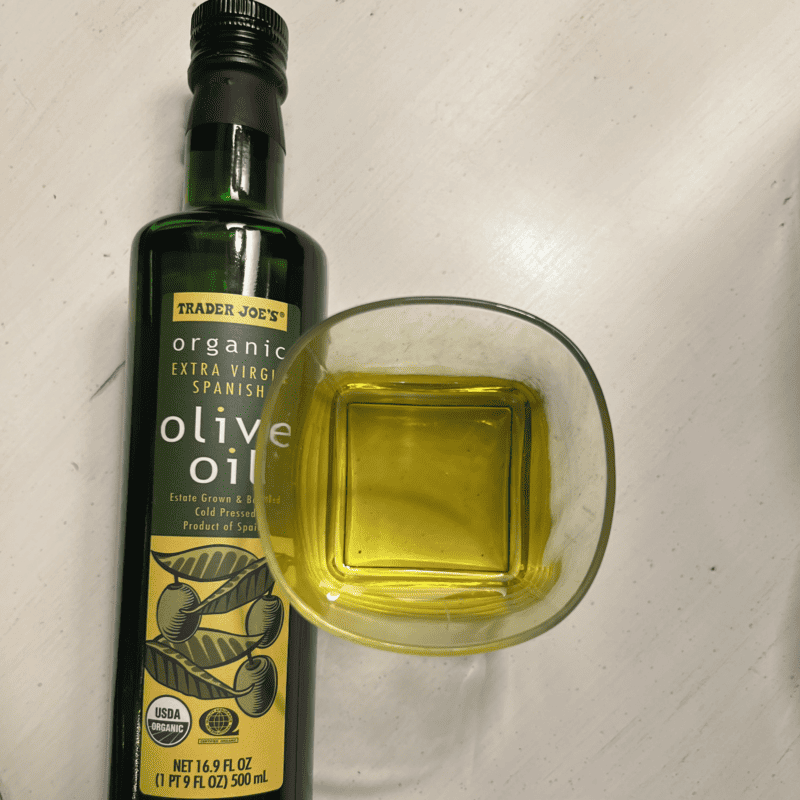 Best Overall: Sicilian Selezione Extra Virgin Olive Oil
If I had to choose just one bottle to crown as the best Trader Joe's olive oil, it would be the Sicilian Selezione Extra Virgin Olive Oil. Right away, it reminded me of the olive oil served with bread at a nice Italian restaurant. Pretty good start, right?
This olive oil had multiple flavor notes throughout. It starts with a buttery, creamy note, which then gives way to a peppery finish. I wouldn't say it's spicy, but it definitely has a kick that you'll feel at the back of your throat.
There's also a slight sweetness to it, which makes it stand out from other olive oils Trader Joe's offers. It has a darker yellow color, a little bit on the green side.
This is the perfect olive oil to serve with fresh bread as a simple appetizer to let the flavor of the oil shine through. It would also make for a great homemade salad dressing base. Use this oil for dishes where you want the olive oil to be the star of the show because it is that good.
This is my favorite olive oil aesthetics-wise, too. Just look at the curves on that bottle! According to Trader Joe's, the bottle was modeled after a traditional 20th-century Italian decanter.