Here's All You Need to Know About Starbucks Inside Target Stores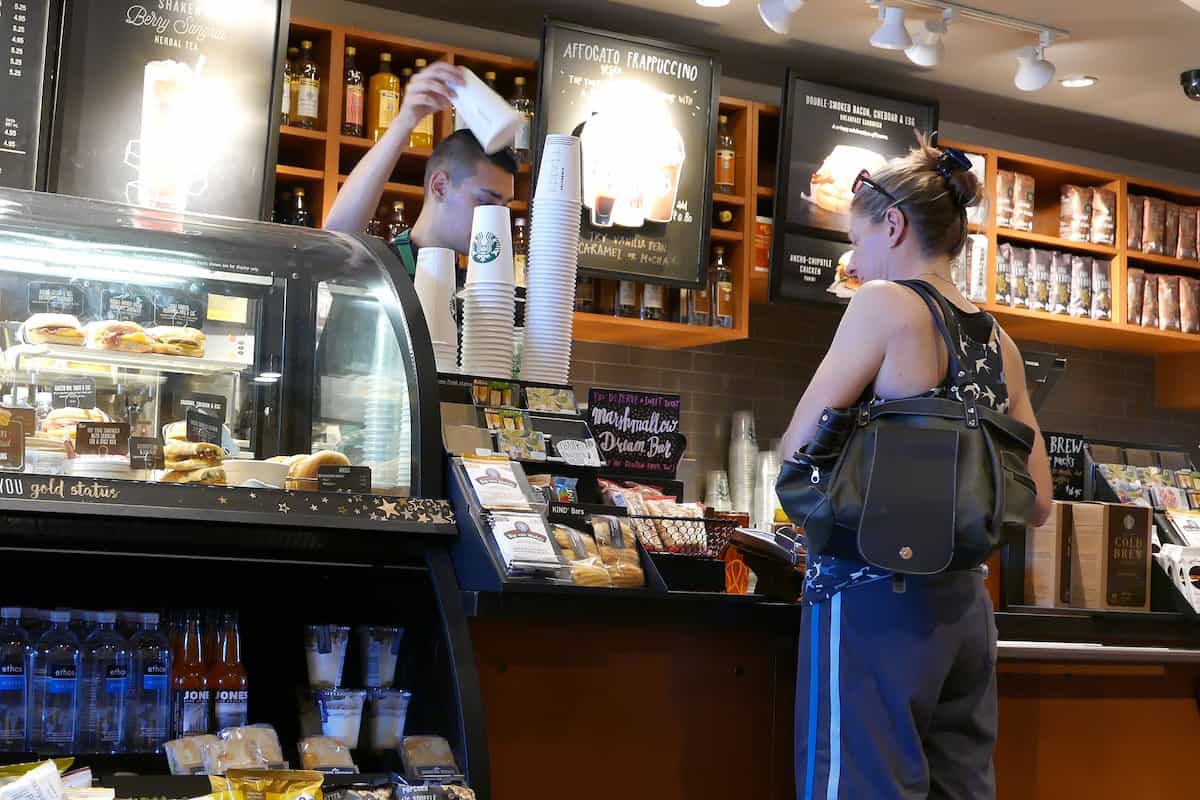 Many people love shopping at Target as the retailer sells just about anything you could need. Some Target stores also have a Starbucks inside to enhance your shopping experience.
Target licenses the Starbucks brand name to sell drinks and snacks to Target shoppers. Most Target Starbucks locations are open from 7 am-9 pm. If you have Starbucks Rewards, you can get free refills on select drinks while shopping at Target. You can use Starbucks or Target gift cards to pay for your Target Starbucks order.
Keep on reading to learn everything you need to know about Starbucks inside Target stores!
You deserve to grab a Starbucks drink and peruse our aisles. pic.twitter.com/nv4CCAsUbF

— Target (@Target) August 24, 2018
Is Target Starbucks a Real Starbucks?
Starbucks in a Target store is not owned and operated by Starbucks, and therefore it is not an actual Starbucks location. Target licenses the Starbucks brand name, and the people who work at Target Starbucks are Target employees. The same rule applies to other Starbucks locations in Kroger, Barnes & Noble, and Meijer stores.
You can still use your Starbucks Rewards at a Target Starbucks. While all locations are not able to redeem your Stars, most Target locations can.
Starbucks Rewards members can scan their QR code in the app with any purchase to receive Stars. Some Target Starbucks locations only allow redemption at the 150 Star tier, valid for any handcrafted beverage, hot breakfast item, or snacks.
A key difference between Target Starbucks and regular, company-owned Starbucks is that you cannot order ahead to pick up at a Target Starbucks.
You cannot place a mobile order from the Starbucks app to be picked up at Target. Instead, you must order directly from a barista in the store.
Baristas at Starbucks inside Target stores are employed through Target and considered part of the Food and Beverage team.
Thus, the baristas get the benefits that Target employees receive, but they do not get the benefits their Starbucks counterparts receive. The Target benefits include a 10% storewide discount.
Are Target and Starbucks the Same Company?
Target and Starbucks are not the same company. These two separate companies formed a partnership in 1999. Starbucks licensed its brand to Target, which allowed Target to sell Starbucks products inside their stores. Baristas are hired and managed by Target, but customers still receive Starbucks menu items.
Since forming the partnership, Target has placed over 1,300 Starbucks cafes in their stores in the United States.
With this partnership, customers get the best of both worlds. They can sip on a warm cup of coffee while they peruse the aisles of Target.
Some of Target's discounts can even apply to Starbucks orders in-store. Keep reading to find out more about this!
Target Shopping Pyramid

/ \
/ \
/ \
/Starbucks\
—-——-
/ buying \
/ candles \
——————
/ forget what \
/ you came for \
————————

— Target (@Target) October 21, 2019
What Are Target Starbucks Hours?
Target Starbucks is generally open between 7 am-9 pm, seven days a week. Target Starbucks locations will never open earlier or close later than Target. Also, Starbucks is closed when Target is closed, like on Christmas Day. The Starbucks store locator provides up-to-date hours for every Target Starbucks.
If you are unsure about when your local Target Starbucks is open, the store locator found on the Starbucks website displays hours at each location.
You can also access hours information if you have the Starbucks app on your mobile phone.
Below is a table showing an example of Target Starbucks hours for a typical week. Note that your local shop may have slightly different hours.
| | |
| --- | --- |
| Days | Target Starbucks Hours |
| Monday | 7 am – 9 pm |
| Tuesday | 7 am – 9 pm |
| Wednesday | 7 am – 9 pm |
| Thursday | 7 am – 9 pm |
| Friday | 7 am – 9 pm |
| Saturday | 7 am – 9 pm |
| Sunday | 7 am – 9 pm |
Does Target Starbucks Give Free Refills?
Target Starbucks gives free refills of select drinks to Starbucks Rewards members. You can get a free refill of coffee or tea (hot or iced). Lemonade, Refreshers, and other specialty drinks are excluded. Present your Starbucks card or app when buying your first drink, then show it again to receive your free refill.
Free refills on coffee and tea are available at all Starbucks locations. You must present a Starbucks card or the app to prove your Rewards membership to get a free refill.
If you are not a Rewards member, you can still get a refill at a discounted price.
Refills are only available while you are within the Target store. Therefore, you cannot leave the store and come back to get a refill much later.
Otherwise, you could potentially have free coffee for life. Still, getting a free refill throughout your Target shopping run is an excellent deal.
Is Target Starbucks Menu Different?
The Target Starbucks menu is the same as other regular Starbucks locations. You can still order breakfast items, pastries, sandwiches, and other snack items. Each location may have slightly different offerings depending on what is in stock at that time. Items also vary based on the season and company-wide menu changes.
In addition to drinks and food items, Target Starbucks also sells merchandise. For example, you can purchase cold cups, tumblers, and water bottles.
You can even use these reusable containers to receive a $0.10 discount on any drink. Any Target discounts, such as the 5% discount for using a RedCard, apply to all menu items and merchandise.
Can You Use Starbucks Gift Cards at Target?
You can use Starbucks gift cards and Target gift cards at a Target Starbucks. If you are a Starbucks Rewards member, paying with your Starbucks gift card from the app will earn you double Stars. You can also get a discount with every purchase when paying with the Target RedCard, and Target Circle offers periodic sales.
You can save money at a Target Starbucks if you have a Target RedCard. This card is offered as a credit card or debit card.
When you pay with a RedCard, you save 5% on your Starbucks order. You can still scan your app to earn Stars on the purchase as well.
Target shoppers can also save on their Starbucks purchases if they are Target Circle members.
Target Circle is a loyalty program that occasionally offers discounts on Starbucks beverages and other products.
You will need to sign up for a free Target Circle account, and then you can browse the offers to see if there is a current offer on Starbucks items.
Do You Tip at Target Starbucks?
You cannot tip baristas at Target Starbucks because they are employees of Target, and Target employees are not allowed to accept tips. Even if you insist on tipping, the baristas have to give that money to Target to be dealt with. You can tip at regular, standalone Starbucks locations that are not inside a Target store.
Although Target Starbucks baristas cannot accept tips, they can still earn competitive pay and great benefits as the Target Food and Beverage team members.
If you want to show your appreciation for exceptional service, you could recognize them by speaking to their manager and sharing your great experience.
Is Starbucks the Same Price Everywhere?
Starbucks prices are different based on where you live. Factors like employee wages, real estate prices, and tax rates influence the prices of Starbucks menu items. Locations with a higher cost of living likely have higher prices to account for the increased expenses. Prices generally do not vary by more than a dollar.
Like many other stores, Starbucks' prices change by location to account for different costs of living.
For example, a Grande Caffe Latte costs $4.25 in Denver, CO, while the same drink costs $4.75 in New York, NY. These increased prices help pay for the higher wages and other costs in that area.
Starbucks Rewards members can earn Stars with each purchase. The number of Stars you earn depends on the order total and whether you pay with a Starbucks card (double Stars).
These Rewards can be redeemed for customizations and even free drinks, food, or merchandise. It costs the same number of Stars to redeem these offers, regardless of location.
Conclusion
Target Starbucks provides you with a delicious, handcrafted drink or snack to enjoy while shopping at Target. You can even get free refills on coffee or tea with a Starbucks Rewards account. Try using a Starbucks or Target gift card to enjoy a hot coffee on your next Target run!
If you're interested in finding out more tips about shopping at Target, check out the related articles below.
Related Articles:
Target Hours, Markdown Clearance Schedule, and Best Time to Shop
What Is a Super Target and How Is It Different Than a Regular Target?
Target Circle: How It Works and How to Use It In-Store and Online
Target Gift Cards: Where to Buy and How to Use Them