How to Order Kroger Groceries for Pickup (Previously Clicklist)
Kroger pickup (formerly known as Clicklist) is a convenient way to shop for all your grocery needs. You can save time while shopping online for Kroger pickup and take advantage of low prices and great deals.
Kroger pickup is free for orders over $35. For orders below $35, the pickup fee is $4.95. Kroger Pickup hours are typically from 7 AM – 9 PM, seven days a week. Kroger offers in-store prices for pickup orders. Digital and printed coupons can be used for Kroger pickup, and EBT payments are accepted.
In this article, we'll cover how Kroger pickup works, how to order using the Kroger app, whether you can use coupons for pickup orders, Kroger's tipping policy, and more!
We're so glad you enjoyed using our Pickup service for your grocery shopping. Please let us know which store location you visited so we can share your experience with the store leadership team. Hope to hear from you soon!

— Kroger (@kroger) September 7, 2021
How Does Kroger Pickup Work?
Kroger Pickup lets you order groceries online to be picked up at your local store. You can order through the Kroger app or the website, and a Kroger associate will prepare your items. Then, you simply call the phone number when you arrive at the pickup area, and an associate will bring your order and load it into your car.
When you shop at Kroger online using their app or the website, you will have pickup and delivery options to choose from. For pickup orders, you'll need to select your pickup day and a time slot.
Kroger pickup times are one-hour time slots and can be scheduled up to seven days in advance.
Head to your local store within your selected time slot and park in the designated pickup area. A Kroger associate will bring your order and load it into your car.
If you selected Same-day pickup, make sure to review your items, location, and pickup time, as changes cannot be made once an order is placed.
If you need to change your same-day pickup order, you will need to cancel and place it again, but you may risk losing your reserved time slot.
You can make changes to Next-day Pickup orders until midnight of the day before your scheduled pickup.
There may be times when your selected item becomes unavailable or out of stock. Upon checkout, you can choose whether you'd like your items to be substituted for a similar item.
If you're not happy with the substitutions made, you can reject them before your order is loaded into your car. You can also return them later to the store and get a full refund.
If you want someone else to pick up your Kroger order, they will need a valid ID. In addition, if you're purchasing alcohol or any age-restricted items, you will be asked to enter your birth date before checkout and provide a valid ID during pickup.
For additional assistance with your pickup order, you can call Kroger Customer Service at 1-800-KRO-GERS (1-800-576-4377)
How to Order Kroger Online
To order from Kroger online, you will need to use the Kroger app or the website. Once you log in to your account, you can shop for groceries. You will enter your delivery address and payment details and schedule a time for pickup or delivery.
Follow the step-by-step instructions below to place a pickup order using the Kroger App:
1. Download the app and make sure it is updated to the latest version. Then, sign in to your existing account or create a new one.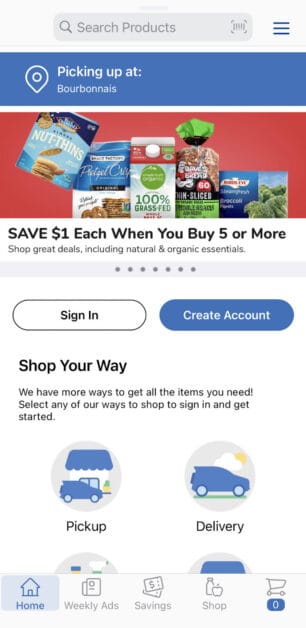 2. Choose your desired store location and select "Pickup" on the home page, in the Filter & Sort section, or right before checkout.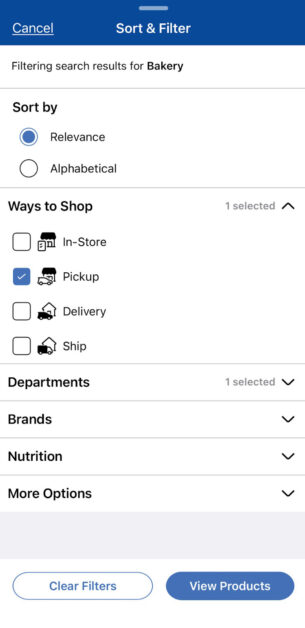 3. Browse for promos and special deals through "Weekly Ads" or clip coupons on the "Savings" page. You can also clip coupons that may appear during checkout.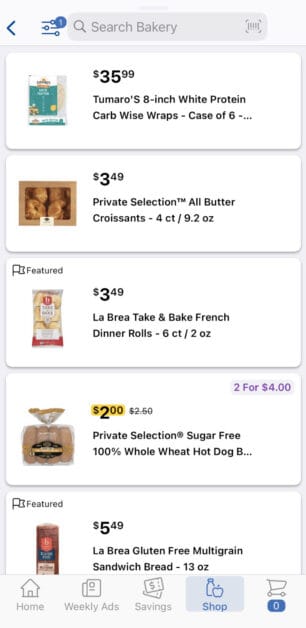 4. When you're ready for checkout, select your pickup day and a time slot. You can choose your time slot up to 7 days in advance. Next, add your contact information and payment details, add any special instructions for Kroger associates, and confirm if you'd like substitutions.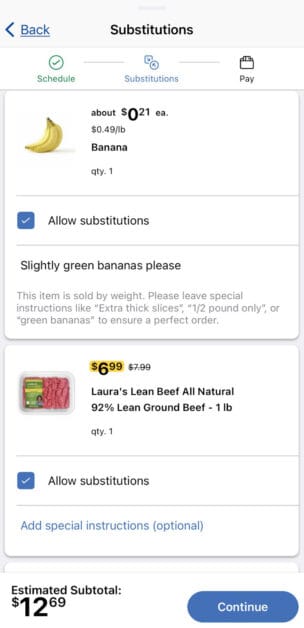 5. Follow the instructions on the screen, enter your payment information, and complete checkout.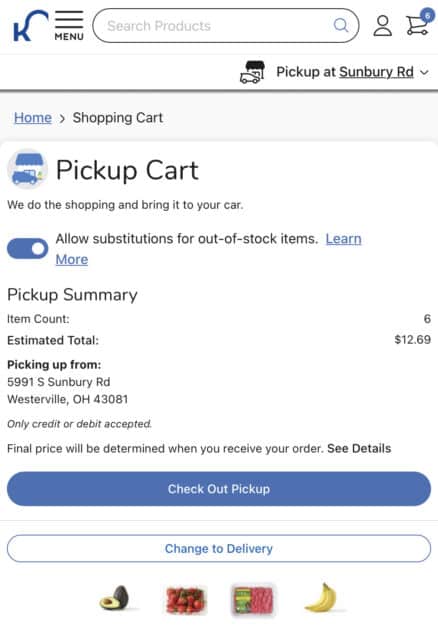 6. Arrive at your chosen store location within your selected time slot. You can head inside the store to pick up your order or have it brought to your vehicle by parking in the Pickup area and following the instructions on the sign. You can either call the number on the sign to notify employees or turn on your location services on the Kroger App.
7. If you have any paper coupons, you can show them to a Kroger associate, and they'll adjust your prices.
8. Open your trunk or car door, and a Kroger employee will load your items for you.
Ordering on Kroger.com is nearly the same as ordering on the Kroger App, with one exception.
Both the app and the website are designed the same way and are easy to use. The only difference between placing a pickup order on Kroger's website and the app is that the website does not allow customers to share their location during arrival at the store.
Instead, you will have to call the number at the designated parking area to notify Kroger employees that you have arrived at the pickup location.
How to Use Coupons With Kroger Pickup
Digital and printed coupons can be used for Kroger Pickup orders. You can find the digital coupons on Kroger's website or the app. To apply paper coupons to Kroger Pickup orders, bring them with you to the store during pickup, and a Kroger associate will scan them for you.
Digital coupons can be found and applied to your order on the Kroger App. If you have a Shopper's Card, you can easily link your card to the app to manage your coupons.
While exclusions may apply, you can use digital coupons up to 5 times for one order during special events.
Paper coupons are accepted for pickup orders for Kroger Co. family of stores pickup locations only.
While paper coupons cannot be applied during checkout on the Kroger app or Kroger.com, be sure to bring your paper coupons with you to the store during pickup.
From there, you can show a Kroger associate your paper coupons, and they will scan it, adjust your total, and give you your new receipt.
According to Kroger's coupon policy, only one coupon can be used per item, and coupons cannot be stacked.
Only one manufacturer coupon per item can be used for Kroger Pickups, and customers may use up to 3 of the same manufacturer coupons for one order.
For more details about Kroger's coupon policy for pickup orders, visit their coupon policy page.
Can You Use EBT for Kroger Pickup?
You can use your EBT card to pay for Kroger pickup orders. Kroger Pickup accepts EBT online on the app and the website. To use SNAP/EBT for Kroger pickup, enter the card information online and bring your card with you to the pickup location. WIC, cash, or checks cannot be used for Kroger Pickup orders.
SNAP EBT is an accepted form of payment at all Kroger locations and can be used for pickup orders.
To use your EBT card, select SNAP/EBT Card as your payment method and bring your EBT card with you to pickup, along with a backup credit/debit card for any remaining balance.
Kroger accepts only credit or debit cards for pickup orders. Cash, checks, and gift cards cannot be used as a form of payment for Kroger online orders.
Do You Tip Kroger Pickup?
For Kroger Pickup, Kroger has a no-tipping policy for employees. While the gesture is appreciated, Kroger associates are not permitted to accept tips from customers.
According to Kroger, Kroger employees and associates are not allowed to accept tips from customers for pickup orders due to their no-tipping policy.
As a result, a simple 'thank you' will be enough to show your appreciation for their hard work and help.
How to Cancel a Kroger Pickup Order
You can cancel your Kroger pickup order by visiting the "My Purchases" page on the website or the Kroger App. Simply choose the order you'd like to cancel and click "Cancel." You will then receive a refund in the original form of payment.
If you're late to pick up your order and the 1-hour window has passed, the order will be automatically canceled, and the items will be restocked in-store.
Kroger does not hold pickup orders; therefore, it is important to arrive at the store during your selected pickup time. Orders that are not picked up will not be charged.
Conclusion
Online grocery shopping with Kroger means you can shop for items with the same in-store deals and without foot traffic. With over 70,000 items available online, you can shop for all your necessary items and favorite groceries with just a few clicks. Once an associate loads your groceries into your car, you'll be on your way within minutes!
If you're interested in finding out more tips about shopping at Kroger, check out the related articles below.
Related Articles:
Kroger Weekly Ad, Digital Coupons and Cash Back Will Save You Money
Kroger Delivery: How to Get Groceries Delivered From Kroger
A Complete Guide to Buying and Using Kroger Gift Cards
A Complete Guide to Ordering from the Kroger Deli
Kroger Cakes: A Complete Guide to Ordering Cakes From Kroger Bakery