Kroger Delivery: How to Get Groceries Delivered From Kroger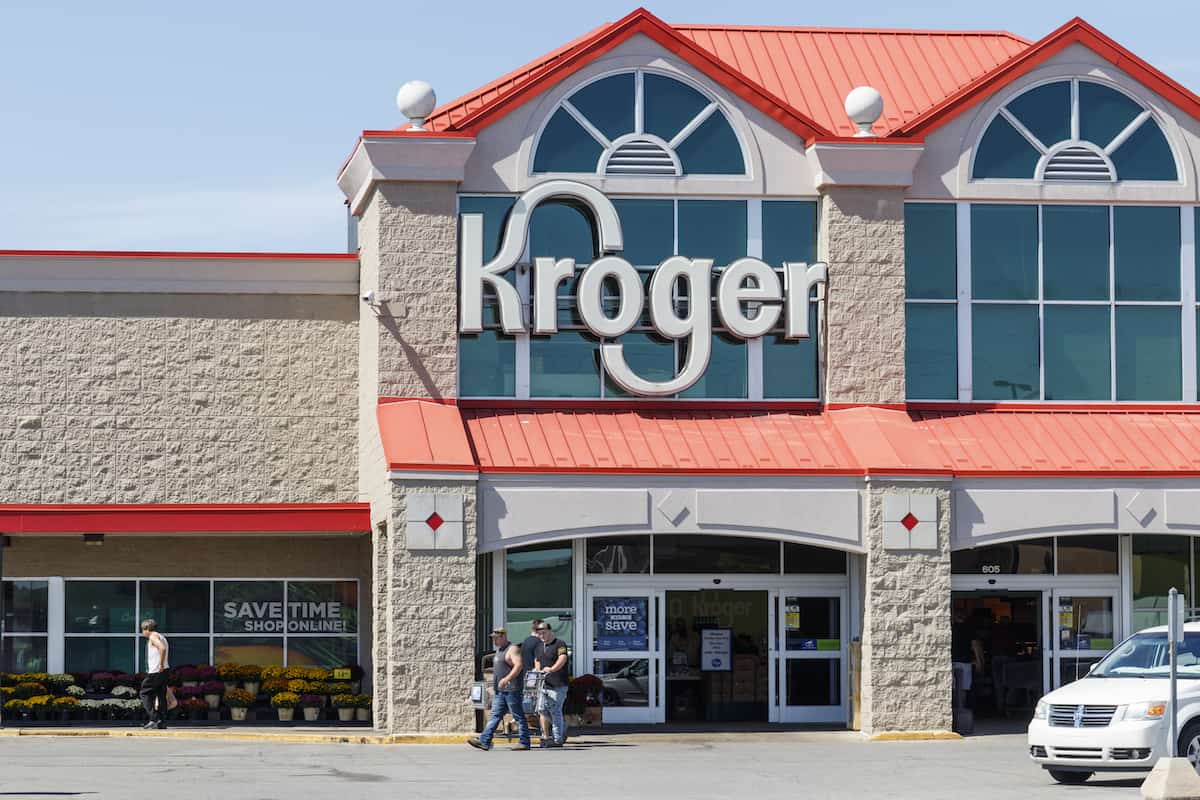 Prioritizing their customers' safety and convenience is first on the people at Kroger Company's minds. With Kroger delivery, food shopping is hassle-free and affordable for all. No-contact shopping is a great option for those who want to keep things simple, and from fresh meals to fine wines and cheese, everything is yours for ordering with Kroger delivery.
You can get groceries delivered from Kroger using their app or the website. Kroger delivery costs from $9.95 to $11.95, depending on your location. Kroger uses its own employees and third-party apps like Instacart and Shipt to deliver. Digital coupons can be used for Kroger delivery, and a 15-20% tip is recommended.
In this article, we'll show you how to order Kroger delivery, how the delivery service works, including usage of coupons, tipping your driver, and whether Kroger has partnered with Instacart.
How Does Kroger Delivery Work?
With Kroger delivery, you can shop for the items using the Kroger app or the website. You can get your groceries delivered the same day from Kroger or schedule ahead of time when you need them. If any questions arise regarding your order, you will be contacted via notifications.
If you're wondering who does your shopping for you, Kroger uses a third-party partner like Instacart in most cases. Otherwise, Kroger uses their own trained associates to make your shopping selections.
Keep in mind that Kroger delivery is free when you spend $35 or more. You can also cancel your order up until the time your shopper has started picking out the items.
You can go to "My Purchases" to raincheck the order this time and shop on another day that works better for you.
Just remember that you can't change the date and the time once an order is pending. You can, however, modify your selections before a shopper has started shopping for you.
This can be utilized, especially when you've placed an order for a future date.
How to Order Kroger Online for Delivery
To order Kroger online for delivery, you can use the Kroger app or shop online on their website. Customers can easily add items to their cart, apply digital coupons, select desired delivery time, and continue with payment options at checkout to complete the delivery order.
To order Kroger delivery using the Kroger app, follow the steps below:
1. First, sign in or create an account.
2. Be sure to select "delivery" and enter your zip code when you start shopping.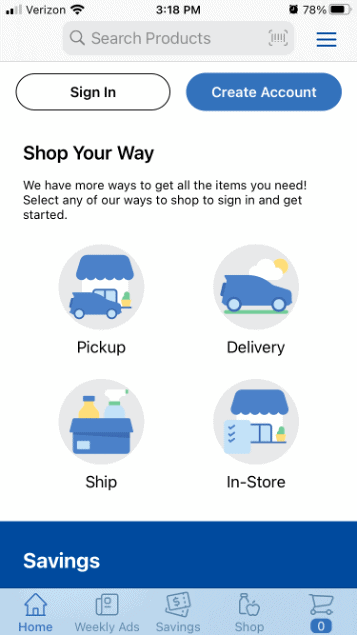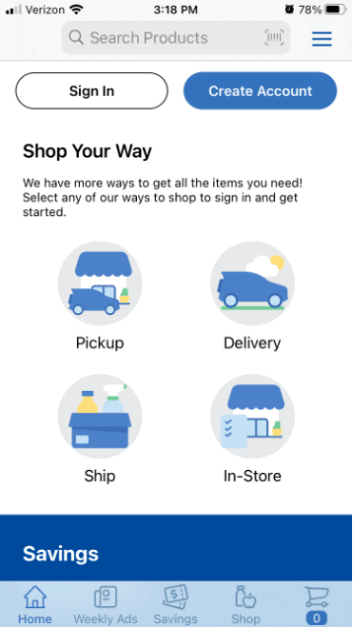 3. Start My Cart is a feature that brings up your frequently bought store items. Special instructions are available, such as how ripe you like your fruit. You can also use the search or browse selections.
4. Add items to your cart and continue shopping.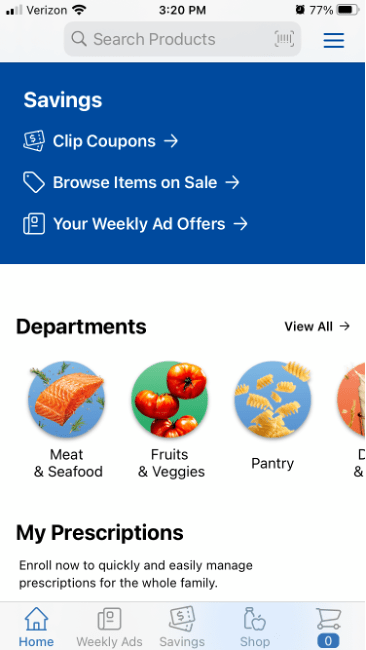 5. When you're done shopping, double-check your shopping cart. Select "checkout delivery items."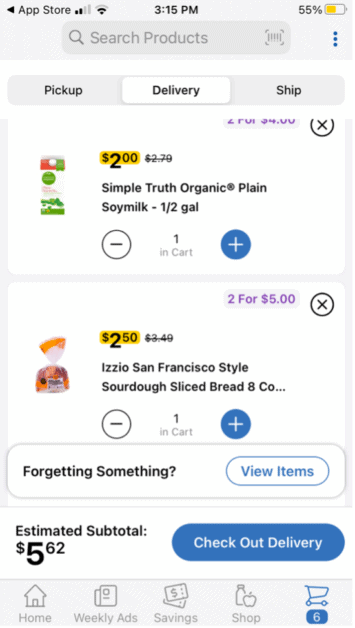 6. Pick a date and time that works best for you for your delivery. This is where you can also choose the "leave at my door" option.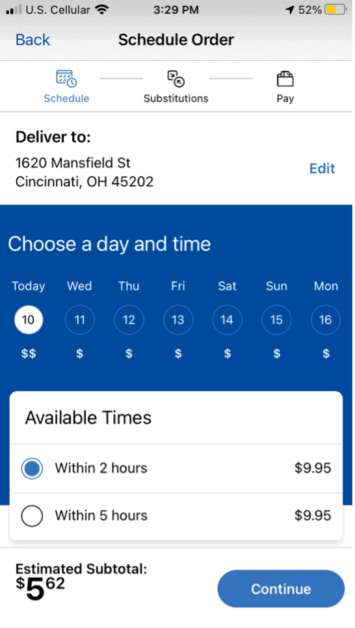 7. Select "continue to payment" and add your mobile number for any substitution updates. They'll also notify you when they're on their way to you.
8. Select your method of payment and hit "submit order."
9. They take care of the rest and will send you a confirmation by email or text.
10. If you've opted for a "no-contact" delivery, your driver will leave your grocery order right on your doorstep.
Keep in mind Kroger Delivery may not be available currently in your zip code, but they are always looking to expand their locations.
Good afternoon, Sam! Digital coupons are added to the general coupon pool regularly. When there is an ad break, digital coupons for that ad are added on the day of the break. Coupons are generally added starting early in the morning, then every 4 hours (12, 4, 8 AM & PM). Ty!

— Kroger (@kroger) June 1, 2021
Can You Use Coupons for Kroger Delivery?
You can use digital coupons when you place an order with Kroger delivery. Just clip the digital coupons you want to use and choose "Shop All Items" to apply to products that qualify. If your Kroger free delivery coupon is not working for any reason, your best bet is to contact their customer service at 1-800-KRO-GERS.
You can find Kroger digital coupons on their app or the website and apply them to your delivery order. However, keep in mind that Kroger does not accept paper coupons for delivery.
If you have any issues with using coupons, you can call their 1-800-KRO-GERS line to speak to a customer service rep or start a live chat using the app or the website.
For more specific digital coupon questions, be sure to browse their Coupons FAQs. There are other ways to save on your grocery bill, as well. Cash Back and Weekly Ads are other resources for you to take advantage of.
Does Kroger Use Instacart?
Kroger uses third-party services like Instacart and Shipt to deliver your grocery orders. They also use their own Kroger-trained employees to hand-pick and deliver your items in select markets. To find out if your zip code is included in a select market, go to their Delivery FAQ page.
If you want to know if Kroger will fulfill your order, look for "Fulfilled by Kroger Delivery" at the time of checkout. It will tell you how your order will be shopped and delivered when you're choosing your delivery time window.
If you prefer to stock up on lots of big, boxy bulk items for your pantry, you might want to consider the "Ship" choice.
Ship allows you grocery item dry-goods picks that aren't always carried in the stores, and if you're willing to wait 1-3 days, this could be the best way to go for you.
We do not currently accept EBT on Delivery orders. We do accept EBT on Pickup orders in some area. If you pick your preferred store, you'll see what payment options are available for you. Thank you.

— Kroger (@kroger) April 19, 2020
Do You Tip Kroger Grocery Delivery?
Yes, although tipping for Kroger delivery is optional, it's the right thing to do. If your delivery was through Instacart, they start the tipping at 5 %, but you should tip 15-20%, which is the service industry standard. The tips are kept separate from the delivery fee, and your delivery driver gets 100% of the tip.
If you want to be nice, please tip your driver, even if it's free delivery. It's a good way to pay it forward, and if you utilize the service often, you could get the same driver more than once.
If they feel valued and appreciated by you, they'll be more inclined to give you the best service possible. It makes good common sense, doesn't it?
Does Kroger Delivery Accept EBT?
Unfortunately, Kroger does not accept EBT for delivery. WIC, SNAP, cash, checks, and gift cards are also not accepted for delivery. Kroger only accepts credit or debit cards for delivery orders.
While Kroger doesn't accept EBT for delivery, they do accept SNAP/EBT payments for pickup orders.
With Kroger pickup, you can still enjoy the convenience of shopping online and scheduling your own pickup time. The staff will be happy to load your car for you, and pickup is free if your order is over $35 (after discounts and before tax).
When making your purchases online, choose "EBT at pickup" as the payment method. At pickup, swipe your EBT card, and you're all set.
Keep in mind that you are not able to use WIC, cash, or checks to complete your order at the time of pickup.
Other payment methods include a Kroger REWARDS Debit card, where you can earn points toward discounts on your Kroger purchases with no annual fee.
They also offer a Kroger REWARDS World Mastercard® that rewards you on groceries and money toward gas with fuel points.
We gave @TODAYshow an inside look at the future of grocery delivery, featuring robots, drones, and our friendly associates. Check it out! https://t.co/kzdlFaxQxc #Kroger #TODAYShow https://t.co/l4ZEaSdK8O

— Kroger (@kroger) July 22, 2021
Does Kroger Use Drones for Delivery?
Kroger started piloting drone deliveries in May of 2021. The grocery chain partnered with Drone Express to provide this new feature in Centerville, OH. Available in as little as 15 minutes, you don't even have to receive your drone delivery at a home address.
With the use of your smartphone, you can have your groceries delivered by an automated drone to your physical location, wherever you are!
Want a s'more's bundle of graham crackers, chocolate, and marshmallows? Then, have Kroger's drone deliver them to your picnic in the park. There is a five-pound delivery limit. For more info in their press release, read up here.
Conclusion
As you can see, Kroger has several options available to you when it comes to delivery. Whether you prefer receiving your groceries at your doorstep or having a custom drone delivery to impress your pals at your next outing, Kroger's got you covered.
If you're interested in finding out more tips about shopping at Kroger, check out the related articles below.
Related Articles:
Kroger Weekly Ad, Digital Coupons and Cash Back Will Save You Money
How to Order Kroger Groceries for Pickup (Previously Clicklist)
A Complete Guide to Buying and Using Kroger Gift Cards
Kroger Cakes: A Complete Guide to Ordering Cakes From Kroger Bakery
A Complete Guide to Ordering from the Kroger Deli