How to Order Groceries From Aldi for Curbside Pickup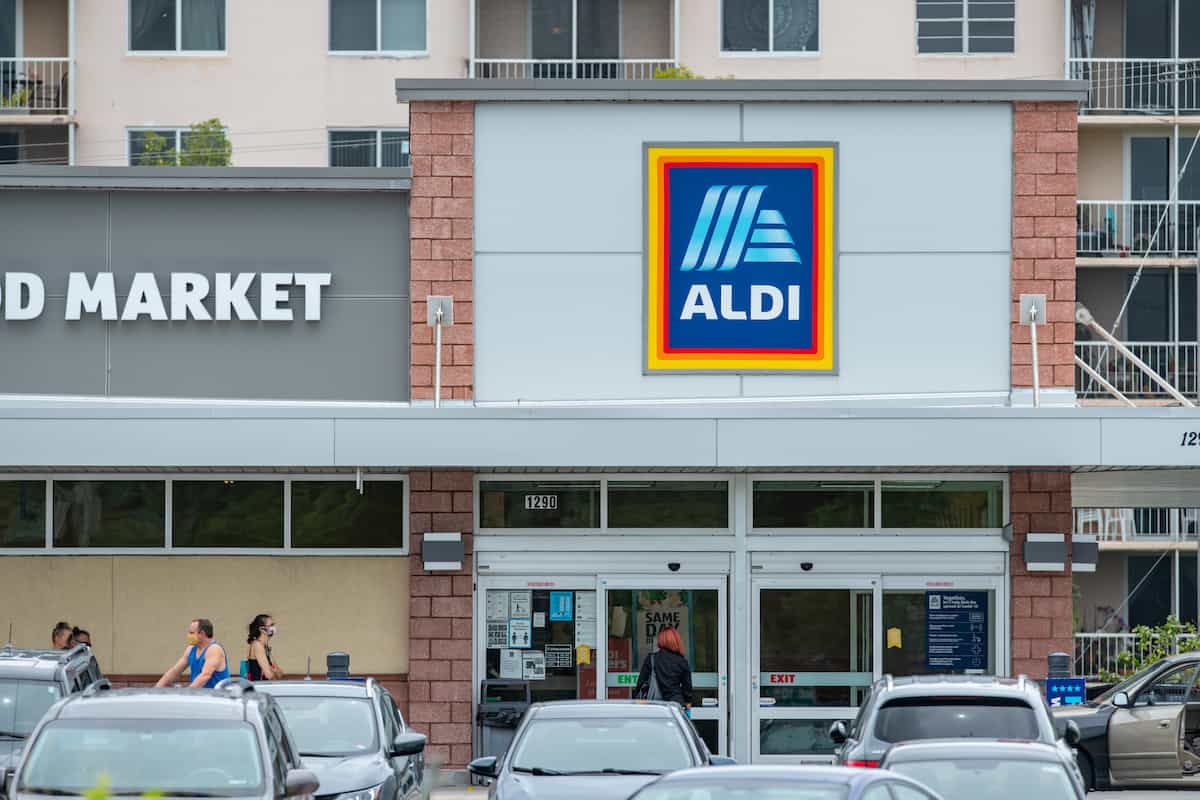 Aldi has slowly grown and expanded to include over 2,000 locations in 36 states. They are known for their discounted grocery and household items, plus their no-fluff approach to grocery shopping, including convenient options like the curbside pickup.
Aldi has partnered with Instacart to offer its curbside pickup service. You can place a pickup order on Aldi's website or through the Instacart app. Aldi pickup costs $1.99 for orders over $35 and $3.99 for orders under $35. While Aldi pickup costs more than shopping in-store, EBT cards are accepted for curbside orders.
In this article, we'll discuss Aldi's curbside pickup service, including how to place your first order, how much it costs, tipping etiquette, and how to use your EBT card.
ALDI provides pickup and delivery service via Instacart in select areas. You can learn more about our partnership with Instacart and track the availability of pickup at your store by clicking here! https://t.co/MhWWKbtuxS 🤗

— ALDI USA (@AldiUSA) April 2, 2020
How Does Aldi Curbside Pickup Work?
Aldi offers customers curbside pickup service to shop on Aldi's website or through the Instacart app. Online shoppers can add groceries to their cart, complete checkout, and schedule their pickup at a convenient time at their nearest participating Aldi store.
Participating Aldi stores provide a designated pickup area in the parking lot where curbside pickup customers can park upon arrival. The pickup location is easily marked with blue curbside spaces and signage.
Once the customer pulls into the designated pickup area, an associate will deliver their order to the car and load the groceries into the back of the vehicle.
Around 700 Aldi stores currently offer curbside pickup services. You can check to see if an Aldi store near you offers curbside pickup by visiting Aldi's website.
Enter your city, state, or zip code. Then check "curbside" to find out if your local Aldi store provides curbside service.
Aldi is continually adding stores to its list of participating curbside pickup locations. So, if your local Aldi store is not currently offering curbside pickup, then make sure to keep your eye out for future updates.
A small pickup fee will be applied to each order to offset the costs of curbside shopping, and if there is a need to purchase bags, those will be charged whether you are shopping in person or using the delivery or pickup options. Thank you!

— ALDI USA (@AldiUSA) January 28, 2020
How Much Does Aldi Pickup Cost?
Aldi Pickup costs $1.99 for orders over $35 before taxes and fees. Any orders under $35 are charged a $3.99 pickup fee. Instacart Express members receive free pickup at Aldi.
Aldi charges a small pickup fee to help cover the costs of hiring Instacart shoppers to shop and prepare curbside pickup orders.
To avoid being charged the pickup fee, Instacart users can sign up for Instacart Express. Express members receive free pickup and delivery services from all participating Instacart stores in your area.
Instacart offers an annual and monthly membership subscription. The annual subscription costs $99 per year. The monthly subscription costs $9.99 per month.
If you're interested in trying it out, you can sign up for Instacart Express on Instacart's website.
How to Order from Aldi Online
Aldi customers can shop and schedule their curbside pickup order through the Aldi website or the Instacart app. Customers can add the items to their cart, checkout online, and then show up at their designated Aldi store during their scheduled pickup window.
Let's go into more detail on how you can place an Aldi Curbside Pickup order online:
Visit Aldi's Curbside Pickup website.
Sign in or create an Aldi account.
At the top blue banner, change to "pick up."
Enter your zip code to find a nearby Aldi store that offers curbside pickup service.
Add items to your cart.
Checkout.
Click "Place Order."
Go to your local Aldi store and park in the designated pickup area. The designated pickup area will be marked and visible when you enter Aldi's parking lot. Look for the blue spaces and signage indicating that the area is the "Aldi Curbside Pickup Area."
Wait for an associate to bring out your grocery order and load it into your car for you.
You can purchase anything using curbside pickup that you would normally find at your local Aldi store. Everything from groceries, cleaning supplies, pet supplies, and more.
Make sure to check out the weekly "Aldi Savers" and "Aldi Finds" for discounted items and ways to save on your pickup order.
During checkout, you will schedule your pickup window and verify your store location. Accepted payment methods for Aldi pickup orders include credit/debit cards, EBT cards, Google Pay, and Apple Pay.
Enter the promo code "ALDIGROCERY2021" at checkout for free pickup on your first curbside pickup order over $35.
You can also place your Aldi Curbside Pickup order using the Instacart app. Once you have downloaded the app, enter your zip code to check if Instacart services are offered in your area.
Check out our article to find detailed instructions on how to place your order via the Instacart app.
Is Aldi Pickup More Expensive?
Yes, Aldi charges a pickup fee for online orders to help offset the costs of hiring Instacart shoppers for curbside pickup orders. You will also find that some items are more expensive than in-store prices.
Aldi charges a $3.99 pickup fee for all orders under $35 and a $1.99 pickup fee for all orders over $35. The pickup fee is determined by your subtotal, meaning your total before taxes and fees are added.
During checkout, you will receive an estimated total. This estimated total may be different than the final amount you are charged on your credit card later.
The final amount may change due to the weight of the products, refunds, or replacements.
Do You Need to Bring Bags for Aldi Pickup?
You do not need to bring your own bags for Aldi Curbside Pickup orders. You will be charged the same "bag fee" that you receive when using paper or plastic bags in-store.
The typical "bag fee" is around 7 cents per paper bag and 10 cents per plastic bag. These fees may vary slightly depending on your Aldi store and the area you live in.
All Aldi Curbside Pickup orders come bagged in Aldi paper bags. Some Instacart shoppers may message you and ask if you prefer paper or plastic or to receive your order un-bagged.
You can even leave a note for your Instacart shopper in the app if you have a strong preference.
Hello! Instacart does accept EBT/Snap as payment at certain Food Lion, Publix, Aldi, PriceChopper, and SaveMart stores! Click here to check stores in your local area: https://t.co/tIpeK5WMtD ~ Crissy

— Instacart (@Instacart) April 29, 2021
Can You Use EBT with Aldi Pickup?
You can use your EBT cards for Aldi Curbside Pickup Orders. However, you cannot use your EBT card to pay for non-approved EBT items or pickup and service fees. A second form of payment will need to be added to your account to cover these additional fees.
Aldi was the first grocery retailer to accept EBT for pickup and delivery orders through Instacart as part of the SNAP Online Purchasing Pilot Program.
Over 90% of Aldi stores are part of the SNAP Online Purchasing Pilot Program, and more stores continue to be added to the list.
You can check to ensure your state's Aldi stores accept EBT by visiting the USDA's website.
You will need to add your EBT card to your Instacart account to apply EBT/SNAP benefits to Aldi pickup orders. Here is how:
Open the Instacart app
Click the three horizontal lines at the top left corner of your screen.
Click "Your Account Settings."
Click "Payment Methods."
Click "Add EBT/SNAP Card."
Enter your EBT card information.
Also, enter another form of payment to cover non-approved EBT items and miscellaneous fees.
Once you have added your EBT card to your Instacart account, you have the option to choose how much of your benefits you would like to apply to your order at checkout.
When placing an online order from the Aldi website, you will also find where you can add an EBT card to your payment methods on the account settings page.
Do You Tip Aldi Pickup?
Although Aldi's website states their employees do not accept tips, you should tip your Instacart shopper. The Instacart app does not give you the option to tip for pickup orders. So you would need to give a cash tip to your shopper at pickup, or some shoppers will give you their Venmo account.
A large portion of what your shopper takes home is based on tips since they are typically paid the minimum wage. Instacart suggests a default 5% tip for shoppers, but a 15-20% tip should be offered, especially if you received good service.  
Conclusion
Now that we covered much information about Aldi's curbside pickup service, you should feel confident placing your first online order!
We also discussed what to do and what to expect after placing your order – look for blue designated zones, estimated total vs. final total, and tipping your shopper.
Make sure to purchase an Instacart Express membership if you are a regular Instacart user. And don't forget to check out Aldi's savings while ordering on their website to save money using the curbside pickup.
If you're interested to learn more about Aldi shopping tips, check out the articles below.
Related Articles:
What Are Aldi's Hours and the Best Day to Shop at Aldi?
Aldi Delivery: How It Works and How to Order Using Instacart
Does Aldi Take EBT? (Yes, Including Online Orders)
Are Aldi Groceries High Quality? (What to Buy and Avoid at Aldi)