18 Things to Know Before Buying Wine at Costco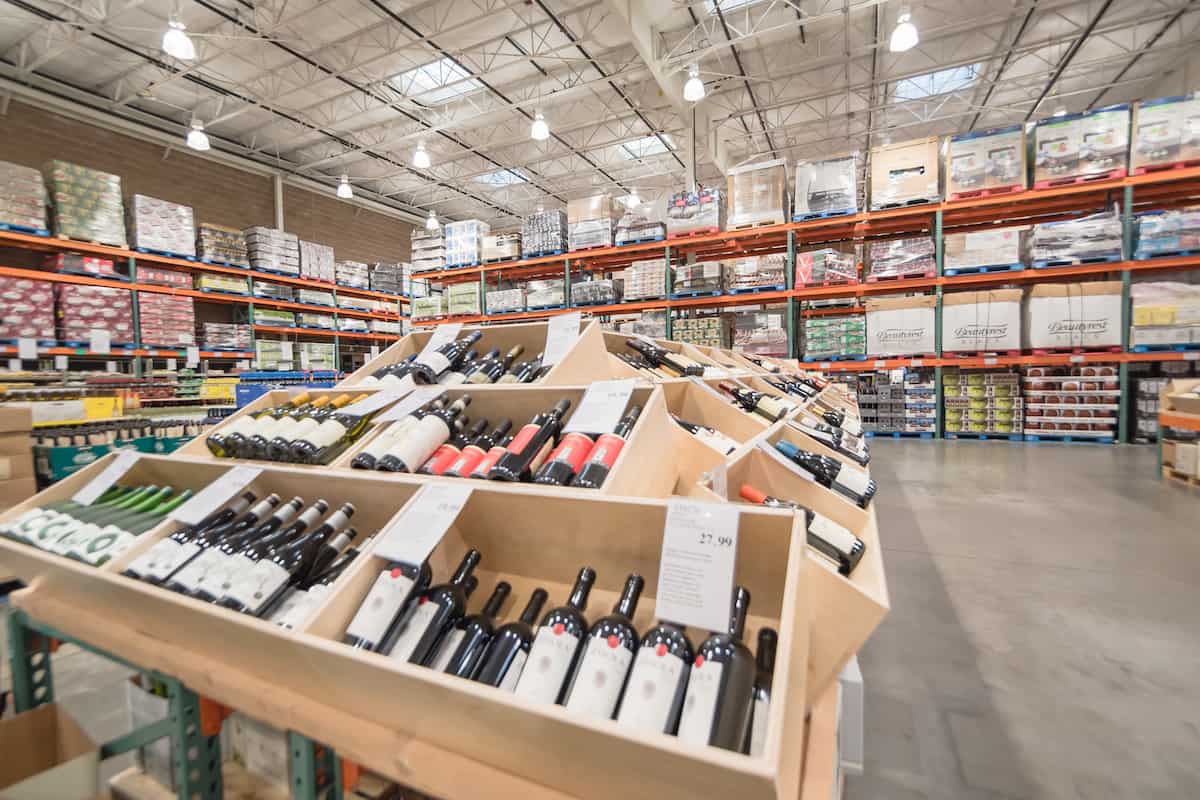 As one of the largest retailers in the United States, Costco offers a wide selection of high-quality wine at affordable prices. While Costco carries popular brand-name wines, like 19 Crimes and Caymus, they also have their own label, Kirkland Signature.
Costco wine comes from many different parts of the world, including California, France, Spain, Argentina, Australia, and Portugal.
In this article, we will cover what you should know before purchasing brand-name or Kirkland Signature wines at your local Costco!
It's here, it's early, and it's awesome as always…the 2021 Costco Wine Advent-ure Calendar. Box includes twenty four 375ml (1/2 regular size) bottles from around the world. Don't pass this one up, they move fast and it's tons of fun – https://t.co/r9dxtnUw4s

— Costco Wine (@CostcoWine) September 9, 2021
1. The Costco Wine Advent Calendar Comes Out Every Year in October
The Costco wine advent calendar is a great way to kick off the holiday season with your friends and family, and it comes out well before Christmas. Costco begins selling their wine advent calendars in October, and they sell out quickly.
With the Costco wine advent calendar, you get 24 half-sized wine bottles from all over the world, including France, Italy, Bulgaria, Hungary, South Africa, Spain, Moldova, Portugal, and Greece.
The Costco wine advent calendar costs about $99.99 in-store, which breaks down to $4 per bottle.
You can reveal each bottle as a way to countdown to Christmas or use the bottles all at once when you have guests or family in town.
You can also buy the Costco Wine Advent Calendar online; however, it's slightly more expensive at $119.99, and they are currently shipping out to California addresses only.
A Kirkland wine favorite is back in stores with the latest 2019 vintage. We enjoyed it as much as ever and the price stayed the same at $18.99 – 2019 Kirkland Signature Rutherford Cabernet Sauvignon https://t.co/lNNdMACZMu #costcowine

— Costco Wine (@CostcoWine) December 4, 2021
2. The Most Popular Kirkland Wines Sold at Costco Are Cabernet Sauvignon and Chardonnay
Costco's own brand of wine, Kirkland Signature, comes at affordable prices for Costco members and even non-Costco members.
In some clubs, like in New York, Costco cannot sell wine within their clubs, but it can be sold in a liquor store adjacent to the club.
Kirkland wine comes in various forms, including cabernet sauvignon, chardonnay, pinot grigio, prosecco, white zinfandel, and so much more.
In fact, Kirkland cabernet sauvignon is one of their most popular wines! Costco also sells both bottles and boxes of their Kirkland Signature wine.
According to a review done by The Seattle Times, most Kirkland wines cost between $5.99 to $7.99, but some are even $20 to $25, which is still more affordable than other popular brands.
Today Costco made all my box wine dreams come true…I may have shed a tear upon this discovery 😂😍 pic.twitter.com/Qyonelx68g

— Amy is rightfully pissed off now ☭ (@Amysaysfuckalot) October 22, 2020
3. A Costco Wine Box Can Fit Around Four Bottles of Wine
Costco recently shifted to boxed wine to appeal to an entirely new wine fanbase. Some people want the Costco wine box to drink wine regularly, rather than just opening a bottle for a special occasion.
Costco wine boxes come in 3-liter boxes and can fit around four bottles of wine. Their Kirkland Signature brand and other brands of wine boxes can be bought at an affordable range of $15-$20.
A Costco wine box can last up to 30 days after opening. Also, Costco uses bag-in-box packaging, which aligns with its Sustainability Commitment.
Costco and its Kirkland Signature brand are dedicated to packaging their products safer and with quality in mind while complying with state regulations and reducing materials.
The Costco wine box requires less packaging to ship and store in warehouses and decreases the number of returns due to breakage in transit.
4. WX Brands Was the Original Maker of Kirkland Wine
There are a few names behind various Costco wines, but the original maker of Kirkland wine for Costco is WX Brands. WX Brands was founded in 1999 and now has nine winemakers in California, Europe, and New Zealand.
They also have a bottling facility in Sonoma County, California, but it provides wine to wineries in all corners of the world.
Today, Kirkland wine is made by a variety of different brands, some of them being well-known winemakers and importers.
For example, Kirkland Signature made in California, is linked to E&J Gallo Winery, and their wines made in Italy are linked to Ethica Wines.
Some of Kirkland's French red wines are linked with Misa Imports, while other port, sherry, and cooking and dessert wines are connected to Kobrand's Joto Sake.
Another big brand connected to a Kirkland Signature white wine is Francis Ford Coppola's winery, and a California red wine is connected to the Grove Street Winery.
Costco has several cabernet sauvignon varieties, and it has become one of Kirkland Signature's most popular kinds of wine.
A few of Costco's cabernet sauvignon wines come from the following places:
Columbia Valley, Washington, made by Brandon Rice, a winemaker who works with Jerry Milbrandt at Milbrandt Vineyards
Alexander Valley, Sonoma County, made by Allison Crowe, who also makes several Kirkland Signature pinot noir as well
Napa County, California, manufactured and bottled by DC Flynt MW Selections
Oakville, Napa Valley, California manufactured and bottled by DC Flynt MW Selections
Rutherford, Napa Valley, California, made by Glenn Hugo
And this is only just some of Kirkland Signature's cabernet sauvignons!
As mentioned, the Kirkland Signature wine box is made with sustainability in mind to cut down on greenhouse gases and reduce packaging for shipping and merchandising products.
Costco wine boxes are made with the help of Scholle IPN, a company that specializes in creating bag-in-box products.
5. In Some States, You Do Not Need a Membership to Buy Costco Wine
You do not need a membership to buy Costco wine in select states. Costco non-members can purchase wine and liquor only at warehouses where states require the stores to sell to non-members.
Some local laws do not allow Costco, or any other membership-based club, to only sell alcohol products to members.
These laws vary from state to state. However, it's been widely reported that non-members can buy Costco wine in the following states:
Arizona
California
Colorado
Connecticut
Delaware
Hawaii
Indiana
Kentucky
Massachusetts
Michigan
Minnesota
New York
Texas
Vermont
In some states, like New York, Costco warehouses may have an independent liquor store operating inside or next to a Costco warehouse that sells wine.
If you are in any of the above states and aren't sure your local Costco warehouse sells wine, call ahead to double-check.
6. A Variety of Costco Wine Gift Baskets and Assortments Can Be Purchased Online
You can only order wine gift sets and other assortments from Costco online at this time. Some of the wine brands you can order online at Costco include:
Wine Country
19 Crimes
Caymus
Chalk Hills
Chateau Bel Air
Chateau St. John
Dom Perignon
Grand Vins de Bordeaux
Kirkland Signature
Marques de Toledo
Tour de Segur
Vieille France
7. You Can Have Costco Wine Delivered Using Instacart
You can order Costco wine for delivery on the Instacart website or the app and get same-day delivery in certain areas.
To order Costco wine with Instacart, simply sign in or create an account on their app or website and choose which wines you'd like delivered to your house.
Costco same-day delivery with Instacart has a fee of $3.99 for orders over $35. But other fees may apply for orders that have one-hour delivery and deliveries under $35.
There are also service fees, and these fees vary by location and the type of items in your order.
There may also be a separate service fee for orders containing wine from Costco.
You can schedule the delivery of your Costco wine order using the Instacart app, and the typical delivery windows are between 9 am and midnight.
Available hours for delivery will be shown when you create your order, and the hours may vary depending on your local Costco and Instacart shoppers' availability.
Pretty impressive for Costco. The side bins had all sorts of delightful wines as well pic.twitter.com/ViBUcj774J

— Cynthia Hayes (@cynthia_hayes) December 2, 2021
8. Costco Sells Over 40 Different Brands of Wine at Their Warehouses
Costco has various wines at all the warehouses across the country. From rose to champaign to even pinot noir, Costco sells all your favorite wine brands, including their own brand, Kirkland Signature.
Here are just some of the wine brands you can purchase at your local Costco warehouse:
Gruet Brut
Roederer Estate Brut
Casa Farive Valdobbiadene
Kirkland Signature Champagne
Kirkland Brut Rose
Freixenet
Fanti Poggio Torto
Kirkland Ribera del Duero Gran Reserva
Pendulum
Ben Marco Malbec
Vina Pomal Reserva
Salcheto Vino Nobile
Kirkland Sonoma County Old Vine Zinfandel
DAOU Vineyards
Villa Antinori
Louis Jadot Bourgogne
Seaside Cellars
Kirkland Cote du Rhone de Villages
La Crema Sonoma Coast
Zolo Unoaked
Artesa Los Carneros
Patient Cottat Sancerre Anciennes Vignes
Kim Crawford Marlborough
Chateau Petit Roubie Picpoul de Pinet
Cakebread Cellars
Miraval Rose Cotes de Provence
Château d'Esclans Whispering Angel
Commanderie de la Bargemone Coteaux d'Aix En Provence Rose
Kirkland Cotes de Provence Rose
Ame du Vin Cotes du Provence Roe
Wine Country
19 Crimes
Caymus
Chalk Hills
Chateau Bel Air
Chateau St. John
Dom Perignon
Grand Vins de Bordeaux
Kirkland Signature
Marques de Toledo
Tour de Segur
Vieille France
Keep in mind that these are only just some of the most popular types and brands of wine sold at Costco.
In addition, all locations may not carry the same Costco wine brands as others, so check with your local warehouse to see what brands of wine they have that fit your taste!
9. Costco Wine Prices Are Typically 20% Lower Than Other Wine and Liquor Stores
Costco wine prices are typically 10-20% less than other wine and liquor stores. Since Costco buys huge amounts of wine, its buying power is unmatched. In addition, their markup on wine is around 10%, and these savings are reflected in the consumer price.
Typically, wine and liquor stores mark up the prices for your favorite brands by as much as 50%, which is a huge difference.
It's no secret that Costco wine prices come in a more affordable range.
Sometimes, when you are scouring between the Costco wine aisles, you may notice that some prices are marked down even further if the prices end with an odd set of numbers, like $0.59 instead of $0.99.
However, Costco also carries some expensive wines for those looking to buy a bottle for a special occasion.
Some of the more expensive wine brands at Costco include:
Chateau de Beaucastel Châteauneuf-du-Pape
Joseph Phelps Insignia
Opus One
Chateau La Tour de Segur
According to Insider, Costco wines from Spain are pricier than others. Also, some types of Kirkland Signature wines are more expensive than others.
At times, Costco includes different vintages in the same area for the same wine and at the same price for their more expensive wines.
So, if you dig around, you can find the same wine with a better vintage for the exact same price.
10. Wine Gift Baskets at Costco Include Wine and Other Snacks
If you are looking for the perfect gift for the wine lover in your life, look no further than Costco. Costco wine gift baskets can be purchased online and have several different wine varieties, including champagne, prosecco, pinot noir, cabernet sauvignon, and more.
In addition, if you can't decide which wine varietal to get, you can even get an assorted variety of different kinds of wine!
Costco wine gift baskets can hold up to five bottles of wine, and some baskets even include fruits, cheeses, chocolates, and crackers that pair well with the wines featured in the basket.
Most Costco wine gift baskets range from $59.99 to $229.99 and can be purchased in-store and online. However, Costco wine gift baskets ordered online can only be delivered to California addresses at this time.
11. Costco Has a Variety of Sweet Red Wines to Choose From
If you are looking for a red wine that isn't as bold or tart as your traditional red, there are a variety of Costco wine brands that have sweet flavors. Sweet red wines are a popular choice among Costco club members and non-members.
Some of the best sweet red wines you can buy at Costco are:
Bodega Garzon Tannat Reserve
Kirkland Signature Sonoma County Old Vine Zinfandel
Benziger Sonoma Cabernet Sauvignon
Kirkland Signature Cotes du Rhone Villages
12. Costco Is One of the Largest Wine Retailers in the Country
Costco is one of the largest wine retailers in the country, carrying more than 40 different brands and changing those brands regularly.
Some of the best wines to buy at Costco include:
Covalli Barolo
Jim Barry Lodge Hill Shiraz
Pagodes de Cos St Estephe Bordeaux
Ridge Three Valleys Sonoma Red Wine
Les Allies Chateauneuf-du-Pape
Kirkland Signature Oakville Cabernet Sauvignon
Joseph Phelps Freestone Pinot Noir Sonoma
Casa de Santar Reserva Red Blend Portugal
Kirkland Signature Barolo
Kirkland Signature Suscol Vineyard Napa Valley Cabernet Sauvignon
Veuve Clicquot Brut Champagne Yellow Label
Penfolds Bin 28 Kalimna Shiraz
Kirkland Signature Stags Leap District Cabernet Sauvignon
La Rioja Alta Gran Reserva 904
Di Arie Break Away Zinfandel
13. You Can Get Costco Wine Kits in Canada and Make Your Own Wine at Home
A Costco rep told us that wine kits are being discontinued in most warehouses in the U.S; however, they are available in Canada for you to buy and make your own wine at home. Costco has partnered with several different brands to make these kits possible.
Brands that are involved with Costco wine kits are:
Cellar Master
Argentia Ridge
Wineology
Fast Ferment
With Costco wine kits, you can make pinot grigio, cabernet sauvignon, merlot, chardonnay, and pinot noir wines.
All their kits include the required ingredients and two large bags of grape concentrate juice.
They also come with corks, caps, oak chips, and labels to bottle your wine. The kits include easy-to-follow instructions as well.
In Canada, the price range for Costco wine kits is between $99.99 to $104.99.
Costco has sales on its top-of-the-line wine kits from time to time. If you are looking for a deal on one of Costco's wine kits, they typically go on sale every three months, and the sale lasts for about two weeks.
14. Some Costco Warehouses May Have Wine Tasting
Similar to how you can taste new foods or drinks at Costco, there are also wine tastings. Some Costco warehouses may have wine tastings featuring one of their Kirkland Signature wines or other popular brands.
If you want to know if your local Costco has any wine tastings, contact your warehouse to learn more!
15. Costco's Return Policy on Wine Depends on Your State
Because of certain state laws and regulations, your local Costco may not accept returns on wine purchases.
The best way to find out if your local warehouse allows you to return Costco wine is to contact them directly.
The cheapest vegan red wine at my Costco pic.twitter.com/0dnr9owHeL

— KlaireeBerry Ⓥ (@klaireeberry) February 12, 2019
16. Costco Sells Vegan Wine
For anyone vegan, Costco does have vegan wine available for purchase. Vegan-friendly wines avoid the use of animal by-products.
For most wines, you can find if it's vegan-friendly through the back label, but for other wines, you may have to contact the winery directly to find out.
In addition, some vintages of the same wine may not be vegan-friendly.
Here is a list of Costco vegan wines to check out:
Marlborough Sauvignon Blanc
Menage a Trios
Kirkland Pinot Grigio
Bodegas Mustiguillo Mestizaje Bobal
Bodegas Ego Goru 18M
Confidencial Reserva Tinto
Juan Gil Monastrell Silver Label
Kirkland Signature Old Vine Zinfandel
Here's a great Costco wine find, an organically grown Sicilian Pinot Grigio for only $6.89 – 2020 La Mura Pinot Grigio Terre Siciliane IGT https://t.co/Qop2dcJ8nS #costcowine

— Costco Wine (@CostcoWine) August 1, 2021
17. You Can Buy Organic Wine at Costco, Free of Sulfite
Costco has a variety of organic wines for you to choose from. For a wine to be organic, it must not have any added sulfites, which are synthetic food additives.
Here is a list of Costco organic wines you can purchase:
La Mura Pinot Grigio
Bodega Garzon Tannat Reserve
Kirkland Signature Cotes du Rhone Villages
Eroica Riesling
Kirkland Ti Point Marlborough Sauvignon Blanc
Woodbridge by Robert Mondavi Cabernet Sauvignon
Robert Mondavi Private Selection Chardonnay
Terra d'Oro Zinfandel
Menage a Trois California Red
18. Depending on Your State Laws, You Can Buy Wine at Costco on Sundays
Some good news, you can buy Costco wine and other liquors on Sundays–of course, depending on your state laws. Certain states and state counties have laws that do not allow retailers to sell alcohol on Sundays.
States that allow certain counties and localities to ban or limit wine and liquor sales are:
Alabama
Alaska
Arkansas
California
Colorado
Connecticut
Delaware
Florida
Georgia
Idaho
Kansas
Kentucky
Louisiana
Maine
Massachusetts
Michigan
Minnesota
Mississippi
New Hampshire
New Jersey
New Mexico
New York
North Carolina
Ohio
Rhode Island
South Dakota
Tennessee
Texas
Vermont
Virginia
Washington
West Virginia
Wisconsin
If you aren't sure your state or county allows the purchase of wine on Sundays, contact your local authorities or Costco warehouse to confirm.
Conclusion
It's not a surprise that Costco is one of the largest wine retailers in the US. Wine at Costco is affordable, and their Kirkland Signature private label is just as good as many brand-name wines you could pick up at a liquor store.
Whether you have a special occasion or just craving a night in with a glass of wine, Costco has you covered. Make sure to try Costco's Kirkland Signature wine and look out for the annual Costco wine advent calendar.
If you're interested in finding out more tips about shopping at Costco, check out the related articles below.
Related Articles:
14 Things to Know When Buying Liquor at Costco
Your Guide to Buying Costco Gift Baskets
Costco Gift Cards: Where to Buy and How to Use Them
Everything You Need to Know About Costco's Hours
How to Contact Costco Customer Service Plus Costco's Return Policy