Everything You Need to Know About Costco's Hours
With more than 105 million members and 800 warehouses worldwide, Costco is one of the most popular and well-loved wholesale clubs. Featuring their own Kirkland Signature brand and offering from eye exams to tire sales and everything in between, it's no surprise that many people are rushing to their nearest Costco location.
Costco warehouses are open Monday through Friday from 10 am– 8:30 pm, Saturdays from 9:30 am– 6 pm, and Sundays from 10 am- 6 pm. There are seven holidays that Costco warehouses close for, including New Year's Day, Easter Sunday, Memorial Day, Independence Day, Labor Day, Thanksgiving Day, and Christmas Day.
In this article, we'll break down everything you need to know about Costco hours and the best time to make your next Costco trip!
What Are Costco's Hours?
Costco Warehouses are open Monday-Friday from 10 am- 8:30 pm, Saturdays 9:30 am– 6 pm, and Sundays from 10 am– 6 pm. Warehouses are not open on New Year's Day, Easter Sunday, Memorial Day, July 4th, Labor Day, Thanksgiving, or Christmas Day. Some slight variations of these hours may occur at some warehouses.
| | |
| --- | --- |
| Days | Costco Hours |
| Monday | 10 am– 8:30 pm |
| Tuesday | 10 am– 8:30 pm |
| Wednesday | 10 am– 8:30 pm |
| Thursday | 10 am– 8:30 pm |
| Friday | 10 am– 8:30 pm |
| Saturday | 9:30 am– 6 pm |
| Sunday | 10 am– 6 pm |
Costco Warehouses across the country follow a basic set of hours of operation. However, these hours can vary slightly depending on your local Costco location.
To verify the Costco hours for your local warehouse, you can use the Warehouse Locator to check for the most up-to-date information about store hours.
Costco also has an app that allows you to view warehouse hours, gas station hours and gas prices, pharmacy hours, tire service center hours, and more.
Members can store a digital version of their membership card on the app for an easier shopping experience.
The app uses your location to provide you with all the Costco warehouses in your area. For iOS devices, you can download the Costco app here, and Android users can download the app here.
Costco closes its warehouses in the United States for the following seven holidays:
New Year's Day
Easter Sunday
Memorial Day
Independence Day
Labor Day
Thanksgiving Day
Christmas Day
Costco pharmacies, gas stations, and food courts have their own listed hours of operation that can be viewed on the Warehouse Locator and the Costco App.
How cool am I?

Well, I'm standing outside at Costco 15 minutes before it opens on a Sunday.

So, that's pretty cool. 😬 pic.twitter.com/uvZOF0xhsm

— David Wade (@davidwade) June 27, 2021
What Are Costco's Hours on Sunday?
Costco Warehouses and Tire Service Centers are open on Sundays from 10 am– 6 pm. Costco Gas Stations hours on Sundays are 7 am– 7 pm. Costco Pharmacies are closed on Sundays. Some warehouses offer slight variations to their Sunday business hours which can be confirmed on the Costco App or by visiting Costco's website.
The weekends are one of the most popular times for people to do most of their shopping, and Costco shopping is no different.
Sundays are one of the most popular days and see the most traffic. So if you are looking to avoid large crowds, Sundays may not be the ideal time for you to head to your local Costco.
Sundays at Costco are notorious for overcrowding, lack of parking, and long wait times in checkout lines and gas stations.
People line up outside Costco even before the warehouse opens at 10 am. Arriving early can't offset the amount of business Costco sees during its Sunday hours.
Thanks to the free samples of special and sales items, Saturdays and Sundays were even more popular. In March 2020, Costco suspended its free food sampling program due to the COVID-19 pandemic.
However, in June of 2021, Costco announced the return of its food sampling program with its reintroduction in 170 U.S locations to start.
What Are Costco's Holiday Hours?
All Costco locations are closed on New Year's Day, Easter Sunday, Memorial Day, Independence Day, Labor Day, Thanksgiving Day, and Christmas Day. Costco also has limited holiday hours on New Year's Eve and Christmas Eve at some locations. You can check your local Costco for additional holiday hours.
Costco is one of the best places to shop for all your holiday needs or prepare to host family and friends for any occasion.
Knowing the holiday hours at your local Costco can help you prepare for your shopping trip and make sure you don't miss the opportunity to get what you need to celebrate.
All U.S Costco locations follow their holiday closure schedule for the seven holidays listed on their website regardless of what day of the week they happen to fall on.
These closures occur on New Year's Day, Easter Sunday, Memorial Day, July 4th, Labor Day, Thanksgiving Day, and December 25th.
In addition to these standard closures, most Costco stores will close early or have reduced hours on Christmas Eve and New Year's Eve.
These hours will vary based on your location and can be confirmed on the Costco app or the warehouse locator on the Costco website.
Costco Food Court Hours
Costco Food Courts are open during regular warehouse hours, Monday-Friday from 10 am- 8:30 pm, Saturdays 9:30 am– 6 pm, and Sundays from 10 am– 6 pm. Due to the reopening of the Costco Food Courts following COVID-19 closures, menu items, and seating availability may be limited and vary based on your location.
Not only is Costco known for its great prices on the items available in the warehouse, but its food court is a fan favorite.
Shoppers can enjoy a quick, delicious, and inexpensive meal either before or after their shopping trip. Costco Food Courts also take pizza orders by phone for pickup.
You can visit your local Costco any time during warehouse hours and treat yourself to a variety of classics. Popular Costco food court menu items include:
Pizza
Hot Dogs
Cheeseburgers
Chicken Caesar Salad
Chicken Bake
Hot Turkey and Provolone Sandwiches
Fruit Smoothies
Ice Cream
Coffee
Soft Drinks
Limited-time menu items and specialty items are available at select locations. The next time you plan a Costco trip, be sure to leave yourself some extra time to check out the food court.
You can choose to take your meal to-go or eat right there in the designated seating areas.
To find out what's on your local Costco's menu, check the availability of a specific menu item or preorder a Costco pizza. You can find their contact information on the Costco app or by visiting Costco's website.
Costco Pharmacy Hours
The Costco Pharmacy is available to everyone, and non-members can access their prescription services. Costco Pharmacies are open Monday through Friday, 10 am- 7 pm, Saturdays 9:30 am– 6 pm, and are closed Sundays. Costco Pharmacy may be closed for 30 minutes between 1:30 pm- 2:30 pm if only one pharmacist is on duty.
Costco Pharmacy offers a variety of services that are available to both Costco members and non-members. You can purchase prescriptions online for home delivery as well as for warehouse pickup.
Your doctor can also call in or send your prescriptions right to your local Costco Pharmacy.
The Costco Pharmacy also allows you to purchase prescription medication for your pets and offers flu, COVID-19, and travel immunization services. They accept most insurance policies and offer same-day prescription delivery in select locations.
To access the pharmacy and its list of services and options, you can create your Costco account. You do not need to pay for a Costco membership to create your online account.
Costco Liquor Store Hours
State laws dictate the sale of liquor, wine, and beer. Some Costco locations have separate liquor stores, while other Costco locations do not. You can purchase alcohol at Costco during warehouse hours that align with the legal sale of alcohol in your state. Check with your local Costco for availability and hours.
Costco has warehouses in all but four U.S states. Because liquor laws are made at the state level, each Costco location must follow individual state laws.
You would be surprised how much this varies and how much it can impact Costco Liquor Store hours, what they sell, and whether they have a separate entrance.
In some states, you do not need a Costco membership to purchase alcohol. It is illegal to require a membership for alcohol purchases.
These states often have Costco warehouses with separate liquor stores for easier access for non-members to shop.
You can buy liquor at Costco without membership in these states:
Arizona
California
Colorado
Connecticut
Delaware
Hawaii
Indiana
Kentucky
Massachusetts
Michigan
Minnesota
New York
Texas
Vermont
In addition to laws prohibiting membership requirements, some states also own and manage liquor sales independently.
Only state-owned and operated facilities can sell liquor and spirits in states like Alabama, Idaho, New Hampshire, North Carolina, Pennsylvania, Utah, and Virginia. However, beer and wine can be sold at Costco locations in these states.
The safest way to find out the hours for liquor sales at your local Costco is to check your local alcohol sales laws and call your local Costco location.
Costco Gas Station Hours
Costco gas stations are open Monday through Friday from 6 am– 9 pm, Saturdays 7 am- 8 pm, and Sundays 7 am– 7 pm. They are closed on the same holidays as Costco Warehouses, including Labor Day, Memorial Day, Easter, July 4th, Thanksgiving, and Christmas Day. Costco fuel stations are available for Costco members.
One of the best features of the Costco app is its warehouse locator map. By clicking on any warehouse location pins in your area, you can access your local Costco Gas Station hours and the current gas price per gallon.
Costco is a popular choice for members to fill up their vehicles thanks to its great pricing. This also accounts for the long lines, particularly on the weekends.
To check your local Costco Gas Station hours and gas prices, follow these steps:
1. Download the Costco app for iOS or Android
2. Open the Costco App. The home page will look like this: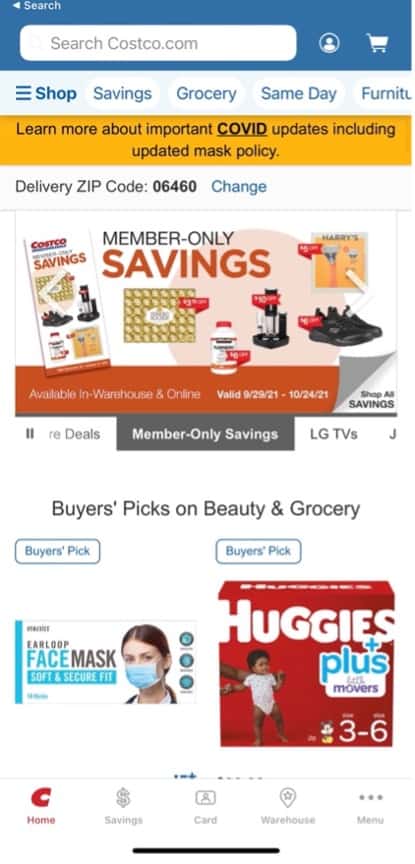 3. From the bottom menu, select the Warehouse map. Using your location, you will be able to view all the Costco Warehouses near you.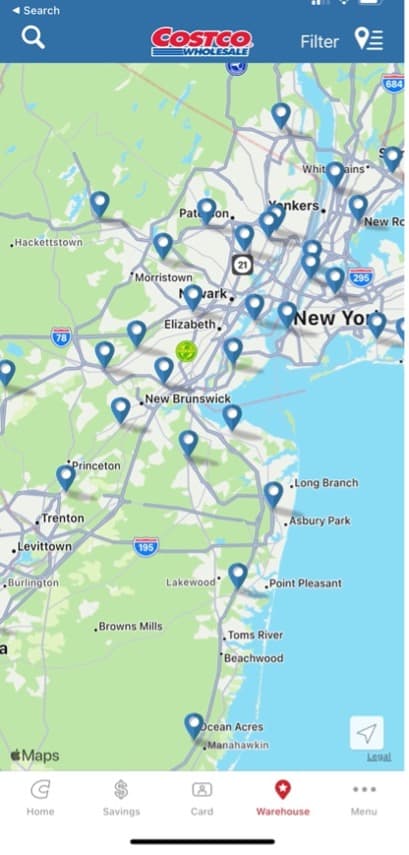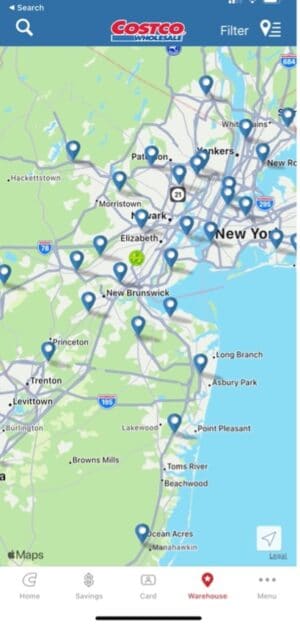 4. Click on a location identified by the blue map pins to see quick information about your Costco Gas Station.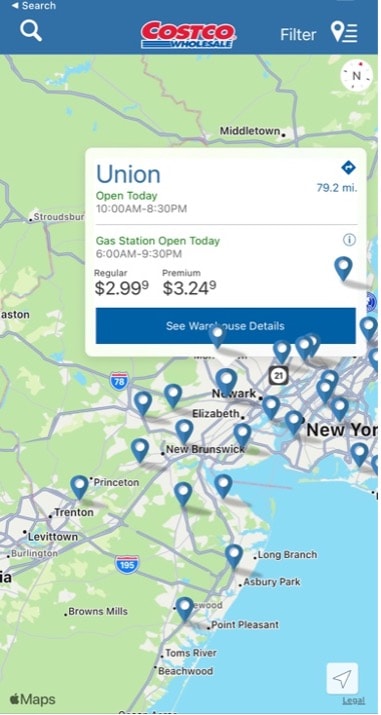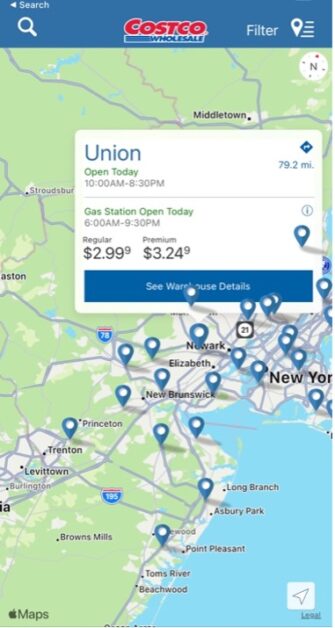 You can zoom out and move around the map to compare prices and hours in your location and other parts of the country.
Does Costco Have Senior Hours?
Costco does not have standard senior hours. However, in response to COVID-19, Costco has selected hours for members who are 60 and older, who have disabilities, or are immunocompromised. These special hours are Tuesday and Thursday from 9 am – 10 am, except for 5 locations where the special shopping hours are 8 am- 9 am.
The Costco Warehouses that offer special operating hours Tuesday and Thursday from 8 am to 9 am are:
Brooklyn, NY
Culver City, CA
Iwilei (Honolulu), HI
Temecula, CA
Westbury, NY
In addition to seniors and members with disabilities or other health conditions, Costco's special operating hours are also available for members that are healthcare workers and first responders.
You must provide proof of identification, such as a hospital ID or badge, to be allowed entrance to the warehouse during these times.
Guests are not permitted to accompany a member during special operating hours, and you can access additional information about Costco's policies for special shopping here.
Does Costco Have Early Hours for Executive Members?
Costco used to offer early hours for Executive Members; however, this is no longer Costco's policy. Executive Members are only allowed to shop during regular business hours. The only exception is for members over 60 or who meet the requirements for special operating hours on Tuesdays and Thursdays from 8 am to 9 am.
You no longer have access to early shopping hours, but there are still plenty of benefits for Executive Members at Costco.
The annual cost of an Executive Membership at Costco is $120. And the membership entitles you to shop at all Costco Warehouses, Costco Gas Stations, liquor stores, tire centers, and pharmacies.
With Executive Membership, every eligible purchase made through Costco in-store or online, including Costco Travel, earns you an annual 2% reward of up to $1000 a year.
That money can be used on in-store purchases, travel, or any of the featured Costco Services.
Costco Services offers everything from pet insurance policies to water delivery services and more. Some of these services offer better rates exclusively for Executive Members.
What Is the Best Time to Go to Costco?
Costco is notoriously busy on the weekends and weeknights. If you want to avoid crowds and long lines, the best time to go to Costco is between 10 am– 12 pm at the beginning of the week. Every location will see busier days and times depending on the demographics of the surrounding area.
If you are trying to figure out the best time to visit your local Costco, Google's "Popular Times" feature can be a godsend.
To use this feature, you will have to open the Google Maps app on your mobile device or your web browser.
You can search for your local Costco location to bring up information about the location. If you scroll down, just below "Questions and Answers," you will find the "Popular Times" graph.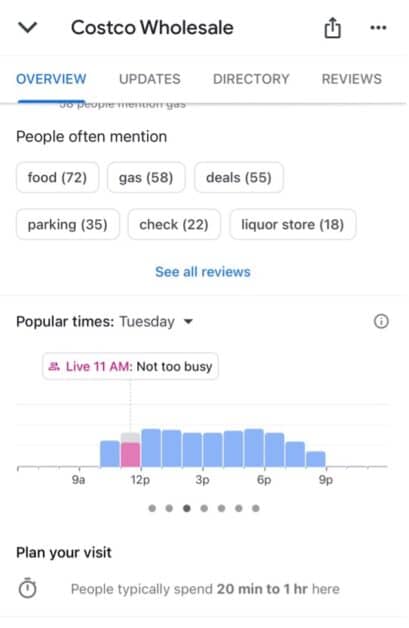 Here, you will get real-time, live data on how busy your local Costco is. You can even select other days of the week to check the patterns in your area.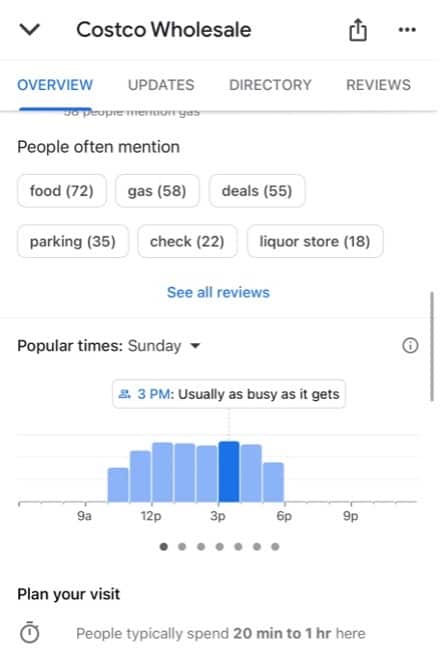 Conclusion
Costco has so many products and services to offer its members. Their tire centers, gas stations, pharmacies, and food court are just some of the many ways you can take advantage of your Costco Membership today!
If you're interested in finding out more about shopping at Costco, check out the related articles below.
Related Articles:
How to Contact Costco Customer Service Plus Costco's Return Policy
What You Need to Know About Shopping at Costco Business Centers
Costco Gift Cards: Where to Buy and How to Use Them
Costco Delivery: How It Works and How Much It Costs
Kirkland Signature: What You Need to Know About Costco's Store Brand