The Top 20 Turkey Hill Ice Cream Flavors to Try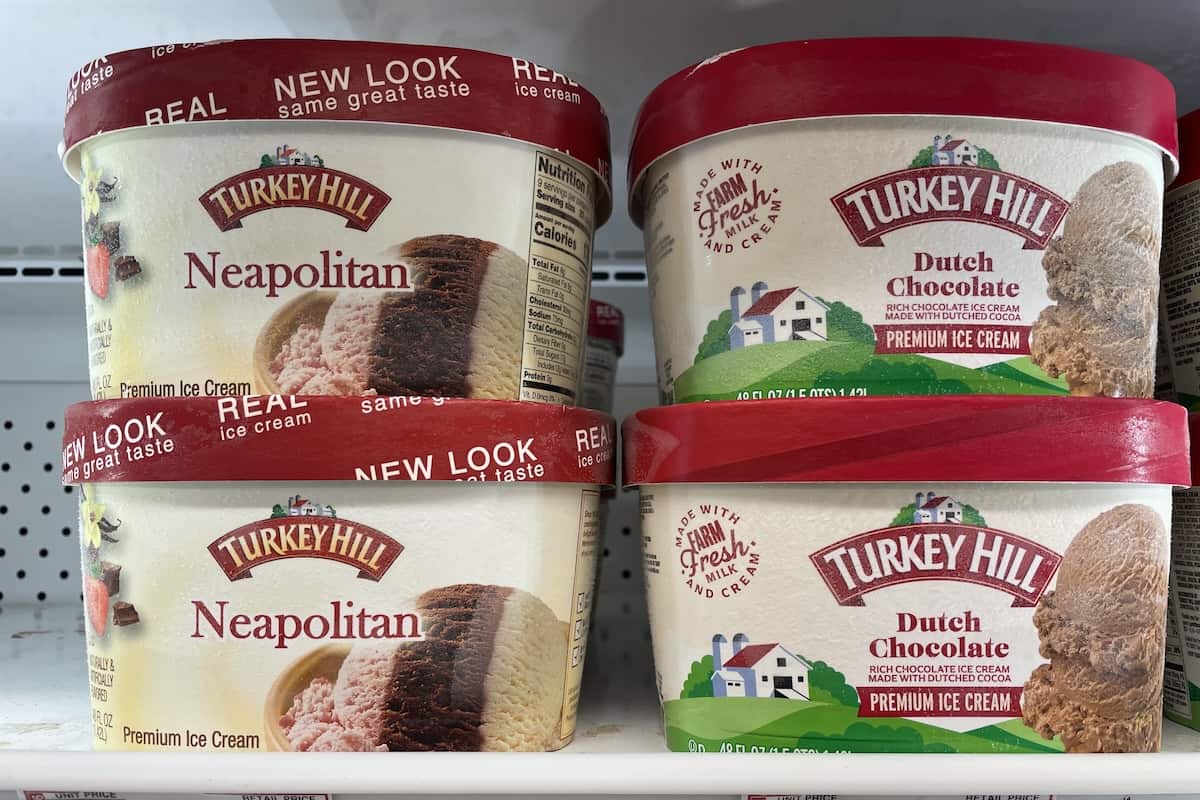 Turkey Hill is a dairy brand known for its high-quality, inventive ice cream flavors. The company has been around for over 85 years and churns out dozens of unique frozen treats.
When you're in the ice cream aisle at the grocery store, Turkey Hill's ice creams must have caught your eye, with flavors like Tin Roof Sundae, Graham Slam, and Double Dunker.
They have plenty of options, but I've gathered up what I consider to be the twenty best Turkey Hill ice cream flavors and ranked them. Let's get started!
20. Banana Split Trio'politan
Turkey Hill's Trio'politan line is for those who can't choose just one flavor.
The Banana Split Trio'politan ice cream comes with a trio of flavors found in a traditional banana split – strawberry, banana, and chocolate.
The strawberry ice cream comes as-is without any extra mix-ins.
The banana ice cream is swirled with chocolate fudge, and the chocolate ice cream features chunks of walnuts.
When mixed together, this pint tastes pretty close to an actual banana split dessert.
Plus, with real bananas and strawberries in the ingredient list, you won't get any artificial fruit flavor here.
19. Vanilla Bean
Sometimes, your taste buds need to go back to basics. That's where Turkey Hill's Vanilla Bean ice cream comes in.
It's a simple, timeless combination of cream, sugar, vanilla bean, and not much else.
The vanilla beans in this pint allow the vanilla flavor to shine through without many artificial ingredients bogging it down.
This is the type of vanilla ice cream you'd want to pair with a warm brownie!
18. Cookies 'n Cream
Cookies 'n Cream is a classic flavor made with vanilla ice cream and chocolate wafer cookies.
There's a little bit of chocolate with plenty of vanilla, plus a little bit of crunch from the cookies in an otherwise smooth, creamy base.
With Turkey Hill's version, there are plenty of cookies in the mix, with at least a few solid chunks in each bite.
The cookies have a rich, chocolatey flavor that contrasts nicely with the light and sweet vanilla.
As far as cookies 'n cream ice creams go, this is one of the best.
17. Chocolate Marshmallow
This Turkey Hill ice cream flavor is basically s'mores in frozen form (minus the graham cracker).
The Chocolate Marshmallow has a rich chocolate ice cream base and swirls of marshmallow sauce throughout.
The marshmallow is gooey and slightly runny – closer to a sauce consistency than marshmallow fluff.
Thanks to the slightly less sweet chocolate ice cream, it has that classic, sweet marshmallow flavor, which isn't overpowering.
16. Cookie Craze Trio'politan
The aptly named Cookie Craze Trio'politan ice cream has three flavors inside, each bursting with cookie flavor.
The first is a vanilla ice cream with a chocolate cookie crumb swirl.
The second is plain chocolate ice cream, and the third is cookie dough-flavored ice cream with chunks of cookie dough and chocolate flakes.
Cookie Craze delivers on the cookie element. There's chocolate chip cookie dough, a swirl of chocolate sandwich cookies, and the chocolate flakes that add even more texture.
It has a great balance between chocolate, vanilla, and cookie dough flavors. The cookie dough ice cream has some nice brown sugar flavor, too.
15. Homemade Vanilla
The Homemade Vanilla flavor is from Turkey Hill's Simply Natural ice cream line, so it's made with simple, high-quality ingredients.
In fact, it only has four ingredients: milk, cream, sugar, and vanilla.
This ice cream has a homemade feel thanks to the simplicity of its ingredient list, which allows the real vanilla flavor to shine through.
14. Tin Roof Sundae
The Tin Roof Sundae is a mix of chocolate, vanilla, and peanuts. This Turkey Hill ice cream flavor features a vanilla ice cream base with fudge swirls and chocolate-covered peanuts.
The peanuts are covered in chocolate, which keeps them crunchy despite being covered in ice cream.
It has a flavor profile similar to a Drumstick ice cream cone but with even more peanut and chocolate flavors.
13. Chocolate Chip Cookie Dough
Most popular ice cream brands have their own version of chocolate chip cookie dough, and Turkey Hill is no exception.
Their take on the classic ice cream flavor is one of my favorites at grocery stores.
It starts with cookie dough-flavored ice cream, then filled with chunks of chocolate chip cookie dough and flecks of chocolate.
The cookie dough flavor tastes a lot like Turkey Hill's classic vanilla ice cream but has some brown sugar undertones.
The brand is generous with its helping of cookie dough, and there are plenty of chocolate chunks that vary in size.
Turkey Hill is a great option if you're looking for an all-around great chocolate chip cookie dough ice cream with simple, wholesome ingredients.
12. Cookie Butter
The Cookie Butter is one of the best Turkey Hill ice cream flavors, not to mention one of their more unique offerings.
Cookie butter is a paste made with speculoos cookies whose texture is similar to peanut butter. It has cinnamon in it, so the ice cream has a cozy, warm flavor.
I think this flavor would be even better with a cookie butter swirl or chunks of cookie butter inside!
11. S'mores Trio'politan
The three flavors featured in the S'mores Trio'politan ice cream are toasted marshmallow, graham cracker, and chocolate.
The graham cracker flavor also has a graham cracker swirl throughout, which provides a cookie dough-like texture.
The marshmallow flavor is super sweet, while the chocolate is far less sweet, so they balance each other well.
The graham flavor is my favorite of the three. It has a warm, cinnamony taste that compliments other flavors and makes for a true s'mores flavor.
10. Salted Caramel
The Salted Caramel is another Turkey Hill ice cream flavor from their Simply Natural line.
The main ingredients here are sweetened condensed milk, sugar, caramel, milk, and sea salt.
The base of the ice cream is vanilla, which has generous swirls of salted caramel throughout.
The salt really comes through in this pint in the best way possible and amplifies the natural sweetness from the vanilla and caramel flavors.
9. Peanut Butter Sundae
This next Turkey Hill ice cream flavor is similar to the Tin Roof Sundae but has a more peanutty twist.
It starts with vanilla ice cream, which is swirled with chocolate-covered peanuts, and a roasted peanut butter swirl.
I love a good peanut butter swirl, but the fact that roasted peanuts were used here makes a huge difference in the flavor.
There's a toasty, slightly smokey undertone to the swirl, which compliments the vanilla, chocolate, and peanut butter flavors.
I prefer the Peanut Butter Sundae to Tin Roof because it has an extra depth of flavor that makes the pint feel a bit more sophisticated.
8. Ice Cream Cookie
The Ice Cream Cookie is one of Turkey Hill's most jam-packed flavors. It starts with vanilla bean ice cream and is filled with generous chunks of double chocolate chip cookies.
Since the mix-in here is actual cookies rather than your usual cookie dough, the texture is crunchier than you might expect, but it works well with the smooth vanilla bean base.
This flavor is essentially a mashup of cookies n' cream ice cream and chocolate chip cookie dough ice cream. Need I say more?
7. Pumpkin Pie
I'm not ashamed to admit that I'm a pumpkin spice girl through and through. It's such a cozy, classic combination of fall spices that makes me feel warm and fuzzy.
So, you can see why the Pumpkin Pie is one of my favorite Turkey Hill ice cream flavors of all time!
This pint has pumpkin-flavored ice cream swirled with a cinnamon graham cracker crumble.
The ice cream has real pumpkin puree, so it tastes pretty similar to a real pumpkin pie.
Spices like ginger, cloves, cinnamon, and nutmeg are added to the mix to give this ice cream that warm, cozy note.
This is a seasonal flavor from Turkey Hill, so be sure to stock up in the fall to enjoy a bite of autumn all year long!
6. Chocolate Lava Cake
The Chocolate Lava Cake isn't a flavor for the casual chocolate eaters out there – it's made for full-on chocoholics!
With a dark, rich chocolate ice cream base, chocolate cake pieces, and a fudge swirl, there's chocolate coming from every angle of this pint.
All that dark chocolate means this flavor isn't overly sweet and instead has a semisweet, complex feel to it.
It's super rich, so a few scoops of this and you'll be chocolate-ed out for a couple of days!
The gooey fudge swirl and pieces of fluffy chocolate cake give it the texture of a real chocolate lava cake.
5. Double Dunker
The Double Dunker is one of Turkey Hill's most beloved ice cream flavors.
It starts with a mocha ice cream base with swirls of chocolate sandwich cookie crumbles and chunks of cookie dough.
With real coffee inside, this ice cream has an authentic coffee flavor.
Any bitterness associated with coffee is drowned out by the sweet, buttery cookie dough chunks.
The cookies n' cream swirl also adds extra chocolate flavor to the mocha base.
This is the perfect ice cream for someone who likes their coffee with extra sugar.
4. Chocolate Peanut Butter Cup
Coming in fourth on my list of the best Turkey Hill ice cream flavors is the good old Chocolate Peanut Butter Cup.
This ice cream has a chocolate base with swirls of roasted peanut butter.
The roasted peanuts add a depth of flavor that isn't found in most types of nut butter.
The swirl has a toasty, warm feel and tastes like actual peanut butter rather than a peanut butter-flavored candy.
The chocolate ice cream here is creamy, smooth, and semisweet, contrasting nicely with the sweet and salty peanut butter flavor.
3. Frosted Party Cake
Putting a birthday cake-flavored ice cream this high on my list might be slightly controversial, but the Frosted Party Cake is just that good.
The base of the ice cream is Turkey Hill's classic vanilla flavor, but things get fun with the mix-ins.
There are brightly colored pieces of party cake (think Funfetti), along with swirls of sweet, smooth blue icing.
This pint is super fun to look at, and the textures make it fun to eat, too!
The pieces of cake are fluffy and taste like the birthday cakes you'd eat as a kid, and the blue swirl has a super sweet vanilla flavor.
This cake is appealing for both kids and adults simultaneously, which is rare in the food world if you ask me.
2. Choco Mint Chip
The Choco Mint Chip ice cream is Turkey Hill's take on the classic mint chocolate chip flavor. It has a sweet mint ice cream base and flecks of chocolate chips in varying sizes.
The ice cream base contains peppermint oil, giving the pint a refreshing feel without tasting like mouthwash.
There's a great balance between mint and sugar here, which is why it's one of my favorite mint ice creams on grocery store shelves.
The chocolate chips are all different sizes, so you never know exactly what you'll get in each spoonful, but they add the perfect chocolate balance to the equation.
1. Graham Slam
The Graham Slam flavor is the best s'mores-inspired Turkey Hill ice cream, hands-down.
This flavor has a graham ice cream base with marshmallow-filled chocolate cups and a graham cracker swirl.
The graham ice cream and swirl have a sweet, honey-like taste, along with a whisper of molasses.
It tastes identical to Honey Maid graham crackers, which is the brand my family used for s'mores when I was growing up.
The mini chocolate cups filled with marshmallows provide the sweet, toasty component and the rich, chocolatey notes needed to complete the s'mores flavor trifecta.
To me, chocolate, graham crackers, and marshmallows are an unbeatable combo, and putting them into frozen form is even cooler (no pun intended) than eating them in regular s'mores form.
This Turkey Hill ice cream flavor is sweet, chocolatey, toasty, and nostalgic!
Conclusion
Well, folks, that concludes my list of the best Turkey Hill ice cream flavors.
If you've never tried Turkey Hill's ice cream, I recommend starting with the Graham Slam, Choco Mint Chip, or Frosted Party Cake.
Not only will these flavors stir up some nostalgia, but they might become one of your favorites again as an adult!