The 25 Best Crumbl Cookie Flavors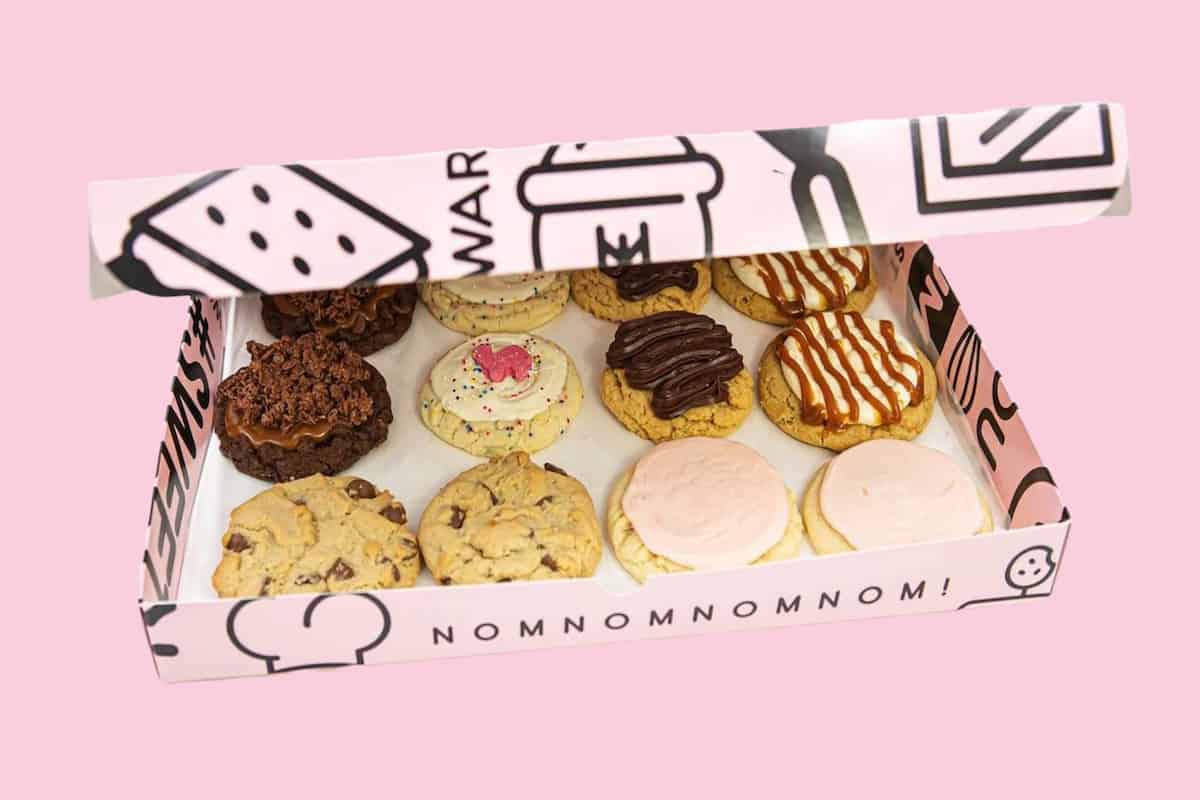 Crumbl cookies are selling like hot cakes. Their unique and yummy cookie flavors are all the rage nowadays.
Crumbl was founded by cousins Jason McGowan and Sawyer Hemsley. They opened their first store in Logan, Utah, in 2017 and have since become one of the best cookie chains.
At first, Crumbl only served milk chocolate chip cookies fresh on site. In 2018, the weekly 4-cookie rotating menu was officially established.
However, the milk chocolate chip and chilled pink sugar remain semi-permanent flavors on the menu.
Whether you like a warm or chilled cookie, Crumbl has a plethora of flavors to offer.
If you are overwhelmed by all the possibilities, here's my list of the top 25 Crumbl cookie flavors that have graced their menu!
25. Waffle
Nothing completes a Sunday brunch like a warm, sweet, fluffy Belgian waffle. What if we turned that magic into a cookie?
The waffle cookie flavor is a great display of Crumbl's unique ideas.
It's a thick waffle cookie with rich maple syrup and a dollop of sweet buttercream frosting.
This cookie definitely earns points in the aesthetics category.
It has the waffle iron cross-hatch on top as well as a scoop of buttercream to imitate a pad of butter.
The cookie has more of a cake-like texture to replicate a waffle. Top your cookie with the syrup provided for the perfect waffle experience!
24. Cornbread
Do you like your cornbread slathered with butter? If yes, Crumbl has you covered.
This warm cornbread-style cookie is brushed with a honey butter topping and topped with an extra dollop of honey butter for good measure.
The fluffy cornbread cookie envelopes all that sweet honey butter flavor when it's added fresh out of the oven. It's the perfect sweet and earthy combination.
The cornbread cookie is a fan favorite for its uniqueness and the delivery of outstanding flavor.
I think an interesting take would be implementing hot honey.
Hot honey is great on pizza, chicken, warm brie, and more. It adds the perfect sweet and spicy flavor.
In my opinion, a hot honey butter cornbread cookie would be trendy and delicious!
23. Cinnamon Fry Bread
Cinnamon fry bread originated nearly 200 years ago out of rations given to the Navajo tribes.
The U.S. government provided the tribes with staples like white flour, processed sugar, and lard for their 300-mile journey, also known as the "Long Walk," from Arizona to New Mexico. Thus, the frybread was born.
Crumbl honors this cultural treat by turning it into a delectable dessert.
Traditional cinnamon fry bread is an unsweetened dough prepared similarly to funnel cake. Crumbl's version bumps up the sweetness factor.
This dense, chewy cookie is brushed with a melted glaze and topped with cinnamon-honey buttercream. It's reminiscent of eating your favorite fried fair food.
This Crumbl cookie flavor definitely scores extra points in the creative category.
22. Pink Doughnut
A classic frosted donut with your coffee is the perfect start to your morning. How about enjoying it as an afternoon treat in this adorable cookie version?
A pink frosted doughnut with rainbow sprinkles is the epitome of the American doughnut experience.
This iconic American staple was turned into another fan favorite – the cookie.
This soft vanilla cookie is topped with a pink glaze and finished with rainbow sprinkles. Of course, there is still a hole in the center.
I think this doughnut-inspired cookie flavor is great because it's topped with a glaze instead of a frosting.
A glaze is perfect for individuals who do not prefer an overly sweet dessert.
I would love it if Crumbl introduced a chocolate sprinkle doughnut next!
21. Iced Oatmeal
Nothing beats a classic oatmeal cookie. Oatmeal cookies are hearty and can have cinnamon, raisins, chocolate chips, and more.
Crumbl put its spin on this cookie flavor with an old-fashioned iced oatmeal cookie.
The cookie is thick chewy with a hint of cinnamon and finished with a vanilla cream cheese glaze.
This oatmeal cookie is a great change from the typical chocolate chip or raisin.
I think this is a great introduction to fall cookies.
The hint of cinnamon, along with the oats, brings in the perfect cozy flavors.
The vanilla cream cheese glaze brightens up the denser flavors of the cookie.
I would definitely enjoy this cookie by the fire. Kudos to Crumbl for bringing back more traditional cookies.
20. Kentucky Butter Cake
Kentucky butter cake is basically a pound cake made with buttermilk, vanilla, and lots of butter.
This indulgent cake is ultra-moist with the buttery vanilla sauce that oozes out of it.
It's said that the cake originated from a St. Louis-based German baker in the 1930s.
One story goes that the baker intended to make a coffee cake but ended up with a happy accident. While another claims that gooey butter was created with full purpose.
Crumbl put its cookie spin on this decadent dessert. It starts with a warm yellow butter cake cookie smothered with a melt-in-your-mouth buttery glaze.
This cookie is perfect for vanilla lovers. It is not too sweet because it's not loaded with frosting.
I love how Crumbl pays homage to this Kentucky confection with a dedicated cookie flavor.
19. Banana Bread
Banana bread is a delicious loaf cake enjoyed by many. Whether you like it loaded with chocolate chips or walnuts, it's simply irresistible.
Crumbl makes a fluffy banana cookie with flavor notes of brown sugar, cinnamon, and vanilla, topped with a cream cheese glaze and a cinnamon streusel.
Crumbl really nails what people adore in banana bread in this cookie version.
The cookie encapsulates caramelized bananas and cinnamon with a fun touch of cream cheese glaze.
In my own banana bread recipe, I brown the butter in the recipe, which gives it an amazing nutty caramel flavor that pairs great with the brown sugar cinnamon.
I also add in milk chocolate chips and a cinnamon crumb topping.
I especially love that the Crumble banana bread cookie uses a crumb topping!
18. Dulce De Leche
Dulce de leche is a caramelized milk popular in Latin America. It's made by slowly heating up sweetened condensed milk over several hours.
When I make dulce de leche, I take the sweetened condensed milk can and submerge it in a pop of simmering water for a few hours.
The longer it simmers, the more robust the dulce de leche will be.
Crumbl's dulce de leche cookie flavor starts with a spiced cinnamon cookie base, smothered in dulce de leche, and finished with a tiny swirl of dulce de leche cream cheese frosting.
Cinnamon and dulce de leche is a great flavor pairing.
The warm flavors of cinnamon spice meet with the melty pools of caramelized dulce de leche.
If you are a caramel lover, you need to try Crumbl's dulce de leche cookie!
17. Biscoff Lava
You have heard of chocolate lava cake, but what about Biscoff lava?
Lotus Biscoff are little biscuit cookies flavored with cinnamon, nutmeg, and ginger. You know, the kind of cookies they give you on airplanes.
Lotus also has a Biscoff cookie spread that's similar to peanut butter consistency.
Crumbl's Biscoff lava cookie is stuffed with Biscoff cookie butter, drizzled with more of the spread, then topped with crunchy cookie pieces.
This cookie is served warm to promote the gooey Biscoff cookie butter to ooze out when bitten into.
Cookie butter is a very on-trend food right now. It's all the craze in hip coffee shops to make cookie butter lattes!
Crumbl also hopped on the bandwagon to create this delicious cookie flavor.
16. Maple Bacon
Do you want a balanced breakfast all in one cookie? Well, Crumbl has the right cookie flavor for you!
Along with their pancake, French toast, and waffle cookie, Crumbl introduced the maple bacon flavor into their breakfast cookie family.
It's a fluffy buttermilk cookie swirled with maple frosting, topped with real bacon bits, and a drizzle of maple syrup.
This cookie tastes like when your maple syrup cascades off your fluffy pancakes into your pile of bacon, creating that perfect sweet and savory combination.
I think Crumbl should release a breakfast cookie box next!
15. Caramel Popcorn
Caramel popcorn is a timeless sweet and salty treat. Warm caramel is poured over fresh popcorn and sets to provide a chewy treat.
Crumbl honored this confection with a thick caramel cookie flavor covered with smooth caramel frosting, a puddle of gooey caramel, and crunchy caramel popcorn.
The cookie itself is like a sugar cookie with more robust flavor notes.
The thick caramel frosting is decadent and rich. The finish of caramel and popcorn is sure to make your hands sticky!
Sweet and salty is one of the top flavor combinations. It provides the ultimate playground for different tasting notes in your tastebuds.
The mouthfeel of this cookie is sticky, chewy, and gooey, and that's why I love it.
You will definitely need to floss after enjoying this one!
14. Confetti Milkshake
There's nothing like sipping on a cold, creaming milkshake on a hot summer day. I like mine topped with rainbow sprinkles.
Crumbl knows sprinkles and milkshakes go hand in hand. Their confetti milkshake cookie hits the spot.
It's a chilled sugar cookie rolled in rainbow sprinkles, topped with cake-flavored buttercream, and a dollop of whipped cream.
I love that the cookie is chilled to give the milkshake effect.
The frosting being cake-flavored is another great spin on the treat. It gives the impression of a birthday cake milkshake.
This irresistible cookie is suitable for all ages who are a fan of sprinkles.
13. Teddy Graham
If you grew up in the U.S., you probably ate Teddy Grahams as your after-school snack at least once. These cute little bears are featured in this cookie.
This Crumbl cookie flavor draws inspiration from the honey coating on the graham cracker teddies.
Crumbl features a graham-flavored cookie, honey butter frosting, a light drizzle of honey, and adorable Teddy Grahams as the garnish.
The frosting is a cream cheese base, along with the honey butter flavoring.
This pairs perfectly with the graham cracker cookie. It's almost reminiscent of a cheesecake with graham cracker crust.
The flavors of honey, graham, and the cream cheese element all play a role in creating the perfect Teddy Graham-inspired cookie.
This nostalgic cookie is sure to pull at your heartstrings as well as your tastebuds.
12. Buckeye Brownie
Buckeyes are little confections that combine the awesome combination of peanut butter and chocolate. These treats look like a chocolate truffle but taste like a Reese's cup.
According to legend, Gail Tabor claims to have created the first Buckeye Balls in 1960s Ohio.
Tabor showed her Ohio football fan husband the confections, and he said, "It looks like buckeye nuts." Tabor, for years, would then bring her buckeyes to the Ohio-Michigan state game.
Crumbl's buckeye brownie cookie flavor pays its respects to the treat.
It's a rich chocolate brownie cookie with a creamy layer of peanut butter and melted semi-sweet chocolate.
I have made buckeye-inspired brownies before, which reminds me of this cookie. It was a layer of brownie, fluffy peanut butter filling, and topped with chocolate ganache.
This decadent cookie from Crumbl is served warm and best enjoyed with a glass of milk.
11. Strawberry Ice Cream Bar
If the strawberry shortcake ice cream bar was your favorite treat from the ice cream truck, I have good news for you – Crumbl created a cookie version of that!
The strawberry ice cream bar cookie is a strawberry cookie with white chocolate chip buttercream and strawberry crunch pieces.
This chilled cookie is light and fruity, just like the ice cream.
I love the addition of white chocolate buttercream to layer on a new depth of flavor with the strawberry.
I remember this ice cream bar had a fake strawberry flavor in the best way possible. The flavor was similar to boxed strawberry cake or frosting.
I think Crumbl did a great job of elevating this classic treat but still keeping key components like the strawberry crunch.
10. Carrot Cake
Carrot cake is a bit spicy, brown sugary, and adorned with cream cheese frosting.
The cake is said to have originally been a result of great depression rations on sugar. The cake's primary sweetener was the carrots featured!
You either love it or hate it. However, Crumbl is determined to put everyone on the carrot cake's side.
Their carrot cake cookie is spiced with a generous swirl of cream cheese frosting and topped with chopped pecans.
The cookie is slightly cake-like but still holds the integrity of the cookie. The cream cheese frosting complements it perfectly with the nuttiness of the pecans.
I love when carrot cake features other spices than just cinnamon. You can tell with this Crumbl cookie that they use cinnamon, nutmeg, and ginger.
Give carrot cake a chance with their scrumptious cookie!
9. Cookie Dough
Raw cookie dough has morphed from sneakily licking the spoon to edible cookie dough shops all around the U.S. This cookie trend is all the rage.
Crumbl's cookie is totally baked through, so it's not raw. This cookie is kind of inspired by cookie dough ice cream.
It's a chilled brown sugar cookie with cookie dough buttercream and topped with cookie dough chunks and mini chocolate chips.
Crumbl's ice cream flavors always hit the spot, this cookie included.
The cookie dough buttercream is full of buttery brown sugar flavor.
The nuggets of cookie dough are the prize excavated from cookie dough ice cream, and Crumbl did not skimp on them!
I think this cookie would be great with some mini chocolate chips added into the brown sugar cookie.
8. Lemon Poppy Seed
Lemon poppy seed is a zesty, timeless treat whether you like it as muffins, pound cake, or cookies!
This is another stuffed cookie. I loved this stuffed cookie from Crumbl because you have the outside of the cookie sandwiching the filling rather than it all being on top.
It's a tangy lemon poppy seed cookie stuffed with tangy lemon filling and covered with a lemon almond glaze.
Lemon and almond are a great flavor pair because the sweetness of the almond contacts with the tart lemon.
I also love the use of a curd-like lemon filling to bring out a burst of the lemon flavor that sometimes can get lost in a cookie.
This cookie is great for individuals who like a light and fruity dessert. The glaze adds just the right amount of sweetness to cut the lemon.
7. Brownie Batter
Licking the brownie batter spoon was the ultimate treat growing up for me.
You hope that after the brownies are done baking, they still have that fudgy, slightly underdone center.
Crumbl achieves that with this cookie by combining chocolate, brownie batter, and semi-sweet chocolate chips. This creates a rich, gooey chocolate cookie.
Its brownie-like texture is fudgy with the perfect underdone brownie effect. It's like getting a middle piece every time!
This rich cookie needs to be enjoyed with a glass of milk.
I would highly recommend Crumbl consider adding a malted milk swirl to the center of this cookie!
6. Raspberry Cheesecake
There are many different ways to enjoy cheesecake. There's the New York style, burnt basque, fluffy Japanese style, and more.
Crumbl features many cheesecake cookies, but the raspberry cheesecake is by far the best.
It's a graham cracker cookie, vanilla cheesecake frosting, and a pool of fresh raspberry jam.
I think raspberries go great with cheesecake overall. They provide a lovely tartness that goes with the sweet and tangy cheesecake.
This chilled Crumbl cookie layers the cheesecake components deliciously.
I love that the base of the cookie is graham cracker with a yummy cheesecake frosting border that keeps in the raspberry jam.
5. Chilled Twix
Twix candy bars are known for their crisp shortbread cookie with chewy caramel and coated in milk chocolate. An American favorite!
Crumbl features Twix in their caramel shortbread cookie flavor.
This buttery shortbread cookie is loaded with Twix pieces, topped with a pool of caramel and milk chocolate, and more chopped-up Twix.
This cookie perfectly embodies a Twix bar transformed into a cookie. It's almost as if they deconstructed a Twix and added a real Twix as well!
I love that it's a chilled cookie. This encourages the caramel to be chewy and to do the pull when bitten into. (Like the cheese pull when biting a mozzarella stick.)
This candy bar-inspired cookie is one of the most popular flavors on Crumbl's cookie menu.
4. Key Lime Pie
Key lime pie originated in Key West, Florida, in the late 19th century. It is traditionally made from Key Limes that are grown regionally there.
Crumbl made a cookie flavor with their take on this cold, zesty pie, and it's one of my favorite flavors.
It's a tart-shaped graham cracker cookie filled with lime filling, a dollop of whipped cream, graham cracker crumbs, and a fresh slice of lime.
This cookie is unique because it's shaped like a tart to hold the filling in. It's more of a mini pie than a cookie!
I make my key lime pie using Biscoff cookies instead of graham crackers.
It adds a larger depth of flavor with the spices in the cookie. Crumbl should try featuring Lotus Biscoff again for their Key lime cookie.
Overall, this zesty key lime pie cookie cup is a win on the Crumbl menu!
3. Apple Crumb Cake
Apples are a great fruit to use in baking. There are pies, cobblers, cakes, muffins, and more!
Crumbl turns apple crumb cake into one of their cookies. It starts with a thick apple cookie, smothered in a brown sugar glaze and topped with baked apples and cinnamon streusel.
I think the impeccable flavor combination makes this seemingly simple cookie great.
The lightly apple-flavored cookie is not overpowered by the brown sugar glaze, and the chopped apples and crumb topping add the perfect finish.
This cookie reminds me of a Dutch apple pie. The flavors of cinnamon, caramelized sugar, and crumb topping all complete that flavor profile.
This is one of Crumbl's newer cookies and quickly rising to the top.
2. Mint Chip Ice Cream
Mint chocolate chip is one of the most popular ice cream flavors. Therefore, Crumbl had to do a cookie flavor out of it!
This cookie differs from the other mint and chocolate cookies they feature.
It's a sugar cookie with mini semi-sweet chocolate chips, a chilled mint chocolate chip mousse, and a dollop of whipped cream.
This cookie uses a mousse instead of a frosting to cream an ice cream-like topping.
I love that they used mini chocolate chips because they are oddly just better!
The soft sugar cookie melds with the chilled mousse on top.
Since Crumbl chose not to make this cookie chocolate, it resulted in letting the mint chip mousse be the star of the show.
1. Churro
A churro is a type of fried choux dough from Spanish and Portuguese cuisine.
Today, you can find these at carnivals with all the other fried foods and even a foot-long one at the Costco food court.
Crumbl turned this classic treat into the ultimate cookie flavor.
It's a warm and tender cinnamon cookie swirled with cinnamon buttercream and dusted with cinnamon sugar.
A crucial component in churros is rolling the fried dough in cinnamon sugar at the end. This adds crunch to the churro, which makes it distinguishable.
Crumbl hits the bullseye with their churro cookie, and it's by far my favorite flavor.
It does not just taste like a cinnamon cookie. The warmth and doughiness of the cookie paired with the crunchy cinnamon sugar screams churro!
Traditionally, in Portugal and Spain, they dip churros in melted chocolate for breakfast.
I think Crumbl should feature a chocolate churro cookie flavor next!
Conclusion
Crumbl offers a variety of different cookie flavors that can suit everyone's taste.
Whether you like a chilled frosted or a warm stuffed cookie, Crumbl offers it all on a rotating weekly menu.
Look out for the amazing flavors I included on this list, and don't forget to grab their iconic pink box full of delicious cookies!