What to Know About McDonald's Apple Pie (Interesting Facts)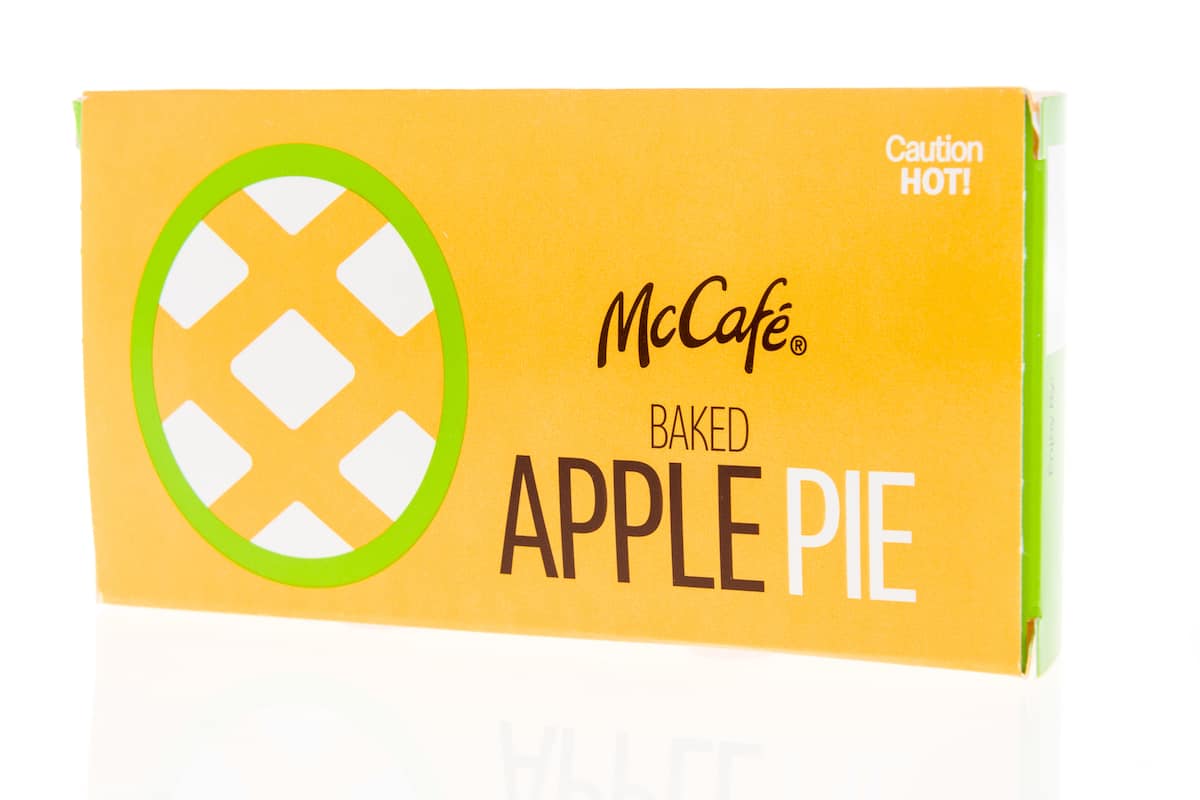 McDonald's apple pies are crisp golden pouches of deliciously sweet and fruity apple filling. They are one of McDonald's classic menu items and have been around since the 1960s.
Key Takeaways
McDonald's apple pies are vegan and made with real apples grown in the US.
The original apple pies were fried, but after the recipe changed in 1992, McDonald's apple pies are all baked fresh daily.
With 230 calories, McDonald's apple pie is a low-calorie dessert item, and it's available all day.
In this article, we'll take a closer look into McDonald's apple pies, including their ingredients, calories, and more.
What Are McDonald's Apple Pies Made Of?
McDonald's uses real apples in their apple pies, and there are no artificial ingredients.
The types of apples change by season and availability, but McDonald's aims to choose apples with a nice balance of sweet and slightly tart flavors.
Although the restaurant once used a broader assortment, the apples used in McDonald's apple pies today are grown in America and may include any combination of the following varieties:
Jonagold
Fuji
Golden Delicious
Gala
Rome
Ida Red
These apples are part of the pie filling enclosed inside a lattice crust.
The full list of ingredients used in McDonald's Apple Pies is as follows:
Apples (Apples, Ascorbic Acid, Salt, Citric Acid), Enriched Flour (Bleached Wheat Flour, Niacin, Reduced Iron, Thiamine Mononitrate, Riboflavin, Folic Acid), Sugar, Palm Oil, Water, Apple Juice Concentrate, Modified Food Starch, Invert Syrup, Contains 2% or Less: Yeast, Salt, Cinnamon, Sunflower Lecithin, L-cysteine (Dough Conditioner), Yeast Extract, Enzyme, Beta-carotene (Color).
Hi, friend. Our new freshly baked Apple Pie is made with fewer ingredients such as sugar, sliced 100-percent American grown apples and a bit of cinnamon to the filling for the flavor to give each one that homemade taste.

— McDonald's (@McDonalds) September 27, 2020
Are McDonald's Apple Pies Baked or Fried?
The original McDonald's apple pies were fried, but this changed when the recipe got a makeover in 1992. Since then, McDonald's apple pies are all baked fresh daily.
The apple pie was the very first McDonald's dessert. It made its debut in 1968, the same year that the Big Mac came out.
It came after several other tried and failed desserts, and it was born from a home remedy for a fried turnover-style apple pie.
The original pie was deep-fried, used diced apples, and covered in brown sugar. However, this original recipe has been revised several times since then.
The most significant change occurred in 1992 when McDonald's felt that fried food was no longer what people wanted and decided to bake pies instead.
McDonald's also began using larger apple slices rather than diced apple pieces to make it taste more like a homestyle pie.
The Apple Pie recipe was revised again in 2018 when they removed high-fructose corn syrup, artificial ingredients, and preservatives.
At this time, they also changed from a brown sugar-coated crust to a lattice crust that is only lightly sprinkled with sugar, which reduced the overall sugar content and brought out the natural apple flavor.
Not only did the Apple Pie evolve, but it grew to inspire many other pie flavors.
By the time the recipe was first changed in 1992, McDonald's had rolled out over 40 other flavors.
Along with the variety of flavors found in the US, international locations also have unique flavors that reflect local cuisine.
A few other McDonald's pie flavors include the following:
Bacon Potato
Banana
Blueberry
Cherry
Coconut
Corn
Ginger Plum
Pineapple
Pumpkin
Strawberry and Crème
Taro
If there is a flavor that you'd like your local McDonald's to carry, it is suggested to inform the restaurant of your request.
We can't promise you anything, but if they think it's a good idea, you just might find your wish granted!
Are McDonald's Apple Pies Vegan?
McDonald's apple pies are vegan, and they are one of the few vegan menu items at McDonald's. Although the original recipe used milk and butter, the current apple pie recipe does not use animal products.
Most McDonald's desserts include ice cream, and even chocolate chip cookies include eggs in their recipe.
However, the McDonald's baked apple pie recipe is dairy and egg-free, with wheat the only common allergen present.
The original recipe used milk and butter, but this was when being vegan was not as commonplace as it is today.
However, when the recipe changed in 1992, these ingredients were eliminated, and the apple pie became one of the restaurant's few vegan options.
Being vegan also makes McDonald's apple pie stand out from the competition.
Many of the closest competitor desserts use dairy, including Popeye's hot cinnamon apple pie and Taco Bell's caramel apple empanadas.
How Many Calories Are in a McDonald's Apple Pie?
Each McDonald's apple pie has 230 calories. This falls in the lower range of calories on their dessert menu, making these warm treats even better.
The other nutritional values of the McDonald's apple pie are as follows:
11g Fat
33g Carbs
2g Protein
1g Dietary Fiber
6mg Calcium
14g Sugar
1mg Iron
0mg Cholesterol
0mcg Vitamin D
70mg Potassium
100mg Sodium
The calories found in McDonald's desserts can range from 170 calories for a chocolate chip cookie to 860 calories for a large Strawberry Shake.
With only 230 calories, you can enjoy an apple pie whenever the mood strikes.
Does McDonald's Still Have Apple Pies 2 for $1?
McDonald's used to offer a 2 for $1 special for their apple pies, but this deal has largely been discontinued.
Prices for a single apple pie vary by location, though some locations still offer a discounted rate when purchasing two pies.
Many McDonald's apple pie fans will remember when you could get two delicious golden pies for just $1.
Sadly, as time has passed and prices everywhere have increased, so did the cost of the apple pies at Mcdonald's.
McDonald's restaurants are franchise-owned, meaning that each location has the option to set its own hours and menu prices.
This means that the price of an apple pie will vary between McDonald's locations.
Restaurants that offer one apple pie for $1 tend to offer a deal on two for $1.69.
However, there is no consistency in pricing, so the best thing is to check with your local McDonald's restaurant to see if there's a deal in your area.
Can You Get McDonald's Apple Pie for Breakfast?
You can get McDonald's apple pie at any time of the day, including in the mornings during breakfast hours.
Although the McDonald's breakfast menu is different from the lunch and dinner menus, apple pie is also part of the McCafé menu, which is served all day.
McDonald's used to serve breakfast all day; however, this was largely discontinued in 2020 to streamline its operations.
This means that you can no longer order Hotcakes or a McMuffin for lunch, and you can't get a Big Mac until lunch hours begin.
However, McDonald's feels that their apple pies can be enjoyed all day long, whether you prefer it for breakfast with a coffee or after dinner as dessert.
For this reason, the apple pie is one of the few items available all day at McDonald's.
Whether ordering in a restaurant or online, you can find apple pies under the "Sweets & Treats" menu during lunch and dinner hours.
This section is not available during breakfast, but the apple pie and any other available pies can still be found under the "McCafe Bakery" section.
Can You Eat McDonald's Apple Pie the Next Day?
You can eat your McDonald's apple pie the next day, and if you heat it the right way, you can even get it back to nearly the same quality as when it was fresh.
In general, the best way to reheat an apple pie is with an air fryer, though you can also use a toaster oven, conventional oven, or microwave.
Similarly, the best way to reheat a McDonald's apple pie is with an air fryer because it allows you to retain the crispy outer texture without overcooking the filling.
All it takes is 2 to 3 minutes at 350 degrees.
You can also reheat your leftover apple pie in a toaster or conventional oven.
Doing so can help retain the texture, but the process also takes longer.
To reheat your apple pie in an oven, bake it at 200 degrees for approximately 10 minutes.
When using a conventional oven, place the pie on a cookie sheet to retain the crisp exterior.
A third way to reheat is using a microwave. This is the fastest way to reheat your apple pie, though it may somewhat compromise the texture of the outer crust.
To reheat your apple pie in a microwave, wrap it in a paper towel and place it on a microwave-safe dish.
Reheat it for 20 to 30 seconds, then continue to reheat it for 10-second intervals, if necessary.
Uneaten apple pies should be refrigerated if not eaten immediately.
The filling may also be very hot after reheating, so it is best to let your pie sit for a few minutes before eating it.
The amount of love for Baked Apple Pies cannot be expressed. #PiDay #mathjokes pic.twitter.com/D1AB70hPXs

— McDonald's (@McDonalds) March 14, 2016
Why Are McDonald's Apple Pies So Good?
McDonald's apple pies were the original dessert on their menu, and they are still in high demand today.
From the real ingredients to just the right amount of sweetness, there are several reasons why McDonald's apple pies are so good.
Fresh food is undoubtedly better, so that must be the first reason.
Not only are they made with real apples, but they're also baked fresh every day.
Another reason McDonald's apple pies are so good is their real fruit flavor.
This is achieved by using fresh apple slices and choosing apples with a balance of sweet and tart flavors.
McDonald's also uses an apple powder made of dehydrated apples and citric acid to help bind the filling, which adds to the fruity flavor.
Furthermore, only a bit of sugar is added, allowing the apple flavor to shine through.
Using real fruit ingredients makes McDonald's apple pies taste good, but it makes them healthier as well.
Although some may still want the original apple pie back, these changes were made according to customer requests to make the entire McDonald's menu healthier.
Conclusion
McDonald's apple pies are the original dessert item that has led to the creation of many other pies available at McDonald's today.
The signature golden crust encloses a sweet and tangy apple filling made with real apple slices from USA-grown apples. In addition, they are vegan-friendly and available all day.
If you're looking for more tips about McDonald's, check out these articles.
Related Articles:
How to Use McDonald's App to Get Coupons and Order Online
What to Know About McChicken and McDonald's Crispy Chicken Sandwiches
McDonald's Burgers: Exploring All Fan-Favorite Burgers at McDonald's
Everything You Need to Know About McDonald's Fries
McDonald's Phone Number: How to Contact McDonald's Customer Service