Everything You Need to Know About Arby's Gyros and the Gyro Sauce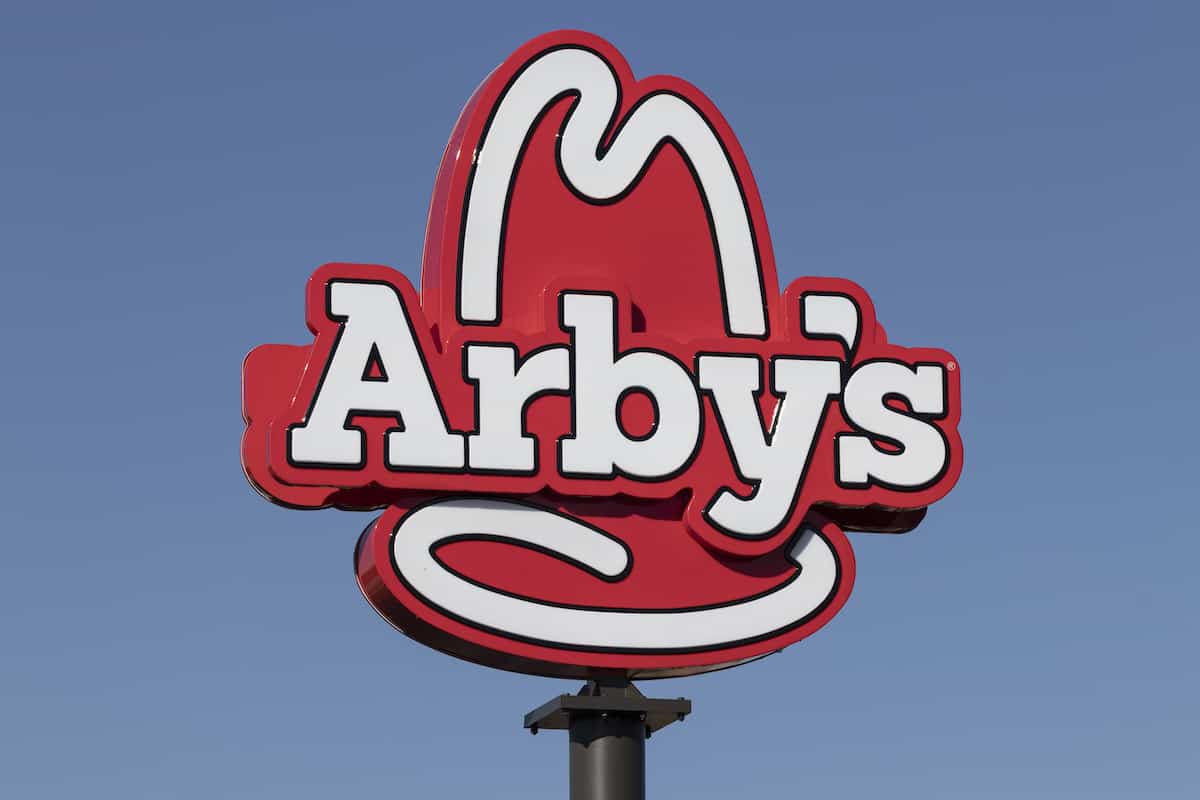 Arby's sets itself apart from other fast-food chains with its famous sandwiches and meat-forward menu items. After all, their famous slogan is "We have the meats." True to their brand, Arby's brings a unique item to their customers with their specialty gyro sandwiches.
Inspired by the classic Mediterranean sandwich, Arby's has a traditional Greek Gyro, a Roast Beef Gyro, and a Turkey Gyro. Arby's gyro sandwiches typically cost between $4 and $5, with calories ranging from 470 to 710. You can upgrade any gyro to a meal, and gyro sandwiches are often included in Arby's 2 for $6 deal.
In this article, we're taking a look at Arby's Gyros, the Gyro Sauce, and everything else you need to know about this Arby's favorite!
Some people think it's weird that Arby's has a gyro. Well, we think its weird that you DON'T have a gyro. Advantage: Arby's.

— Arby's (@Arbys) April 7, 2015
What Gyros Does Arby's Have?
Arby's has three different gyros to choose from. Arby's gyro menu features a traditional Greek Gyro, a Roast Beef Gyro, and a Turkey Gyro. Arby's combines signature Greek flavors into each sandwich, and each gyro features a classic Greek Tzatziki sauce, red onion, tomato, and lettuce, served in a warm pita.
Each Arby's gyro has its own protein base, and varying calorie counts. Let's examine each of Arby's gyro offerings next.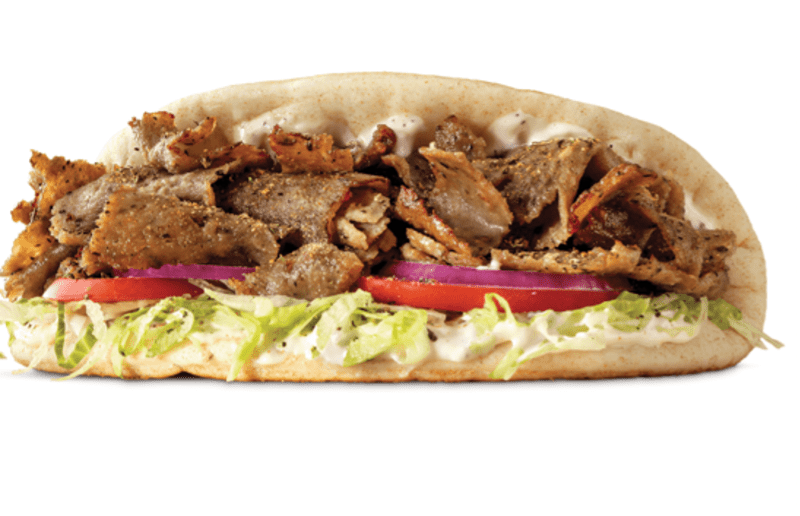 1. Arby's Greek Gyro
The Greek Gyro from Arby's is modeled after a staple in Greek cuisine. This gyro features Arby's gyro meat topped with shredded lettuce, tomato, red onions, and a creamy Tzatziki sauce.
Seasoned with traditional Greek spices like garlic, parsley, and onion, this pita sandwich stays true to the Mediterranean favorite.
The common allergens found in Arby's Greek Gyro are eggs, milk, soy, and wheat.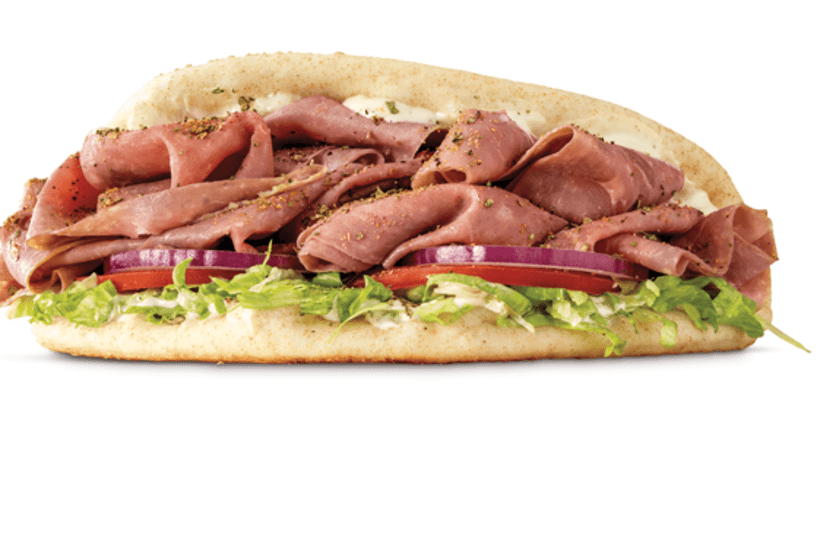 2. Arby's Roast Beef Gyro
Arby's classic roast beef is the foundation of their success and what has always set them apart.
In the Roast Beef Gyro, Arby's serves its classic roast beef topped with the staples of a traditional gyro.
Red onions, tomato, shredded lettuce, and Tzatziki sauce top roast beef and are served in the warm pita.
If you have dietary restrictions, you should know that the Roast Beef Gyro contains egg, milk, and wheat.
3. Arby's Turkey Gyro
The Roast Turkey Gyro from Arby's is their lightest gyro offering.
The Turkey Gyro features thinly sliced roast turkey on a warm pita and topped with red onions, tomato, shredded lettuce, Tzatziki sauce, and Arby's gyro seasoning.
You can expect to find egg, milk, and wheat as common allergens in the Roast Turkey Gyro.
Our Greek gyro meat is a blend of beef, lamb and Mediterranean spices.

— Arby's Guest Support (@ArbysCares) October 16, 2018
What Kind of Meat Is in Arby's Greek Gyro?
Arby's classic Greek Gyro meat contains a blend of ground lamb and beef combined with Greek seasonings, seared and sliced off a rotisserie spit. The meat is bound together with breadcrumbs and flour to create condensed meat in a cone shape and slow-roasted on a rotisserie.
Arby's gyro meat is prepared much like traditional gyro meat in Greece. However, while a gyro in Greece often contains a combination of lamb and pork, it is very common for American versions of gyro meat to substitute ground beef for pork.
Essentially, ground lamb and either beef or pork are blended with water, breadcrumbs, and heavy Greek seasonings.
Once this is prepared, the meat is compressed into a "loaf." This is known as a spool of gyro meat.
Once it is finished, this dense combination of meat and spices is seared and then cooked slowly by turning on a rotisserie.
Arby's has honored the well-known texture and flavor of a Greek gyro by using this traditional preparation.
How Many Calories Are in Arby's Gyros?
The Greek Gyro has the most calories of all Arby's gyros, with 710 calories per sandwich. A Roast Beef Gyro has 550 calories, and Roast Turkey Gyro has 470 calories per sandwich serving. Any customizations to your gyro will either add to or reduce the calorie count.
We've compiled the calorie counts for all three of Arby's Gyros in the chart below.
| | |
| --- | --- |
| Arby's Gyros | Calories |
| Greek Gyro | 710 |
| Roast Beef Gyro | 550 |
| Turkey Gyro | 470 |
There are many ways to modify your gyro order at Arby's. You can add extras like more gyro meat, bacon, and cheese.
Any of these modifications will increase the number of calories in your gyro.
You may also choose to eliminate toppings for dietary restrictions or lower the calorie count of your gyro order.
The Roast Turkey Gyro at Arby's is the most calorie-friendly way to enjoy the flavors of a gyro, with 240 fewer calories than the Greek Gyro.
You can also choose to upgrade your order to a meal. By adding a side and a drink, you can complete your Arby's Gyro Meal.
You can choose between a small, medium, or large meal, opting for a small, medium, or large side and drink.
You can choose from the following side options when ordering your Gyro Meal from Arby's:
Crinkle Fries
Curly Fries
Mozzarella Sticks
Jalapeno Bites
Side Salad
We have put together the calories for a small-size gyro meal with curly fries and Coca-Cola as the meal options below.
| | |
| --- | --- |
| Arby's Gyro Meals | Calories |
| Greek Gyro Meal (Small) | 1280 |
| Roast Beef Gyro Meal (Small) | 1120 |
| Turkey Gyro Meal (Small) | 1040 |
With these selections, a Greek Gyro Meal is 1280 calories, a Roast Beef Gyro Meal is 1120 calories, and a Turkey Gyro Meal is 1040 calories.
@cope_48059 Tzatziki sauce is traditional served on Gyros. You can always order the sandwich without the sauce.

— Arby's Guest Support (@ArbysCares) April 17, 2015
What Is Arby's Gyro Sauce Made Of?
Arby's gyro sauce is a creamy Tzatziki sauce. Tzatziki is a traditional Greek dressing made with cucumbers and yogurt seasoned with garlic and other Mediterranean spices. Arby's Tzatziki has 119 calories per serving and contains cultured buttermilk, vinegar, and cucumbers to replicate a traditional Tzatziki sauce.
Arby's has tried to accurately reproduce a very customary and traditional Greek meal with their Greek Gyro.
The addition of Tzatziki sauce is an important one. This creamy dressing is a staple for a gyro and essential to the authentic Mediterranean taste.
Fresh Tzatziki is made by straining all the liquid out of yogurt. Once the liquid is removed, cucumbers, olive oil, lemon juice, garlic, salt, and in some areas, dill or mint is added and blended.
It is a simple sauce used as a dressing on gyros, a dip for vegetables, a side for meat skewers, with salads, and with almost every meal in Greece.
Because Arby's must have a long shelf life for their gyro sauce, it is made with other thickening agents and extra ingredients.
In addition, it's worth noting that Arby's Tzatziki contains milk as well as eggs.
What's the best way to say gyro?

GUY ROW
JAI ROWE
YEE RO
GREEK TACO

— Arby's (@Arbys) September 17, 2014
What Are Arby's Gyro Prices?
The average price for an Arby's gyro is between $4 and $5 and will vary based on your location. However, the Greek Gyro, Turkey Gyro, and Roast Beef Gyro are the same price at most Arby's locations. Adding toppings will also increase your gyro price. The price of a gyro meal will depend on your side, drink options, and size.
The price of an Arby's gyro will depend on your location and the prices set by your local Arby's franchise.
However, all Arby's gyros will be the same price. For example, at a local Arby's in Connecticut, the gyros are all $4.39.
However, if you upgrade your gyro to a small gyro meal with curly fries and a Coca-Cola, the price goes up to $6.99.
| | |
| --- | --- |
| Arby's Gyros | Price |
| Greek Gyro (sandwich only) | $4.39 |
| Roast Beef Gyro (sandwich only) | $4.39 |
| Turkey Gyro (sandwich only) | $4.39 |
| Greek Gyro Meal | $6.99 |
| Roast Beef Gyro Meal | $6.99 |
| Turkey Gyro Meal | $6.99 |
At this Arby's location, a medium gyro meal with curly fries and a Coca-Cola would cost $7.79, while upgrading to a large one with the same selections would be $8.29.
Arby's has five side options to choose from, and each item will increase your meal price differently.
For example, a small curly fry, crinkle fries, or a side salad will increase your meal by $1.99.
These sides in a medium meal would add $2.49 to your meal, and a large one will add $2.79.
Mozzarella Sticks and Jalapeno Bites are two other sides you can choose from for your Gyro Meal.
A small order would add $3.39 to your meal. If you choose a medium side, our local Arby's adds the same $3.39 and adds $4.89 when ordering a large.
For the most accurate pricing where you are, you can check the prices at your local Arby's online or at the restaurant. 
Our Greek Gyro is a permanent menu item.

— Arby's Guest Support (@ArbysCares) April 27, 2020
Does Arby's Have 2 Gyros for $6?
Arby's Everyday Value menu features items that are priced 2 for $6. While this popular promotion is a fan favorite, the menu items change regularly. However, Arby's gyros are often included in the 2 for $6 deal. You can check Arby's website to see when they offer 2 gyros for $6 at your local Arby's.
To find out what menu items are currently featured in Arby's 2 for $6 deal, you can visit their Everyday Value webpage.
You can select any two items from the Everyday Value Menu and pay only $6 for both.
Another way to stay up to date on all of Arby's promotional menu items and gain access to exclusive coupons and pricing is to download the Arby's app.
You can also join Arby's email list to get 50% off your next Arby's gyro.
Read our article to learn more ways to save on your favorite Arby's gyro and other sandwiches.
We want to assure you that the meat on our Traditional Greek Gyro is indeed cooked on a spit and sliced directly from that spit and then shipped to our restaurants. We hope that you've had a chance to try it.

— Arby's Guest Support (@ArbysCares) April 27, 2018
Conclusion
Arby's has built a successful fast-food brand by offering an alternative to the traditional hamburger, and the addition of the gyro to the menu is another step in that direction.
Staying true to the basics of the Greek classic and adding them to their signature roast beef and turkey makes Arby's gyro menu a must-try!
If you're interested in finding out more tips about Arby's, check out the related articles below.
Related Articles:
Arby's Has Sandwiches With More Than Just Roast Beef
How to Use Arby's App to Get Coupons and Order Online
Arby's Roast Beef: Everything You Need to Know About This Fan Favorite
What to Know About Arby's Happy Hour (Time, Menu, and Other Specials)