What to Know About Arby's Happy Hour (Time, Menu, and Other Specials)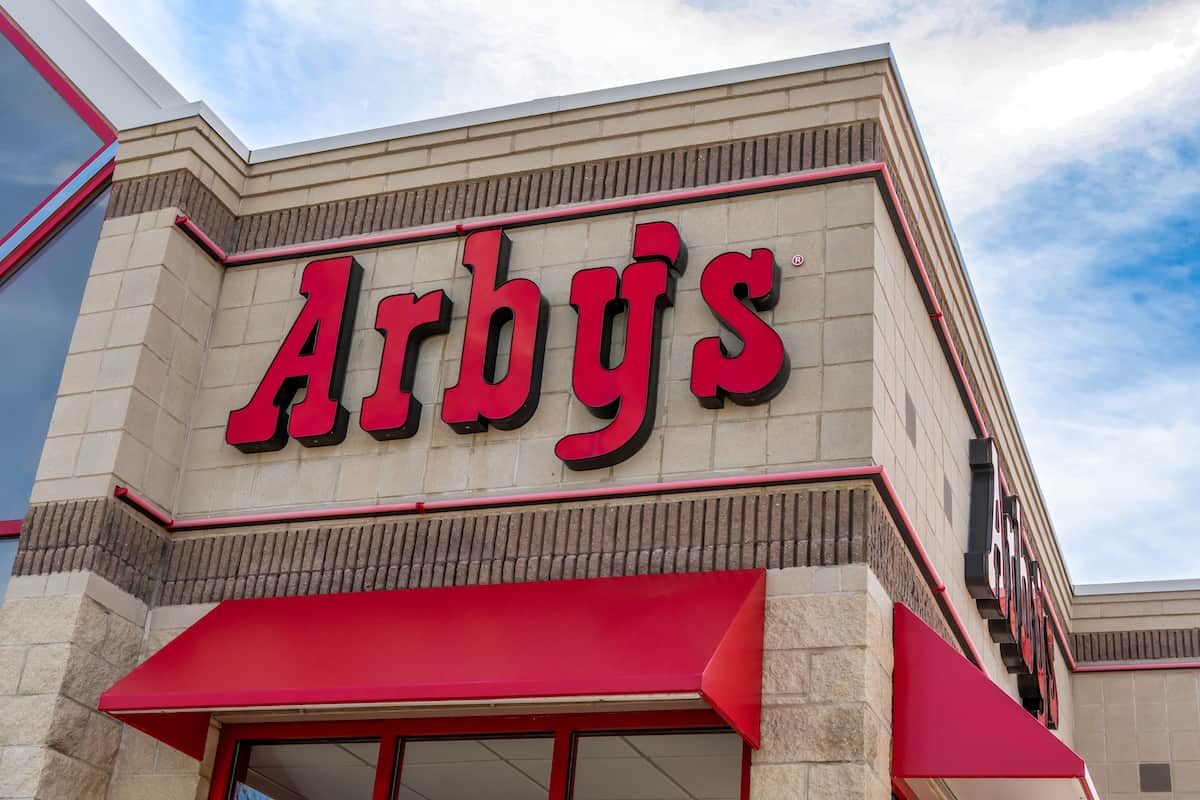 Arby's may have become famous for their slow-cooked roast beef, but today, they are equally recognized for their promotional menus, limited-time offers, and featured menu items. Most of their meal deals and promotions are offered at different times of the year, with participation varying at every location. Arby's Happy Hour menu is one of their most popular and longest-running specials.
Arby's Happy Hour is available at participating locations every day of the week from 2 pm to 5 pm.  The promotional menu and availability vary by location, with franchises awarded their own discretion and features items costing only $1.00 each.  Arby's Happy Hour menu includes sliders, French fries, drinks, and cookies.
In this article, we've collected everything you need to know about Arby's Happy Hour and other featured specials and promotions.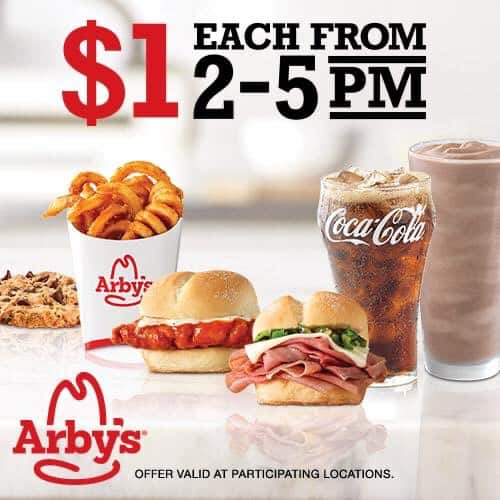 What Is Arby's Happy Hour Menu?
Arby's Happy Hour Menu will vary across participating locations. Each location will have featured menu items available for only $1 from 2 pm to 5 pm.  Sliders, curly fries, crinkle-cut fries, drinks, and cookies are included on Arby's Happy Hour menu. Happy Hour features small or snack-size portions of these popular Arby's menu items.
Arby's Happy Hour is one of their limited-time specials and is offered only at participating locations. Because Arby's is predominantly a franchiser, very few of their locations are company-owned.
This means that individual Arby's franchisees can choose to offer different promotions or discounts at different times.
For participating locations, Arby's Happy Hour time is between 2 pm and 5 pm every day of the week. While the exact combination of Arby's Happy Hour menu items will be different at every Arby's location, the options will include these menu favorites:
Arby's Happy Hour Sliders:
Buffalo Chicken Slider
Chicken Slider
Jalapeno Roast Beef Slider
Roast Beef Slider
Roast Turkey Slider
Arby's Happy Hour Sides, Drinks, and Desserts:
Small French Fries
Small Crinkle Cut Fries
Small Fountain Drink
Snack Size Shake
Triple Chocolate Cookie
Salted Caramel & Chocolate Cookie
To find out if your local Arby's is participating in the Happy Hour specials, you can use the restaurant locator on their website.
Our $1 Kids Meals have it all:
Great price ✅✅✅
100% Whole White Meat Chicken Nuggets ✅
Crinkle Fries ✅
Honest Kids Organic Apple Juice Drink ✅ pic.twitter.com/TEUkTPdkS1

— Arby's (@Arbys) July 9, 2021
What Is Arby's Dollar Menu?
Although Arby's no longer has a Dollar Menu, there are still a few ways to enjoy some of their menu items for just one dollar each. Arby's Kids Menu features six complete meals for only $1, and participating Arby's locations offer a Happy Hour Menu with items for $1 each between 2 pm and 5 pm daily.
Arby's seems to have a winning formula for offering quality, delicious food at a great price.
While most other fast-food chains carry a dollar or value menu, Arby's utilizes brilliant marketing and social media engagement to find creative ways to offer discounts and value pricing.
Instead of having an Arby's Dollar Menu, Arby's features a few signature deals available throughout the year at participating locations.
These specials are updated and revamped often to include "limited time" foods and seasonal themes.
In addition to Arby's Happy Hour, Arby's 2 for 5 and $5 Meal Deal are some of the most popular cyclical specials available at participating locations.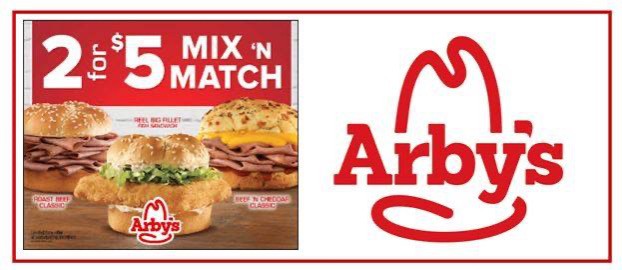 Does Arby's Have 2 for $5?
Arby's 2 for $5 deal is offered on and off at participating locations. Their 2 for 5 special is a mix and match deal featuring select menu items. The 2 for $5 options are usually limited-time offerings or a selection of classic Arby's favorites. Check your local Arby's for participation and availability.
In addition to "having the meats," Arby's also has a unique way of turning their customers into loyal fans.
By utilizing "limited time only" promotions with new and changing featured items, Arby's gives you something to look forward to, along with great value on great food!
Arby's 2 for $5 Mix 'n Match Meal is a fan-favorite. Each time this menu is reintroduced, the menu selection is different. You can choose any two items from the current promotional menu and pay only $5.
The most recent revamp of this signature Arby's special was their Arby's 2 for 5 "Faves You Crave" Mix 'N Match. This LTO (limited time only) allowed you to choose any two of the following menu items for only $5.
Classic Beef 'N Cheddar Sandwich
Classic Regular Roast Beef Sandwich
Crispy Fish Sandwich
Mozzarella Sticks (4 pieces)
White Cheddar Mac 'N Cheese
Another version of Arby's 2 for $5 menu specials is two of the same items for $5. For example, in the past, they promoted two fish sandwiches for five dollars when they added it to their menu for a limited time.
As we mentioned earlier, most of Arby's locations are franchises, and each location can choose to amend or choose which specials and promotions they offer.
In some locations, Arby's 2 for $5 will run as a 2 for $6 deal highlighting the current promotional menu items.
Always check with your local Arby's to find out which specials are available near you. It's also a good idea to follow Arby's on Twitter and TikTok to be on the lookout for when new 2 for $5 menus are launched.
You can also sign up for email deals and alerts, so you never miss an Arby's 2 for $5 promotion.  
What Is Arby's $5 Meal Deal?
Arby's $5 Meal Deal is a recurring limited-time offer available at participating locations. The deal is offered during specific business hours, and for $5, you can choose between a Classic Roast Beef sandwich or Classic Beef 'n Cheddar sandwich and get a small fry and a small drink. Times and availability will vary in different markets and franchises.
Arby's $5 Meal Deal is another popular promotion available at different times and select locations. It is offered for a short time before it is removed from the menu and has returned multiple times over the years.
In the Midwest, DMR is the franchisee of 97 Arby's locations in 6 states. They're currently offering the $5 Meal Deal from September 9th to November 30th between 8 pm and 10 pm.
You can choose between two classic sandwiches, the Classic Roast Beef or the Classic Beef 'n Cheddar, and get a small fry and a small drink to complete your meal. All for only five dollars.
Sometimes, Arby's will incorporate a new and exciting way to present the $5 Meal Deal and make it available at all Arby's locations.
Arby's signature limited-time-only specials, including the $5 Meal Deal, are as much a part of the Arby's brand as their roast beef.
Even if your local Arby's isn't currently offering this value menu, they can bring it back at any time. Always call your local Arby's restaurants to confirm what current promotions they have available.
As the majority of our restaurants are franchised, senior discounts/offers currently vary by location.

— Arby's Guest Support (@ArbysCares) September 23, 2016
Does Arby's Offer Military and Senior Discounts?
Arby's corporate offers military and senior discounts that are available at their locations. However, the 10% savings may not be available at your local Arby's. Each Arby's location has its own policies concerning military and senior discounts. Your local Arby's can confirm their discount policies.
We spoke with Arby's to clarify the availability of military and senior discounts at their restaurants. In 2013, they were on record as not offering senior discounts at any of their locations.
However, they now say that they leave that decision up to the discretion of each Arby's franchise owner.
Arby's corporate does not have access to a list of locations that offer the 10% off to veterans, military, and guests over 55. Some locations may offer one and not the other.
The best way to find out if your Arby's has a military or senior discount is to call them directly.
If you discover that military and senior discounts are not available at Arby's near you, you have a few options.
Arby's encourages you to file a feedback form and call their customer service number 1-800-599-2729 between 7 am and 11 pm CST to speak to a representative and have a report sent to the "team leads" for your local Arby's.
Does Arby's Have Happy Hour in Canada?
Arby's Canada offers their own take on the popular Happy Hour special at participating locations. It is available every afternoon from 2 pm to 5 pm. In Canada, Arby's Happy Hour menu contains five featured items priced at $1.99, including two sliders, a drink, fries, and a cookie. Be sure to check your local Arby's for availability.
In Canada, Arby's Happy Hour sliders are the Jalapeno Roast Beef Slider and the Buffalo Chicken Slider.
Arby's Canada Happy Hour menu also includes a snack-size Curly Fries, a 12 oz. Coca-Cola Zero Sugar, and a Salted Caramel and Chocolate Chip Cookie.
Arby's Canada locations also offer menu items that are not available in the United States. Some Arby's menu items that are only available in Canada are:
Blueberry Turnovers
Poutine
Onion Rings
Baked Potatoes
The Montreal Smoked Meat 'N Cheese Slider
The Double Montreal
For up-to-date information on the full Canadian Arby's menu and their latest specials and promotions, be sure to visit their website.
Conclusion
There's no denying that Arby's combination of a delicious menu of "high-quality proteins and innovative, crave-able sides," along with their popular Happy Hour and Meal Deal specials, has been a recipe for success for this "Fast-Crafted" restaurant chain.
Be sure to check out your local Arby's to take advantage of their featured specials and enjoy great food at a great price!
If you're interested in finding out more tips about Arby's, check out the related articles below.
Related Articles:
How to Use Arby's App to Get Coupons and Order Online
Arby's Roast Beef: Everything You Need to Know About This Fan Favorite
Arby's Has Sandwiches With More Than Just Roast Beef
Everything You Need to Know About Arby's Gyros and the Gyro Sauce