22 Best Food to Order at Applebee's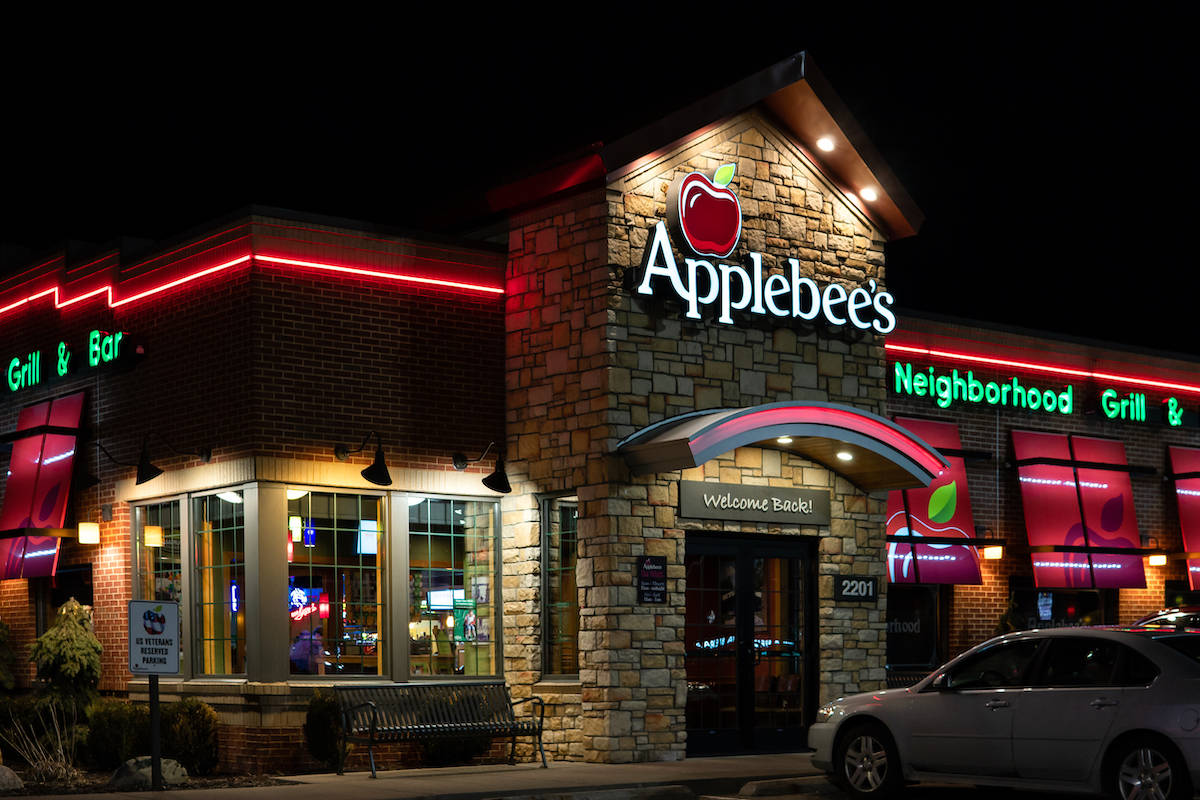 When you think of a great date night option, Applebee's is the first that comes to mind for many people. There are a wide variety of items on Applebee's menu, making it perfect for any occasion.
From delicious appetizers to entrees to drinks, there's something for every appetite at Applebee's. In addition, there are many popular desserts that will satisfy your sweet tooth.
However, with so many items on Applebee's menu, it can be difficult to decide what to eat – but we've got you covered!
We've created a list of the best Applebee's menu items to help you decide what to order next time.
22. Strawberry Balsamic Chicken Salad
The Strawberry Balsamic Chicken Salad is a must-have for those who love a bit of bite to their salad.
The salad combines fresh greens with tomatoes, red onions, sliced almonds, fresh strawberries, and grilled chicken.
This healthier option feels light in the stomach but will keep you full until your next mealtime.
The tart bite from the strawberries and balsamic glaze comes in at 860 calories – a relatively small number compared to many other Applebee's menu items.
21. Fiesta Lime Chicken
Although it may not be the "go-to" menu item for many, the Fiesta Lime Chicken is a great option for those looking for a Mexican equivalent dish on Applebee's menu.
Particularly appealing about this dish is the combination of carbs and protein that will leave you feeling full (and maybe even with some leftovers).
The chicken, served atop crispy tortilla stripes, comes with a side of Spanish Rice.
For those needing an extra "kick," the chicken comes with a side of salsa or pico de gallo that can be mixed with the rice, tortillas, or put on the chicken.
An order of Fiesta Lime Chicken is 1180 calories, and it's gluten, nut, and soy free.
20. Shrimp 'N Parmesan Sirloin
Applebee's take on Surf' n Turf, the Shrimp' N Parmesan Sirloin, combines a grilled 8 oz. sirloin and a handful of shrimp with a cheesy parmesan sauce drizzled over the top to add an extra "country" style cooking.
The meal comes with two sides, allowing you to customize your order to your preferences.
Many people enjoy this meal with a vegetable on the side, but, as always, order to your preference.
While this 620-calorie meal is delicious, if you're a lover of fresh seafood, this might not be the meal for you.
Applebee's locations aren't always the easiest place to get fresh seafood, so remember your environment.
19. Spinach and Artichoke Dip
As someone that doesn't like spinach or artichokes that much, it's unusual to hear me say that their Spinach and Artichoke Dip is phenomenal.
Served with a generous portion of white corn tortilla chips and chipotle lime salsa, the Spinach and Artichoke Dip is perfectly creamy but not at all runny.
The appetizer, best when shared, is 950 calories, but that's assuming you get every bite of salsa and dip.
Made with wheat, milk, and gluten, the appetizer isn't the most allergy-friendly but tastebud friendly!
The ingredients in Applebee's Spinach and Artichoke Dip include:
Spinach
Soybean Oil
Asiago Cheese
Salt
Onion
Artichoke hearts
18. Clubhouse Grille Y
Sometimes after a long day, what sounds most delicious is an easy, quick, delicious meal.
If you ever find yourself in this situation, the Clubhouse Grille Y should be your meal of choice.
Made with ham, turkey, cheddar cheese, Swiss cheese, bacon, lettuce, tomato, mayo, and BBQ sauce stuffed between two massive slices of toasted potato bread, the Clubhouse Grille Y doesn't disappoint even the pickiest eater.
Coming in at 1040 calories, the meal is served with a handful of classic French fries that will give you the saltiness to go along with any good sandwich.
17. Double Crunch Bone-In Wings
For lovers of Buffalo Chicken Wings, this may very well end up being your favorite item on the Applebee's menu.
And with double the crispness, other chain restaurant chicken wings pale in comparison.
The wings fired not once but twice in Applebee's homemade batter are incredibly crunchy on the outside but tender on the inside.
Available in Buffalo, Garlic Parmesan, Honey BBQ, Honey Pepper, or Sweet Asian Chili Sauce, with a side of either Ranch or Blue Cheese dressing, these wings (without the sauce) are 580 calories.
The wings are served with fresh celery and are worth every bite.
16. Blackened Cajun Salmon
Though people are often wary of ordering seafood, especially when they aren't close to the ocean, Applebee's Blackened Cajun Salmon is an exception.
Made with 6 oz. Salmon filet grilled and covered in seasoning; the Cajun Salmon uses a particular storage method to make it taste fresh.
If you live on the ocean, you might have many other options, but this salmon is delicious.
The 600-calorie filet is served with mashed potatoes, broccoli, and a lemon on the side to garnish your salmon.
Make sure you don't have leftovers, though – no one likes reheated fish!
15. Four Cheese Mac and Cheese With Honey Pepper Chicken Tenders
This Applebee's classic is a mashup of the beloved comfort food Mac and Cheese and the widely regarded chicken parmesan.
When put together, it makes for a cheesy meal coming in at 1400 calories.
Made with American, White Cheddar, Orange Cheddar, and Colby Cheese, this Mac and Cheese combo is mixed into a healthy portion of penne pasta with bacon and chicken tenders.
To add to the flavor, the meal comes with a light honey pepper sauce spread over the chicken, combining the cheesy flavor with sweetness.
If you aren't a fan of bold flavors, consider skipping this one.
14. Classic Cheeseburger
When we say a "classic cheeseburger," we really mean classic.
Applebee's cheeseburger is an all-beef patty with pickles, tomato, red onion, lettuce, and two slices of American cheese on a bun.
The 1220-calorie meal also comes with a side of French fries, and you can customize it by adding bacon, pepper jack cheese, and extras of what already comes on the burger.
But for the most part, this is just your old-school burger.
The burger is best when served medium, but you have your choice in how it is cooked.
Just remember that restaurants want to avoid foodborne illnesses, so if you ask for rare, you might find your burger cooked more than you like.
13. Southwest Chicken Bowl
Applebee's likes to go for a "Tex-Mex" feel to their grain bowls, and with this bowl, they certainly achieved that.
The bowl screams like chicken fajitas but is unique.
At 820 calories, this bowl is served with cilantro rice as a base piled high with grilled chimichurri chicken, guacamole, pico de gallo, black bean corn salsa, and perfectly crunchy tortilla strips.
When mixed together, you get a piece of chicken with every bite.
For a pro tip, consider adding the lime over the rice and the guacamole.
The juice is absorbed more fully in the guacamole, creating a nice flavor boost.
12. Triple Chocolate Meltdown
After a filling meal, what's better than topping off your delicious food with something that will satisfy your sweet tooth?
The made-to-share Triple Chocolate Meltdown will satisfy your chocolate cravings and leave you full.
The chocolate cake, layered with hot fudge and vanilla frosting, has a warm melted center, allowing the cake to act as a perfect sponge for the flowing chocolate river.
This decadent dessert is served with vanilla ice cream and contains 840 calories.
11. Tex-Mex Shrimp Bowl
Sticking with the "Tex-Mex" flavor, the Tex-Mex Shrimp Bowl is similar enough to Applebee's other bowl on our list, but with one major difference: surf vs. turf.
The shrimp bowl is served with all the same ingredients as the Southwest Chicken Bowl, but it replaces the chicken with a generous portion of shrimp.
Though harder to mix in with the grain, the shrimps are much better at absorbing the surrounding flavors, causing a significant flavor change.
At 710 calories, the Tex-Mex Shrimp Bowl is crunchier than the Southwest Chicken Bowl, despite having fewer tortilla strips.
10. Bourbon Street Steak
Walker Hayes wasn't kidding when he was singing his praises (quite literally) for the Bourbon Street Steak – it really is delicious!
The grilled 8 oz. sirloin is served over a bed of sauteed mushrooms and onions and topped with Applebee's homemade Cajun garlic butter.
The juices from the steak and butter mixed with the soft vegetables make for a deliciously filling meal at 820 calories.
If you love the garlic sauce, eat your veggies and steak first, and then mix your mashed potatoes with the leftover sauce on your plate.
This way, you will get every drop of food and turn your mashed potatoes from good to great.
9. Oriental Chicken Salad
The Oriental Chicken Salad is delicious and a long-standing favorite on Applebee's menu.
The breaded chicken, rice noodles, and sliced almonds served over the top of Asian greens make this salad not only nice to look at but filling to eat.
With Oriental vinaigrette added to the mix, this massive salad will likely have you taking home leftovers.
With a side of a breadstick, this 1570-calorie meal is my mother and grandmother's favorite dish on the menu.
8. Grilled Chicken Breast
Some restaurants have massive menus, and others have smaller menus with simple meals. Applebee's has both qualities – but their easiest meals are their best.
The grilled chicken breast on Applebee's menu is a great example.
The chicken breast, seasoned with salt, garlic, onion, and pepper and grilled over an open flame, is one of the best meals on their menu.
Easy to make, delicious to eat – you can't go wrong with it.
For an added bonus, the 550-calorie chicken is served with mashed potatoes and broccoli.
7. Double Crunch Shrimp
Like the Double Crunch Bone-In Wings, the Double Crunch Shrimp is battered and fried twice, making for a light crunch every time you bite into the already firm shrimp.
If you like crunchy foods, this meal is for you.
Served with French fries, cocktail sauce, and Applebee's homemade coleslaw, the 1130-calorie meal has a little spice, but not so much that it's too hot.
The batter adds some spices to the shrimp to help mix up the flavor.
The ingredients in the batter include:
Flour
Salt
Garlic
Paprika
Sugar
Onion Powder
Sunflower Oil
6. Classic Broccoli Chicken Alfredo
Chicken Alfredo is a common menu staple at many restaurants, but it's often watery and doesn't taste very good.
Fortunately, this isn't the case with this Broccoli Chicken Alfredo.
What typically causes the watery flavor is water dripping from the broccoli into the alfredo.
However, the way Applebee's cooks their broccoli prevents water from dripping out.
The 1410-calorie meal served with flavorful pieces of grilled chicken on top of fettuccine pasta is sure to please pasta lovers.
5. Whisky Bacon Burger
We've all seen TV ads where someone bites into a burger that looks bigger than their face. If that's the meal you're looking for, look no further.
The Whisky Bacon Burger might be a little messy, but it's delicious.
This burger is served with two slices of cheese, tomato, lettuce, crispy onions, bacon, pickles, and Fireball Whisky-infused steak sauce that will have you stuffed to the brim.
Do not forget the fries served with the burger. You will feel lucky if you can eat the 1610-calorie meal without needing leftovers!
4. Chicken Fajita Rollup
The closest thing Applebee's has on their menu to a fajita, this rollup is stuffed with everything you could ask for in a fajita but saves you the work of making it.
Filled with juicy chipotle-flavored chicken, lettuce, cheddar cheese, and pico de gallo, these 1390 white tortilla wraps will satisfy your need for "Tex-Mex" style food.
It's served with a special sauce, so you can drizzle or dip the tortilla wrap to add an extra flavor kick.
3. Brownie Bites
The Brownie Bites on Applebee's menu are so good that you might consider taking an extra portion on your way home.
This brownie, drizzled with hot fudge, has crushed nuts served over the top, adding a little salt to the sweet dessert.
The crunch of the nuts also pairs well with the soft vanilla ice cream served on the side.
At 330 calories, you could get the individual portion or the larger portion called the "Blue Ribbon Brownie," which comes with two scoops of ice cream and two brownies.
2. Brew Pub Pretzels and Beer Cheese Dip
Applebee's pretzels are by far their best appetizer and one of our all-time favorite items on the menu.
The Bavarian-style 1170-calorie pretzel sticks are long, easy to break apart, and easy to share (if you're willing to)!
If you're big into dipping your food, the Blue Moon Beer Cheese is a must-have.
Incredibly creamy and cheesy, the beer cheese dip complements the salt of the pretzels very well.
If you don't like cheese, you can also try dipping it in Dijon mustard.
1. 12 oz. Ribeye
Applebee's has many tasty options on the menu; however, if you're going for a reliably delicious meal, the plain old 12 oz. Ribeye is the way to go.
Cooked over the grill with salt, pepper, and tenderizer, this Ribeye isn't too fatty or tough.
It is always cooked to perfection and has been a favorite among diners.
The 890-calorie steak also comes with broccoli and mashed potatoes, making it a perfect "steak and potatoes" type of meal.
Conclusion
Applebee's is a great restaurant if you're looking for a delicious bite to eat for any occasion. With a wide variety of choices, everyone is sure to find something they'll like on Applebee's menu.
If you have a hard time deciding, our picks for the best Applebee's menu items are the Brew Pub Pretzels as an appetizer, the 12 oz. Ribeye as your meal, and the Triple Chocolate Meltdown as dessert.
For more information about Applebee's, check out the articles below.