How to Get Applebee's Coupons and Order Online Using the Applebee's App
Applebee's coupons are the best way to try their latest specials, and ordering online through the Applebee's app is the most convenient way to get your next meal. Anyone who signs up for the Applebee's email list gets coupons sent directly to their inbox, including free membership gifts.
You can get Applebee's coupons emailed by signing up for Club Applebee's. Applebee's coupons can be used online on the Applebee's website or the app or dining in a restaurant. In addition, Applebee's offers curbside pickup through Carside To Go, Inside Pickup, or delivery through GrubHub, DoorDash, Uber Eats, and Postmates.
Applebee's makes it simple to take advantage of the latest deals and promotions. In this article, we'll discuss how to get Applebee's coupons and how to order online using the Applebee's app.
How to Get Applebee's Coupons
You can get Applebee's coupons delivered to your inbox by becoming a Club Applebee's member. You can sign up for Club Applebee's by entering your email and information on their website. Upon signing up for Club Applebee's, you'll receive a coupon for a free item as a welcome gift and a special offer on your birthday.
Joining Club Applebee's only takes a couple of minutes and a few easy steps. Let's take a look at how to sign up.
Navigate to Applebee's website. You can either sign up for Club Applebee's directly on this page using the horizontal scrolling menu located just below the current special. You can also scroll to the bottom of the page and click on "Club Applebee's" in the left-hand menu.
To sign up for Club Applebee's using the scrolling menu, first enter your email in the provided box and click on "Submit". You can also move to the next section by clicking on the circles just below the email box.
Continue by filling out your name, birth date, and the address of your preferred Applebee's location, then click "Done" to submit your form.
If you click on "Club Applebee's" instead, you will be redirected to a new page with a sign-up form. Fill out all necessary information, then click "Sign Up" at the bottom of the page.
An email with a coupon for your free welcome item will be sent within 24 hours of joining Club Applebee's.
In addition to having the newest specials and offers sent to your email, Applebee's advertises the latest special on their main web page and under the "Home" tab on the Applebee's app.
You can also keep up with the latest Applebee's news through their social media accounts.
While Applebee's Facebook is great at highlighting menu options and seasonal specials, their Twitter and Instagram accounts are slightly more active with a light-hearted and often humorous approach to presenting the latest offers.
Finally, a club with no line or dress code. Join Applebee's E- Club andenjoy special offers along with promotional events personalized for you. Sign up today and receive a free appetizer with the purchase of an
entrée. https://t.co/4MGDqC9DWy pic.twitter.com/oVrXw4SSeP

— Applebee's Grill + Bar (@Applebees) December 19, 2018
Does Applebee's Have Printable Coupons?
Most Applebee's coupons come in a digital format that can be used when ordering online or at a restaurant. While Applebee's printable coupons are not common, they may be found on some coupon sites. These coupons come with a promo code that can be used when ordering online, or you can print them out and bring them into the restaurant.
Applebee's coupons are mostly digital. They can be used when ordering online by entering the promo code or eating in an Applebee's restaurant by presenting the digital coupon on your mobile device to your waiter.
However, some printable coupons can be found on coupon and discount sites such as RetailMeNot or BeFrugal, although most of these can simply be displayed on your mobile device as well.
Thank you for taking the time to contact us, Samuel. Since each Applebee's franchisee operates as an independent business, coupon redemption policies are up to their discretion. We apologize for your frustration and any inconvenience this may have caused.

— Applebee's Grill + Bar (@Applebees) July 13, 2019
What Discounts Does Applebee's Have?
Applebee's has several discounts without the need for a coupon or promo code. For example, many Applebee's locations offer discounts for seniors and military personnel, as well as a free birthday item.
Applebee's restaurants are franchise-owned and may not have the same policies at each location.
However, although they do not have a set policy, senior and military discounts are honored in many locations. To confirm the policy at your local Applebee's, you can ask your waiter or call the restaurant.
Depending on the policy of each location, seniors over the age of 60 may receive a 10-15% discount.
Some locations may require seniors to present an ID or an AARP card to receive the discount.
Since 2008, Applebee's has also been serving veterans and active-duty military free meals every Veteran's Day.
In addition, some Applebee's locations also offer veterans and active-duty military a 10% military discount. Be sure to have an ID available to verify your status to receive the discount.
Club Applebee's members also get treated to a free item on their birthday. A coupon for a free dessert, entree, or appetizer will be sent to your email before your birthday.
Then simply enter the coupon code online or present the coupon to your waiter to receive your free birthday gift.
All discounts and offers are valid at participating restaurants only, so it is best to check if your discount can be applied before placing your order.
How to Order Applebee's Online
You can order Applebee's online through their website or the app. Applebee's online orders can be placed for Carside To Go, Pickup Inside, or Delivery. In addition, you can browse Applebee's menu items online and apply coupons or promo codes at checkout. Most menu items are available for online ordering, but items may vary by location.
Applebee's app makes it simple to place your order online. Next, we'll talk about how to order online using Applebee's app. Ordering through Applebee's website offers a similar experience.
1. Download and open the Applebee's app, then click on "Order" at the bottom of the screen.
2. Select how you'd like to receive your food. You can choose from "Carside To Go", "Pickup Inside," or "Delivery." There is also an option to "Pay from Phone" that can be used when dining in the restaurant.
3. Choose your preferred location to pick up your food or enter your address for delivery.
4. Once you've made your selection, you'll be redirected to the menu. Choose items by clicking on each category, or search for specific items using the search bar above the menu. Categories are displayed on the app's main screen while they are listed in the left-side menu on the website. Most items available in restaurants are also available to order online.
5. Click on each category, and the available meals will be presented with the price and calories of each dish.
6. Click on the plates and items you'd like to customize your order. Individual items will open on a new page with the description of the dish, the price, and the calories. You will also find the options to add or remove ingredients. You can change the side that comes with entrees, and you can choose to add a soup or salad, a dessert, or a drink.
7. Choose the quantity you'd like for each selection, then add the items to your order by clicking the button on the bottom of the screen.
8. You can review your order on the final checkout page. Confirm your order information and order total here. If you wish to leave a tip, either select a preset percentage or enter a custom amount. You can also choose whether you'd like to receive utensils with your order.
9. The final step is to add your payment method. You can use a credit or debit card as well as a gift card to pay for online orders. Click on "Process Order" to complete your request.
How to Use Applebee's Coupons Online
You can use Applebee's coupons online by navigating to your cart and entering the coupon code on Applebee's website or the mobile app. You can add a coupon at any time before you begin the checkout process.
Digital coupons allow you to apply discounts with the click of a mouse. Below we'll describe how to use your Applebee's coupons online.
1. To use an Applebee's coupon online, you need to first copy the coupon code from your Club Applebee's email or your favorite coupon site.
2. The coupon can be applied to your Applebee's shopping cart. At any point when placing your order, paste the coupon code into the box to apply the discount.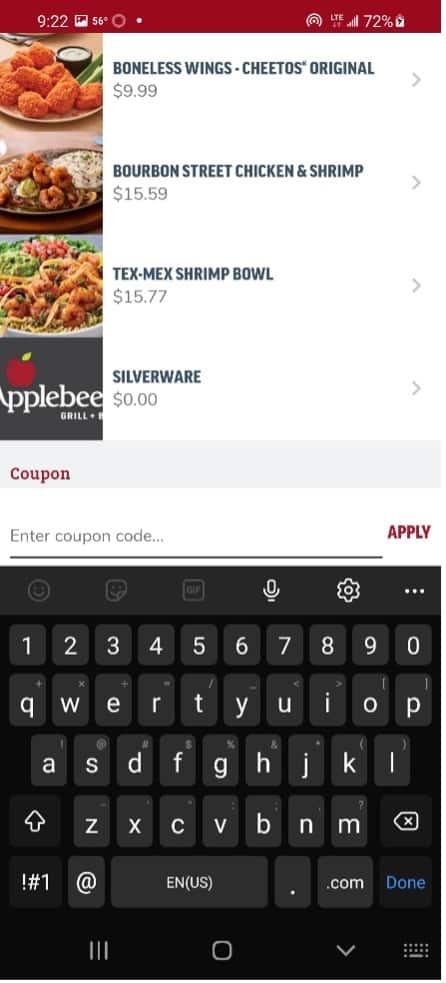 Coupons will apply to eligible items, and the discount will be reflected in your cart. You can also confirm the discount at checkout.
How Does Applebee's Pickup Work?
Applebee's pickup allows you to place your order online and pick it up at your nearest location. Once you place an order, you can choose to pick it up inside the restaurant or have it brought to your car through Carside To Go.
Applebee's Carside To Go lets you order online and pick up your food without having to leave your car. You can order Carside To Go through Applebee's mobile app in a few easy steps.
Place your order online and select "Carside To Go."
Drive to the Applebee's restaurant location that you selected and park in a designated Carside To Go parking spot.
Let the restaurant know that you've arrived through text or by clicking on "I'm Here" in the email sent to you upon placing your order.
Your order will be brought out to your car by an Applebee's employee. Now enjoy your meal!
You can also choose to pick up your order from inside the restaurant.
Select "Inside Pickup" online, then complete your order and the checkout process. Your order will be waiting for you in the restaurant when it's ready.
We now have beer and wine to go! How to order? Just call in or add it to your Carside To Go order for pickup. It is that easy. Cheers! pic.twitter.com/veEkzJu8w4

— Applebee's Grill + Bar (@Applebees) April 8, 2020
Does Applebee's Deliver?
Applebee's offers delivery through third-party services like GrubHub, DoorDash, Uber Eats, and Postmates. You can place an order for delivery using Applebee's website or mobile app. Most of Applebee's menu items are available for delivery, including alcohol in states that allow alcohol delivery.
Applebee's delivery service is determined by location and fulfilled by GrubHub, Postmates, DoorDash, or UberEats.
Applebee's delivery fees vary by service and order total, and a standard 15-20% tip is always appreciated.
Tips may be left online at the time of checkout or in person upon receiving your delivery.
You can pay for an Applebee's delivery order using a credit or debit card or an Applebee's gift card.
Applebee's delivers their signature alcoholic and non-alcoholic beverages, though alcoholic drinks are only delivered in states that allow alcohol delivery.
Someone 21 or over with a valid ID must be present to accept any orders containing alcoholic drinks.
Conclusion
Applebee's coupons are the best way to treat yourself to your next meal. Use them if you're eating at your favorite restaurant or when ordering online for pickup or delivery.
You can find the latest Applebee's specials and deals online and choose between in-restaurant pickup, Carside To Go, or delivery. Together, Club Applebee's and the Applebee's app make it easy to please your appetite!
If you're interested in learning more tips about Applebee's, check out the related articles below.
Related Articles:
Applebee's Half Price Apps and Other Specials Will Save You Money
Exploring the Applebee's Drink Menu (Calories, Prices, and Specials)
How Applebee's Carside To Go Works and How to Order
6 Applebee's Bowls That Are Fan Favorites and Irresist-a-Bowl
Applebee's Delivery: How to Order Your Applebee's Favorites Online