How to Get Applebee's Coupons and Use Them for Online Orders
Applebee's coupons are the best way to try their latest specials, and ordering through the Applebee's app is the most convenient way to get your next meal.
Anyone who signs up for Applebee's email list gets coupons sent directly to their inbox, including a free item on their birthday. Read on to find out how to access Applebee's promo codes and apply them to your next online order.
How to Get Applebee's Coupons
You can get Applebee's coupons delivered to your inbox by becoming a Club Applebee's member. You can sign up by entering your information on their website. Upon signing up, you'll receive a coupon for a free item.
Joining Club Applebee's only takes a couple of minutes – just follow the steps below:
Step 1. Go to Applebee's website and scroll to the bottom of the page. Next, click on "Club Applebee's" in the left-hand menu.
Step 2. Enter your name, email, phone number, and preferred Applebee's location. Then, click "Sign Up."
Step 3. An email with a coupon for your free welcome item will be sent within 24 hours.
In addition to having the newest specials sent to your email, Applebee's advertises them on their homepage and under the "Home" tab on the app. You can also keep up with the latest offers through their social media accounts on Facebook and Twitter.
Applebee's Discounts
Applebee's has several discounts without the need for a coupon or promo code. For example, many Applebee's locations offer discounts for seniors and military personnel.
Seniors over 60 may receive a 10-15% discount by presenting an ID or an AARP card. Veterans and active-duty military personnel may also receive a 10% discount at some locations.
Keep in mind that Applebee's restaurants are franchise-owned and may not have the same policies at each location, so it's best to confirm with your local restaurant.
Club Applebee's members also get treated to a free item on their birthday. A coupon for a free dessert, entree, or appetizer will be sent to your email before your birthday. You can enter the coupon code online or present it to your waiter to receive your free birthday gift.
How to Use Applebee's Coupons Online
You can use Applebee's coupons when ordering on their website or the mobile app. You can add a coupon at any time before you begin the checkout process.
Below are the steps you can follow:
Step 1. First, copy the coupon code from your Club Applebee's email.
Step 2. At any point when placing your order, paste the coupon code into the box to apply the discount.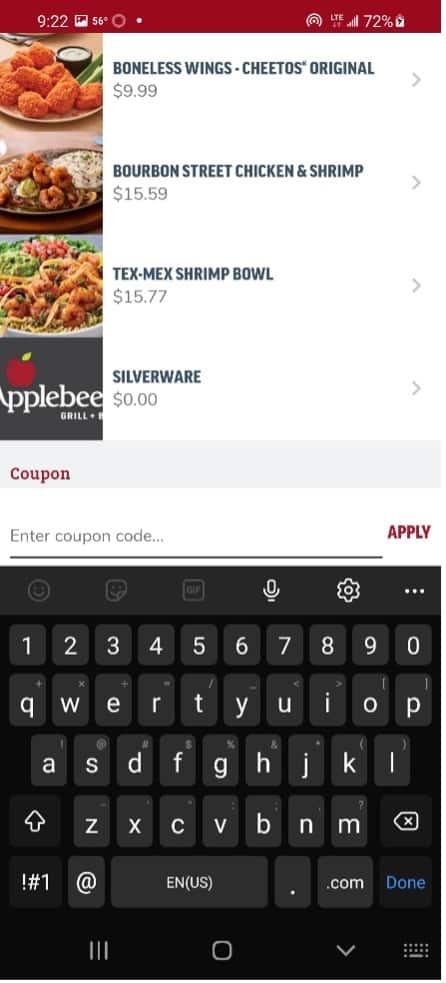 Coupons will apply to eligible items, and the discount will be reflected in your cart. You can also confirm the discount at checkout. Simple as that!