Do You Tip Amazon Whole Foods Delivery? (Yes, Here's How Much)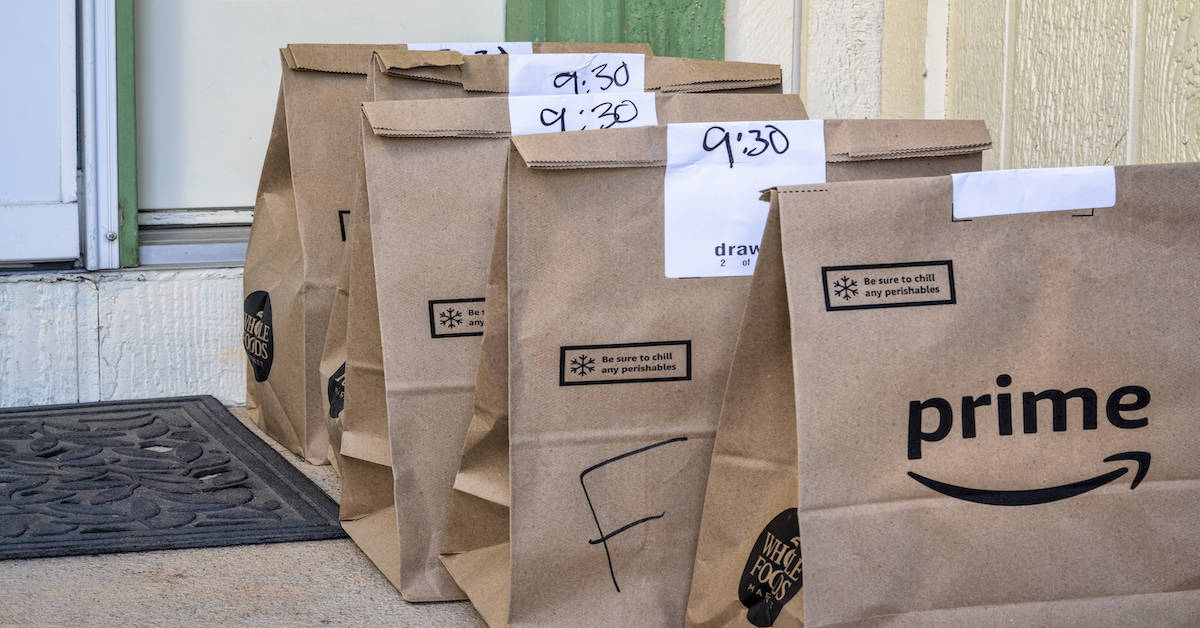 While tipping is an entirely voluntary part of using any delivery service, it's highly recommended that you tip delivery drivers as tips make up a major part of their daily income. However, you can choose a tip based on what you're able to give.
Tipping is completely optional for Amazon Whole Foods delivery, but it is recommended to tip between 10% and 20% on your orders. As a general rule, it is optimal to tip no lower than $3 to $5 depending on your order total. After delivery, you can change the tip amount for up to 24 hours.
The conversation around tips can feel tricky if you're unsure how much to tip and how your driver will react to seeing the tip. If you're hesitant to use the Amazon Whole Foods delivery because of the ambiguity around tipping, don't worry!
In this article, we'll walk you through everything you need to know about tipping Amazon Whole Foods drivers for your delivery or pickup orders.
PSA: Amazon Prime Whole Foods delivery is making the 20 mile drive to my house this Sunday with no delivery fee, and an option to tip your driver.

Now is the time to tip your driver well.

— Emily (@_emily_rose) March 20, 2020
How Much Should You Tip Amazon Whole Foods Delivery?
A good tip is around 20% when you're buying groceries using the Amazon Whole Foods service. However, for some, 20% may be too generous based on income. If you can't manage to give 20%, aim to tip your driver at least 10%. This is the bare minimum that you should be tipping.
It is often easier to think of how much you should be tipping a driver if you consider it like any other service tip. Think of going to a restaurant and how much you would usually tip your server.
The same rules apply here. Since the money amount will always differ depending on the order size, you should think of your tip in percentages.
If you enter a 10% tip and it feels way too low, look at the exact dollar amount 10% gave the driver. As a general rule, try to tip above $3 to $5.
If, based on your order, your tip only comes out to $1, consider bumping it up to give your driver a larger takeaway from the trip they've made to deliver your Amazon Whole Foods order.
With that said, if you have the means to give a larger tip to drivers, consider 20% your go-to amount.
This gives the delivery drivers a boost in their income and shows your gratitude for the convenience they've delivered. It also aligns with the percentage you'd use for most of the other services.
Do Amazon Whole Foods Drivers See Tips?
Amazon Whole Foods drivers don't see your exact tip amount, but they see if a customer tipped them or not. This is not tied to a specific delivery or a customer name, and it is not broken down into how much each customer tipped them.
For example, if a driver delivers to three people in a shift, in the end, they see if they got tipped or not. The system will not show them specific amounts for each delivery, but it shows if tips were given.
By doing that, Amazon maintains more privacy for customers and avoids any future issues with drivers not wanting to pick up certain orders.
Who Gets the Tip for Amazon Whole Foods?
A major plus as a delivery driver for Amazon Whole Foods is that each driver gets 100% of their tips. Unlike some other service industry employees, there is no percentage taken out from the tips drivers earn.
Since the full amount you tip your driver is given directly to them, it can make a big difference in their daily income to receive 20% tips from their deliveries. This provides money directly to the employee rather than the company and makes their delivery routes more worthwhile.
Giving 100% of the tip to drivers is important because if drivers are not making enough money for the time they spend on deliveries, they simply will stop delivering.
Therefore, by tipping your drivers, you ensure that you'll always find a delivery driver for your orders, and drivers are paid above and beyond their wages.
The extra few dollars from each trip can add up to a generous sum if all customers start tipping their drivers.
@AmazonHelp excellent experience with @WholeFoods order and a perfect delivery. Increased the driver tip.#ThankYou #AmazonPrime@WholeFoodsPR @amazon #grateful

— ali harris (@aliharris1) November 4, 2020
How to Tip Amazon Whole Foods Delivery
When you download the Amazon Whole Foods app and go to the order checkout, you will see a breakdown of the charges. The very last charge will say "Tip (optional)." In this section, Amazon has calculated a tip for you based on the amount you are spending.
However, it is adjustable, and all you have to do is click "Edit" right next to the tip button, and it will take you to a screen where you can adjust the amount you'd like to tip.
This is just one simple step added to your checkout process. Keep in mind that you can adjust your tip amount for up to 24 hours after placing the order.
If you forget to change the tip amount, you will have an opportunity to go back into your app and increase the amount you've given.
How Much Do Amazon Whole Foods Drivers Make?
Amazon Whole Foods drivers make $13 per hour on average when they do deliveries. They are paid based on an hourly rate, so each day's total earnings is dependent on how many orders they deliver.
However, since most delivery drivers do not get paid high hourly wages, tips make a huge difference in the amount of money they make at the end of each day.
By adding a tip, you may be increasing their hourly rate significantly!
@WholeFoods @amazon Consider adding the option to include a tip for Whole Foods orders placed on-line or app for pickup.

— Andrew (@Andrewzky) August 7, 2020
Do You Tip Amazon Whole Foods Pick Up?
No, unfortunately, you can't leave cash tips for in-store pickups from Whole Foods. If you use the Amazon Whole Foods app and place an order for pickup, there will not be an option to leave a tip. You will only see an optional tip on the app if you opt for delivery.
If you're buying groceries at Whole Foods and want to leave a tip, you will have to choose delivery rather than pickup.
A great way to determine if you should pick up or have your groceries delivered is by checking out the Whole Foods store availability.
If a store a bit further away from you has more of the items you need, it may be more convenient to order delivery.
Final Thoughts
Leaving a tip for delivery drivers can often be stressful when you don't know how much to tip. However, following these guidelines and calculating your tips based on the same kinds of percentages you'd use in a restaurant, you'll contribute to supporting the driver's wage.
When ordering your groceries through Whole Foods, your driver will not see your tip amount, but the balance will go towards their hourly rate at the end of each day, which can substantially increase their income!
Remember that if you buy groceries at Whole Foods and decide to pick them up rather than have your items delivered, you will not have the opportunity to tip, as cash tips are not allowed in-store, and there is no place to add a tip online for pickup orders.
If you're interested in finding out more about grocery shopping on Amazon, check out the related articles below.
Related Articles:
Amazon Fresh vs. Whole Foods: What's the Difference?
Do You Tip Amazon Fresh Delivery? (Yes, Here's How Much)
Is It Safe to Order Food from Amazon? (Yes, Here's Why)
Whole Foods Pickup: Everything You Need to Know Before Ordering