Amazon Fresh vs. Whole Foods: What's the Difference?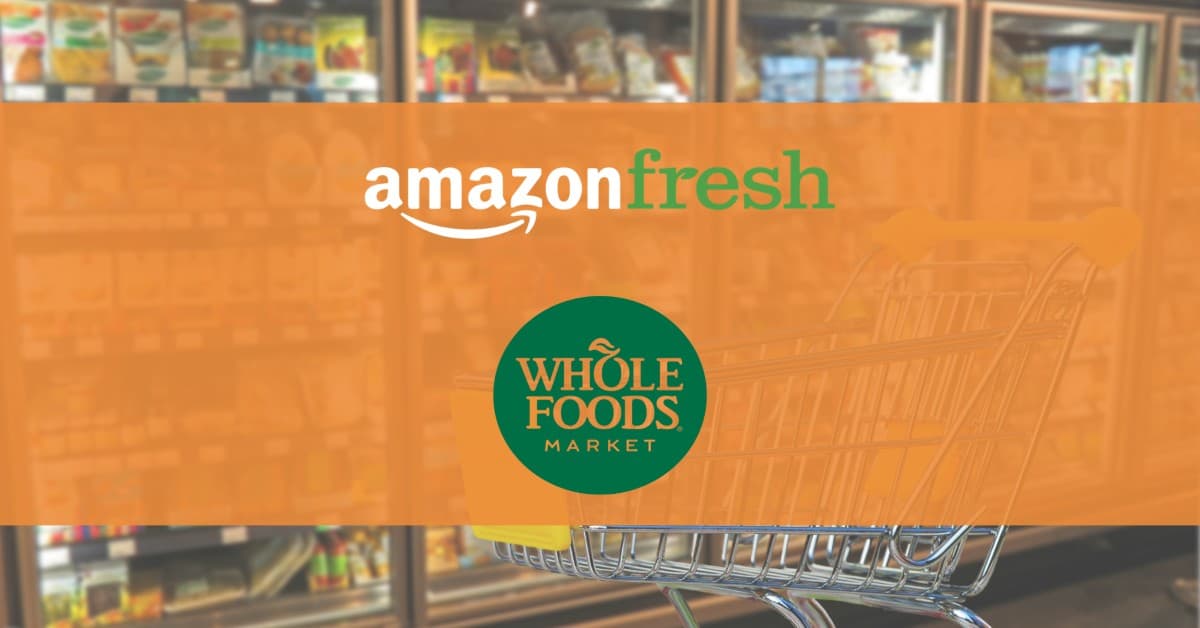 Amazon's acquisition of Whole Foods was the beginning of Amazon's expansion in the grocery business. Since then, Amazon continued to expand its physical presence, especially with Amazon Fresh.
In this article, I'll cover the differences between Amazon Fresh and Whole Foods.
The main differences between Amazon Fresh and Whole Foods are the type of groceries they offer and the price points. Amazon Fresh offers a wide selection of national brands, private label, and store-made products at a low price, whereas Whole Foods offers organic products at a higher price point.
Let's continue to explore the differences between Amazon Fresh and Whole Foods. I'll also share with you the innovation Amazon offers its customers with Amazon Fresh stores.
Just keep reading to find out more!
The Differences Between Amazon Fresh and Whole Foods
Amazon Fresh and Whole Foods are targeting different consumer segments. Whole Foods sells natural, organic, and clean foods serving health-conscious consumers. Amazon Fresh focuses more on everyday grocery items with a wide assortment.
They both complement each other and allow Amazon to reach a broader range of consumers. Being under the Amazon umbrella, Amazon Fresh and Whole Foods have similar perks, especially for Prime members.
Customers can order groceries from both Amazon Fresh and Whole Foods using the Amazon website or the app.
Prime members get free two-hour delivery for orders over $35 in eligible locations. The pickup option is also available to Prime members with no minimum order requirement.
You can find out if Amazon Fresh is available in your area on the website. To confirm Whole Foods' availability, you can click here.
One other difference between Amazon Fresh and Whole Foods was that Amazon Fresh didn't have a storefront until 2020. All Amazon Fresh orders were delivered from Amazon warehouses, whereas Whole Foods orders were delivered from local Whole Foods stores.
But that changed with an announcement from Amazon in August 2020. Amazon announced the opening of its first Amazon Fresh store in Woodland Hills, CA.
Woodland Hills was the test store for Amazon Fresh, with the potential to expand to other locations. Amazon has been opening more Fresh stores since then, so visit their website to find out the most current store locations.
Amazon Fresh store comes with high-tech equipment that takes grocery shopping to the next level! Amazon also has additional benefits for its customers shopping at the store.
Next, I'll cover what's new at Amazon Fresh stores and the added benefits of shopping there.
What Are the Advantages of Shopping at Amazon Fresh Stores?
Amazon combines traditional grocery shopping with an online shopping experience at the new Fresh store. The store is designed with high-tech gadgets like Alexa Kiosks to help customers navigate store aisles and Amazon Dash Cart to skip checkout lines.
1. Alexa, Your Virtual Grocery Shopping Assistant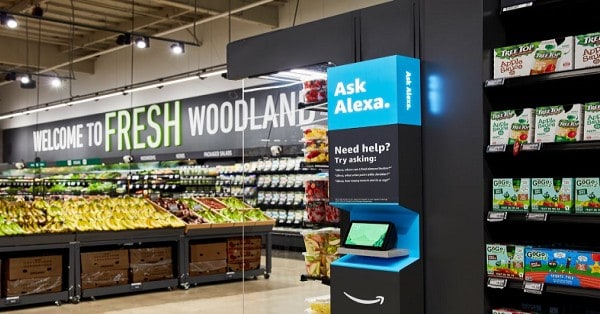 Alexa kiosks are located throughout the store to make shopping easier. Customers can ask Alexa where to find grocery items, and Alexa directs them to the right aisle.
But Alexa's capabilities are not just limited to giving store directions. You can also ask about food facts, how to pair food, and even get dinner ideas.
Amazon Fresh customers can use Alexa at home to start a shopping list and continue interacting at the store. With the Amazon Dash Cart technology, you can check off items from the Alexa shopping list as you add them to your cart.
There's no other grocery store that can provide this level of service, and this smart technology gives Amazon an edge over its competitors.
2. No More Checkout Lines With Amazon Dash Cart
Amazon Dash Cart is the shopping cart from the future with built-in smart technology. By using the Amazon Dash Cart, customers can skip checkout lines at Amazon Fresh stores.
How Does Amazon Dash Cart Work?
Amazon Dash Cart uses sensors and vision algorithms to identify items in your cart. The cart comes with a screen at the top and allows you to access the Alexa Shopping List. You can check off items as you shop through your list and apply coupons with the built-in coupon scanner.
When you're done shopping, you'll exit through the dedicated Amazon Dash Cart lane with no waiting time. Amazon will charge the credit card on your account and send the receipt via email.
You can follow the instructions below on how to use the Amazon Dash Cart:
Open the Amazon app on your mobile device and find your QR code.
Scan the QR code on the Amazon Dash Cart screen to sign in
Place your grocery bags in the cart.
Scan your items through the barcode scanner on the cart and place them in your bag
If the light turns orange, remove the item and re-scan.
If the item doesn't have a barcode, tap "Add PLU item" on the screen and enter the PLU number.
Put the item in your bag and confirm the weight.
When you're done shopping, go through the Amazon Dash Cart dedicated lane.
Sensors will process your checkout automatically. Return the cart and go.
It's very straightforward to use Amazon Dash Cart. It makes grocery shopping a fun and pleasant experience by skipping long checkout lines.
3. Amazon Low-Prices on Groceries
One other advantage of shopping at Amazon Fresh stores is the low price of everyday grocery items. Amazon has years of operational experience in delivering low-priced items to Prime members.
Amazon Fresh stores carry a large selection of national brands, store-made ready meals, and Amazon's high-quality private-label products, including the 365 by Whole Foods Market.
In addition to the low prices expected from Amazon, you can also earn 5% back at Amazon Fresh if you use Amazon Prime Rewards Visa Signature Card or Amazon Prime Store Card at checkout.
4. Hub for Amazon.com Pickups and Returns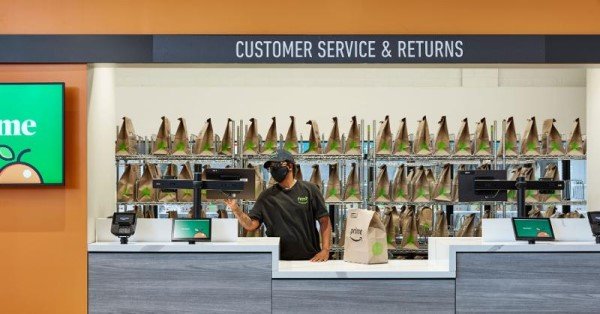 Amazon Fresh stores act as a hub for all Amazon packages. Customers can pick up or return any package ordered through Amazon at Fresh stores.
It's a big convenience for Amazon customers because Amazon Fresh is not only a grocery store but also positioned as a warehouse/distribution center for all Amazon orders.
There's a service area in stores where customers can pick up Amazon packages or online grocery orders and return products for free.
Amazon makes returns hassle-free by not requiring a box, label, or tape. Customer service handles the return process and puts the returned items in a package for you.
Conclusion
So now you know the differences between Amazon Fresh and Whole Foods. The main differences are the type of products they offer and the price points.
Amazon Fresh is an everyday grocery store with low prices, whereas Whole Foods focuses on natural and organic foods at a higher price point.
Amazon Fresh stores may be a game-changer in the grocery industry because of the high-tech service they offer to customers, like Amazon Dash Cart and Alexa voice assistance kiosks.
How will Amazon's competitors respond to Amazon's innovative services? Time will tell. But if the high-tech innovation takes hold among grocery shoppers, Amazon will stay ahead of the curve with the first mover's advantage.
Related Articles:
Do You Tip Amazon Whole Foods Delivery? (Yes, Here's How Much)
Can You Use Amazon Gift Cards at Whole Foods? (No, But Prime Works!)
Does Amazon Take EBT? (Yes, Here's How it Works)
Do You Tip Amazon Fresh Delivery? (Yes, Here's How Much)
Does Amazon Deliver on Sundays? (Yes, Here's What to Know)