What Is Walmart InHome Delivery and How Does It Work?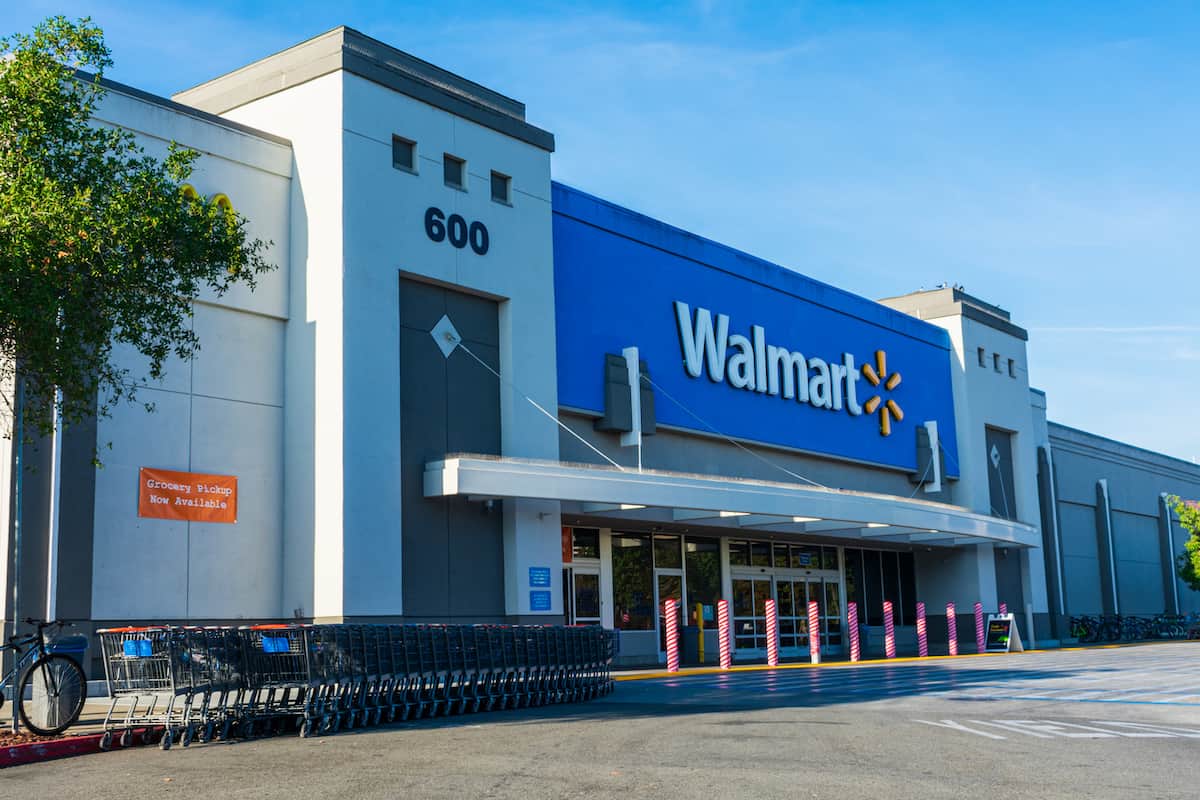 Walmart InHome service was launched in select areas in 2019 to provide customers with added convenience and flexibility. In 2022, Walmart plans to expand the service to 30 million households by the end of the year.
Key Takeaways
Walmart InHome allows highly trained Walmart employees to deliver groceries into your fridge using secure and smart access to your home.
InHome membership costs $19.95/month or $148/year and includes unlimited free deliveries, returns, and all Walmart+ benefits.
Walmart InHome deliveries are available every day between 9 am and 6 pm.
Keep reading to learn more about Walmart's InHome service, including how it works and the benefits.
What Is Walmart InHome Delivery?
InHome is a next-level grocery delivery service from Walmart.
Your orders from Walmart.com will be delivered by a specially trained Walmart employee who can bring the groceries right to the refrigerator and put them away for you.
Walmart InHome is a membership program with a monthly fee of $19.95.
It also comes with the benefits of the Walmart+ program.
You can visit Walmart's InHome website to determine if the service is available in your area.
Walmart offers a free 30-day trial, so you can test the service before committing to a membership.
Some people may fear delivery personnel entering their homes.
However, several security measures are in place to ensure safety and peace of mind.
You can watch the entire delivery process on the InHome app via a camera on the associate's vest.
Entry into your home is enabled through an existing smart lock on your front door or garage.
If you don't have one, Walmart InHome can provide and install a smart lock or garage opener for a fee.
Announcing Walmart InHome Delivery, a simple way to order fresh groceries and have them delivered directly into your kitchen or garage fridge. 🛒 🏡 🙌 Read more here: https://t.co/e2xxxzG8OB pic.twitter.com/5jfEKNwcTR

— Walmart Inc. (@WalmartInc) June 7, 2019
What Are the Benefits of Walmart InHome Delivery?
Walmart InHome saves time and allows the flexibility to not be home for your delivery.
In addition, Walmart InHome comes with the benefits of the Walmart+ membership and has an all-inclusive monthly cost with no additional fees.
Below are the benefits to consider when it comes to Walmart InHome:
No need to wait at home for your delivery. If you have a busy schedule away from home or simply want the freedom to not be home when a delivery arrives, then InHome is a great option.
Save more time shopping and put away your groceries at home. In addition, you don't deal with cleaning bags and containers when you are done. Instead, the Walmart InHome team takes care of the cleanup.
Save money on tips and additional fees that come with the standard delivery. Tips and all delivery fees are included in the InHome membership.
InHome is considered an upgrade to the Walmart+ membership for about $50 more per year.
In addition, the Walmart+ membership that is included with the InHome service has the following benefits:
Scan & Go in the Walmart App for faster checkout in stores.
Fuel discounts up to 10 cents per gallon at Exxon, Mobil, Walmart, and Murphy fuel centers, plus access to Sam's Club fuel stations.
Free shipping on all orders from Walmart.com.
Currently, InHome services include grocery delivery and returns. However, InHome pharmacy will also be launching soon.
Walmart's InHome service offers more convenience, time savings, and flexibility than traditional delivery services.
It may also be considered an essential service for the elderly or disabled who have difficulty managing grocery deliveries on their own.
We're expanding InHome delivery to be available in 30 million homes this year, making 2022 even more convenient for our customers. Read more: https://t.co/RYwM8ziN5a pic.twitter.com/14xHMpkYjO

— Walmart Inc. (@WalmartInc) January 5, 2022
Who Makes Walmart InHome Deliveries?
Walmart has a small and specially trained team for InHome deliveries based at your local Walmart store.
You will likely have the same delivery person often, so you will get to know the team.
InHome associates are members of your community and typically have tenure at the store of at least five years of service.
According to Walmart's website, the InHome team receives special training and pays attention to the details, such as:
Be friendly and considerate of your home and neighborhood. They cover their shoes before entering your house.
Select the best produce and pack orders professionally to ensure the quality of groceries when they arrive.
Arrange the groceries neatly at delivery and leave a note when finished for an extra touch of personal service.
Sanitize and lock up before leaving.
InHome service is focused on quality and personalized service to make members feel comfortable with who is entering their home.
How Does Walmart InHome Delivery Work?
After signing up for Walmart InHome, you will need to provide entry instructions for your first delivery.
InHome customers place orders at Walmart.com or on the app as they normally would and choose InHome delivery at checkout.
Then, an InHome team member will shop and deliver the order.
You are automatically enrolled in doorstep delivery upon signing up for the service.
To receive kitchen delivery, you will need to provide secure access and delivery instructions via the InHome app.
Placing an order online is the same as regular delivery, but you'll choose InHome delivery during checkout.
Walmart's InHome deliveries are available every day between 9 am and 6 pm.
On your delivery day, you will receive an update with a 3-hour delivery window.
You will receive another notification within 1 hour of arrival when the associate is on the way to your home.
Finally, you will receive a notification when the delivery has been completed.
The InHome delivery associate will deliver the groceries per your instructions and sanitize any surfaces they touch before they leave and lock up.
Don't forget to make a clear path to the kitchen for delivery and secure your pets to ensure successful delivery.
How Much Does Walmart InHome Membership Cost?
Walmart InHome costs $19.95 per month or $148 per year after the free 30-day trial is over.
InHome delivery does not have any additional fees no matter how many times you order, and tipping is not required.
In addition, Walmart InHome offers the same prices as in-store, so you are not paying any upcharge on the items ordered.
However, it is important to note that the 30-day free trial is not available to current Walmart+ members.
A customer is only eligible for one free trial, and a current Walmart+ member would have used the free trial when that membership started.
Signup online to start the 30-day free trial and verify if Walmart InHome is available in your area.
Is Walmart InHome Delivery Safe?
Walmart InHome has multiple levels of security to make you feel comfortable with the process.
Below are some of the security measures Walmart takes for InHome deliveries:
Associates undergo multiple background checks.
The entire delivery is video recorded.
Smart access devices only give access to your house during delivery.
If you already have a keypad on your garage or front door, you simply need to connect the keypad to your InHome account in the app.
If not, you can get one installed from Walmart or review their other options for access.
When the associate arrives at your home, they will receive a one-time code to enter using the smart lock or another smart entry device.
Walmart InHome team members will only have access during the specified delivery window and if the delivery person is at your door (determined via GPS).
When they enter your home, they will start recording the delivery until they lock up and leave your home.
You can watch the delivery in real-time, or the video will be available in the app for seven days to watch later.
Security is an important area for the InHome program, and Walmart has worked to ensure the process feels safe for customers.
How to Order Walmart InHome Delivery
To order Walmart InHome delivery, add items to your cart on the Walmart website or the app and choose an InHome delivery time slot at checkout.
The process is very similar to ordering online for standard delivery.
When placing your order, make sure to select items that are eligible for delivery.
If you don't see InHome delivery slots available during checkout, confirm the local Walmart store you are shopping at matches the delivery address in your account.
To review the store you are shopping at, follow these steps:
Step 1. In the app, at the top of the screen, check the section "How do you want your items?"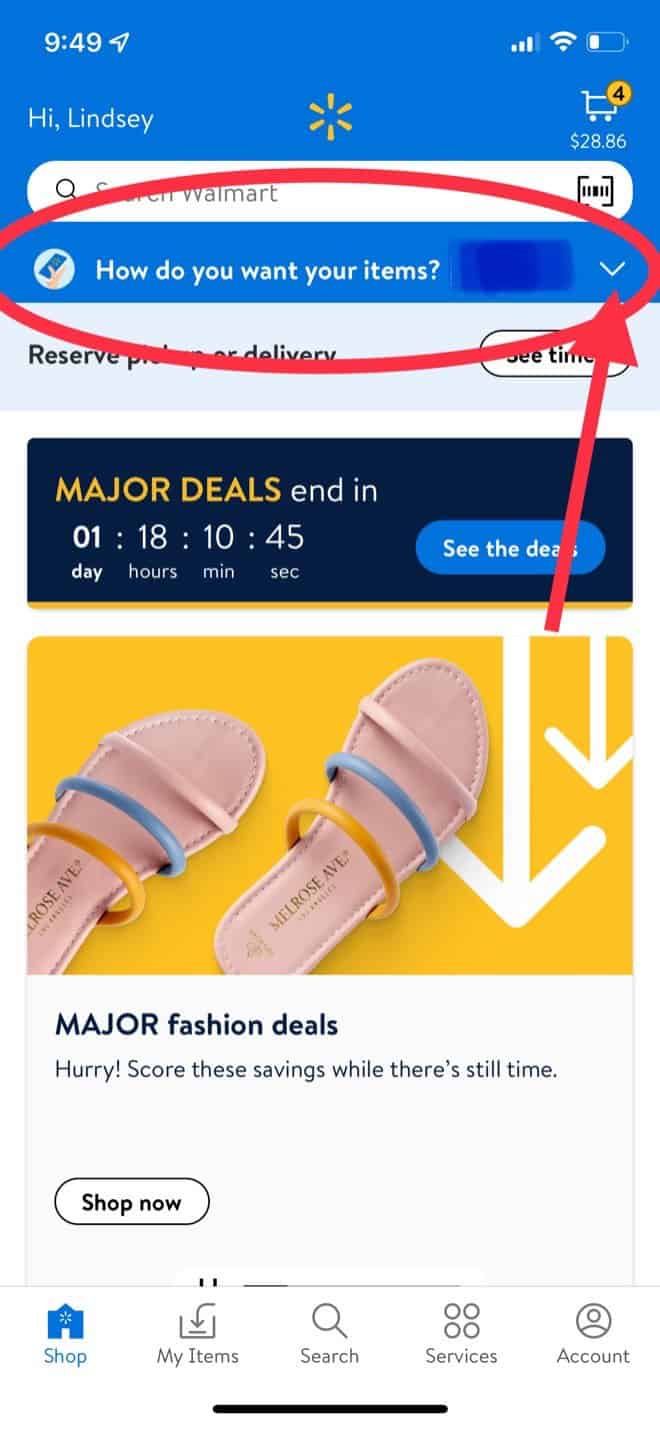 Step 2. Click the arrow to review which store you are shopping at.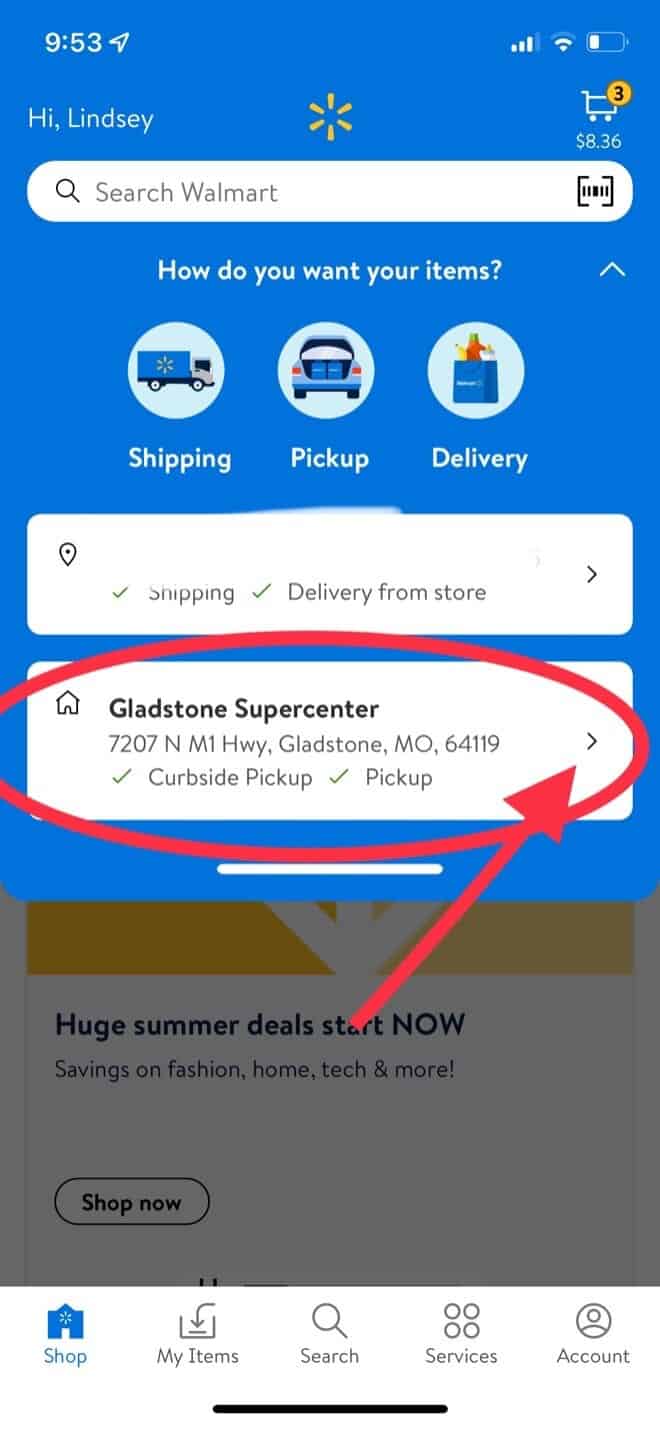 Step 3. If you'd like to make a different selection, click the side arrow to see other stores nearby.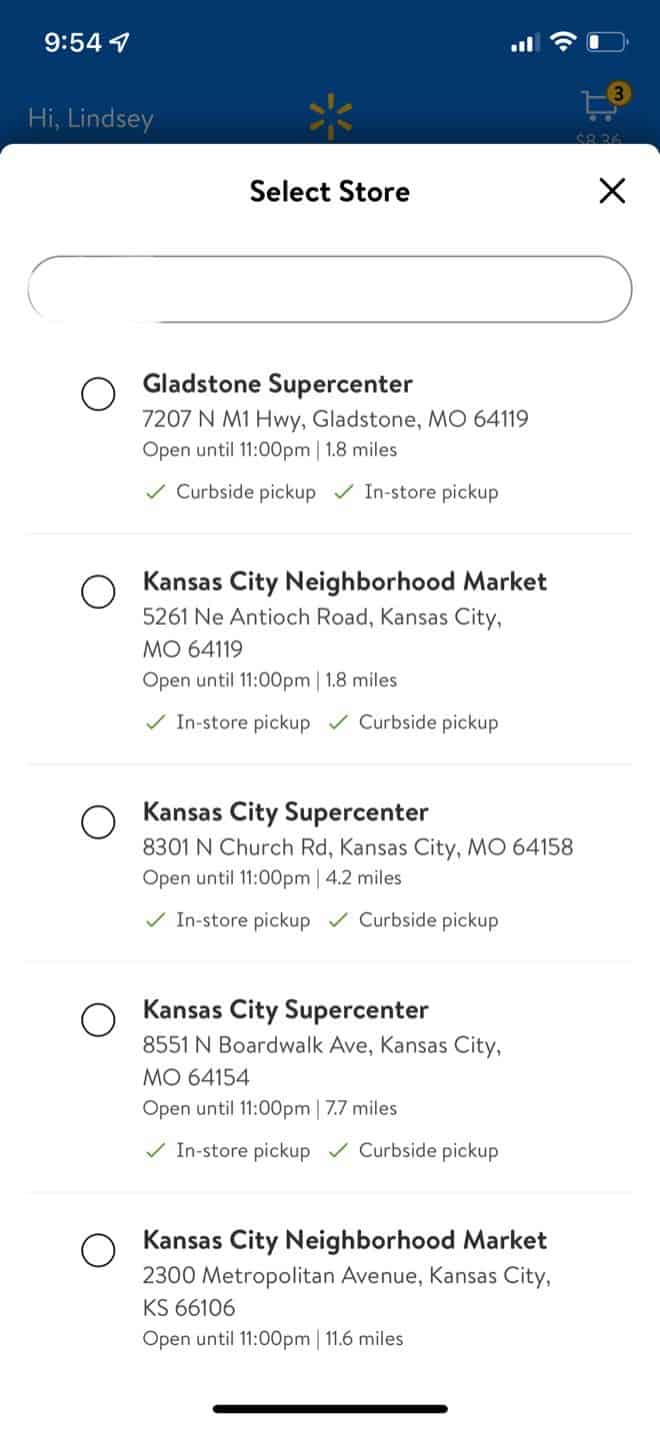 Like regular online shopping, if you've selected items that are out of stock, the InHome delivery associate will choose items based on your substitution preferences.
How Do Returns Work With Walmart InHome Delivery?
Walmart InHome delivery includes a return service for any purchased item.
You can start a return online, and an InHome associate will pick it up the next day and return it to the store for you.
Make sure the item is in its original packaging, but no further packing or labels are needed.
To start a return online with InHome, follow the steps below:
Step 1. In the Walmart app, go to "Purchase history."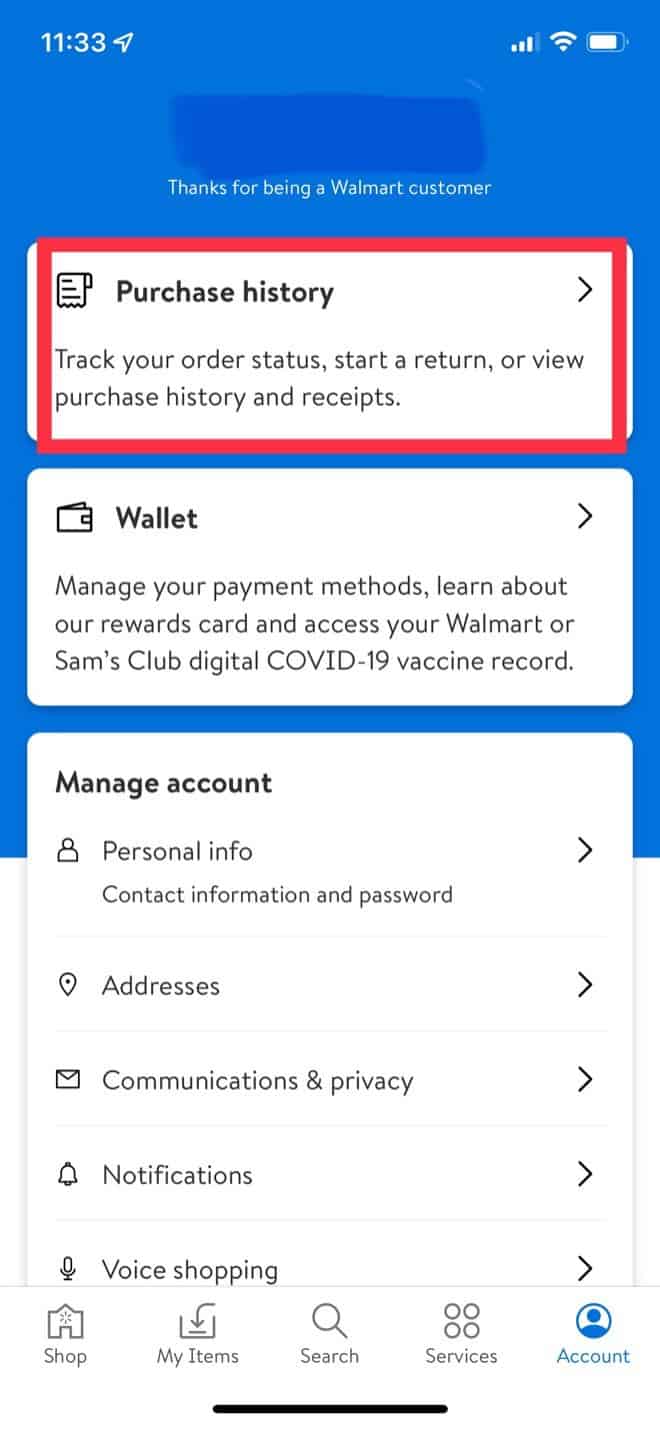 Step 2. Find the item that you want to return.
Step 3. If the item is eligible for return and you are logged into your account as an InHome member, you should see the option next to the order that says, "Return with InHome."
After a return is started in the app, have your item available by the entrance, which the InHome team is equipped to access the following day.
Walmart InHome returns are a big time saver on all purchases.
Conclusion
InHome delivery is a new service from Walmart that takes grocery delivery to the next level of personal service and convenience.
With an InHome membership, you can enjoy the benefits of a Walmart+ membership with full-service delivery right into your kitchen.
For more information about Walmart, check out the articles below.
Related Articles: