Walmart Grocery Pickup: How to Order Walmart Groceries for Pickup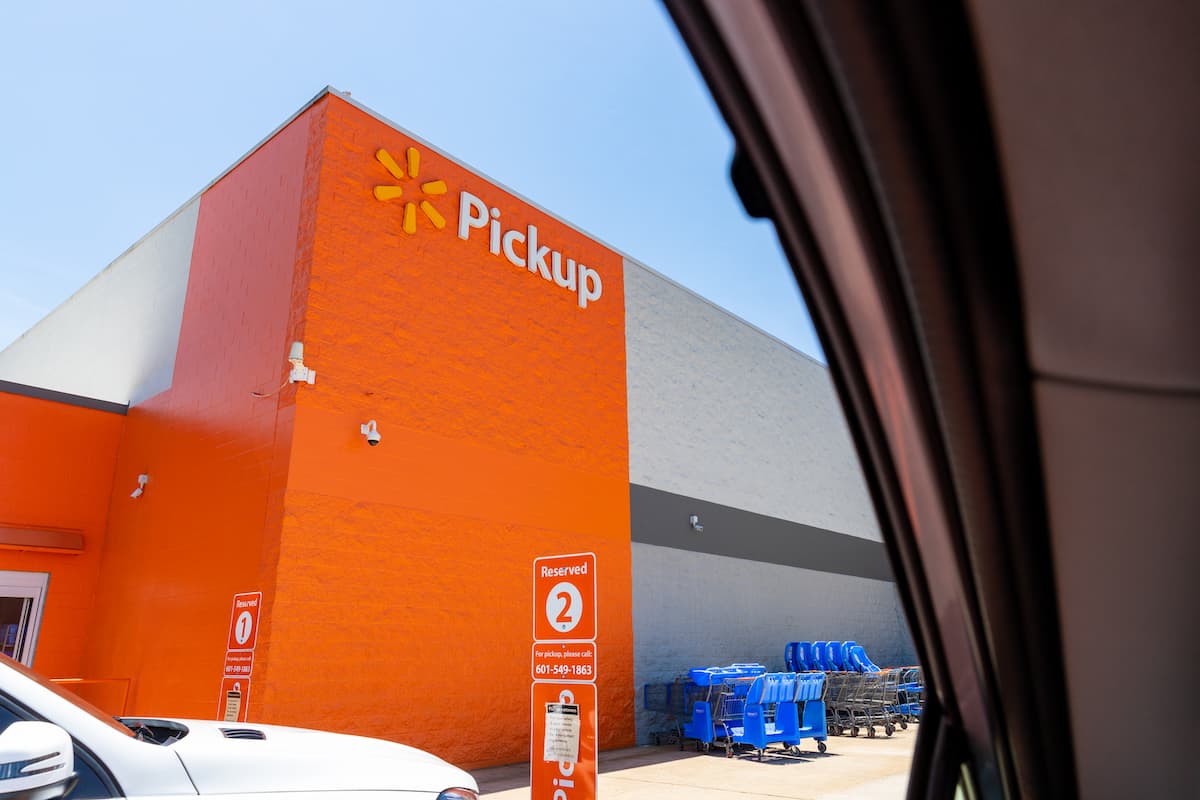 Most grocery pickup and delivery services mark up their prices to make the "free" services they offer worth their while. What if I told you that you don't have to give up finding great deals when you don't have the time to shop in-store? Walmart offers great in-store prices even to curbside pickup customers.
Walmart Grocery Pickup is offered at eligible locations from 8 am to 8 pm and is free for orders over $35. Orders less than $35 have a $5.99 pickup fee. You can place your order using the Walmart website or the app and pick it up the same day. Walmart offers in-store prices for grocery pickup and accepts SNAP/EBT payments.
Below you can read more about Walmart's curbside pickup service and step-by-step instructions on how to place your first order. We'll also touch on ways to save, pay, check-in, and show your Walmart associate your gratitude.
Free curbside pickup and same-day delivery mean saving time and ordering every meal from the couch. Here's to the new normal. 🙃 pic.twitter.com/dvY4IbveaM

— Walmart (@Walmart) September 5, 2020
How Does Walmart Grocery Pickup Work?
Walmart Grocery Pickup is a free curbside pickup service offered from 8 am to 8 pm your local time at participating Walmart stores for orders over $35. However, Walmart charges a $5.99 pickup fee for orders less than $35. Other items, such as toiletries and household goods, can also be included in your grocery pickup order.
You can place your Walmart Grocery Pickup order online through the Walmart Grocery website or the Walmart App.
Same-day pickup is usually available if your place your order before 3 pm. Same-day pickup availability per store may vary, though.
One of the best perks of Walmart Grocery Pickup is there are no markups on the items eligible for pickup service. You will still find your grocery items listed for sale at the same great, low price you would find in the store.
Visit Walmart's store locator and enter your zip code to find out if your local Walmart store provides curbside pickup.
If you find your local Walmart is not yet offering curbside pickup, then you can enter your email to be notified of when pickup becomes available.
How to Order Groceries Online from Walmart
Ordering groceries online from Walmart is as simple as ordering from any other retailer online. Simply log onto their website or the app, select curbside pickup and your store, add items to your cart, checkout, and show up at your scheduled pickup time.
Below you can find more detailed instructions on how to place a Walmart curbside grocery pickup order.
Visit the Walmart Grocery website or download the Walmart App.
Sign in or create a Walmart Grocery account.
Choose pickup service at the top left of the page. Click "change" to choose pickup.
Enter your zip code and select the store location you wish to pick up your groceries.
Reserve your time slot by clicking "see times" at the top right of your screen. You can choose to reserve your pickup time before adding items to your cart or at checkout. Although Walmart recommends doing so beforehand, so your desired pickup time is still available after shopping around.
Add items to your cart. You can choose to shop all eligible items by category, search via the search bar, or look through your past purchases.
Checkout. Enter any promo codes you wish to use. Credit/ debit cards and EBT are the only accepted forms of payment. You cannot pay with cash or gift cards. Ensure that you receive a confirmation email stating your order was received.
Wait for a second confirmation email that your order is ready for pickup. If you are using the app, you will receive a notification on your home screen that your order is ready for pickup.
Drive to the Walmart location and park in the designated pickup location.
If your Walmart has kiosks placed in the designated pickup location, you will enter your order details at the kiosk and pull into the parking spot.
If your Walmart does not have kiosks, then you will pull into a parking spot in the designated pickup location and call the number listed in your "Ready for Pick-up" email.
If you already checked in through the Walmart App, then you don't need to do anything else. A Walmart associate will soon be out with your order.
They may ask for a photo ID or to see your order confirmation email, so have both of those things handy. Then, they will load your groceries in your trunk for you, and you'll be on your way.
Hello, Jennifer. Great question, but unfortunately paper coupons aren't accepted for Walmart Grocery Pickup.

— Walmart (@Walmart) January 31, 2021
Can You Use Coupons with Walmart Grocery Pickup?
You cannot use paper or digital coupons with Walmart Grocery Pickup. However, Walmart frequently puts out promo codes that you can apply during checkout to save a little money. Click "+ Add promo code" during checkout, type in the code, and then hit "Apply."
Review your order to ensure the promo code you entered was successfully applied to your order. If not, then check the promo code requirements to ensure you have met them.
You can send a link to a friend who has never used Walmart Grocery Pickup before. After making their first purchase, Walmart will send you a promo code for $10 off your next order.
You can also search around the internet for Walmart Grocery promo codes to use.
How Do You Check in for Walmart Pickup?
You can check in for your Walmart pickup order if you use the Walmart Mobile App. After receiving a notification that your order is ready for pickup, you can check in by following these steps:
Open the Walmart App
Select "I'm Ready"
Head to your local Walmart location
After checking in, a Walmart associate will get your order ready to bring it out to you as soon as you pull into the designated parking area.
Make sure you keep your Walmart App running, so the associate will know when you are getting close and have arrived.
Once you pull into the designated parking area and park your car, you will enter your parking spot number and the color of your car on the check-in screen on your app.
If you have kiosks at your Walmart location, then you can scan the barcode displayed on your screen at the kiosk.
How Long Does It Take for Walmart Grocery Pickup?
Walmart Grocery Pickup generally takes up to 4 hours after placing your order if you qualify for same-day pickup. To be eligible for same-day pickup, you must place your order before 3 pm. Otherwise, you will need to schedule your pickup for the next day.
Grocery delivery services are in such high demand that it is common to see a longer wait time for Walmart pickup, especially in heavily populated areas.
Availability is also dependent on what time you are looking to schedule your delivery. Some days and times are busier than others and may vary from store to store.
Typically, days and times you would expect the grocery store to be busy, like days leading up to the 4th of July or Thanksgiving, tend to be busy for grocery pickup as well.
However, you can reserve a time slot three weeks in advance through Walmart Grocery pickup, so use this to your advantage.
What If You Are Late for Walmart Grocery Pickup?
If you find yourself running late for Walmart Grocery Pickup and your pickup window has passed, you still have until the end of pickup service to pick up your order, which is 8 pm your local time.
If you fail to show up on the day of the scheduled delivery, a Walmart associate may call you to reschedule your pickup order, but most likely, your order will be canceled.
Walmart holds the right to charge you a restocking fee for orders that are canceled.
If you find that you will be unable to make it to pick up your groceries that day as scheduled, you can always call your local Walmart for assistance.
Hello, Rina. We appreciate your generous offer, but our associates with the Grocery Pickup are not allowed to accept tips.

— Walmart (@Walmart) May 22, 2020
Do You Tip Walmart Grocery Pickup?
Unfortunately, you cannot tip Walmart Grocery Pickup associates. However, Walmart states that a "thank you" is appreciated and asks pickup customers to fill out a post-order survey instead. The post-order survey is emailed to you or sent through the app after you pick up your groceries.
While policies state associates do not accept tips, it is up to you and the Walmart associate that provides you service if they want to accept the cash tip you may offer them.
Just know they could be subject to disciplinary action if they are to be found accepting tips from customers.
That's right! We are always looking for ways to make Grocery Pickup more convenient and accessible for our customers so we're now accepting SNAP for online Grocery Pickup orders!

— Walmart (@Walmart) May 27, 2020
Can You Use EBT for Walmart Grocery Pickup?
Yes, EBT is an approved payment method you can use to purchase groceries through Walmart Grocery Pickup. On the checkout screen, select EBT as your payment method.
When you arrive to pick up your groceries, the Walmart associate that comes out with your groceries will scan your EBT card. Then, all EBT-eligible items will be removed from your total.
Just make sure you have another credit/debit card for them to swipe for your non-EBT-approved items.
When entering your zip code to select your Walmart location to shop at, it will display below each store near you if they accept EBT. You can also use promo codes for orders that you place using your EBT card.
Conclusion
Walmart Grocery Pickup service is one of the best pickup services available to online grocery shoppers. It is free, and there are no markups on any items you are looking to purchase.
If you are looking for additional savings like paper and digital coupons, it may be more beneficial to shop in-store.
Otherwise, Walmart grocery pickup is great for when you are in a pinch and don't have the extra time to spend browsing through the store or waiting in the checkout line.
If you're interested in finding out more about shopping at Walmart, check out the related articles below.
Related Articles:
What Is Walmart Plus and Is It Worth Signing up for Groceries?
Walmart Grocery Delivery: How to Get Groceries Delivered from Walmart
How to Contact Walmart Customer Service (By Phone, Chat, and More)
Walmart Gift Cards: Where to Buy and How to Use Them