Walmart Doesn't Take Apple Pay, but Here's How to Use Walmart Pay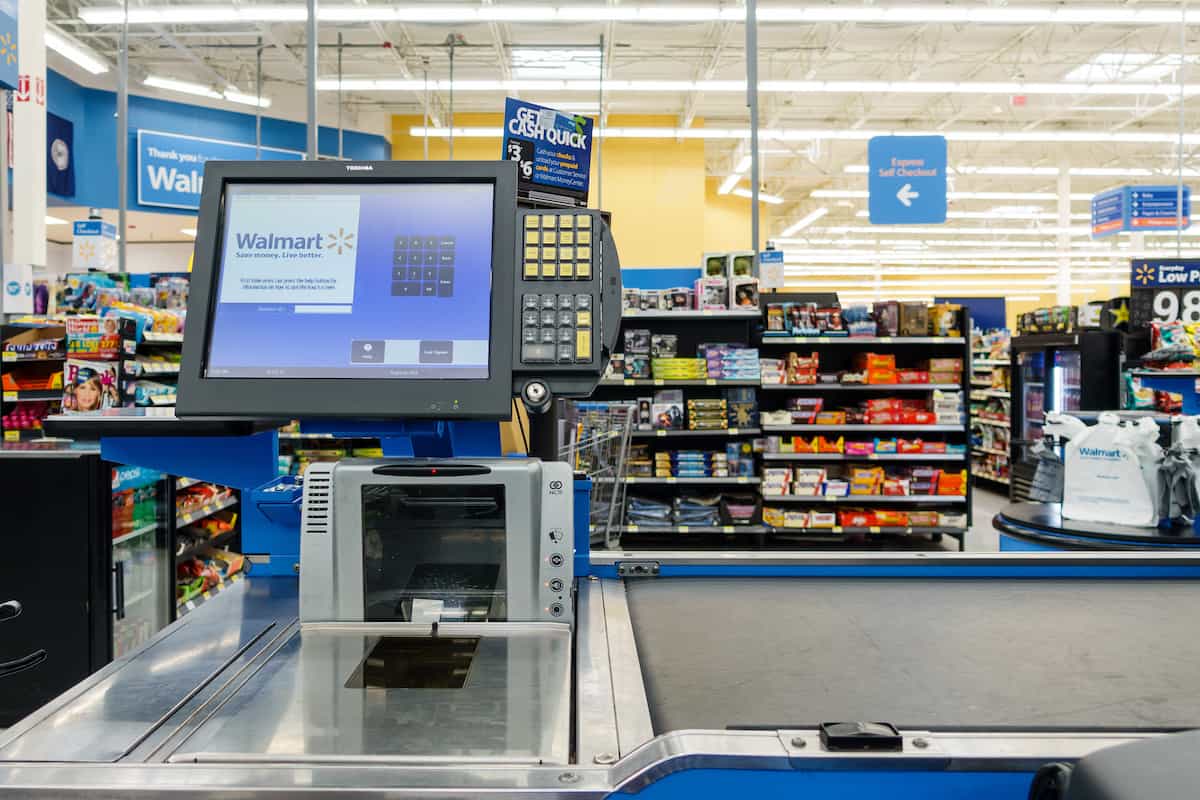 Walmart's everyday low prices and more than 4,700 stores in the U.S. make the retailer the number one option for many consumers.  From groceries to household essentials to electronics, the convenience of shopping for a variety of items under one roof is undisputed.
You might be wondering if this convenience carries on to the mobile payment options and whether Walmart accepts Apple Pay.
Unfortunately, Walmart does not take Apple Pay for in-store or online purchases. Instead, Walmart has its own mobile payment option, Walmart Pay. In addition to Walmart Pay, Walmart accepts all major credit cards (Visa, MasterCard, Amex, Discover), debit cards, cash, checks, PayPal, and Walmart gift cards.
In this article, I'll cover why Walmart doesn't accept Apple Pay and how to use Walmart Pay instead. In addition, I'll share with you all other payment methods accepted at Walmart, including the usage of ATMs and Affirm financing.
Hi, there. We do not take Apple pay but you can sign up for Walmart pay right here. https://t.co/zr0BfoEqv0

— Walmart (@Walmart) October 4, 2020
Why Doesn't Walmart Take Apple Pay?
Walmart does not accept Apple Pay to have customers use their own mobile payment solution, Walmart Pay. With Walmart Pay, Walmart can collect additional data from customers, which can later be used for more personalized notifications.
In the world of digital information, having first-party data is invaluable. By keeping customers in its payment ecosystem, Walmart can gather additional data and use it for customized offerings for each consumer's buying behavior.
In addition to having the first-party data advantage, Walmart Pay is likely a more cost-effective solution per payment transaction compared to Apple Pay.
Even before the launch of Walmart Pay, Walmart did not accept Apple Pay because of the agreement with MCX.
MCX's members at the time could not accept Apple Pay due to their exclusivity contract with MCX to use their mobile payment solution.
Walmart Pay touch-free payment is easier than ever. Download our app today, register for Walmart Pay, and head to the store with peace of mind. Plus, earn 5% back when you use your Capital One Walmart Rewards Card with Walmart Pay for the first 12 months after approval. pic.twitter.com/hS7YrwS54T

— Walmart (@Walmart) May 13, 2020
How to Use Walmart Pay
To use Walmart Pay, you will need to download the Walmart App on your phone and add a credit card, debit card, or gift card to your account. Then, after scanning your items at a store, you can use Walmart Pay at the checkout by scanning the QR code at the register.
To download the latest Walmart App on your iOS or Android device, click here.
I used Walmart Pay many times before without any issues. It's a payment option that integrates seamlessly with their systems, and checkouts have always been fast and easy.
Below are the step-by-step instructions on how to use Walmart Pay at a store:
Download and install the Walmart app on your phone
Select a payment method to use with Walmart Pay – credit cards, debit cards, and gift cards are accepted.
At a Walmart store, scan your items at checkout as you normally would
Open the Walmart app and select "Walmart Pay"
Scan the QR code on the register
You will receive a confirmation sound, and your e-receipt will be emailed.
Walmart doesn't give paper receipts if you use Walmart Pay. Therefore, you will receive an e-receipt of your purchase at the email you provided during the account setup. This also makes the return process easy since there's no risk of losing your receipt.
With Walmart Pay, you can still use paper coupons at checkout. If you have any coupons, hand them to your cashier, and they will apply them to your order.
Keep in mind that you cannot get cashback if you use Walmart Pay at checkout because it's not directly connected to your bank account. Also, you cannot use Walmart Pay to make purchases at Sam's Club.
While Walmart Pay does not have all the features of Apple Pay, it speeds up the checkout process when shopping at a Walmart store. It stores all credit card, debit card, and gift card information securely.
What Grocery Stores Take Apple Pay?
While Walmart does not take Apple Pay, the grocery stores that take Apple Pay include Albertsons, Aldi, Costco, Hy-Vee, Meijer, Publix, Safeway, Schnucks, ShopRite, Sprouts, Stop and Shop, Target, Trader Joe's, Vons, and Whole Foods Market.
If Apple Pay is your preferred payment method, there are many grocery stores where you can use Apple Pay at your next grocery haul. Below is the list of grocery stores that accept Apple Pay:
7-Eleven
Acme Markets
Albertsons
Aldi
Bashas'
BI-LO
BJ's
Cub Foods
Costco
CVS
Farm Fresh
FoodMaxx
Giant Food
Hannaford
Harveys Supermarkets
Hornbacher's
Hy-Vee
Jewel-Osco
Lin's Fresh Market
Lucky Supermarkets
Macey's
Meijer
Publix
Raley's
Randalls
Rite Aid
Safeway
Save Mart
Schnucks
Shaw's
Shop n Save
Shoppers
ShopRite
Sprouts
Star Market
Stater Bros.
Stop and Shop
SuperValu
Target
Trader Joe's
United Supermarkets
Vons
Walgreens
Wegmans
Whole Foods
Winn-Dixie
What Payment Methods Are Accepted at Walmart?
In addition to Walmart Pay, the following payment methods are accepted at Walmart:
All major credit cards
Debit cards (including prepaid Walmart Money Card)
Cash
Checks and money orders
Walmart gift cards and eGift cards
PayPal
SNAP/EBT
Affirm financing
Keep in mind that if you have gift cards from other retailers, including Amazon, you cannot use them to make purchases at Walmart. You can only use Walmart and Sam's Club gift cards at Walmart stores or online.
What Is Walmart Affirm Financing?
In addition to traditional payment methods, Walmart offers customers Affirm financing options to make installment payments for their online purchases without a credit card. The balance on your account can be paid over a 3, 6, or 12 months period with as low as 0% APR for qualified purchases.
Walmart's Affirm financing is a great alternative to credit cards; however, just like any other credit product, you need to pay attention to interest rates and the total payments you make for your purchase.
Currently, Walmart offers Affirm financing only for online purchases, so it will not be a payment option for in-store purchases.
In addition, for Affirm financing to appear as a payment method at the online checkout, all the items in your cart must be eligible for this program. Items like groceries, wireless products, and marketplace items are not eligible for Walmart Affirm financing.
Does Walmart Have an ATM?
Most Walmart stores do have an ATM, generally located close to the customer service desk. You can expect to pay service fees from $1 to $4 if you withdraw cash from an ATM located inside a Walmart store.
If you want to withdraw cash at Walmart, the best option is to request cash back at the register and eliminate the ATM fees.
Walmart also offers a reloadable debit card called Walmart Money Card. With a Walmart Money Card, you can earn 3% cash back for purchases made on Walmart.com, 2% cash back at Walmart gas stations, and 1% cash back for purchases made in Walmart stores.
You can also use Walmart Money Card to get a direct deposit into your account. If you get a minimum of $500 direct deposit every month, the monthly fee on the account is waived. Otherwise, there's a monthly $5.94 fee to maintain the account.
If you withdraw cash from an ATM using your Walmart Money Card, you'll be charged a $2.50 withdrawal fee. However, you can withdraw cash without incurring a fee from Walmart Money Centers and Customer Service desks inside the store.
Benefits of Apple Pay
The main benefit of using Apple Pay is the enhanced security it provides to customers without sharing sensitive payment information. It also offers convenient features like one-click payment and the ability to set up recurring payments to merchants.
If you are using Apple products like iPhone, iPad, or Apple Watch, Apple Pay is by far the most convenient payment option.
Apple makes it extremely easy to use Apple Pay in stores by processing payments through FaceID or TouchID.
Another benefit of Apple Pay is that you don't need a receipt to keep track of your purchases. All payments can be easily accessed and reconciled with the transaction history.
Conclusion
While Walmart does not accept Apple Pay, and it's not in the cards in the foreseeable future, Walmart Pay still offers great features and payment security.
If you're a frequent Walmart shopper, download the Walmart app and take advantage of the features and the speedy checkout Walmart Pay offers to customers.
To learn more about shopping at Walmart shopping, check out the articles below.
Related Articles:
How to Contact Walmart Customer Service (By Phone, Chat, and More)
Walmart Gift Cards: Where to Buy and How to Use Them
Walmart Grocery Pickup: How to Order Walmart Groceries for Pickup
Walmart Grocery Delivery: How to Get Groceries Delivered from Walmart
Walmart Cakes: Your Guide to Ordering Cakes From Walmart Bakery