Does Sprouts Have Delivery? (Yes, Here's How It Works)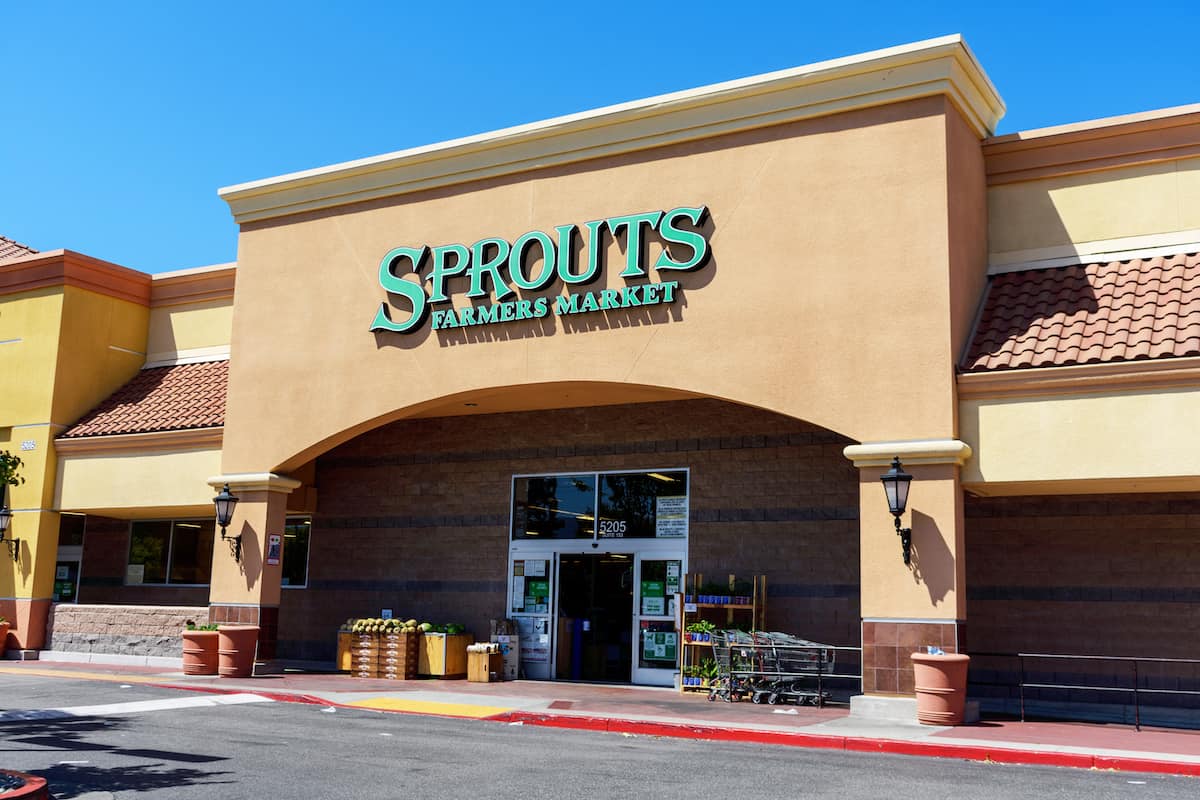 Sprouts Farmer's Market delivery makes it possible to bring the farmers' market to your home without you leaving the comfort of your couch. Their website makes it incredibly easy to create an account and place your delivery order in a matter of minutes.
Sprouts orders are delivered through Instacart. You can place orders online using both Sprouts and Instacart websites or apps. Orders over $35 are charged a $3.99 delivery fee. A $7.99 delivery fee applies to orders below $35. There is also a $10 minimum for Sprouts delivery orders.
If you create an Instacart account and sign up for their Express Membership, you will unlock many other benefits, including free delivery!
We now offer grocery pickup & delivery coast to coast—service is free on your first order!*​
Not available in all states or areas. Restrictions apply.
Get Full Details at https://t.co/RwIqdTPSvi. pic.twitter.com/wxBF9xOBxM

— Sprouts (@sproutsfm) June 24, 2020
How Does Sprouts Delivery Work?
Sprouts orders are delivered through Instacart, and you can have your groceries delivered in as little as an hour. But first, you need to make an account on Sprouts Farmers Market or Instacart.
Then, using either website or the app, you can place your order and simply wait for the delivery to arrive via an Instacart shopper!
The delivery process is simple. Once the order is placed, you have to ensure that you are home for the delivery. Alternatively, you can choose contactless delivery and ask for your order to be left at your door.
You have the option of one-hour delivery or two-hour delivery, or you can choose a time that works best for you. You can even schedule the delivery days in advance. 
If something comes up and you aren't going to be home in time for delivery, Sprouts asks you to try one of two things. First, try asking a neighbor or friend if they will be available. If they are, add a note to your order so that the delivery driver is aware of the situation.
Otherwise, you can add a note to leave the groceries in a particular area. Although, this isn't recommended if you're going to be away from home for a long time and ordering perishable items.
Make sure to also include any other instructions with your order, such as codes if you're living in a gated community!
Hi Theresa, thanks for reaching out. Instacart delivery starts at $3.99 for most cities and if your first order is over $35, you'll get it delivered for free! Visit https://t.co/CfefXxJ0fS for more info. Hope this helps.

— Sprouts (@sproutsfm) April 4, 2020
How Much Does Sprouts Delivery Cost?
All Sprouts delivery orders over $35 are charged a delivery fee of $3.99. Orders below $35 are charged $7.99 for delivery, but the order has to be at least $10 before delivery is even an option. Some are subject to additional fees, like a one-hour delivery fee, but this differs by state, location, and order.
Below is a complete list of all potential fees for delivery orders through Instacart: 
Service Fee
Alcohol Service Fee
Long-Distance Service Fee
Bottle Deposit and Bag Fee
Heavy Fee
All these fees are subject to change according to location, what you purchased, and how many things you purchased.
However, those with an Instacart Express Membership can reap the benefits of free deliveries with discounted service fees for all orders over $35. You even get the first two months of the membership free with a Mastercard! 
How To Order From Sprouts Online
You can order Sprouts online from their website or the app. Click the "Order Now" button underneath "Home Delivery on the website. It will take you to the ordering screen where you place your order. During checking out, you will be asked to sign into or create a Sprouts account. Then, the order is delivered via Instacart.
If you decide to use the Sprouts app, the process is relatively similar. You can also place the order via the Instacart website or the app. When you use the Instacart website, the process takes a few more steps.
Here's how to order Sprouts online via the Instacart website:
Go to the Instacart website
Enter your address in the toolbar at the top of the screen
Click the delivery option
Then, find the Sprouts store in the list of store options
You'll then create your order and add the items to your shopping cart
During checkout, you'll be asked to sign in or create an account
If there are any delivery notes, add those in during checkout
Pick a delivery time
A personal shopper will pick the order 
The same or another personal shopper will deliver the order as instructed
Thanks for your interest. One great benefit is that users can apply exclusive Sprouts digital coupons when placing an online order through the Sprouts app. We recommend visiting https://t.co/EoZ9cV2fuv if you're interested in learning more. Have a healthy day!

— Sprouts (@sproutsfm) March 10, 2021
Can You Use Coupons With Sprouts Delivery?
Digital coupons are accepted with Sprouts' delivery. However, you can only use digital coupons offered via the Sprouts app. No third-party coupons are accepted. In addition, there are certain restrictions and coupon limits that all customers must follow. Coupons can only be redeemed once unless otherwise stated.
Some Sprouts digital coupons have an "Unlimited" redeemability but will be noticeably marked in the coupon offer image.
Sprouts' former employee and Denver, CO native Tyler Bailey states that Sprouts reserves the right to accept, refuse, and limit the use of any coupon. So, it is best if you brush up on the Sprouts coupon policy before ordering. 
Here are a few interesting coupon pointers to remember:
You can use coupons found on Sprouts' Facebook and Sprouts emails
You can use a coupon even on items with Sprouts BOGO promotion
The customer is still responsible for full retail tax on the discounted item
Coupons are never multiplied – meaning you can't double or triple the value
Can You Link Your Instacart Account to Sprouts?
If you have an Instacart Express Membership, you can easily link it to your Sprouts account. You'll just go to your profile page and click "Import Account Info" to link the two accounts together.
Not only will you receive free delivery on orders of $35 or more, but you'll also be given the option to save your address and credit card information for future use.
You can even see your order history to check for mistakes or order similar items on your next delivery.
Instacart Express Membership is $9.99 per month ($99 per year). Instacart also claims that the average shopper saves $7 per order, which essentially pays for the membership itself.
Hi there, thanks for reaching out. We offer delivery services through Instacart. At this time, Instacart does not accept EBT; however, we do accept EBT for in-store purchases. Hope this helps!

— Sprouts (@sproutsfm) November 14, 2020
Does Sprouts Take EBT for Delivery?
Sprouts accepts EBT for in-store purchases but does not accept EBT for delivery. They do not accept WIC as a form of payment either. However, they accept credit cards, debit cards, Apple Pay, Google Pay, and Samsung Pay for online orders.
Whether you shop in-store or choose pickup or delivery, Sprouts, unfortunately, will not accept WIC.
Here are a few of the payment methods that Sprouts accepts:
| | |
| --- | --- |
| Payment Method | Accepted |
| Cash | in-store |
| Checks | in-store |
| Debit cards | in-store and online |
| Credit cards | in-store and online |
| EBT cards | in-store |
| Sprouts Gift Cards | in-store |
| Apple Pay | in-store and online |
| Google Pay | in-store and online |
| Samsung Pay | in-store and online |
Do You Tip Sprouts Delivery?
Tipping Sprouts delivery is optional but highly encouraged to show your appreciation. 100% of the tip goes to your Instacart shopper that delivers the order. The recommended tip amount is 15-20% of your order total.
Sprouts shopper and delivery driver Kate Plainfield lives in busy New York City and encourages customers to tip their delivery drivers as much as 25 to 30%. After all, they are at least equivalent to restaurant hospitality, which usually yields a 20% tip.
To tip your delivery driver, you can add the tip during your order checkout before the delivery is completed. You can also choose to add the tip afterward by following the link given via SMS feedback.
Conclusion
Sprouts delivery is not only possible, but it's extremely convenient and comes with many perks when you link your Sprouts account to an Instacart Express account.
You can start enjoying the benefits of grocery delivery today with just a few easy steps! 
If you're interested in finding out more grocery shopping tips, check out the related articles below.
Related Articles:
Does Trader Joe's Have Delivery? (No, but This Option Works)
Trader Joe's Hours, Flyer, Best Time to Shop, and Payment Methods
H-E-B Delivery: How to Order Online Grocery Delivery Using My HEB
Whole Foods Pickup: Everything You Need to Know Before Ordering