Giant Eagle Delivery: How to Get Groceries Delivered From Giant Eagle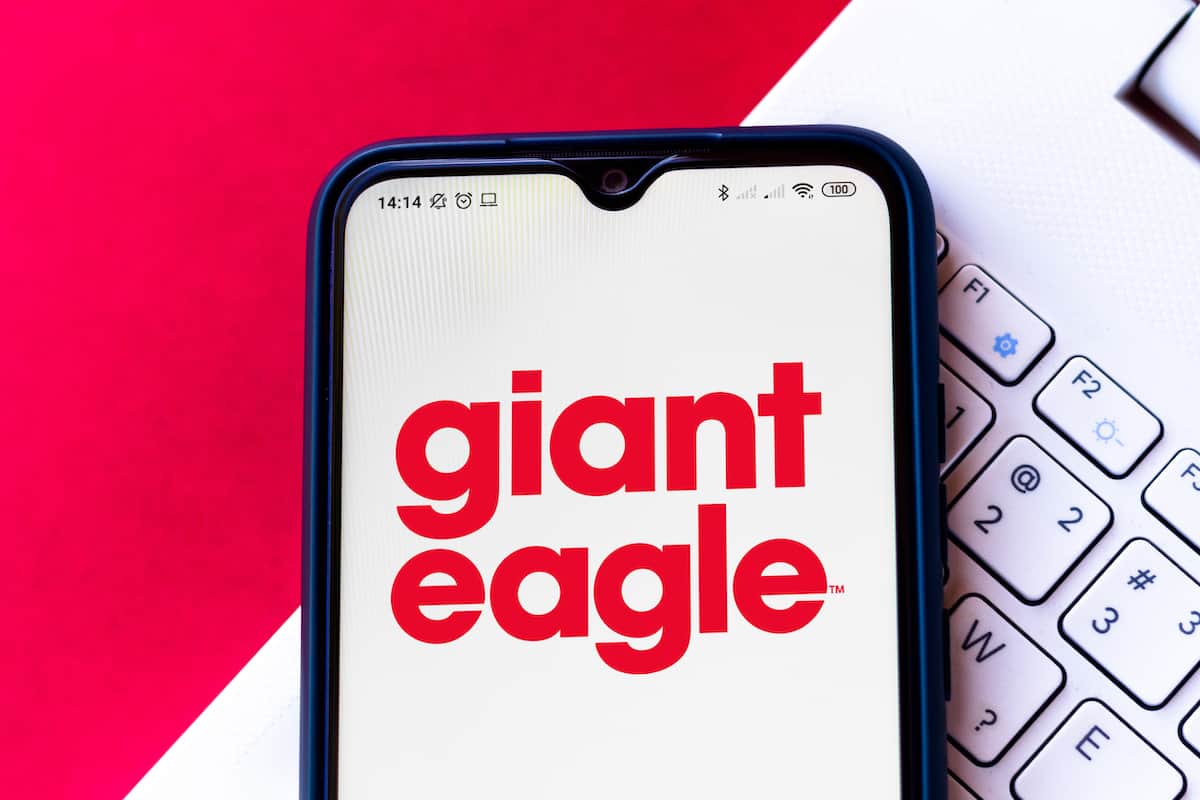 Life can get busy, but Giant Eagle delivery can help. Save time by taking your grocery shopping online and letting Giant Eagle deliver them straight to your doorstep.
Giant Eagle delivery can be ordered through their app or the website. There is a $35 minimum order, and the delivery costs $9.95. Giant Eagle delivery hours are from 8 am to 8 pm, seven days a week. Digital coupons can be used for delivery orders, and EBT is not accepted. Tipping is optional, but 15-20% is recommended.
In this article, we'll cover how Giant Eagle delivery works, how to order online, whether you can use coupons, the tipping etiquette, and more!
How Does Giant Eagle Delivery Work?
Giant Eagle Delivery lets you shop for groceries through their website or the app, and a trained shopper will prepare your order to be delivered in the selected timeslot. Giant Eagle delivery prices are the same as in-store, and you can edit or cancel your order at any time.
Giant Eagle delivery prices will always be current, and you can use your Advantage Card as well as coupons and special offers the same as you would in-store. Simply link your card in the "My Perks" under the "My Account" section.
Giant Eagle requires a $35 minimum order for delivery, and the delivery hours are from 8 am to 8 pm, seven days a week. There is also an additional delivery fee of $9.95.
Item availability is subject to change, and shoppers will inform you when your requested items are not in stock. If you choose to allow substitutions, shoppers will select the next closest item to what was requested.
Adding a contact number to your order through is highly recommended so that personal shoppers can contact you to confirm alternate items.
Look for "Manage Orders" under the "My Account" section to edit or cancel your current order at no cost. When reviewing your cart, special instructions can also be left for shoppers and delivery drivers under "Cart Summary."
Giant Eagle Customer Service is available five days a week to assist if you encounter any complications in the ordering process or are unsatisfied with any substitutions.
Giant Eagle Customer Service can be reached by e-mail or phone. Navigate to "Help" under the "Profile" section of the app to find an e-mail contact form under "Contact Us." Customer Care is also available Monday through Friday from 9 am to 9 pm Eastern Time at 1-800-553-2324.
Giant Eagle makes shopping easy by giving customers the option to save information for future shopping trips. This may include payment and delivery information, as well as the items you've shopped for.
The "Shopping List" feature allows you to browse and create lists of your desired items. You can shop directly from your list and save it to use again next time.
Giant Eagle also provides delicious shoppable recipes for when you're looking for some inspiration. Meal ideas can be found under "Recipes" from the navigation bar.
Browse meals by category or through the Giant Eagle weekly meal plan. Each recipe comes with a detailed ingredients list and the option to add individual items to your shopping list.
Meal prep can be stressful — that's why we created our Weekly Meal Plan. Each week, shop recipes made with ingredients that are on sale. Get started here: https://t.co/B8eJaNP3mw pic.twitter.com/bnoFoULEIy

— Giant Eagle, Inc. (@GiantEagle) September 25, 2021
How to Order Giant Eagle Online
You can order Giant Eagle delivery online using the app or website. Shop for products using the online catalog and save money with weekly specials and coupons. Once you've finalized your order, a trained shopper will prepare it to be delivered to your doorstep.
Let's take a step-by-step look at how the process works. This example will describe ordering groceries through the Giant Eagle app, but you'll have a similar experience when using the website.
1. Before shopping, sign up for a Giant Eagle account. Find this under "Profile" in the bottom right corner of the app. Click on "Sign In," then create an account if you don't already have one. You can also link your Advantage Card and change delivery details on this page.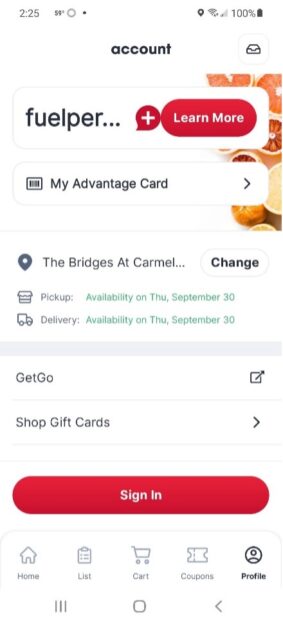 2. After setting up your account, return to the homepage to shop. Shop by category or browse the menu to find the most popular items, weekly ads, and recipes. Add items and choose how many you'd like to add to your cart.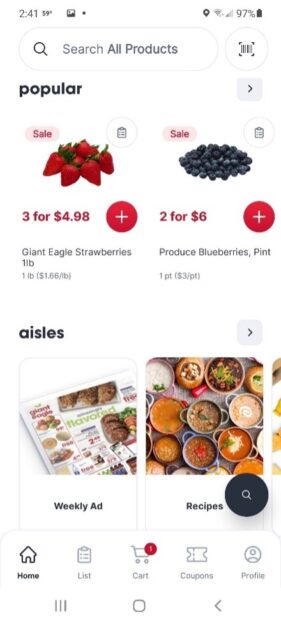 3. To search for specific items or narrow down the available options, click on the search bar at the top of the screen. This will bring up two buttons next to the search bar, one to filter your results and the other to sort them by relevance or price. Alternatively, you can type the item you're looking for directly into the search bar.
4. Another way to shop is by using the "List" feature found in the bottom menu. This feature allows you to create a list of needed items as you think of them. When you're ready to shop, open your list and click "Shop List Online" at the bottom of the screen. The Giant Eagle app will display all available items that match your list. Next, select the items you want to add to your cart.
5. When you're finished shopping, it's time to review your cart. If you're shopping by category, simply click on your cart at the bottom center of the screen. When shopping from a list, you are given the additional option of clicking "Proceed to Checkout" to review your cart. If you would like a Giant Eagle shopper to substitute any missing items with the closest available one, you can choose this option in the top right corner of your screen.
6. Once you've reviewed your cart, click on the "Checkout" button. Choose "Delivery" at the top, then confirm your delivery details. You'll also have one more chance to review the items in your cart.
7. Scroll down to enter any promo codes or link your Advantage Card if you have not already done so. You'll also find the option to leave a tip for your delivery driver.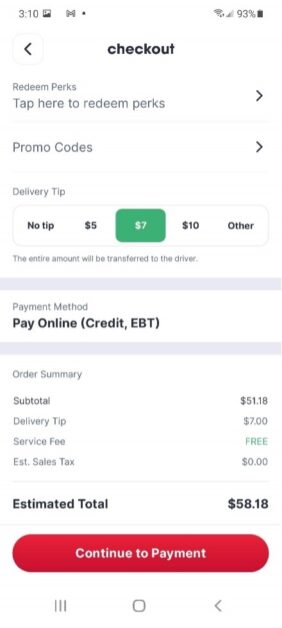 8. Review your total at the bottom of the page, then press "Continue to Payment" to finalize your order.
9. All payments for Giant Eagle delivery must be made online with a credit or debit card or through PayPal. Giant Eagle gift cards and EBT can also be entered at the bottom of the payment screen, though Giant Eagle currently only allows EBT for curbside pickup.
10. Select if you'd like to "Save card for future use." When all information has been entered, click "Confirm and Place Order," then relish the time you just saved shopping for groceries through Giant Eagle delivery.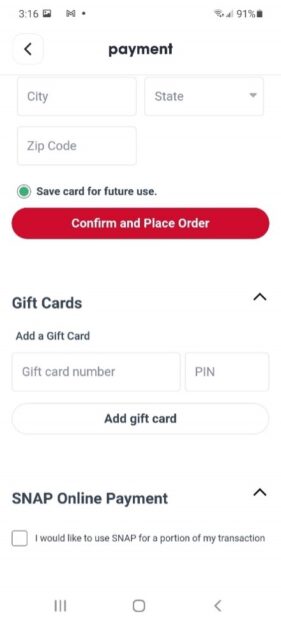 How Much Does Giant Eagle Delivery Cost?
Giant Eagle delivery costs $9.95. The minimum order required for delivery is $35, and the delivery fee does not increase with your order total.
Item prices are subject to change, though they will always reflect the current price on the day of delivery.
You will receive a final total once your order has been put together based on the available items and any substitutions that may have been made.
The delivery fee remains the same regardless of the size of your order, making it wise to buy in bulk when possible.
Orders can be edited up to 4 hours before delivery and can be canceled at any time. Your credit card will only be charged when your groceries are delivered.
Does Giant Eagle Use Instacart?
Giant Eagle does not use Instacart for delivery. Deliveries are made from the nearest local Giant Eagle store location straight to your home.
Delivery service is available in the following states:
Ohio
Pennsylvania
West Virginia
Maryland
Indiana
Shipt also delivers Giant Eagle groceries from 71 locations throughout Ohio and Pennsylvania.
At this time, Curbside Delivery is only able to accept digital coupons, not paper. But you're correct – paper coupons are accepted in store & with Curbside Pick-Up! Thanks for asking.

— Giant Eagle, Inc. (@GiantEagle) February 23, 2018
How to Use Giant Eagle Digital Coupons
Giant Eagle delivery makes it easy to use digital coupons while shopping online. Coupons can be browsed and are also displayed next to qualifying items. Giant Eagle also offers additional perks and benefits through the Advantage Card.
Giant Eagle does not currently accept paper coupons, but digital coupons are allowed. Browse coupons on the Giant Eagle app in the "Coupons" section found at the bottom of the app.
Click "Clip Coupon" for your desired items, and the discount will automatically be applied when those items are added to your cart.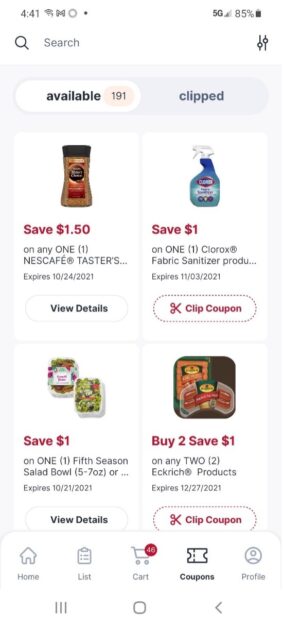 Coupons and special offers are also displayed next to items with available discounts. You will see a pair of scissors with the discount next to the original price of the item.
Either add the item to your cart, then click the "Clip Coupon" button when it appears, or select the item and click "Clip" at the bottom.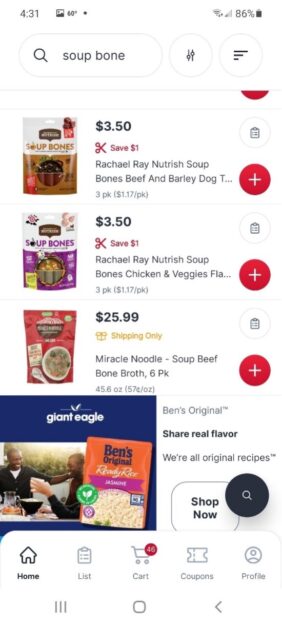 All digital coupons must be obtained directly from Giant Eagle and added to your Giant Eagle Advantage Card to be redeemed. Up to 90 discount offers can be added to your Advantage Card at any time, and no duplicate coupons are allowed.
You can also earn perks on gas, groceries, or free food and drink at GetGo when using your Advantage Card for Giant Eagle delivery.
Perks are based on points that are accumulated based on the items you buy and their cost. The total number of eligible points per order is displayed during checkout.
A Giant Eagle Advantage Card can be obtained in person at a Giant Eagle Customer Service desk or any GetGo location. You can also get it online under the "Profile" section, found in the bottom right corner of the app.
Just enter your personal information, and a digital Giant Eagle Advantage Card will be added to your account, along with a scannable barcode that can be used in-store if necessary.
You can still use EBT at pick-up but you would have to add a credit/debit card to get the order placed (and $1 for a hold on the card). This card will not be charged with the order. Call the store and let them know you will be using EBT at pick-up. Thank you.

— Giant Eagle, Inc. (@GiantEagle) April 21, 2020
Does Giant Eagle Take EBT Online?
Giant Eagle accepts EBT online, and the EBT card number can be entered at the bottom of the payment screen. However, Giant Eagle currently only accepts EBT for curbside pickup as their system requires customers to enter a PIN in person.
Like EBT, WIC is accepted at Giant Eagle, but only in-store and for curbside pickup.
Giant Eagle delivery only accepts credit or debit card payments for online orders. These payments may be made using a PayPal account with a linked card or bank account, or Giant Eagle gift card.
All payment options are presented online on the "payment" page at the end of checkout.
Does Giant Eagle Offer Same Day Delivery?
Giant Eagle offers same-day delivery; however, it depends on whether there is an open timeslot on that day. In addition to Giant Eagle's own delivery service, customers in OH and PA can use Shipt to order same-day delivery from Giant Eagle.
Giant Eagle deliveries are scheduled in hourly timeslots. You will have the option to choose an available date and time during the checkout process.
The words "Sold Out" will appear on the right next to each hour that is no longer available. Timeslots may fill up quickly, so it is recommended to schedule deliveries sooner than the same day. You can schedule Giant Eagle deliveries up to a week in advance.
Shipt also offers Giant Eagle same-day delivery. This service is available from select locations in Ohio and Pennsylvania.
Tips for the delivery driver are welcome, but not expected 🙂

— Giant Eagle, Inc. (@GiantEagle) September 13, 2018
Do You Tip Giant Eagle Delivery?
Tipping for Giant Eagle Delivery is optional but highly recommended. Tips must be added during the checkout process, as Giant Eagle delivery drivers do not accept cash tips. We recommend tipping your delivery driver 15-20% of your order total.
Tip options are provided at checkout, as well as an option to leave no tip. Choose from $5, $7, or $10, or click "Other" to leave a custom amount. Delivery drivers receive the full amount of all tips left online.
Conclusion
Giant Eagle delivery makes grocery shopping easy and saves you time. Let a trained staff of shoppers and delivery drivers do the shopping for you and deliver it straight to your door.
Easily clip and save with digital coupons and earn perks by using your digital Advantage Card. Plus, shopping online gives you the added benefits of shopping for delicious Giant Eagle recipes and meal plans.
If you're interested in more grocery shopping tips, check out the related articles below.
Related Articles:
Giant Eagle Curbside Pickup: Here's What You Need to Know
How to Use Giant Eagle Gift Cards Plus List of Gift Cards Giant Eagle Sells
Your Guide to Ordering Cakes From the Giant Eagle Bakery
ShopRite From Home: Here's How It Works and How to Order
Walmart Grocery Delivery: How to Get Groceries Delivered from Walmart