Your Guide to Ordering Cakes From the Giant Eagle Bakery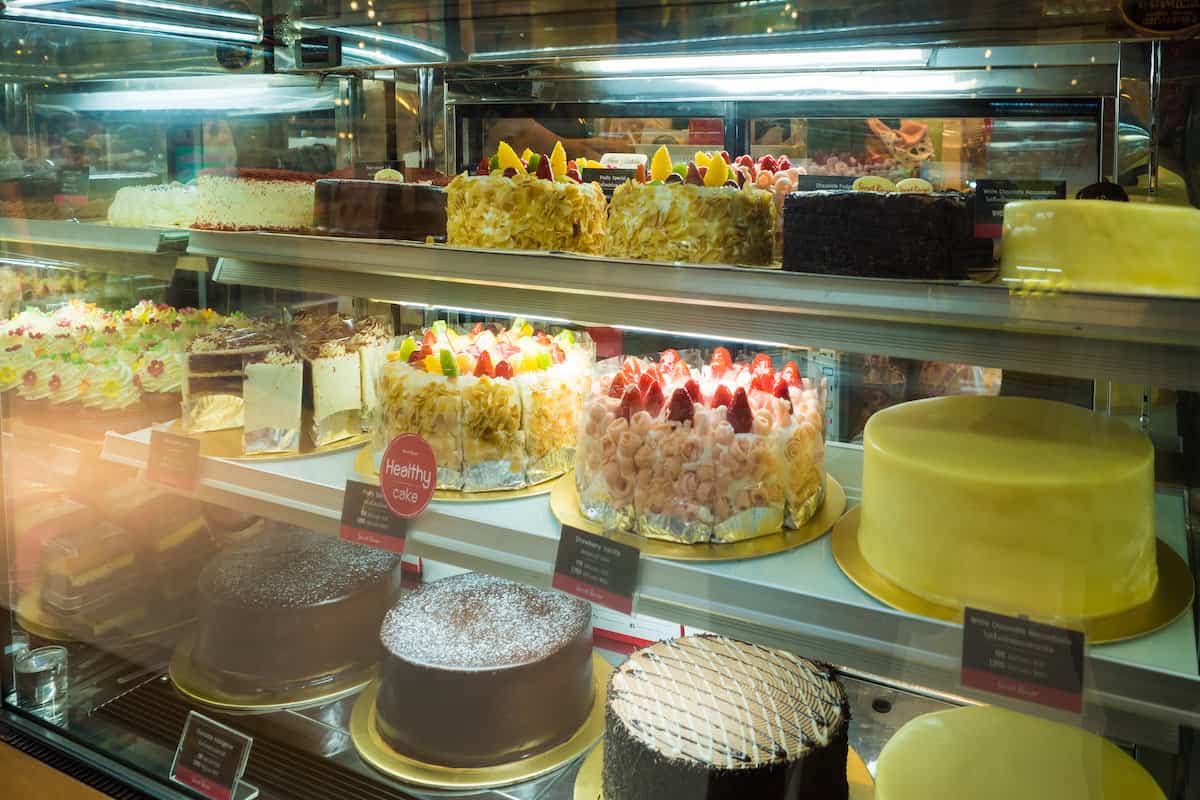 Birthdays, weddings, and graduation parties have an important thing in common: a cake! If you have a celebration or event coming up, the Giant Eagle bakery can provide a festive cake for the perfect centerpiece.
Giant Eagle bakery offers affordable graduation cakes, birthday cakes, wedding cakes, and more for every occasion. Giant Eagle also makes custom cakes with many flavors, fillings, icing options, and decorations. You can even put a photo on your cake. You can order a custom cake from Giant Eagle online or in person.
This article covers everything you need to know about ordering cakes from the Giant Eagle bakery. Continue reading to learn how you can create the perfect cake for your next celebration!
Cakes and cupcakes for any occasion are available in our bakery, from birthdays to graduations, and even weddings!

Learn more here: https://t.co/74awW2EPUT pic.twitter.com/OmEUEoBLUI

— Giant Eagle, Inc. (@GiantEagle) June 7, 2021
What Are the Giant Eagle Bakery Hours?
The Giant Eagle bakery hours are 7 am- 8 pm at most locations. A few locations open at 6 am, and others close at 9 pm. Most stores are closed on Easter and Christmas Day, and they close early on Thanksgiving and New Year's Day. The online store locator lists up-to-date hours at each Giant Eagle bakery department.
If you want a special cake for Easter or Christmas celebrations, you must pick it up at least the day before. Almost all Giant Eagle stores are closed so that their employees can celebrate these two holidays.
The Giant Eagle bakery may close early on New Year's Day, Thanksgiving Day, Christmas Eve, and New Year's Eve.
Most stores close at least a few hours early on these holidays. You can still pick up any bakery orders on these days but be aware of the slightly different hours.
Here are the Giant Eagle bakery hours for a typical week:
| | |
| --- | --- |
| Days | Giant Eagle Bakery Hours |
| Monday | 7 am– 8 pm |
| Tuesday | 7 am– 8 pm |
| Wednesday | 7 am– 8 pm |
| Thursday | 7 am– 8 pm |
| Friday | 7 am– 8 pm |
| Saturday | 7 am– 8 pm |
| Sunday | 7 am– 8 pm |
Below are the Giant Eagle bakery holiday hours:
| | |
| --- | --- |
| Holiday | Giant Eagle Bakery Hours |
| New Year's Day | 7 am– 5 pm |
| Good Friday | 7 am– 8 pm |
| Easter | Closed |
| Memorial Day | 7 am– 8 pm |
| 4th of July | 7 am– 8 pm |
| Labor Day | 7 am– 8 pm |
| Thanksgiving | 7 am– 3 pm |
| Black Friday | 7 am– 8 pm |
| Christmas Eve | 7 am– 5 pm |
| Christmas Day | Closed |
| New Year's Eve | 7 am– 5 pm |
* Holiday hours may vary by location
Special event? Need a cake? Order online and pick-up at a store near you: https://t.co/jb0rOLNUhU pic.twitter.com/XVLokwgcD0

— Giant Eagle, Inc. (@GiantEagle) March 9, 2020
How to Order a Cake From Giant Eagle
You can order a cake from Giant Eagle in the store, on the phone, or online. Many pre-made cakes are available every day in-store. To order custom cakes, you will need to call your local Giant Eagle bakery or submit an order form online through their website. Most cakes can be ordered for pickup or delivery.
Giant Eagle bakeries sell a variety of delicious pre-made cakes. They offer multiple Giant Eagle chocolate cakes, a cookie cake, and even a rainbow cake.
Most flavors are sold in the form of an entire cake or a single slice. You can pick up the perfect dessert for a group or just yourself at any Giant Eagle location with a bakery.
It's possible that your local store doesn't have exactly what you are looking for, or you may need a customized cake for a special event. In that case, Giant Eagle has a simple online process for ordering a custom cake.
On the cake ordering page, you can select the cake and frosting flavors and filling type, and decorations. However, you need to place any custom cake order at least 24 to 48 hours in advance.
Order ahead online and skip the line! Online cake ordering: https://t.co/vjfgTnu4FW pic.twitter.com/uZvkmANX0C

— Giant Eagle, Inc. (@GiantEagle) February 20, 2020
Can You Order a Cake From Giant Eagle Online?
You can order a cake from Giant Eagle online. Premade cakes can be added to any online grocery order for pickup or delivery. You need a Giant Eagle account to order online, and there is a $35 order minimum. Custom cakes are ordered through a separate page on their website and are usually just available for pickup.
Create an account with Giant Eagle to order a cake online. Then, you can browse the Bakery section on the website or app.
If you know the exact type of cake you want, you can directly search for it using the search bar instead. Make sure you add the cake to your cart.
If you order a single premade cake from Giant Eagle online, your order will likely be under the $35 minimum. Thus, you either need to purchase the cake in-store or add extra items to your order to be eligible for pickup or delivery.
Giant Eagle sells beverages to serve alongside your cake, as well as silverware and plates for serving.
You'll notice that Giant Eagle cupcakes are also available for sale online. So whether you need six cupcakes or a dozen, mini or full-size, you will find what you are looking for.
Giant Eagle cupcakes are available in the same flavors as Giant Eagle cakes. These are a great add-on to increase the order size and serve a few more guests without getting an additional cake.
Giant Eagle bakery cookies are another customer favorite. With so many varieties available, it can be hard to choose. Luckily, the app and website separate all the options into categories to help narrow down your search.
Once you have met the $35 minimum, you can view your cart and check out. At Checkout, you will indicate whether you want to use the Curbside Pickup or Delivery service.
Next, enter your contact information and choose a time/date to receive your order. Special requests can be added to Curbside orders.
Giant Eagle delivery has an extra fee of $9.95, and it is recommended that you tip your delivery driver. We recommend a 15-20% tip. The website or app will provide you with suggested tip amounts at Checkout.
Once you submit the order, you will receive a confirmation email with any important information about receiving your order.
Stores have designated parking spots for Curbside Pickup orders. For Deliveries, you will need to be at home to receive the order.
Create beautiful and delicious personalized cakes for birthdays, weddings, and every other occasion you wish to celebrate.

Choose your store and start designing: https://t.co/U52pnqA9mA pic.twitter.com/WQ5MgF0vDq

— Giant Eagle, Inc. (@GiantEagle) August 31, 2021
Does Giant Eagle Make Custom Cakes?
Giant Eagle makes custom cakes for any occasion. You can place an order in person, on the phone, or online. The employee or the online order form will ask you to choose the style, size, and flavors of your custom cake. You can also add messages or a picture to the top of your cake, and the message colors are customizable.
Before you begin, you will go to the Giant Eagle Online Cake Ordering page on their website. Here, you can enter your store from which you will pick up the cake. Click "Design Now" to start customizing your cake order.
First, you select the style of your custom cake. Giant Eagle has plenty of options for any kind of event or celebration you could think of.
You can browse the cake offerings for birthday cakes, graduation cakes, and even sports cakes. There is also a search bar at the top of your screen if you know exactly what you want.
Once you choose your desired cake style, you can start customizing the cake to meet your exact needs. First, you will select the size of your cake.
Most cake styles can be made in a ¼ sheet, ½ sheet, or full sheet. If you are unsure which size would best meet your needs, the website tells you how many servings, and calories each size provides.
Next, you will choose your cake flavor. Giant Eagle bakeries prepare many delicious flavors, including chocolate cake, red velvet, and marble cake.
You will also choose if you want a filling and frosting. Again, there are multiple flavor options for each of these components. Note that each filling and frosting are priced differently, but this is displayed on the ordering page.
Finally, you will add a piped message, if it is available, based on your cake's design. You can type out exactly what you want your cake to say, and you can choose the color you want these words in.
Once you complete this customization page, you will need to review your order and fill out the information for picking it up.
You can choose the date and time of pickup, but you must place the order at least 24 hours in advance. If you ever need to change the pickup time, you will need to call or visit the store from which you ordered.
On the order review page, you also have a text box to add any notes for the bakery. This is useful if you want to add any specifications for how you would like the cake to look or any special requests when you pick it up.
A Giant Eagle baker will contact you if they still need clarification on any part of the order.
Orders can be modified if there is a reasonable amount of time before you are scheduled to receive the cake.
You will need to call the store you ordered from if you want to make any changes or if you want to cancel the order.
Giant Eagle Store Locator has contact information if you cannot find the store or bakery phone number in your confirmation email.
You will pay for an online order when you pick it up in the store. This allows for any price adjustments if you change your order at all.
Some Giant Eagle stores offer delivery for cake orders, and the ordering process is essentially the same as with pickup.
What Are Giant Eagle Cake Prices?
Giant Eagle cake prices range between $5- $80. Premade cakes are affordable, but they will feed 8-10 people at the most. Custom cakes are more expensive, and prices vary based on the size of the cake. Your design, filling, and frosting choices will also add to the cost of the cake order.
Giant Eagle premade cakes cost between $5- $30. These include the Giant Eagle ice cream cake, Giant Eagle chocolate cake, and Giant Eagle rainbow cake.
Since these standard cakes are prepared ahead of time, they are relatively cheap. However, there is no guarantee that your desired cake will be available for purchase when you shop.
Custom cakes cost $20 and up. The price depends on the size of your cake, decoration choices, and filling and frosting choices.
For example, a basic sheet cake without special decorations costs $19.99 for the ¼ sheet cake size, $35.99 for the ½ sheet cake size, and $49.99 for the full sheet cake size. All flavors are the same price, according to the size of the cake.
Additional fees are added for customizations beyond the basic sheet cake. Decorations are an extra $9. These can include a photo printed onto the top of the cake or a cake topper and frosting to look like a unicorn.
Some of the standard bakery decorations can be done at no extra charge. In addition, decoration prices do not change based on the size of the cake.
Fillings vary in price. You have the option not to include a filling, which is at no extra charge.
Chocolate or vanilla icing can be added between layers for $2.50- $6, depending on the size). Fruit fillings or Bavarian cream are more expensive and add $7- $15.
You will also be charged extra for chocolate buttercream frosting on top of the cake. Otherwise, you can choose white buttercream, chocolate whipped frosting, regular whipped frosting, or no frosting; all these options are at no extra charge.
Here is a table displaying the prices for standard Giant Eagle sheet cake options:
| | | |
| --- | --- | --- |
| Sheet Cake Size | Servings | Price |
| ¼ Sheet | 15 | $19.99 |
| ½ Sheet | 30 | $35.99 |
| Full Sheet | 60 | $49.99 |
* Prices may vary by location
Love our cakes? We can create custom wedding cakes too! Stop by our bakery & look through our wedding cake album. pic.twitter.com/cs8uorNs5Q

— Giant Eagle, Inc. (@GiantEagle) July 21, 2016
Does Giant Eagle Make Wedding Cakes?
Giant Eagle makes wedding cakes. They offer 11 different design options, including 2-tiered and 3-tiered sheet or round cakes. In addition, Giant Eagle offers a wide variety of flavors, fillings, and icings to create your perfect wedding cake. Order forms provide space to customize your wedding cake further.
You have lots of options for the size of your wedding cake. For example, you can order a two-tier round cake to serve 21-28 people for a small wedding.
For a larger wedding, Giant Eagle makes large three-tier sheet cakes, serving up to 200 people.
There are seven delicious cake flavors to choose from for your wedding cake. Try a classic red velvet or traditional white cake, or brighten things up with a rainbow wedding cake.
The filling may be just as important as the cake itself. Giant Eagle offers nine different options for cake fillings.
These include Buttercream, Bavarian cream, whipped fillings, and fruit fillings. When you order, you can ask the baker to recommend a filling that will pair nicely with your selected cake flavor.
In addition, five icing flavors are available for your Giant Eagle wedding cake.
Whether you place your wedding cake order over the phone or in person, a baker will fill out an order form detailing your choices.
This order form has space to include an inscription that you may want on the top of your cake.
It also includes a space to write down any special instructions. Feel free to mention any specific details you want to see in the overall look of your cake.
Does Giant Eagle Bake Their Own Cakes?
Giant Eagle bakes their own cakes fresh every day, excluding the sheet cakes. The sheet cakes are ordered as needed from an outside source. Each bakery has expert bakers that decorate all desserts, and many of the frostings and fillings are made from scratch. The Giant Eagle buttercream is an exclusive recipe.
Every day, Giant Eagle bakers prepare bread, pastries, and other desserts to sell at the bakery.
You can count on these expert bakers to make fresh batches of Giant Eagle cupcakes and Giant Eagle bakery cookies as well.

If you place a custom order that includes a sheet cake, your local bakery will order with their supplier for the sheet cake.
Since the bakers order these cakes on-demand, you will still be guaranteed a fresh product.

If you love the Giant Eagle buttercream that tops many cakes and cupcakes, then you are in luck.
Giant Eagle stores sell this exclusive buttercream by the pound. You can get the buttercream frosting in a variety of colors for your next homemade cake decorating project.
Conclusion
You can get your creative juices flowing when you design a custom cake at Giant Eagle! There are so many combinations of cake flavors, fillings, and frostings that you will surely be able to create a cake that perfectly meets your needs. So, think of Giant Eagle when you are looking for a cake for your next celebration!
If you're interested in finding out more grocery shopping tips, check out the related articles below.
Related Articles:
Giant Eagle Delivery: How to Get Groceries Delivered From Giant Eagle
Giant Eagle Curbside Pickup: Here's What You Need to Know
How to Use Giant Eagle Gift Cards Plus List of Gift Cards Giant Eagle Sells
Walmart Cakes: Your Guide to Ordering Cakes From Walmart Bakery
How to Order Kroger Groceries for Pickup (Previously Clicklist)