Giant Eagle Curbside Pickup: Here's What You Need to Know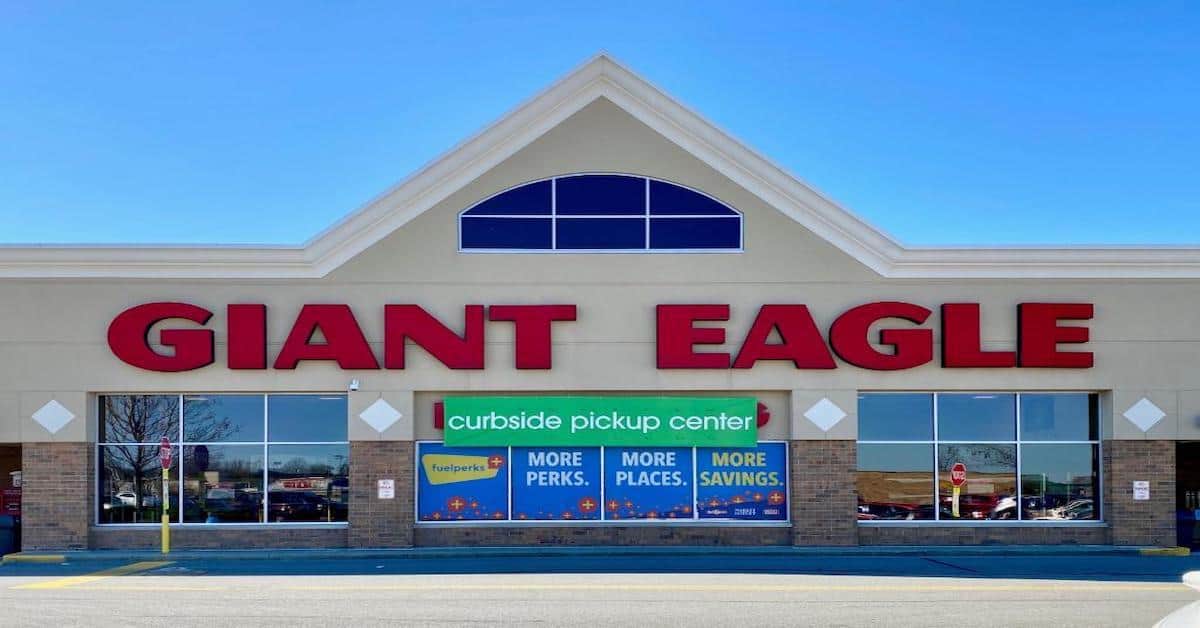 With more grocery stores like Giant Eagle offering curbside pickup, grocery shopping has never been so convenient. If you're new to Giant Eagle grocery pickup, there are a few things to note before getting started with placing your orders.
Giant Eagle curbside pickup orders can be placed through their website or mobile app. With an order minimum of $35, you can pick up your groceries free with no additional charges, fees, or tipping.  With Giant Eagle curbside pickup, you can use coupons, get perks, and even pay with EBT when needed.
Doing grocery pickup can save time and energy on the busiest days and relieve the laziest days! However, before getting started with curbside pickup, it's important to know how the service works and what you need to do to save money.
This article will walk you through how Giant Eagle curbside pickup works from start to finish.
How Does Giant Eagle Curbside Pickup Work?
The Giant Eagle curbside pickup could not be easier for shoppers who are on the go or want to skip the hassle of a shopping trip.
You simply head to the Giant Eagle website or mobile app and start adding your items to your cart as you would in-store, but someone else will do all the in-store shopping.
To begin shopping, you'll need to make an account on the Giant Eagle platform so that your information is registered and secure.
Once you add items to your cart, you'll go to checkout and either select for your items to be delivered or picked up at the store. Giant Eagle offers the same prices as in-store for curbside pickup orders.
Keep in mind that to select the free curbside pickup option, you'll need a minimum of $35 worth of products in your cart. This does not include tax or additional fees.
You will enter all your payment information online after finishing your shopping selection. Giant Eagle handles pickup orders contactless and as efficiently as possible.
Once your order is placed, you will get a time slot when your order will be ready to be picked up. This is simply based on how long it takes for an employee to gather your items.
This time range can vary as the volume of orders being placed may be different from day to day.
The last step is simply to go onto your app and let the store know when you are on your way to pick up the order.
Letting the store know that you're on your way helps employees to know approximately what time to meet you outside and load your groceries.
Using this feature will decrease your wait time significantly and maintains an efficient curbside pickup process.
At this time, Curbside Delivery is only able to accept digital coupons, not paper. But you're correct – paper coupons are accepted in store & with Curbside Pick-Up! Thanks for asking.

— Giant Eagle, Inc. (@GiantEagle) February 23, 2018
Does Giant Eagle Take Coupons for Curbside Pickup?
If you would like to use a coupon for a Giant Eagle curbside pickup order, you can do so! However, it's required to tell the store which coupons you intend to use during the online shopping process. Your account will then be credited after giving the coupon to the employee who brings your order to your car.
Giant Eagle requires customers to tell which coupons they want to use during the ordering process to ensure that they can maintain contactless and efficient pickups.
With this, you will initially see the total charge for your items, and after the store receives your coupon, they will adjust your subtotal. They will simply put the coupon savings back onto your card.
If you don't tell the store that you intend to use coupons ahead of time, they may not be willing to accept your coupons during pickup.
Do You Earn Perks on Giant Eagle Curbside Pickup Orders?
Yes, when using the Giant Eagle curbside pickup option, you can still earn perks. You will receive the same perks that you would if you were shopping in-store for any items that qualify.
Keep in mind that much like in-store shopping, in order to receive benefits, you must connect your Advantage Card to your online account.
This is the only way to access your savings and perks while shopping for curbside pickup. If you see discrepancies in your perks, remember that each store location may have different perks.
Therefore, if you are picking up an order from a store you don't usually shop at, you may see different perks in your account.
Hi there. Our Curbside Express team members are employed by Giant Eagle and are not permitted to accept tips per company policy. You can send a Contact Us message if you would like to recognize someone for their service!

— Giant Eagle, Inc. (@GiantEagle) December 24, 2020
Do You Tip Giant Eagle Curbside Pickup?
Part of the curbside pickup package is having an employee bring your groceries to your vehicle. Since the employee that brings the groceries may not be the same team member that packaged or shopped for your products, tipping is not accepted by the Giant Eagle staff.
This ensures that certain employees aren't receiving benefits simply based on their role that day.
Because of this, you should not offer a tip to any of the employees involved in your online order and pickup process.
Edit your Curbside order up until 6 hours before your scheduled pickup or delivery time. Text your shopper to approve any substitutions plus any items you forgot. Let us know when you're on the way and when you arrive with our grocery app. #CurbsideSeason https://t.co/3pwkNf6xQZ pic.twitter.com/yTeveTXUZg

— Giant Eagle, Inc. (@GiantEagle) December 1, 2020
What Happens If a Product Is Out of Stock?
There are a few ways to navigate out-of-stock items. First, when you are shopping online, you will see a check box next to each of your items to either allow substitutions or not. This gives the shopper permission to buy a similar product if what you selected is out of stock.
But don't worry; if your shopper has to select a substitute for you, they will send it to you to get your approval on that specific item.
If the shopper cannot get a hold of you, the most appropriate and closely related substitute will be selected for you.
If this is not a risk you want to take, you have the option not to allow substitutions. To avoid any substituting of out-of-stock items, unselect the allow substitutions button on your items.
This will ensure that in the case of an out-of-stock item, you simply will not be charged, and the item will be taken off of the shopping list.
Does Giant Eagle Take EBT?
Yes, Giant Eagle takes EBT, and customers can also use EBT on curbside pickup orders. The only time Giant Eagle does not take EBT is for grocery delivery orders. Therefore, if you rely on using EBT for your groceries, be sure to either choose to shop in-store or order curbside pickup.
When using EBT on curbside pickup orders, keep in mind that you must go into the store to enter your PIN.
While this can slow down the pickup process, it still saves you time on your shopping! The process of the pickup order will be the same.
However, upon arrival, the employee will ask you to come into the store to provide your PIN.

Once your PIN is entered, and your groceries are loaded, you are good to go. This is a small extra step that is required to process EBT payments properly.
Due to this extra step, EBT still cannot be used for grocery deliveries since there is no way for customers to provide their PINs in a safe and confidential space.
Conclusion
Whether you need to apply coupons, use EBT, or access perks on your shopping trip, taking advantage of Giant Eagle's curbside pickup for your groceries will not hinder your options.
This convenient service comes without any extra fees and ensures contactless and efficient pickups. To get started on your online shopping, head to the Giant Eagle website or the mobile application!
If you're interested in finding out more grocery shopping tips, check out the related articles below.
Related Articles:
Giant Eagle Delivery: How to Get Groceries Delivered From Giant Eagle
How to Use Giant Eagle Gift Cards Plus List of Gift Cards Giant Eagle Sells
Your Guide to Ordering Cakes From the Giant Eagle Bakery
H-E-B Curbside: How to Order Groceries Online for Pickup Using My HEB