Does Aldi Take EBT? (Yes, Including Online Orders)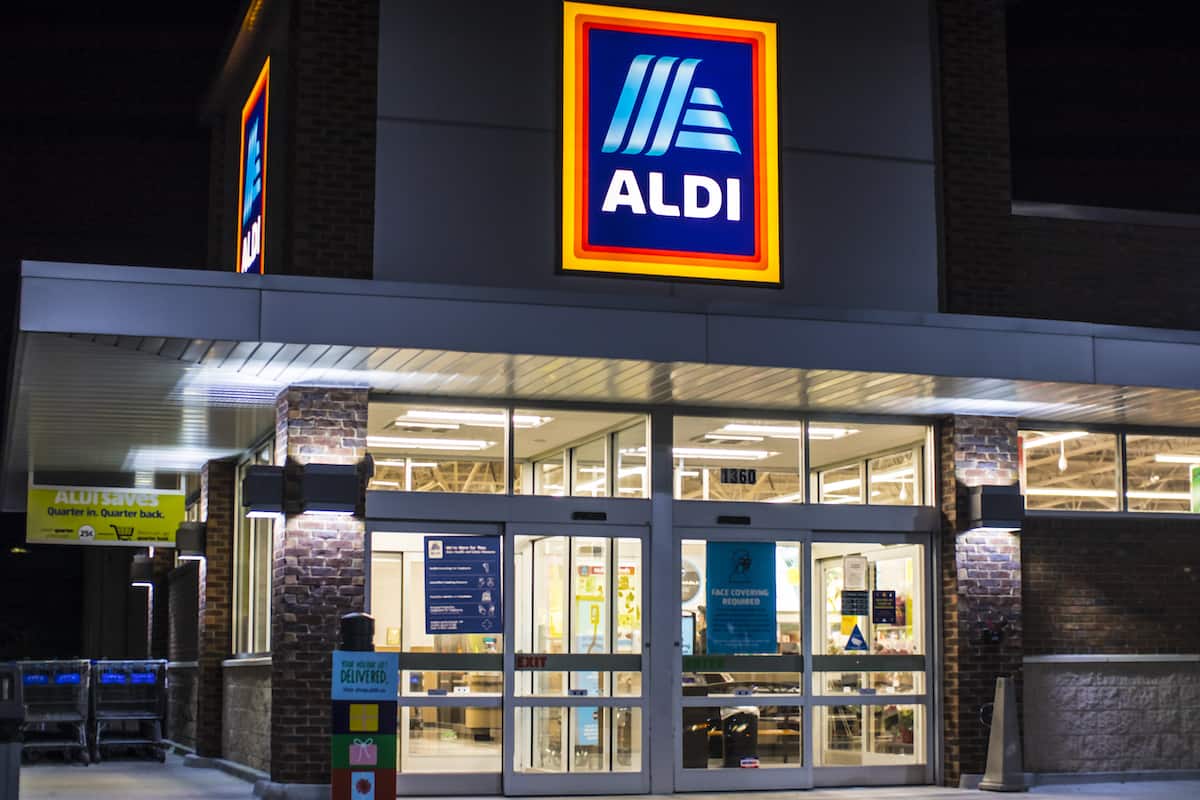 Along with being popular for its affordable prices on groceries and other household items, Aldi has also gained recognition for its commitment to offering healthier food options through its store-brand products. Cash-only until 2016, Aldi has expanded its payment options to make its stores more accessible to families looking for good food at great prices.
All Aldi stores take EBT in addition to major credit cards, debit cards, Apple Pay and Google Pay. Aldi also accepts SNAP/EBT cards online for delivery and curbside pickup through its partnership with Instacart in 37 states. However, you cannot use your EBT card to pay for Instacart delivery and service fees.
Aldi makes it even easier to get the things you need and maximize your benefits with their multiple payment options. In this article, we'll cover everything you need to know about using your SNAP/EBT benefits at Aldi.
We're proud to expand our partnership with @AldiUSA & introduce EBT SNAP payments for same-day grocery delivery & pickup across 23 additional states and D.C. 🥕https://t.co/f4F7hqj1aG

— Instacart (@Instacart) December 17, 2020
Does Aldi Accept EBT Online?
In October 2020, Aldi became the first grocery store to accept EBT for online payments through its partnership with Instacart. Aldi accepts SNAP/EBT cards online for delivery and curbside pickup options and has expanded this service to more than 1700 stores.
When shopping for groceries online with your EBT card, you can choose to shop directly through Aldi's Instacart Storefront or on the Instacart app.
If you don't already have an Instacart account, you will be prompted to set one up before shopping.
At checkout, you will be able to enter both your debit and credit card information as well as your EBT card number.
You can designate amounts for payment from your EBT/SNAP benefits and will be provided with a detailed receipt and payment breakdown.
Aldi's partnership with Instacart makes online grocery shopping easier and more accessible than ever.
How to Use EBT at Aldi
It is easy to use your EBT card to check out at your local Aldi store. When shopping in person, the process is the same as using any debit or bank card. Once your groceries have been rung up, simply swipe your EBT card at their payment terminal, select EBT as your payment method, and then enter your PIN when prompted.
When paying with an EBT card to use your SNAP benefits for a delivery or curbside pickup order, you will be making your purchase through Aldi's integration with Instacart.
Once you place your order and choose pickup or delivery, simply click the green checkout button to enter your delivery address and payment information.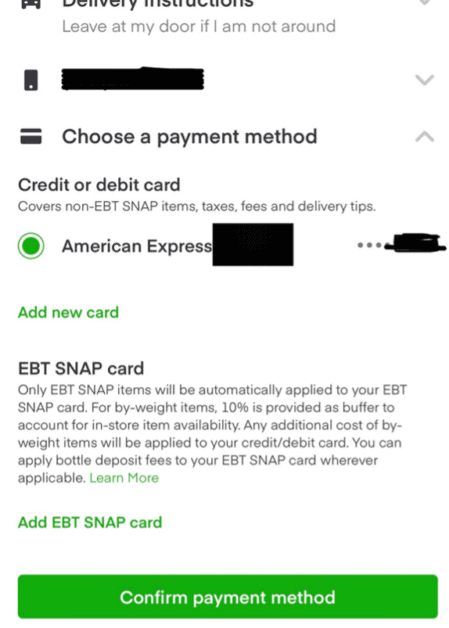 Here are the steps for checking out through Instacart using your EBT card for payment.
Enter your delivery address
Enter a credit or debit card number (this is to ensure payment for items that are not eligible for EBT)
Enter your EBT card information
You can now use the edit feature to assign the amount to be applied to your EBT card
Click the Confirm Payment Method button
You'll be taken to the Place Order Page to confirm all your information is correct
Click Place Order
Enter your EBT PIN number to complete your purchase
If you need more assistance with the checkout process, you can visit Instacart's Help Center.
What Can You Buy With EBT?
The USDA is very clear about what can be purchased with SNAP. Your EBT card can be used to buy food items, seeds to grow food, and non-alcoholic beverages only. Fruits, vegetables, bread, cereals, meat (including poultry and fish), dairy products, baby food, formula, and snack foods can all be purchased with SNAP/EBT.
SNAP, The Supplemental Nutrition Assistance Program, is a government program that assists in providing food to people in need.
Your SNAP benefits are distributed to you on your EBT card that can be used to purchase approved grocery items either in-store or online at participating grocers like Aldi.
Food stamps or SNAP/EBT benefits cannot be used to purchase:
Any alcoholic beverage (beer, wine, or liquor)
Vitamins or supplements
Food that is hot when purchased (like pre-made hot bar items)
Diapers
Cleaning supplies
Pet food
Any other non-food items
If you are ever unsure about what your SNAP benefits will cover, you can visit the USDA website.
Does Aldi Accept WIC?
Currently, Aldi accepts EBT payments both in-store and online. However, they do not accept WIC at any of their locations or for online orders. According to Aldi, they do not qualify as a participating retailer because so much of their inventory is store brands and not national brands.
WIC (Women, Infants, Children) is a special extension of the SNAP program offered by the USDA.
In addition to the benefits you receive through food stamps, WIC was designed to help pregnant and postpartum women, infants, and children up to age 5 through various services and provide nutritious food to supplement their diets.
In order to be eligible for WIC, you must meet these requirements:
You must be a pregnant, breastfeeding, or non-breastfeeding postpartum woman, infant, or child under the age of 5. (Sole providers of a child or infant care may be considered)
Your pre-tax income must be at or below 185% of the U.S poverty income level.
You must live in the state in which you are applying for WIC
You must be facing a nutrition risk (an assessment will be performed by a health professional)
To determine whether you are eligible for WIC, you can visit the USDA website. In addition, you can find your local WIC office and learn more about your state's program by visiting Benefits.Gov.
WIC improves the health of nutritionally at-risk women, infants & children → http://t.co/3PJcNDmgKv #HealthierNextGen pic.twitter.com/YdMikJT2Je

— Dept. of Agriculture (@USDA) August 3, 2015
What Can You Buy with WIC?
Like EBT, WIC can be used to buy food items. However, unlike EBT, WIC-eligible foods must also with FDA standards of identity for nutritional value. For example, cereals must contain a minimum of 28mg of iron per 100g of cereal and no more than 21.2g of sugar per 100g of cereal. States do not have to authorize all eligible foods for WIC benefits. 
Some of the foods that are eligible to purchase with WIC benefits are:
Infant formula
Infant fruits and vegetable
Breakfast cereals
Milk
Whole wheat bread and whole grains
Canned fish
Juice
Tofu
Mature legumes
A complete list of WIC-eligible foods and the FDA standards is available on the USDA website. To check which items are approved for WIC benefits in your state, you can access the State Directory.
We accept cash, food stamps/EBT, contactless payments such as Apple Pay and Google Pay, debit, credit, and pre-paid cards; including Visa, MasterCard, Discover and American Express. At this time, we do not accept checks or WIC.

— ALDI USA (@AldiUSA) July 28, 2021
What Payment Methods Does Aldi Accept?
Until 2016, Aldi only accepted cash and debit cards as payment. Since then, Aldi has expanded its payment options to include all major credit cards, debit cards, EBT, SNAP, Aldi gift cards, and all contactless payment methods, including Apple Pay and Google Pay. Aldi does not accept checks or WIC payments.
All these payment methods are accepted at all of Aldi's locations and can be used online for pickup or delivery through Instacart.
With their low prices, healthier food options, and the ability to pay for your groceries in so many convenient ways, it's no surprise that Aldi is one of the fiercest competitors in the ongoing grocery competition.
Thanks for confirming what our fans already know, @businessinsider. You just can't beat the value and prices at ALDI! https://t.co/AbtFiGVa5f

— ALDI USA (@AldiUSA) February 27, 2019
Is Aldi Cheaper Than Walmart?
Aldi has grown in popularity in part to its lower prices and healthier food options. For most items, Aldi's prices are cheaper than Walmart's. Aldi was ranked number one for price in the 2020 grocery edition of the Dunnhumby Retail Price Index for the second year in a row.
Both Aldi and Walmart boast low prices and high-quality in-house brands. However, Aldi continues to be recognized for its customer satisfaction, commitment to healthier food options, and affordable prices.
Below are some everyday grocery items and how their prices compare at both stores at the time of this writing. We are using their respective store brands for comparison.
| | | |
| --- | --- | --- |
| Item | ALDI Price | Walmart Price |
| 1 Dozen Eggs | $1.39 | $1.26 |
| Ground Beef | $3.39/lb | $3.76/lb |
| 1 Gallon Milk | $3.15 | $3.00 |
| Peanut Butter | $2.55 | $2.74 |
| Spinach | $1.65/8oz bag | $2.26/6oz bag |
| Bread (White Bread) | $0.95 | $0.88 |
Prices in every location will vary. While you may find some items for a lower price at Walmart, overall, Aldi has lower prices on more items.
Conclusion
Aldi makes accessing healthy and affordable food easier than ever. With the option to pay online and in-store with EBT/SNAP, more families will benefit from the Aldi shopping experience regardless of their socio-economic status.
Using your EBT card in Aldi stores is as easy as swiping a debit card. In addition, Aldi's partnership with Instacart makes it simple to use your EBT card for online orders.
If you're interested in learning more about Aldi shopping tips, check out the articles below.
Related Articles:
What Are Aldi's Hours and the Best Day to Shop at Aldi?
How to Order Groceries From Aldi With Curbside Pickup
Aldi Delivery: How It Works and How to Order Using Instacart
Are Aldi Groceries High Quality? (What to Buy and Avoid at Aldi)