Albertsons Delivery: How It Works and How to Use Albertsons for U
Your favorite grocery store is brought straight to your door with Albertsons delivery. Whether you schedule in advance or request same-day delivery, Albertsons makes it easy to get your groceries delivered.
Albertsons delivery can be ordered using their website or the app. There is a $30 minimum order with a delivery fee of $9.95. Albertsons delivery is available 7 days a week from 8 am to 9 pm in most locations. EBT is not accepted for Albertsons delivery, but digital coupons and Albertsons for U rewards can be applied.
Read on to discover how to order and save on Albertsons delivery. We'll dive into discounts, rewards programs, and other tips to help you get the most out of your online order at Albertsons.
How Does Albertsons Delivery Work?
You can order Albertsons delivery online through their website or the app. Albertsons for U rewards points are automatically applied, and digital coupons are highlighted to clip easily while shopping. Albertsons also offers rush delivery and extended delivery hours through Instacart and DoorDash.
Albertsons delivery is available 7 days a week between 8 am and 9 pm local time in most locations. If in doubt, check with your neighborhood Albertsons store. Most stores also offer same-day delivery.
While you can change how you want to receive your groceries at any time during the ordering process, it is recommended to choose before you begin shopping so that the correct prices, discounts, and availability of items are reflected.
A $30 minimum purchase is required for all Albertsons deliveries, along with a standard delivery fee of $9.95. The delivery fee can vary based on the delivery time and location.
When choosing a third-party delivery service such as Instacart or DoorDash, all additional costs will be per their fees and policies.
You'll find the same selection at Albertsons online as you would in stores, with the exclusion of select items. These include but are not limited to greeting cards, stamps, and magazines.
You can browse items by category or save time by shopping from past purchases. In addition, you can allow personal shoppers to substitute items if an item is out of stock.
Notes and special requests can also be left for shoppers during the ordering process.
All items will be packed and delivered according to state policies in either paper or reusable plastic bags that adhere to Ecologo standards. Albertsons delivery may charge bag fees where applicable.
Albertsons practices contact-free deliveries, so your order will be left at your front door at the scheduled delivery time.
Keep in mind that Albertsons is not responsible for orders once delivered, regardless of any spoilage, damage, or theft that may occur if items are left out.
For deliveries containing alcohol, tobacco, or other age-restricted items, a person over the age of 21 must be present to accept and sign for the delivery.
You can change or cancel an Albertsons delivery order on the same day that order is placed. Most items may also be returned for a full refund or store credit according to the return policy.
Items that may not be returned include alcoholic beverages, baby formula, tobacco products, and any items damaged by improper use, storage, accidents, or normal wear and tear.
For any problems concerning your Albertsons delivery, call the Customer Service phone number at (877) 505-4040. Customer Service is available 7 days a week between 5:00 am and 10:00 pm Pacific Time.
To make a return, notify your delivery driver at the time of delivery. Albertsons accepts returns for up to seven days after delivery.
You may also call Albertsons Customer Service to request a refund for unsatisfactory substitutions or missing items for up to 48 hours after delivery.
How to Order from Albertsons Online
You can order from Albertsons online using their website or the app. Find items through the menu of categories or browse through current discounts and promotions. Choose a delivery day and time, and a personal shopper will prepare your order to be delivered to your front door.
Regardless of how you choose to shop online, Albertsons makes it easy to browse items and apply discounts with the click of your mouse.
Below you can find the step-by-step guide to ordering Albertsons delivery:
1. To begin shopping for your Albertsons delivery, log in or create an account. You will be prompted to do so upon downloading the app. Then, enter your ZIP code, choose the delivery option available in your area, and click "Start Shopping" at the bottom of your screen.
2. After logging in, you'll be redirected to the home page. Albertsons recommends reserving a delivery day and time before shopping to ensure that your chosen time slot is available. Reservations are held for up to 90 minutes before completing the order. Make reservations by clicking "Reserve a Time" at the top of the app, just below the menu.
3. Select your delivery window; the available dates and times and the delivery fee will be displayed below. Note that a larger window may lead to a reduced delivery fee. Next, choose your reservation, then press "Save" at the bottom of the screen.
4. Shop for popular items on the home screen or click on "Aisles" in the top menu to shop by category.
5. You can search for individual products using the search bar at the top of your screen or click on "Deals" to browse all available discounts and sales.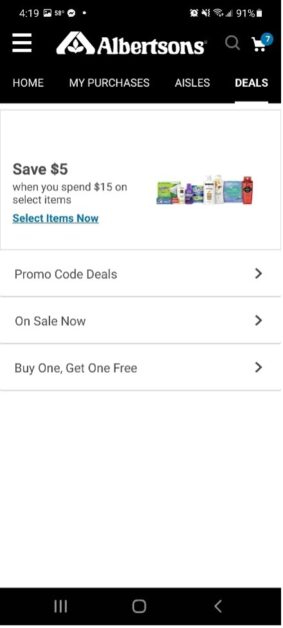 6. Store discounts and coupons are displayed under items when applicable. Click to clip coupons, and the discounts will be automatically applied to your cart once the item is selected.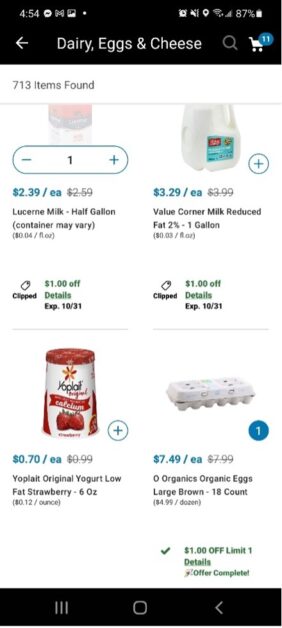 7. Shopping Albertsons online makes it easy to find the items you love. Shop from a previous Albertsons order by clicking on "My Purchases" or navigating to "Orders" under the main menu found in the top left corner of the app.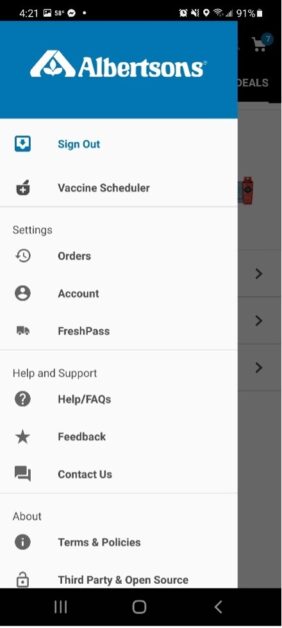 8. When you're done shopping, review your order by clicking the cart in the top right corner of the app. Then, choose whether to allow substitutions at the top of the screen or under each item. Notes and special requests may also be left by clicking on "Preferences" under each item.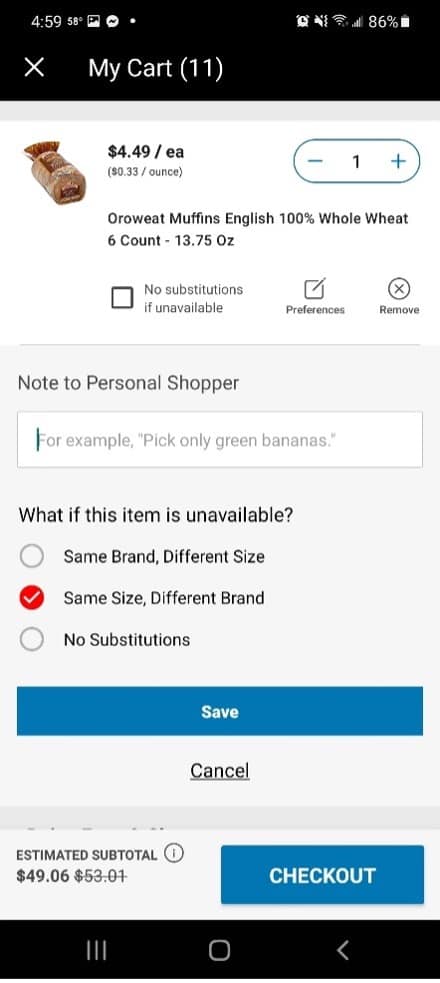 9. The "Estimated Subtotal" of your order is displayed in the bottom left corner of the screen. This amount does not account for the cost of items sold by weight, for any substitutions, or for additional fees and taxes. Therefore, your actual total may differ and will be displayed on your final receipt upon delivery.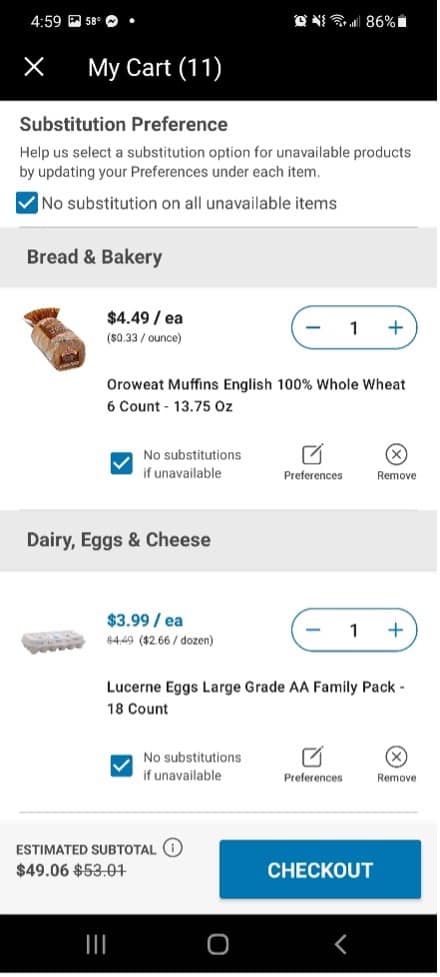 10. Scroll to the bottom of your cart to review your estimated savings. Once you are satisfied with your selections, click "Checkout" at the bottom of the app.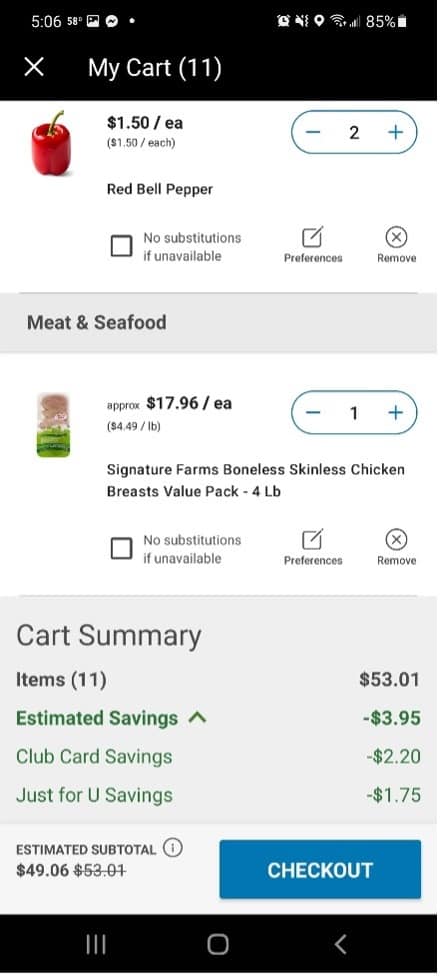 11. Enter payment and delivery information, then confirm your delivery date and time. You may also enter any additional promo codes at this time. Once all information has been entered, click on "Place Order" to finalize your delivery order.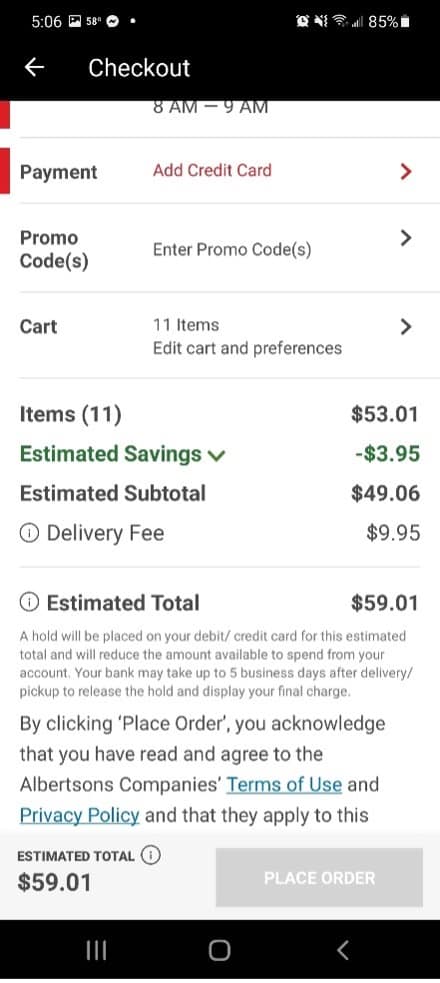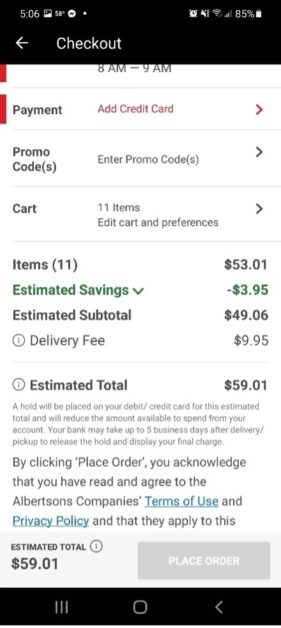 Freshen up the way you grocery 📱🍍🥦🥕🍓 pic.twitter.com/mOLOlEumbk

— Albertsons (@Albertsons) August 18, 2021
How Much Does Albertsons Delivery Cost?
The standard cost for Albertsons delivery is $9.95. However, first-time customers receive free delivery by entering the promo code "FREE" on the checkout page. Reduced rates may also be available for larger delivery windows. Fees on deliveries made by Instacart and DoorDash are determined by their policies.
When you place your order, your debit or credit card will be pre-authorized for the Estimated Total. This does not charge your card, but it allows your financial institution to hold that amount and make it unavailable.
Once the order is finalized on delivery day and all prices are adjusted according to discounts and substitutions, your card will be charged the final order total.
Albertsons also offers a subscription-based program called FreshPass. FreshPass subscription costs $12.99 per month or $99 for an annual plan.
The FreshPass program offers members unlimited free deliveries, and it comes with a free 30-day trial!
FreshPass members also enjoy perks such as a monthly $5 credit and no expiration date on rewards points. In addition, members receive benefits such as a 5% discount on O Organics and Open Nature products, VIP phone service, and more.
Rejoice in rewards! Get points for every dollar you spend. Yes, every dollar. #AlbertsonsforU #RewardsforU pic.twitter.com/RyPNxp8E66

— Albertsons (@Albertsons) August 17, 2021
How to Use Albertsons for U
Albertsons for U is the Albertsons members rewards program. Membership is free, and members receive several perks, including rewards and personalized deals. Offers are automatically applied to Albertsons deliveries when you log in and link your Albertsons for U account.
Recently rebranded, the program features new deals, rewards, and perks. In addition, long-time customers who previously had an Albertsons Just for U account do not need to register for a new Albertsons for U account.
Your old Albertsons Just for U account is automatically transferred, so simply update your mobile app or log in on your web browser.
Rewards points are renewed every month and can be used for discounts on grocery and fuel purchases. Albertsons for U members also receive one free item every month and an annual birthday gift.
Albertsons rewards are only applicable when ordering delivery through Albertsons, not when using a third-party app like Instacart or DoorDash.
You can find your total savings and rewards on your receipt upon delivery. For any questions regarding Albertsons for U, call the Customer Service phone number at (877) 505-4040.
Thank you for reaching out to us with interest in the third-arty delivery service Instacart. You are able to use Instacart if they are available in your area. Please DM us your delivery zip code and we will be more than happy to see if it is available. Thank you.

— Albertsons (@Albertsons) May 14, 2020
Does Albertsons Use Instacart?
Albertsons uses Instacart for both regular grocery delivery and Rush delivery. Orders must be made through the Instacart website or the app, and Instacart determines all delivery and service fees.
Instacart delivery fees start at $3.95 for same-day orders over $35. New members also enjoy free delivery promotions upon signing up. Fees may vary for one-hour deliveries and deliveries on orders less than $35.
The Instacart Express membership program is available to new customers with a free two-week trial.
After the trial period is over, Instacart Express membership costs $99 annually. Instacart Express members receive free delivery on all orders over $35 and reduced service fees.
Instacart also provides a Rush Delivery service in select locations. Enter your ZIP code online to see if this service is available in your area.
Rush Delivery requires creating an Instacart account and is subject to fees and other items and conditions determined by Instacart.
Albertsons Companies is now partnering with DoorDash to offer 1-hour, on-demand grocery delivery from nearly 2,000 of our stores. More than 40,000 grocery items will be available for delivery via DoorDash, at select locations. Read more: https://t.co/0zz6v8taZq

— Albertsons (@Albertsons) June 22, 2021
Does DoorDash Deliver From Albertsons?
DoorDash has recently expanded and now delivers Albertsons groceries. All Albertsons stores are available to shop from through the DoorDash app if you have a DashPass membership. All additional fees, including delivery fees, are determined by DoorDash.
New DoorDash members can enjoy a free 30-day DashPass trial membership. Membership benefits include unlimited free deliveries on orders over $25.
After the first month, a DashPass membership costs $9.99 per month and can be canceled anytime. You can read our article to learn more about the DashPass benefits, how it works and if it's worth signing up for.
Does Albertsons Delivery Accept EBT?
Albertsons delivery does not accept EBT. All delivery orders made online through the Albertsons website or the app must be purchased with a valid credit or debit card. Other payment options are available for in-store purchases and curbside pickup.
Albertsons delivery accepts payments made with VISA, MasterCard, Discover, American Express credit cards, and Visa and MasterCard debit cards.
Albertsons does not accept WIC, and only select Albertsons locations accept SNAP and EBT payments for online pickup orders.
All other forms of payment, including cash, Albertsons gift cards, Albertsons Pay, personal checks, and other charge accounts, may only be used to make in-store purchases.
Do You Tip Albertsons Delivery?
Albertsons delivery drivers do not accept tips. However, tipping is allowed and encouraged when ordering through third-party services like Instacart or DoorDash.
A standard tip of 15-20% is recommended on deliveries that accept tips through Instacart or DoorDash.
Conclusion
You can shop and save with Albertsons delivery by applying digital coupons to your order with one click. In addition, you'll receive the same rewards points as you would shopping in-store. With multiple ways to receive deliveries around your schedule, shopping at Albertsons is now easier than ever.
If you're interested in finding out more grocery shopping tips, check out the related articles below.
Related Articles:
Albertsons Grocery Pickup: Here's How It Works
What Is Safeway Just for U? (And How to Use It)
Safeway Pickup: How to Order and Pickup Groceries Curbside
Safeway Delivery: How to Get Groceries Delivered From Safeway
Walmart Grocery Pickup: How to Order Walmart Groceries for Pickup