18 Things to Know About The Cheesecake Factory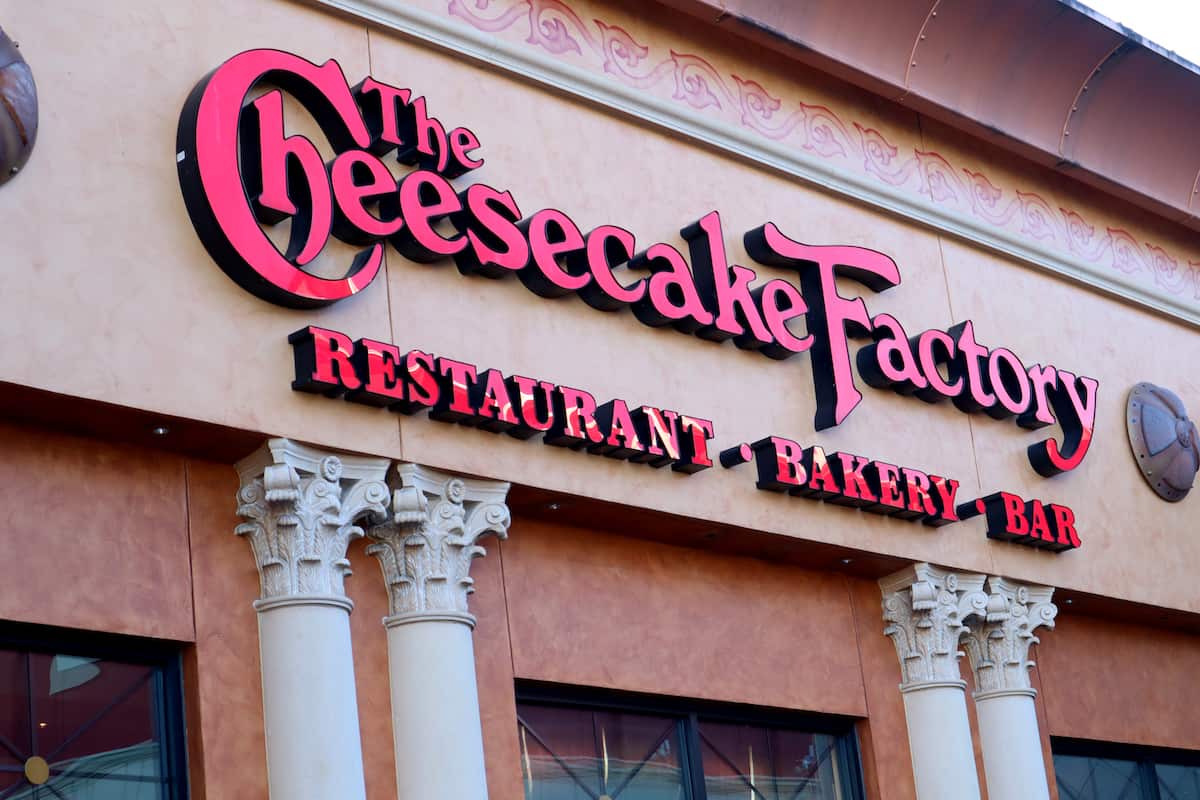 The Cheesecake Factory is an upscale, casual dining restaurant known for its generous portions and delicious cheesecakes. It is nice enough for a romantic date night, yet casual enough to enjoy a quick lunch at, and the ever-evolving menu ensures that there's always something new and delicious to try.
The Cheesecake Factory restaurants are popular venues for celebrations and often get busy at peak dining times. However, the restaurant chain continues to implement new ways to make its menu more accessible to everyone.
Restaurants offer dining reservations for small parties, and you can also choose to order takeout or delivery online. Some of their most popular cheesecakes are even available in select retailers.
Read on to learn everything you need to know about dining at The Cheesecake Factory!
1. The Cheesecake Factory Is an Upscale, Casual Dining Restaurant With No Dress Code
The Cheesecake Factory is an upscale, casual dining restaurant. There is no required dress code, and dinners are welcome to come as they please.
However, the upscale atmosphere also makes restaurants a fantastic venue for those looking to get dressed up for date nights or gatherings.
2. Cheesecake Factory Restaurants Offer a Complimentary "Baby Plate" for Kids
Everyone is welcome to dine at The Cheesecake Factory. High-chairs and booster seats are available upon request for little ones, and changing tables are also available in the men's and women's restrooms.
The Cheesecake Factory offers a complimentary "Baby Plate" made of sliced banana and fresh bread to keep children in booster or high-chairs occupied while you dine.
Children 10 and under can also choose their meal from a specialized kids' menu.
All restaurants are accessible, meaning they have ramps, elevators, and wheelchair-friendly bathrooms. Service animals are also welcome in their restaurants.
3. Lunch And Dinner Are Busy Hours at The Cheesecake Factory
The Cheesecake Factory restaurants are generally busiest during peak dining hours. At most locations, busy hours tend to be from noon-2 pm and 6 pm -8 pm on weekdays. On the other hand, weekends can be busy all day until about 9 pm.
Therefore, you can reduce the wait and possibly get a table right away by choosing to dine at The Cheesecake Factory outside of these peak hours.
Other options include sitting at the self-seating "high top" tables in the bar areas, which are always available, and serving the full menu.
You can also order anything on the menu except for alcoholic drinks for takeout. Takeout orders can be placed online, by phone, or at the restaurant.
Order online for pickup or delivery. Whether it's flatbread pizza, or Glamburgers®, lunch specials, pasta, salads, or anything else, we'll nestle a delicious piece of brown bread & sourdough right in there with your food. Let's get this bread. pic.twitter.com/nMxdedQ4RS

— The Cheesecake Factory 🍰 (@Cheesecake) April 3, 2020
4. You Can Order Takeout and Delivery from The Cheesecake Factory
While the most popular way to enjoy the restaurant's food is to dine in, The Cheesecake Factory also offers takeout and delivery.
Takeout is available for all menu items except for alcoholic drinks. Orders can be placed online, by phone, or at a restaurant bakery counter.
The Cheesecake Factory also offers Curbside To-Go service, where they will deliver your food to your car.
Delivery orders can be placed from many restaurant locations. In addition, you can order delivery online through The Cheesecake Factory website.
Simply choose your desired location from the map and click "Order Delivery."
The Cheesecake Factory delivery is fulfilled by DoorDash and can also be ordered through the DoorDash website.
Selfies welcome, especially when you'll be smiling about our limited reservations on @Yelp – Yes, you heard us. We offer limited reservations now.🙌 https://t.co/LWTJmNx2Ye

— The Cheesecake Factory 🍰 (@Cheesecake) February 3, 2020
5. Cheesecake Factory Takes Limited Reservations for Parties of Six or Less
The Cheesecake Factory accepts a limited number of reservations for parties of six or fewer. Restaurants also accept a limited number of large party reservations for off-peak dining times.
However, they do not take reservations, even for large parties during busy times like evenings, weekends, holidays, or special event seasons such as prom or graduation.
Reservations can be made online or by phone. The best way to make a reservation for small parties is through their Reservations Page, which offers an online form that can be submitted directly to the restaurant you are interested in.
To inquire about reservation availabilities for larger parties, you can call the restaurant location directly and ask to speak to a manager.
6. Select Restaurants Can Accommodate Large Parties and Functions
While each location is unique, most restaurants have open floor plans to accommodate a few large parties.
Many locations accept reservations for large parties of seven or more for dining at quieter times, such as for early lunch immediately after opening or for weekday afternoons.
A few locations also have banquet halls to accommodate private functions of 25-200 guests.
To find out more information about holding a function at The Cheesecake Factory, you can fill out and submit the form on their Banquet Information page.
Oh, you like our menu? Name every dish on it.

— The Cheesecake Factory 🍰 (@Cheesecake) October 29, 2019
7. The Cheesecake Factory Menu Includes More Than 250 Items
The Cheesecake Factory is known for its generous portions and delicious cheesecakes, but did you know that The Cheesecake Factory menu includes more than 250 items? These dishes include:
Appetizers
Pizzas
Salads
Pasta
Specialties
Fish and Seafood
Steaks and Chops
Burgers
Sandwiches
Cheesecakes and Other Desserts
The entire menu is available all day, and restaurants don't mind if you choose to share plates.
If a full Cheesecake Factory portion is too much, the SkinnyLicious Menu also has some great options for appetizers and small plates.
The Cheesecake Factory changes its menu twice a year. You can always view the newest menu items online before visiting a restaurant location.
We've got you covered for #lunch pic.twitter.com/xdoLlxo1px

— The Cheesecake Factory 🍰 (@Cheesecake) September 8, 2014
8. The Cheesecake Factory Lunch Hour Is Until 5 PM
The Cheesecake Factory serves a wide range of appetizers, entrees, desserts, and beverages throughout the day. Lunch platters start at $8.95 at most locations, and lunch-sized portions of salads, pasta, and select specialty items are also available until 5 pm.
Dinner begins after 5 pm, with entrees starting at $12.95. Small plates, snacks, and appetizers start at $4.50 and are great for sharing.
The cost of alcoholic beverages will vary by location, though a glass of wine will generally start at $7.95.
Remember to round off your meal by saving room for a slice of cheesecake or one of their other delicious desserts, which start at $6.95 at most locations.
@Necy_888 Hi Denise! Yes we have a gluten-free menu 🙂 Please give the restaurant a call for more information!

— The Cheesecake Factory 🍰 (@Cheesecake) August 28, 2015
9. The Cheesecake Factory Menu Has Gluten-Free Items
The Cheesecake Factory offers a variety of substitution options to accommodate common food allergens and dietary needs, including carb-free and gluten-free options.
When ordering, inform your server of your needs, and they will do what they can to accommodate your requests.
The Cheesecake Factory's SkinnyLicious Menu offers additional low-calorie and carb-free options.
This menu is always available and includes over 30 dishes with 590 calories or less each. SkinnyLicious Menu options include appetizers, salads, specialties, and even cocktails!
10. The Cheesecake Factory Offers a Personalized Dessert on Your Birthday
The Cheesecake Factory is the perfect place to celebrate a birthday with a personalized dessert.
If you order dessert, they will write "Happy Birthday" and the birthday guest's name in either chocolate or caramel. The plate is also decorated with candy confetti, and the cake is completed with a candle on top.
If you're too stuffed from dinner to enjoy a heavy dessert, they also offer a free birthday sundae with a tiny "scoopette" made of vanilla ice cream fudge and crowned with whipped cream, confetti pieces, and a birthday candle.
You: Who would order an entire 7″ family-sized cheesecake for delivery on Easter… for themselves?
Also you: mglrphlembrnfltasdj (the sound of eating an entire cheesecake as soon as it's been delivered) pic.twitter.com/PRGVe2oRxt

— The Cheesecake Factory 🍰 (@Cheesecake) April 9, 2020
11. You Can Order Whole Cheesecakes at Any Cheesecake Factory Restaurant or Online
Most of The Cheesecake Factory's restaurants offer the option to buy an entire cheesecake to take home. The whole cheesecakes are available in three different sizes:
The 10-inch size is the largest and serves between 12-15 people.
The 7-inch size is the medium cheesecake that serves between 6-8 people.
The 6-inch size is the small cheesecake that serves 4-6 people. The six-inch size only comes in select flavors.
Pricing for whole cheesecakes will vary by location, so it's best to check at your local restaurant.
For those who can't pick just one flavor, there is the option to order two different flavored halves of 10-inch cheesecakes or layer cakes.
Cheesecakes can also be ordered deeply chilled to travel better or be kept frozen and eaten later. Then, when you're ready to enjoy it, simply defrost the cheesecake in your refrigerator overnight.
Whole cheesecakes can be purchased at any of The Cheesecake Factory restaurant bakery counters, or you can order one online for restaurant pickup or delivery through The Cheesecake Factory website.
Some of their most popular cheesecakes can also be ordered online through Harry and David.
Furthermore, slightly smaller versions of some of the most popular The Cheesecake Factory cheesecakes are available for purchase at select warehouse retailers and grocery stores across the country.
12. The Cheesecake Factory Introduces a New Cheesecake on National Cheesecake Day
National Cheesecake Day is on July 30th, and The Cheesecake Factory is the perfect place to celebrate. Since 2008, the restaurant has celebrated National Cheesecake Day by introducing a new cheesecake.
On top of that, they give back by donating a portion of every cheesecake purchased on National Cheesecake Day to The Feeding America network of food banks.
13. The Cheesecake Factory Restaurants Are Closed on Thanksgiving and Christmas Day
To allow restaurant staff to celebrate major holidays, The Cheesecake Factory restaurants are closed on Thanksgiving Day and Christmas Day. However, you can still celebrate the holidays with your favorite meal!
The Cheesecake Factory restaurants are open on Christmas Eve, New Year's Eve, and New Year's Day. However, hours may vary, so it is best to check with your local restaurant for details.
14. You Can Give the Gift of Cheesecake with Gift Cards
The Cheesecake Factory sells both physical gift cards and eGift cards. Physical gift cards can be purchased from Cheesecake Factory restaurants and many grocery stores, drug stores, and mall kiosks.
 Electronic gift cards, or "eGift Cards," can be purchased online at The Cheesecake Factory website and are delivered to the designated recipient email.
The Cheesecake Factory sells both US and Canadian gift cards. US gift cards can be redeemed in the US and Puerto Rico but not in Canadian restaurants.
Canadian gift cards are only available as physical gift cards, though eGift cards will be available soon.
The Cheesecake Factory gift cards in Canada can be purchased at the restaurant and are only valid in Canada.
Gift cards are only valid for Cheesecake Factory restaurant purchases and are not good to use at affiliate restaurants or for The Cheesecake Factory products sold by other retailers. Also, gift cards cannot be used for delivery orders.
There are three ways to redeem a Cheesecake Factory eGift Card:
Print out your eGift card with the 16-digit eCard number and the 8-digit PIN clearly legible. Then present the printed card to your server.
Inform your server that you choose to redeem your eGift Card from your mobile device, then write the eCard number on the bottom of the check.
When placing an order for pickup, enter the eCard number and PIN online at the time of purchase
15. You Can Check Your Cheesecake Factory Gift Card Balance Online or By Phone
Gift card balances can be accessed online or by phone. You can check the balance of your US gift card on The Cheesecake Factory website or by calling the gift card hotline at 888-891-2429.
The hotline is available 24 hours a day, seven days a week. You can also check the balance of a Canadian gift card by calling the gift card hotline.
Any balance remaining on your gift card will be applied toward your next purchase, and any remaining amount due can be paid by cash or credit.
16. Lost Or Stolen Cheesecake Factory Gift Cards Are Non-Refundable
The Cheesecake Factory does not replace or refund lost or stolen gift cards, so it is important to safeguard them like cash.
Gift cards don't expire or accrue fees, but they can also not be refunded or redeemed for cash except where required by law.
A gift card balance cannot be transferred to another gift card, and gift cards can't be used to purchase other gift cards. Some locations may not allow alcohol to be purchased with a gift card.
17. You Can Follow The Cheesecake Factory on Social Media For the Latest Updates
You can keep up with the latest happenings at the Cheesecake Factory by following them on social media. Follow and connect with The Cheesecake Factory on some of the most common platforms, including:
Facebook
Twitter
Instagram
Pinterest
The Cheesecake Factory also sends email newsletters, which you can sign up for on its website. Newsletters are a great way to find out about their newest menu items, recipes, giveaways, and more.
It's #NationalCheesecakeDay! And for every slice of cheesecake purchased, we're donating $1 to Feeding America. Help us celebrate for a good cause. 🍰 pic.twitter.com/DjgCBTYltM

— The Cheesecake Factory 🍰 (@Cheesecake) July 30, 2021
18. The Cheesecake Factory Donates Food and Money to Charity
The Cheesecake Factory regularly donates food and money through various programs, foundations, and partnerships. They aim to unite their staff in charitable causes and to fight hunger throughout America.
The Cheesecake Factory is committed to fighting hunger through its Nourish Program, which collects surplus food from restaurants and donates it to feed the hungry in local communities.
In addition, they donate gift cards to other charitable groups and events in their communities throughout the year, and their Oscar & Evelyn Charitable Foundation donates to non-profit hunger organizations and other charities that support communities throughout the US.
You can visit their Charitable Giving page for more information on all the ways that The Cheesecake Factory gives back.
You will also find an update on how much food and money was recently donated and how many volunteers helped to get the job done.
Conclusion
The Cheesecake Factory is known for its large menu, generous portions, and famous cheesecakes. You can choose to dine in the upscale yet casual atmosphere of their restaurants or to enjoy your meal at home by ordering takeout or having your food delivered.
There are many ways to enjoy the Cheesecake Factory menu, and knowing The Cheesecake Factory actively works to battle hunger in America will make your food taste even better.
If you're interested in learning more tips about The Cheesecake Factory, check out the related articles below.
Related Articles:
The Cheesecake Factory Happy Hour Saves You Money on Appetizers and Drinks
Everything You Need to Know About the Cheesecake Factory Cheesecake
How The Cheesecake Factory Delivery Works and How to Order Online
Does The Cheesecake Factory Take Reservations? (Yes, Here's How to Make One)