11 Best Flavored Syrups at Starbucks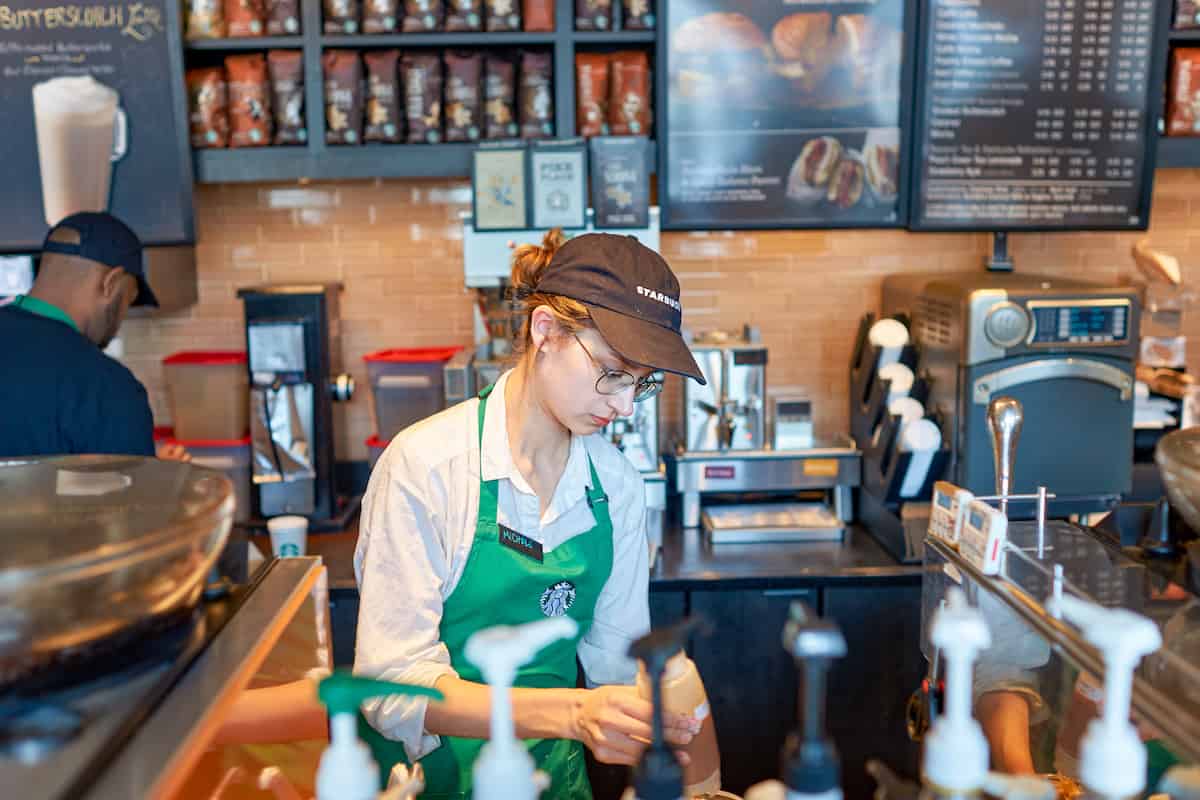 What makes Starbucks stand out from the countless other coffee shops around it? Is it their extensive range of coffees, teas, or delicious frappuccinos? Or is it the fact that there's a Starbucks on pretty much every block?
These might all be true, but we also think Starbucks has become what it is thanks to its range of unique and high-quality syrups.
Whether you want to make your coffee taste like a cinnamon roll or just want a subtle sweetness, Starbucks has a syrup for that.
In this article, we compiled a list of the best Starbucks syrups and ranked them based on their flavor and overall experience.
Though some vary from season to season, almost all the syrups on our list are available year-round.
Along with our rankings, we'll also give you some suggestions for drinks you can order to try out each syrup. Happy sipping!
11. Sugar-Free Vanilla
Starbucks' Sugar-Free Vanilla syrup takes the last place on our list.
Instead of cane sugar, this syrup is made with sucralose, which is an artificial sweetener that often replaces sugar in sugar-free products.
This is Starbucks' one and only sugar-free syrup offering, so it is undoubtedly an important option on the menu.
However, while it boasts zero calories and zero grams of sugar per pump, don't get too excited.
Guests often complain about this syrup's artificial and chemical aftertaste. Some guests also complain that the syrup is bitter or that it has no flavor at all.
Overall, it seems that experiences vary with the Sugar-Free Vanilla syrup.
We don't recommend rushing to your local Starbucks to try this syrup, but it seems to get the job done for most guests if you don't or can't consume sugar.
10. Raspberry
Starbucks' Raspberry syrup is tart, sweet, and very polarizing. For those who love a fruit-coffee combination, this syrup will be right up your alley.
If you think fruit and coffee should be consumed separately, you probably won't be a fan of Raspberry syrup in your latte.
Guests who love this syrup recommend adding a pump or two to your Starbucks iced black tea or lemonade for a sweet-and-sour edge to every sip.
Those who enjoy a fruit-coffee combination should try the Raspberry Caramel Macchiato.
To order it, ask for a regular Caramel Macchiato with Raspberry syrup instead of Vanilla syrup.
A pump of Raspberry syrup contains 20 calories and 5g of sugar.
9. Toasted Vanilla
Starbucks fans were ecstatic when, in early 2022, the coffee chain released its newest syrup flavor.
Now that the Toasted Vanilla syrup is widely available, the jury is still out on its flavor.
Some people really enjoy this syrup, noting its complex caramelly undertones.
Others are neutral, saying they can't taste a difference between the Toasted Vanilla syrup and its original vanilla predecessor.
Still, others were disappointed, noting that the syrup was far too floral and gave their drink a perfume-like taste.
We guess you'll have to make up your own mind on this syrup and let us know if you think it should be ranked higher!
Fans of this syrup recommend trying the Iced Toasted Vanilla Oatmilk Shaken Espresso (we know the name is a mouthful) to get the full glory of the toasted vanilla flavor.
Each pump of Toasted Vanilla syrup has 30 calories and 5g of sugar.
8. Hazelnut
Hazelnut isn't overpowering like some other flavors, and this syrup compliments the taste of coffee without competing with it. It's rich, nutty, and subtle.
For a fun and nostalgic sip, try the French Toast Frappuccino from the Starbucks secret menu.
Simply order an iced vanilla bean frap with sweet cream, a pump of Cinnamon Dolce syrup, and a pump of Hazelnut syrup with cinnamon dolce powder on top.
One pump of Hazelnut syrup contains 20 calories and 5g of sugar.
7. Peppermint
Just like the Raspberry syrup, Starbucks' Peppermint syrup is a bit polarizing.
"Minty coffee" might not sound like a match made in heaven at first, but add some dark chocolate and cream, and it's a whole different story.
The Peppermint syrup is perfect for the holiday season but is not very versatile.
Besides the iconic peppermint mocha latte, there aren't many other beloved peppermint-based drinks at Starbucks.
But, when the air gets chilly and the days get shorter, a coffee with a hint of cool peppermint is just what the season calls for.
Each pump of Peppermint syrup contains 20 calories and 5g of sugar.
6. Apple Brown Sugar
Starbucks' Apple Brown Sugar syrup is a more recent addition to the menu and is only available in the fall/winter season.
This syrup is made with brown sugar instead of cane sugar, which gives it more caramelized, complex undertones.
While it doesn't pair well with most drinks, it certainly is the star of every drink it's featured in.
So if you've ever wanted to taste an apple pie and coffee at the same time, this syrup is definitely worth a try.
Consider ordering the Apple Crisp Oatmilk Macchiato, where this caramel-forward syrup shines through without covering up the espresso flavor.
One pump of Apple Brown Sugar syrup contains 20 calories and 5g of sugar.
5. Caramel
If you're a Starbucks regular, chances are pretty high that you've ordered one of their caramel drinks before.
Starbucks' Caramel syrup is a fan favorite for a good reason — it's buttery, smooth, and just the tiniest bit salty.
This syrup is incredibly versatile and adds the perfect sweetness to your coffee. It elevates a regular cup of joe into something that feels slightly luxurious.
If you don't know what to go with, Caramel syrup is always a safe bet.
If you're a fan of caramel flavor, try the salted caramel cream cold brew.
One pump of Caramel syrup contains 20 calories and 5g of sugar.
4. Toffee Nut
Starbucks' Toffee Nut syrup is a blend of buttery toffee flavor and toasted nuts. It is a little caramelized, a little salty, and perfectly sweet.
With its vanilla and brown sugar undertones, this syrup is reminiscent of the holiday season. It also pairs well with most coffee concoctions.
It's a little different from your classic Vanilla and Caramel syrups but familiar enough that most people can order a drink with it and expect to enjoy it.
Order the not-so-secret Butterbeer frap to taste this syrup in all its glory!
Ask for a grande vanilla frap with whole milk, 3 pumps of caramel, 3 pumps of toffee nut, and an extra caramel drizzle.
One pump of Toffee Nut syrup contains 20 calories and 5g of sugar.
3. Brown Sugar
Unsurprisingly, Starbucks' Brown Sugar syrup contains brown sugar instead of white sugar.
This means that this syrup is slightly more caramelized than your average syrup.
Think of it as the sophisticated older sister of regular white sugar syrup.
Starbucks' Brown Sugar syrup has toffee, caramel, and maple sugar notes.
It's a little less sweet than your average syrup, making it the perfect addition for those who want the actual flavor of their coffee to shine through.
Try the Iced Brown Sugar Oatmilk Shaken Espresso, and you'll see exactly what we mean!
Each pump of Brown Sugar syrup contains 10 calories and 3g of sugar.
2. Cinnamon Dolce
This syrup has flown under the radar for far too long, and It's time for the world to appreciate the warm, spiced goodness of the Cinnamon Dolce syrup.
With notes of brown sugar, this rich syrup adds just the right amount of cinnamon to every sip.
The Cinnamon Dolce syrup adds a little holiday spice to your drink but can also be enjoyed year-round (which we recommend)!
For this reason, we consider Cinnamon Dolce one of the best syrups that Starbucks offers.
Try an iced or hot Cinnamon Dolce Latte for a drink that'll make you feel curled up by a crackling fire.
Each pump of Cinnamon Dolce syrup contains 20 calories and 5g of sugar.
1. Vanilla
The word 'vanilla' has become synonymous with 'boring,' but this certainly isn't the case when it comes to Starbucks' Vanilla syrup.
Vanilla is the best and most versatile flavor of all Starbucks syrups.
It can be added to almost any drink on the menu and make that drink more delicious, whether it's a tea, coffee, or refresher.
We all know what vanilla tastes like — it's sweet, rich, classic, and nostalgic.
And just like caramel, vanilla can bolster the taste of coffee without overshadowing it.
Whatever your favorite Starbucks drink is, there's a good chance that Vanilla syrup is in there somewhere.
Though it sometimes lives in the shadow of the newer, more innovative syrup flavors, Starbucks' Vanilla syrup will always be #1 in our hearts.
Despite what its name might lead you to believe, the Caramel Macchiato contains Vanilla syrup and is one of (if not the most) well-loved drinks on the Starbucks menu.
One pump of Vanilla syrup has 20 calories and 5g of sugar.
Conclusion
Needless to say, there's a syrup for everyone at Starbucks, and each one is made to elevate your regular cup of joe.
From classic flavors like vanilla and caramel to more inventive syrups like peppermint and cinnamon dolce, Starbucks has a syrup for every mood, palate, and season.
For more information about Starbucks, check out the articles below.