The Most Popular Desserts at Olive Garden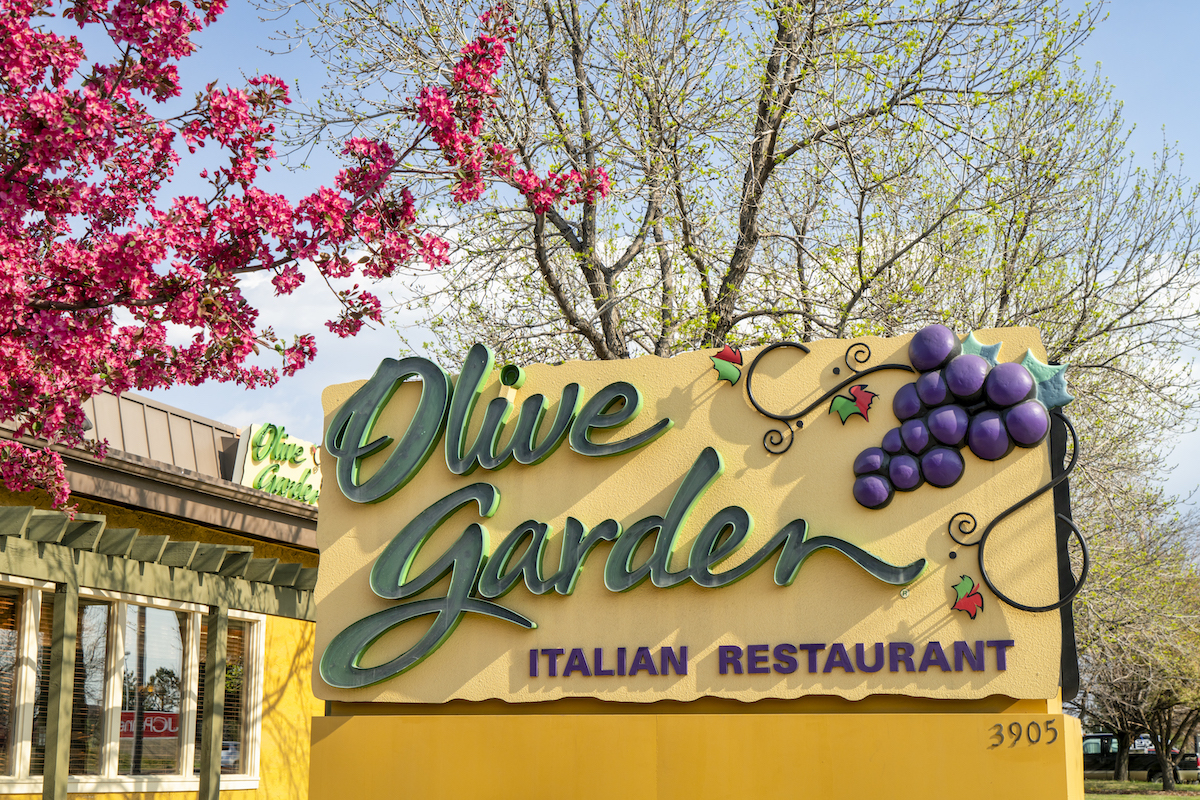 It's no secret that Olive Garden is a go-to restaurant for Italian-American favorites and family meals. But what about their desserts?
You'll be happy to know that Olive Garden desserts include traditional delicious favorites as well as new twists on classics.
The Olive Garden dessert menu may not be extensive, but it offers classic desserts like Tiramisu and an option like Chocolate Brownie Lasagna, which is their unique take on texture.
In this article, we've compiled a list of the 6 best Olive Garden desserts and ranked them based on their taste and overall experience.
The next time you're at Olive Garden, make sure to end your meal with one of these decadent desserts!
6. Sicilian Cheesecake with Strawberry Topping
Olive Garden's Sicilian Cheesecake with Strawberry Topping combines cheesecake's light and airy texture with the sweet and tart taste of strawberries.
The base for this decadent treat is made from ricotta cheese, which gives it a vibrant flavor and creamy consistency.
The topping consists of fresh strawberries cooked in a mixture of sugar, cornstarch, lemon juice, and water until they become thick and syrupy.
The creamy ricotta cheese base and sweet strawberry topping make this cheesecake one-of-a-kind.
The richness of the ricotta cheese contrasts perfectly with the sweetness of the strawberry topping to create an unforgettable flavor experience.
It's also surprisingly light.
Despite its rich ingredients, it doesn't weigh down your stomach like many other desserts.
This Sicilian cheesecake pairs well with just about anything.
However, for those who want to enhance its flavor profile, I recommend pairing it with something acidic, like a chilled Prosecco or sparkling white wine.
The acidity truly brings out the aroma and sweetness of the fresh strawberries to make the whole combination even tastier.
Nutritional Information:
700 calories, 12g protein, 78g carbohydrates, 42g fat
5. Black Tie Mousse Cake
If you're looking for a decadent dessert to cap off your next dinner at Olive Garden, look no further than their Black Tie Mousse Cake.
It has all the elements of a classic Italian dessert.
It contains a rich dark chocolate cheesecake base, a luscious chocolate mousse layer, and a pillowy custard mousse layer, topped with a crunchy chocolate ganache.
The combination of luscious mousse and moist cake creates an unforgettable flavor experience that will leave you wanting more.
This delectable dessert pairs perfectly with coffee or tea but also goes great with a glass of your favorite red wine or port for those who prefer something more substantial after dinner.
Nutritional Information:
750 calories, 9g protein, 76g carbohydrates, 50g fat
4. Strawberry Cream Cake
Olive Garden's Strawberry Cream Cake is an Italian-inspired delicacy made with layers of fluffy sponge cake and vanilla custard cream covered in a strawberry glaze.
The sponge cake layer consists of flour, sugar, eggs, baking powder, and oil as its base ingredients, while the creamy custard filling includes milk, sugar, cornstarch, and egg yolks as its core ingredients.
The strawberry glaze contains strawberries blended with sugar and lemon juice, a Southern Italy and Mediterranean traditional way to bring out the best flavor of the natural sweetness.
Combining these ingredients creates a dessert that has both elegance and flavor.
The texture is light yet creamy and not too sweet, making it a perfect balance between sophistication and comfort food.
The cake is light enough to satisfy any sweet tooth without feeling too heavy or cloying.
It is also the perfect way to end a special meal on a sweet note.
Nutritional Information:
420 calories, 4g protein, 54g carbohydrates, 21g fat
3. Warm Italian Doughnuts
Have you ever thought about what it would be like to have a fresh doughnut that is warm and comforting?
Well, your dreams will come true with Olive Garden's new Warm Italian Doughnuts!
The Warm Italian Doughnuts are soft, pillowy doughnuts that come with a side of creamy dark chocolate sauce.
They are meant to be served warm, which gives them an extra special touch that sets them apart from regular doughnuts.
They are deep-fried until they're golden brown.
Before serving, the doughnuts are sprinkled with powdered vanilla sugar for even more sweetness and a light crunch.
The dark chocolate sauce complements the doughnuts perfectly and adds a touch of sophistication, making this dessert special.
The result is a sweet treat, unlike anything you've ever had before!
Unlike traditional doughnuts, the dough is made with ricotta cheese, sugar, eggs, and butter to give it a rich flavor and flaky texture.
They are sweet but not too sweet, so you can enjoy the taste without feeling overwhelmed.
The combination of the chocolate sauce and vanilla sugar on top of the warm doughnut creates an indulgent experience that will leave you wanting more.
If you are not a chocolate fan, you can always request a raspberry dipping sauce.
The slight tartness of the raspberry will give your taste buds a delightful surprise.
As small as they may be, these little balls of doughnut goodness can go a long way.
Whether you share with your family or friends or indulge on your own, the Warm Italian Doughnuts will hit the spot.
Nutritional Information:
810 calories, 20g protein, 119g carbohydrates, 28g fat
2. Tiramisu
If you're a food lover, you know that the anticipation of a dish is half the pleasure.
And if it's Tiramisu from Olive Garden that has your taste buds tingling, then you're in for a real treat!
Tiramisu is an Italian classic with origins in the Veneto region near Venice.
This heavenly combination of rich cream and coffee-soaked ladyfingers has been around since the 1960s and is now one of Italy's most famous desserts.
The Olive Garden takes this classic recipe to new heights with its unique spin.
The original tiramisu recipe includes mascarpone cheese, eggs, sugar, and espresso-soaked ladyfingers.
Olive Garden, however, adds its twist by using ricotta cheese instead of mascarpone cheese and adding sweetened cocoa powder to the mix.
Their version also contains sugar syrup, whipped cream, and espresso-flavored liqueur for added flavor.
All these ingredients come together to create a decadent delight that will have your taste buds singing for more!
Its creamy yet light texture, combined with the rich flavor of espresso liqueur, makes it irresistible!
The sweetness from the sugar syrup balances out the bitterness of the espresso, while the ricotta cheese gives it a smooth texture that melts in your mouth like butter on toast.
The result is a decadent dessert with just enough richness to satisfy even the most demanding sweet tooth cravings.
Nutritional Information:
750 calories, 9g protein, 76g carbohydrates, 50g fat
1. Chocolate Brownie Lasagna
If you're looking for a unique and delicious dessert, you must try the Chocolate Brownie Lasagna from Olive Garden.
This decadent dessert is made with layers of chocolate brownies and fluffy cream cheese frosting.
It is decorated with a heavy dose of chocolate shavings and a wealthy amount of chocolate drizzle to create an indulgence.
The brownie layers are made with cocoa powder, flour, butter, and eggs to create a rich and chocolatey base.
The cream cheese frosting is mixed with vanilla extract and powdered sugar for a light yet sweet topping that contrasts nicely with the dense brownie layer.
This dessert is one of a kind! Its rich chocolate brownie base and creamy layers of cream cheese are sure to tantalize every taste bud.
The combination of textures also makes it unique.
You get crunchy bits from the chocolate shavings and smoothness from the brownie and cream cheese layers.
And with the chocolate syrup drizzle to moisten up the whole dish, the cake is full of mouthwatering goodness!
Nutritional Information:
910 calories, 4g protein, 54g carbohydrates, 21g fat
Conclusion
Olive Garden has a wide selection of delicious desserts that satisfy any sweet tooth.
Whether you're looking for something light and airy or deep-fried and indulgent, there's something for everyone on the Olive Garden dessert menu.
The Warm Italian Doughnuts make for an unforgettable experience with their pillowy texture and creamy dark chocolate sauce.
Meanwhile, the Sicilian Cheesecake with Strawberry Topping is a must-try if you're looking for something light yet flavorful.
No matter which dessert you choose, Olive Garden's desserts are sure to tantalize your taste buds!
For more information about Olive Garden, check out the articles below.