All 7 KFC Dipping Sauces, Ranked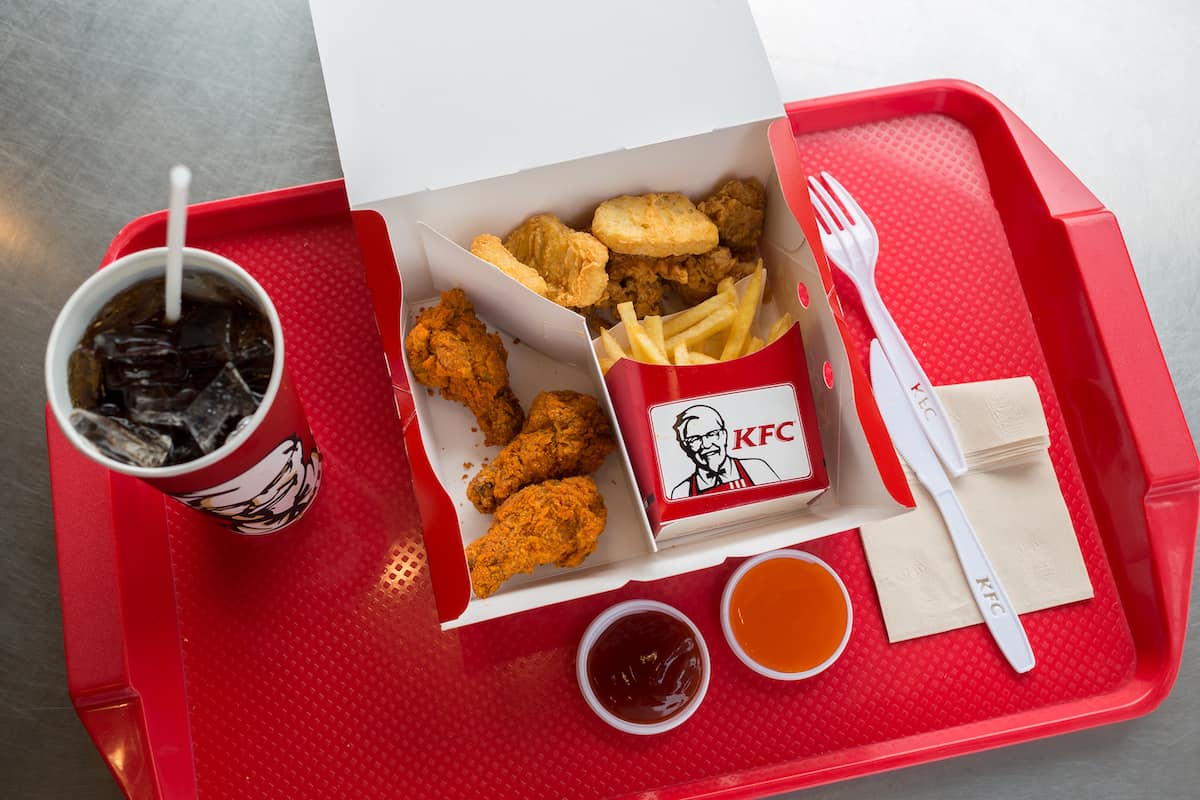 While KFC's fried chicken is always a fan favorite, sometimes plain chicken is just too simple, and that's when KFC's dipping sauces come into the picture.
With seven sauces to choose from, there are many ways to customize your meal and create fun flavor combinations.
KFC has seven dipping sauces, including Ketchup, Ranch, Honey Mustard, Hot, Honey BBQ, Honey, and the KFC Sauce.
KFC meals, sides, and even individual items are often served with one or multiple of their seven sauces.
Each of these sauces is unique from one another, but some stand out more than the rest.
We tried all KFC sauces and ranked them to help you decide which flavor to try next.
7. Ketchup
Ketchup is probably the most versatile condiment which pairs well with potatoes, hot dogs, chicken, beef, and any meat you can think of.
Made from tomatoes, sugar, vinegar, and spices, the common staple tastes like the sweet, tangy tomato-flavored paste we all know and love.
Ketchup holds the last place on our list of the best KFC sauces, as it's pretty standard and a bit boring.
It has 30 calories per 1 oz serving, meaning you can add flavor to your meal with minimal calories.
If you decide to get ketchup for your sauce at KFC, try it with either the French fries or the plain chicken tenders.
6. Classic Ranch
Ranch seems to be one of the most polarizing condiments. People seem to be either obsessive or have a militant hatred for it.
Many of us like ranch well enough but don't need to dip everything in the creamy sauce.
KFC's ranch sauce is made from buttermilk, salt, garlic, onion, and several herbs and spices.
The sauce contains 130 calories per 1 oz serving. It also has common allergens milk and eggs.
The ranch sauce can pair well with several KFC's menu items, including any of the buffalo or hot-flavored items.
5. Honey Mustard
Honey Mustard comes in higher on our rankings than ranch and ketchup because it's less generic than these two sauces.
However, honey mustard can be difficult to pair with some of the items on the KFC menu.
For many, mustard on chicken seems somewhat contradictory, and with the spices that go into KFC's chicken batter, honey mustard isn't always necessary.
If you like honey mustard sauce, though, it can certainly be a great addition to your meal.
Honey mustard sauce pairs especially well with KFC's extra-crispy batter.
The main ingredients in KFC's honey mustard sauce include:
Water
Vinegar
Mustard Seed
Salt
White Wine
Spices
Honey
Egg Yolks
Less than 2% of Corn Syrup
The KFC honey mustard sauce has 120 calories per 1 oz serving and contains eggs and MSG.
4. Hot Sauce
If you love spicy food, KFC's hot sauce should be your condiment of choice.
KFC has different types of chicken, including spicy chicken without the hot sauce, but sometimes you just want plain old chicken dipped in a spicy sauce, and KFC's hot sauce will give you this option.
Made with cayenne pepper, brown sugar, and several spices, this spicy yet slightly sweet sauce is calorie-free.
KFC's hot sauce pairs well with chicken thighs and goes surprisingly well with their coleslaw.
You can add the hot sauce to any of KFC's menu items for an extra spicy kick.
3. Honey BBQ Sauce
Honey BBQ is an American classic, and KFC's Honey BBQ sauce lives up to this promise.
Incredibly versatile, the Honey BBQ sauce goes well with almost everything on KFC's menu.
Any chicken style, part of the chicken, and sides can take the Honey BBQ sauce and taste better.
KFC's Honey BBQ sauce is especially sweet, making it slightly different from the other BBQ sauces, and it pairs perfectly with the chicken batter.
The main ingredients in KFC's Honey BBQ sauce include:
Water
Brown Sugar
Tomato Paste
Salt
Honey
Vinegar
Food Starch
Natural Flavor
Spices
The KFC Honey BBQ sauce has 45 calories per 1 oz serving and contains no common allergens.
2. Honey Sauce
If the Honey BBQ sauce is versatile, then KFC's honey sauce is universal.
The honey sauce at KFC is basically honey but has some additives to make it last longer as it travels to each KFC restaurant.
The honey sauce pairs well with any item on the KFC menu. Add it to your chicken, biscuits, coleslaw, and even your chocolate chip cookie to make it sweeter.
When you add honey sauce to the chicken, it suddenly turns from a fast-food meal to a delicious meal that resembles a yummy chicken and waffle combo from your favorite diner in your hometown.
The main ingredients in KFC's honey sauce include:
Water
Honey
Sugar
Corn Syrup
Molasses
Natural and Artificial Flavors
Citric Acid
The KFC honey sauce has 30 calories per 9 gr serving size and contains no common allergens.
1. KFC Sauce
The KFC sauce is their most popular cause, and it's a fan favorite.
Unique to KFC, you can only get this sauce directly from the restaurant. Also, unlike ketchup, ranch, or even BBQ sauce, the KFC sauce isn't sold in stores.
The KFC sauce tastes similar to some of the other fast-food chain signature sauces with a combination of tangy and sweet flavors, but it also has a hint of smokiness.
It incorporates a creamy texture with a unique tang, making it pair well with chicken.
The KFC sauce has a unique flavor that's not familiar as other sauces they offer, and it's the best sauce on the KFC menu.
We don't know exactly how it is made as they use a secret recipe, but the main ingredients in the KFC sauce include:
Soybean Oil
Ketchup
Water
Sugar
Prepared Mustard
Molasses
Vinegar
Egg Yolks
Salt
Spices
The KFC sauce has 100 calories per 1 oz serving and contains eggs.
Conclusion
KFC knows everyone has different taste preferences, and while the chicken is good all by itself, adding one or multiple of the seven sauces they have can bring your meal to the next level.
While the KFC sauce is #1 on our list due to its unique tang, the honey sauce rounds off our list by making any KFC menu item sweeter.
For more information about KFC, check out the articles below.