15 Best Toppings to Put On Your Five Guys Burger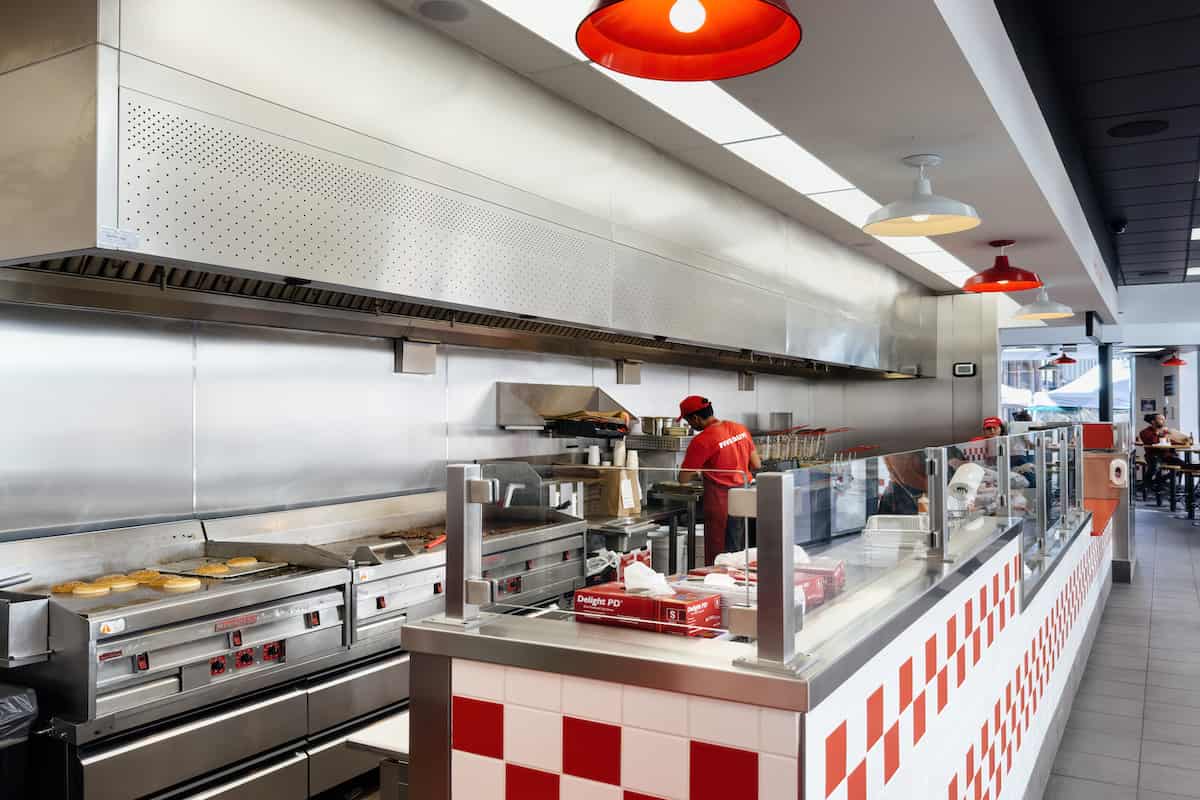 A burger is so much more than a patty and a bun. When it comes down to it, a good burger becomes a truly great burger because of its toppings.
Five Guys understands the importance of garnishes, which is why they offer many fresh, flavorful, and varied toppings to adorn your burger.
There are thousands of possible combinations when building your burger at Five Guys – where does one even begin to decide their order?
Don't worry, we've got you covered!
We compiled a list of the best Five Guys toppings and ranked them based on their flavor and overall experience.
Read on to decide which toppings to try on your Five Guys burger during your next visit!
15. Green Peppers
Green peppers are sometimes a divisive topping. While red, yellow, and orange bell peppers are typically sweet and fruity, green bell peppers tend to be more bitter.
However, when placed on top of a burger, the bitterness and freshness of green peppers are the perfect balance to heavier elements like cheese and meat.
Most associate bell peppers with tacos or fajitas rather than burgers, so this topping feels a bit out of place to many guests.
As with the rest of their toppings, Five Guys' green peppers are freshly sliced and spread evenly on the surface of the burger.
A serving of green peppers contains 5 calories, 1g of carbs, and 1g of sodium.
14. Onions
Five Guys' onions are always fresh and evenly spread.
The restaurant chain opts to use yellow onions for their crunch and sweetness.
While raw onions aren't as a beloved topping as their grilled counterpart, this topping will complement other fresh additions to your burger.
That said, the taste of raw onion is overpowering for many, which is why it's not a particularly popular ingredient to add to your Five Guys burger.
A serving of onions contains 10 calories and 2g of carbs.
13. Relish
If you're a lover of a sweet and sour combo, adding relish to your burger is a must.
In most cases, relish is just chopped-up pickles, so pickle lovers will enjoy this tangy topping.
Relish adds a subtle sweetness and plenty of tang to your burger.
While there's nothing negative to say about relish, we recommend adding pickles instead for more tang and a more satisfying crunch.
Each serving of relish contains 15 calories, 4g of carbs, and 85g of sodium.
12. Tomatoes
Burger toppings don't get more classic than this.
When you order tomatoes on your Five Guys burger, you should know that you will get exactly two slices.
According to the company, this allows for an even tomato-to-bite ratio at all times.
Five Guys uses fresh, high-quality tomatoes on their burgers.
Tomatoes add a subtly sweet flavor to burgers. They provide much-needed freshness but tend to get lost in all the other flavors.
A serving of tomatoes contains 10 calories, 2g of carbs, and 3mg of sodium.
11. A1 Sauce
For those who have yet to experience A1 sauce, it's one of those flavors that's hard to describe with words. It's tart, peppery, salty, smokey, and sweet all at once.
Five Guys uses the classic A1 Original Steak Sauce on its burgers, which includes ingredients like tomato puree, vinegar, raisin paste, garlic, and orange.
Adding this topping to your Five Guys burger is a great idea if you're an A1 superfan.
However, be warned that it will overpower the other toppings on your burger and could even mask the flavor of the patty itself.
A serving of A1 sauce contains 15 calories, 3g of carbs, and 280mg of sodium.
10. Mustard
Five Guys exclusively uses French's mustard on their burgers.
This classic yellow mustard is one of the most popular condiments out there and is the mildest of mustards available.
Mustard adds the perfect 'zing' to your burger and can be a star of the burger or a supporting flavor, depending on how much you add.
A serving of mustard contains zero calories and 55 mg of sodium.
9. Lettuce
Lettuce might not sound like the most exciting Five Guys topping out there but consider this: Five Guys uses fresh iceberg lettuce on all their burgers.
It's cool and crispy and provides some welcome freshness to an otherwise heavy burger.
Team members tear each piece of lettuce by hand to give you 'optimum freshness' with each bite.
Gluten-free guests can order their burger with iceberg lettuce on the top and bottom instead of the standard bun.
While some customers report that this method can get a little messy, most agree it's a good option if you don't eat gluten or are looking for something a little lighter than the classic burger.
A serving of lettuce contains 5 calories, 1g of carbs, and 3mg of sodium.
8. Hot Sauce
Five Guys doesn't just use any old hot sauce. The burger chain keeps it consistent and exclusively uses Frank's Original Hot Sauce.
Made with aged cayenne peppers, a few drops of this sauce on your burger will add a kick of heat to each bite.
Frank's Red Hot appeals to spice lovers and newbies alike – Just ask your Five Guys team member for more or less sauce to fit your personal spice level.
A serving of hot sauce contains zero calories and 200mg of sodium.
7. Mayo
Whether you love mayonnaise or hate it, you have to admit that Five Guys' mayo is one of a kind.
No, really – Heinz makes a customized mayonnaise that's exclusively used on Five Guys burgers.
The secret behind their mayo? It's richer and creamier than any other mayo on the market.
So if you like mayo, you'll love Five Guys' iteration, as it adds the perfect tang to every bite.
Five Guys' mayo adds richness to your burger while letting all the other flavors shine through, which is why this is one of the best Five Guys toppings available.
One serving of mayo contains 110 calories, 11g of fat, and 70mg of sodium.
6. Jalapeno Peppers
If you're looking to spice things up on your burger, look no further.
These aren't your basic jarred and pickled jalapeños! Five Guys employees chop their peppers up fresh every day for a spicy kick.
Guests rave about the freshness of Five Guys' produce, and their jalapeños are no exception.
Each serving of jalapeno peppers contains 5 calories and less than 1g of carbs.
5. Ketchup
Ah, ketchup – no condiment is more synonymous with burgers.
You won't be surprised to hear that Five Guys exclusively serves Heinz ketchup.
Heinz has a chokehold on the ketchup industry for a good reason – it's sweet and vinegary while still giving a classic tomato flavor the spotlight.
Ketchup is as basic a topping as it gets, but for a good reason. Its tang cuts through the heaviness of a burger and brightens up each bite.
A serving of ketchup contains 30 calories, 5g of carbs, and 160 mg of sodium.
4. Bar-B-Que Sauce
Rich and tangy, the Bar-B-Que sauce is one of the most popular Five Guys toppings.
Five Guys opts for Cattlemen's BBQ sauce, and the guests love adding the sauce to their burger because of its tang and smoky sweetness.
A serving of Bar-Que sauce contains 50 calories, 15g of carbs, and 400mg of sodium.
3. Pickles
When you order pickles on top of your burger, Five Guys will give you exactly 5 slices.
The chain exclusively uses Mount Olive pickles, known for their classic tangy brine and crunchy texture.
Pickles are the perfect vessel to cut through the heaviness of cheese, bacon, and other toppings. A fresh and sour crunch is always welcome by us!
A serving of pickles contains 5 calories, 1g of carbs, and 260mg of sodium.
2. Grilled Mushrooms
Mushrooms may not be the first topping that comes to mind when thinking of a burger, but that doesn't mean they aren't one of the best options out there.
Five Guys uses handpicked baby portabella mushrooms that are packed fresh to ensure flavor.
These mushrooms come hot off the grill, cooked to a perfect golden brown.
We know mushrooms may not be a favorite of picky eaters, but we recommend giving this topping a try on your next visit.
The taste really shines while rounding out the flavors of your burger – And they might just convert you!
One serving of grilled mushrooms contains 20 calories, 1g of carbs, and 55g of sodium.
1. Grilled Onions
Five Guys grilled onions are sweet, smokey, and perfectly caramelized.
Grilled onions are on top of our list because they are always freshly chopped and served warm.
They're not overpowering and go with pretty much any combination of toppings you can think of.
We recommend a combo of grilled onions, extra cheese, and BBQ sauce for an ultra-comforting burger.
A serving of grilled onions contains 10 calories, 2g of carbs, and 1mg of sodium.
Conclusion
No matter what you're in the mood for, Five Guys is bound to have a topping to make your burger special.
Almost every Five Guys topping is fresh and of the highest quality. Plus, with unlimited free toppings, you can order as many garnishes as you want to build your dream burger.
For more information about Five Guys, check out the articles below.